E-Bike News: OT Elf on Today Show, E-Bike Freeway, Dartmoor Tour, E-Road Bike? [VIDEOS]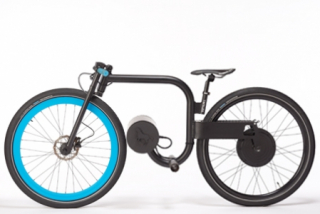 Here is a concept electric bike/motorcycle from the industrial design firm
J.Ruiter
:  "This "one horse" concept E-bike was a working sketch prototype in a series of electric thoughts. E-bikes don't need to be bikes with motors and batteries.  34mph + single front brake + 48v 1000watt hub motor = sketchy…"  Hmmmmm……interesting.  We will see if this ever makes it to production.   In any case, it is fun to think outside the box!
The Emotion Neo Jumper full suspension electric mountain bike recently arrived and I have been out testing it on the tough trails here in Sedona, AZ.  Here is a quick video of yours truly putting the Emotion Neo Jumper to the test:
Stay tuned for a full review of the Emotion Neo Jumper.
Holland is working on the first electric freeway for e-bikes & e-scooters.  It is scheduled to open at the end of 2013.
E-Bike Kit recently announced they are selling the Worksman Cycles Port-o-Trike equipped with their 500 watt front hub motor kit.
OHM electric bikes were recently featured on the Dragons' Den TV show.  Find out how the presentation went!
The Organic Transit Elf electric trike was recently featured on the Today Show!  Can't believe they thought $4,000 was a lot of money for this cool e-vehicle…..
Visit NBCNews.com for breaking news, world news, and news about the economy
Are you looking for  a way to make your electric bike more comfortable to ride?  You should consider a suspension seatpost!  It helps take the edge off of rough roads.
Here is a fun story about an electric bike tour in the Dartmoor region of England!
You have to checkout this wild electric cargo bike turned trike!  It looks like it can handle a lot of cargo.
Here is a video I just came across about the Cytronex electric bike kit added to a road bike for a hill climb race against a pro cyclist!
Bummer…..if your drivers license has been suspended in Ontario Canada, you can't even ride an e-bike!
China's electric bike production has slowed down a bit.  Find out why!
That's it for now.
-Pete
P.S. Don't forget to join the Electric Bike Report community for updates from the electric bike world, plus ebike riding and maintenance tips!
Reader Interactions