The Latest Electric Bikes from Eurobike 2017 – Part Deux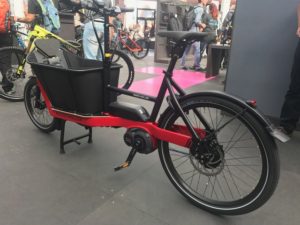 Welcome to the 2017 Eurobike show review, part Deux. If 2016 was the year the eBike reached parity with the traditional pedal bicycle industry in terms of floorspace at the major trade shows, 2017 is the year of refinement and validation.
Designs have become more polished and efficient, conveying a sense of trust to riders that was lacking in the past.
Some of the best traditional bike designers, formerly steadfast, traditional pedal bike maximalists, have been won over by the virtues of the eBike and are now entering the fray with designs of their own.
These land shift changes have altered the scope of the bicycle retail business. Retailers who ignored eBikes missed their opportunity to greet a new wave of consumers to the bicycle industry.
2017 has shown us the products retailers can now present to consumers has achieved a new level of completeness. Potential buyers of eBikes will experience machines that rival the auto industry in their cohesive workability.
This is largely due to the fact that eBikes have drawn the attention of high level automotive brands to the space such as Bosch and Continental. Eurobike also showed us that even supercar makers like Bugatti are trying to attach themselves to cool factor and lifestyle of eBikes.
Make sure you also checkout Part 1 of the Eurobike 2017 show report.
KTM is another brand perhaps better known in motorsports than bicycles. The company has a much stronger presence in Europe than North America and always has a large booth at Eurobike.
This folding, Bosch powered bike caught my attention. Folding, mid drive bikes are a no-brainer for metropolitan citizens and commuters. Bikes like these change habits, which in turn change lives.
Take a look at the image behind this bike of it folded up. That compact bundle can board trains and buses, then expand to carry hundreds of pounds up the steepest hills in San Francisco. This is creating urban mobility that didn't even exist until a few short years ago.
This fresh new design from KTM got a lot of attention. Could be the beginnings of a hooligan category in urban eBikes?
Specialized and Trek are the Ford and Chevy of the US bike market, but they don't make much of an effort at Eurobike. The occasional Specialized was visible in booths around the show. This was one of the their eMTB's on display in the SRAM booth.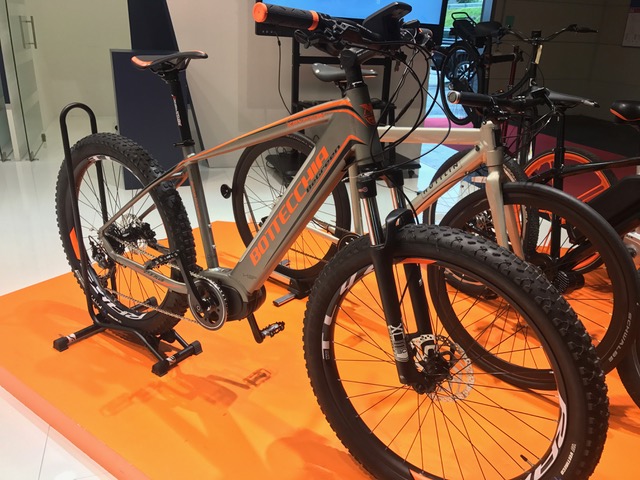 Always interesting is the continual adaptation of historic European bicycle makers to the eBike. Bottechia has been ridden to victory in the Tour de France as recently as 1989. Back then they likely couldn't conceive of ever offering a mountain bike, let alone an eMTB. There are so many eBikes in Europe that will probably never make it to US shores.
Further evidence of Haibike's commitment to the extreme: The XDURO Tschugg 23 downhill machine. Haibike makes some of the only downhill specific bikes that are also a blast to ride uphill.
This model is named after former pro downhiller Guido Tschugg. Visible here is the new Bosch integrated downtube battery that is giving so many new eBike designs this cleaner look.
This is called Das Sterzing from M1-Sporttechnik. I first spotted these machines at Eurobike a year ago, and it looks like the company has done well enough in the past 12 months to come back to the show with a wider array.
I learned that this model is offered in both an eMTB, shown here, and a trekking / commuter version. It also comes as either a 250 watt, 25 kmph Pedelec, a 500 watt, 45 kmph S-Pedelec, or a 920 watt R-Pedelec which I did not see a speed rating for. The motor is described as a TQ-PinRing. These bikes are manufactured in Germany.
The other offering from Sporttechnik is Das Spitzing. Available with the same three motor configurations and speed ratings as Das Sterzing, the bike provides a slightly different build geared toward the more aggressive rider.
It does appear that Sporttechnik is going after a part of the eBike market that desires stronger power plants. This is a smaller segment, largely ignored by the biggest motor companies and every major bicycle brand.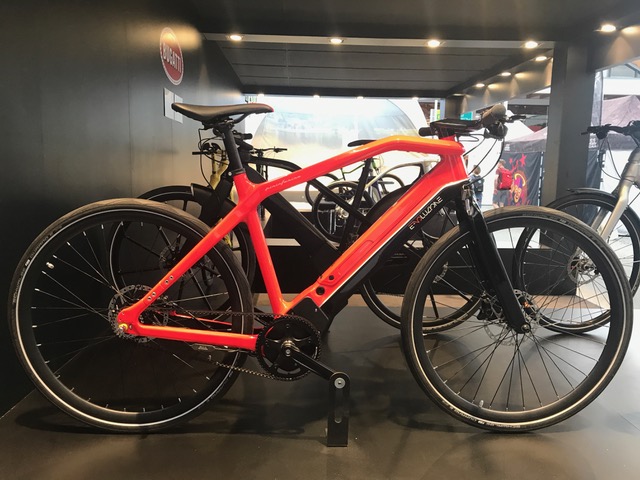 Here is a look at another model from DiaVelo. This bike was designed in conjunction with the famous Pininfarina studio.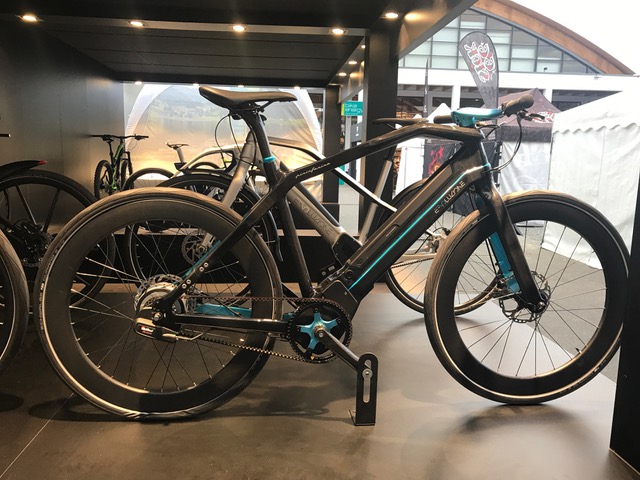 Another carbon frame Pininfarina Evoluzione.
Momo Design has officially entered the eBike market through a licensing deal. The aim with this lineup is to offer more affordable bicycles, including a folding version, to European commuters. Another example of established motor industry brands crossing over to the eBike market.
The motor company Brose had this machine on display. It is a full carbon ebike called The Power Bike from Lavelle Bikes. This bike has to win the "Most Carbon Fiber Ever Used On An Ebike" award. Brose most notably makes the motors for Specialized eMTB's.
Univega has been quiet on the International scene for a long time and largely absent from the US market. At Eurobike, they were back with a vengeance, primarily focused on eBikes. Back in the 1980's Univega had a large dealer base in the USA with a wide range of models from kids bikes to road racing models. From the looks of their lineup at Eurobike, Univega might be ready for a comeback.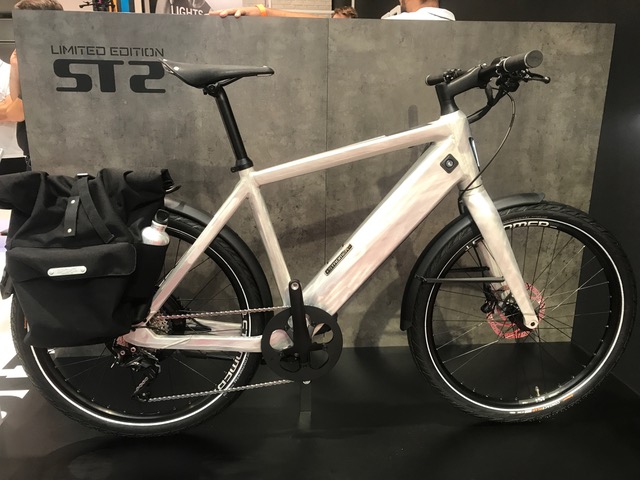 The Swiss brand Stromer remains steadfast with their rear hub designs and focus on the bulletproof commuter category. This Limited Edition ST2 was easy on the eyes with it's brushed aluminum frame and integrated battery.
The Stromer ST5 looks like it's set to be the cleanest Stromer design to date. Stromer is pushing the envelope for eBike models that incorporate digital connectivity. Visible at the front of the top tube on this model is the latest version of Stromer's connective digital display.
The one-piece bar and stem gives the bike an even more cohesive look. In my opinion, this bike did exhibit one the best blends of modern industrial design seen at Eurobike, this year. Sort of an understated design, still memorable long after walking away from it.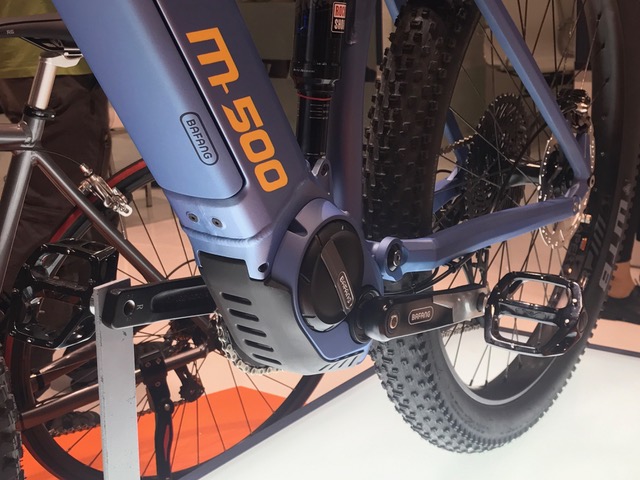 The motor company Bafang had a baffling amount of models on display. I counted no fewer than five different Bafang mid-drive motors, among scores of other drive solutions for eBikes. Their booth was very busy with so many different languages being spoken it bordered on chaos.
With that said, this booth was also an indicator of what is to come in eBike designs in the coming year. That is, more affordable, decent quality mid-drive bicycles will be hitting the market and a lot more people riding eBikes.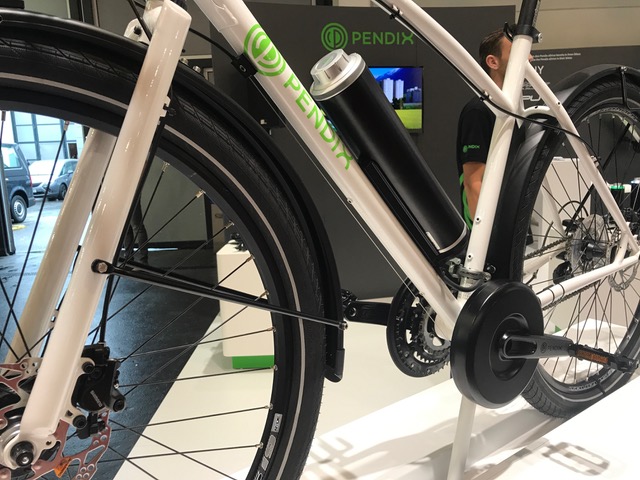 Once again, the hall at Eurobike that had eBike motors in it was the most vibrant area of the bike show. More alive than the fashion show with it's dancing models, even. It would have been easy to spend two days just in this one building.
Pendix, pictured here, is another interesting design slated for the retrofitting conversion market. With two different battery options in kits that range from €1,490 to €1,690 Pendix is another option to convert any bike to an eBike.
Simplon, an Austrian maker with a wide range of road, mountain and eBikes, had this smooth, rear hub powered city model on display. It's hard to overstate how beloved the city commuter category is in Europe.
The eBike is fueling a renaissance in the city category that could eventually make it's way to the USA in force. Commuter behavior is ultimately the hardest thing to change and at what point Americans will embrace the eBike to mobilize themselves through our bigger cities is anyones guess.
Another entrant in the eBike road category is this Bosch powered Matra. It did not take long for carbon road bikes with pedal assist to proliferate in Europe.
Any Eurobike report would not be complete without some Riese & Muller designs. With a new distributor for the United States in 2017, this is a manufacturer that should have a bright future around the world.
This dual battery, Bosch powered model that includes the Rohloff internal rear hub transmission is ready to take its rider anywhere, or everywhere, on the planet.
Riese & Muller remains a strong leader in the cargo category.
One of my show favorites with this Heisenbeg touring bike. Bosh power, Rohloff transmission, belt drive, Brooks saddle and that green paint. If Land Rover built a bike, they could only hope it would be this cool.
Heisenberg continues to introduce some of the best modern designs in the eBike space that also somehow draw links to the great, nostalgic aspects of bicycle design.
Behold the dawn of eBike specific riding apparel. Before you write this category off as an unnecessary addition to an already crowded bicycle clothing market, you may want to witness it in person. With more and more eBike riders consistently traveling at speeds of 20-28 mph, personal protection is an important consideration.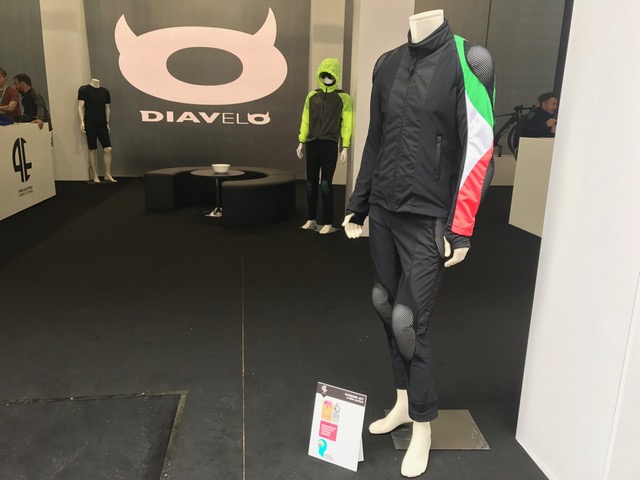 Diavelo is the brand that will be credited with this movement, and they are already winning show awards. Believe me, this clothing is very well thought out and high quality. Hats off to Diavelo for taking some risks and creating something new for the enterprising eBike rider.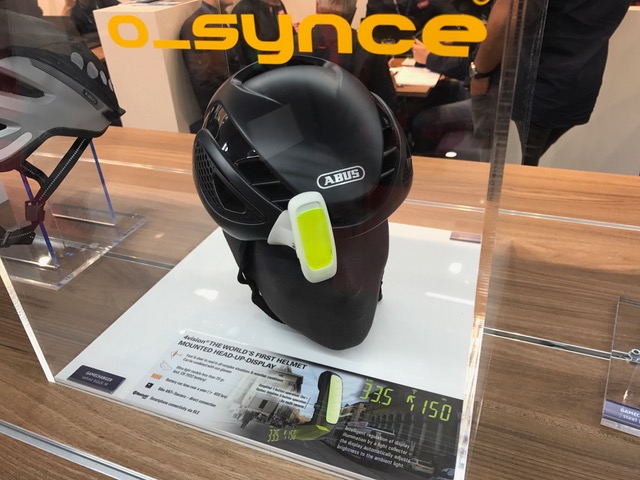 Abus won me over with their new helmet offerings. This company knows how to treat their customers and they always make a splash at every show they attend. At Eurobike they introduced this new O_Synce digital heads up display. This is a world's first, and certainly worth a look when it makes it's way to store shelves.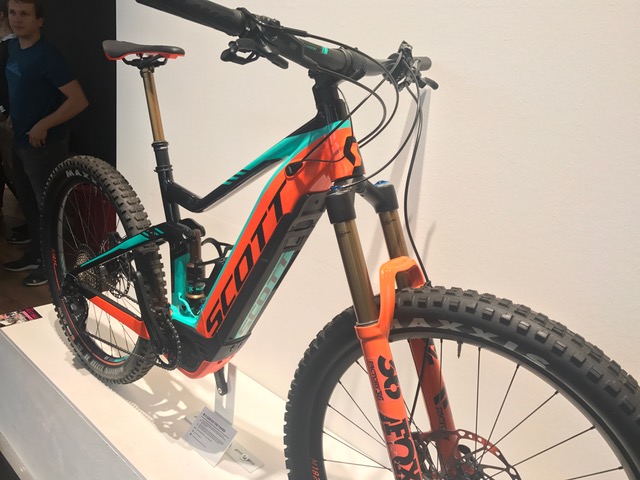 Scott is making another surge in eBikes and had this very attractive, well appointed eMTB on display.
Scott chose Shimano Steps to power this eMTB. The battle for mid drive supremacy, particularly in the eMTB category, is really heating up. With Bosch, Shimano, Yamaha and now Continental at the forefront with a long list mid tier makers trailing close behind, there has never been a better time to get involved in eBikes.
This concludes my Eurobike 2017 report. Friedrichshafen, Germany is a truly wonderful place to visit. This was my view every afternoon on the edge of the Bodensee. Seeing what's ahead for the cycling industry, knowing from where it came, is a hobby, pleasure and a way of life for me and it's a great privilege to be able to share with you.
Make sure you also checkout Part 1 of the Eurobike 2017 show report.
P.S. Don't forget to join the Electric Bike Report community for updates from the electric bike world, plus ebike riding and maintenance tips.
Reader Interactions