The Latest Electric Bikes from Eurobike 2017 – Part 1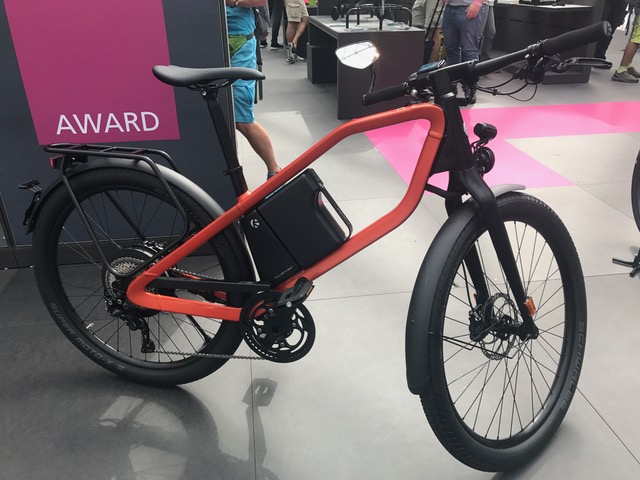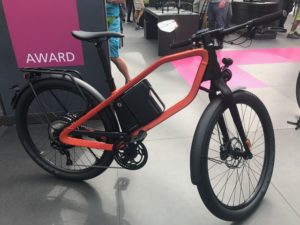 Twelve months have already flown by since my Eurobike 2016 report. One year ago, an eBike maelstrom hit the cycling industry.
Taking up 50% of the floorspace at Eurobike, it was suddenly clear where the growth in cycling was coming from. One year later, my assessment is the eBike again took more real estate at Eurobike, but only fractionally compared to last year.
Most noticeable was the further refinement of the technologies and design. Bicycle brands that may have scoffed at eBikes a few short years ago not only caught the bug, but arrived with some amazing electric assist models that will drive design to new heights.
To kick things off, here are a few of the Eurobike Award Winner's. Winning an award at Eurobike has proven to be very difficult. Eurobike is a super competitive environment with a lot of International exposure.
Lifelong exposure to the activity has given Europeans a good feel for what makes great cycling design.
Make sure you also checkout Part 2 of the Eurobike 2017 show report.
Rocky Mountain took home an award for their Altitude Powerplay model. The powertrain on this bike was developed in-house, a considerable undertaking. With this motor, the company was able to achieve the geometry and suspension requirements they layed out for the bike. For now, it is only available for the European market.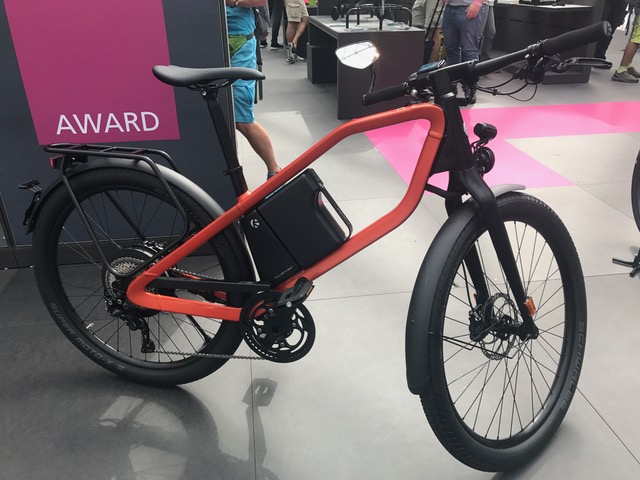 Klever took home an award for their X-Range model. Appealing to the eye, it's not hard to see some of the positives of this layout. Easy stepover, convenient battery storage with 850 watt hours of storage for it's 600w BIACTRON motor, good use of space, plenty of storage, and safe, versatile wheels, tires and fenders.
They call this category "Speed Commuting" for it's 28 mph (45 kmph) capabilities. This is a very popular segment in Europe, currently. Placing 20mph limits on commuter bikes is too constraining, and the European market understands this. 25-30mph is a more natural and efficient pace for eBikes like this and it does seem the consumer is responding.
Focus won an award with their Project Y eBike. Yet another example of continuing refinement, this is a gorgeous minimalist machine that may prove to be very robust. There does appear to be considerable demand from the road market for bikes like this.
I personally know many ex-road racers who have reached a point of diminishing returns from their efforts on traditional road bikes. By this I mean it's taking too much time and effort from their daily lives to comfortably complete the rides – with the riders – they would like to do. Should they stay home? Join a slower group covering less distance? What for. No one said cycling has to be torture.
With bikes like this, anyone can join the road ride. I think that's an awesome evolution. I understand this bike can provide a rider with assist at the times they most want it, while vanishing into the background when they don't. For a road rider, this is exactly the narrative that will eventually win them over to the electric assist road category.
Winning an award for design in the startup company space was this offering from a group called Cowboy. Hats off to Cowboy for focusing on a solution for the younger customer who thus far hasn't been interested in eBikes because of cost and bulkiness of designs.
Cowboy aims to steer these young horsemen over with this minimalist, low maintenance design that claims to offer intuitive power delivery, removable smart battery, front and rear integrated lighting, app based on/off, GPS based theft detection and remote software updates and troubleshooting.
All of this for just €1,399 sold direct to consumer only. Millenials, your steed has arrived. Call it a car replacement if you must.
This is the Elby One4U city bike. Elby is aiming for inner city, shared space community, family, Air BnB type of customer to provide increased mobility to a wide range of different sized riders. That was a mouthful, but Elby is hitting on a red-hot sector of the eBike space.
Mobility is more than a buzzword, it's a way of life any dwelling that can offer rides like this is going to be in demand in the coming years. Easily adjustable, easy on-and-off, efficient transport.
Moving on from the awards, Continental made a huge impact at Eurobike with their new motor. This was one of the costliest, well executed product launches I have seen at a bike show to date. The company went to great lengths to demonstrate their creation, including this touch interactive display that took up an entire wall of their main booth. This display was so well done it pulled continuous traffic throughout each day of the show.
It looks as though Continental have taken elements of the best motor and transmission (CVT) systems on the market and combined them. Will they be able to prove themselves over time with this design and support it in the market place, time will tell. Continental may have the resources to pull it off. For now, OEM manufacturers will be taking a serious look at the Continental offerings.
Closer look at the Continental mid drive motor as it was displayed on city bike. All of the Continental display models were on Continental branded bikes as no OEM makers are offering them, yet. Certainly that will change in 2018.
Pivot showcased this new design. Pivot is a company known for it's pedal mountain bikes, and this bike is pointing the way for other pure pedal MTB brands that haven't entered the eMTB space, yet. This is a great example of the level of refinement happening in eMTB design, currently. This model is powered by Shimano Steps.
Not to be outdone, Haibike remains the king of variety in eBikes with the largest lineups in the most categories. This is the XDURO Downhill 10.0. It's at the top of the class as far as downhill models go, with a spec sheet that reads exactly like a world class racer would want it to.
More examples of the depth of the Haibike eMTB offerings. There were rows and rows of models. If you can't find what you're looking for in the Haibike range, you are probably wanting to deliver kegs of beer, a mobile coffee stand or some other large block of cargo. I may have missed it, but the only segment I believe Haibike is not catering to is large cargo.
Time out for a little eye candy. Not really my style, but DÜSENSPEED is making waves in the eCruising community with this design. Yes, those are solid carbon wheels. I did not get specs or price on this offering, unfortunately.
On display at the Gates Carbon Drive booth was the Bosch powered Ruffian from Ruff Cycles. It comes in at a suggested $5,999. With it's elegant curves, luscious brown paint and cream tires, this ride turned some heads. Ruff Cycles has been around since 2012. They deserve some props for bringing high end pedelec power to the cruiser class.
Unless there was an interested buyer from Dubai, I doubt that this Bugatti fetched it's asking price. I couldn't get close enough to see where the price tag might be warranted other than the Bugatti head badge.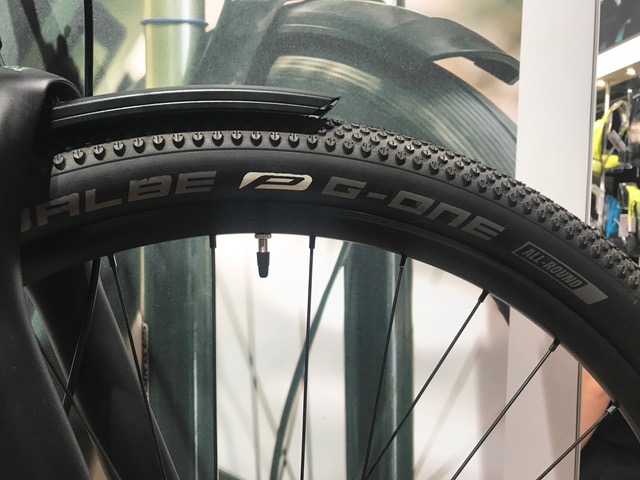 Tyre development in 2017 continues it's march of greatness. Overall, it appeared that direct marketing toward the eBike space has calmed down, many manufacturers showed models that will be snapped up by eBike product developers. The Schwalbe G-One All-Round is one such tyre. This looks like a superbly versatile tyre that has already found it's way onto many 2018 model eBikes in expansive city / cargo / trekking / touring segments.
One of my favorite brands of the past is making a comeback for the eBike. Rohloff created the award winning E-14 shifting mechanism for use with Bosch eBike systems. Basically, the renowned Rohloff internal rear hub transmission now has an electronic thumb shifter that will precisely time the best moment to change gears when used with the Bosch motor.
This makes the Rohloff a smooth, efficient and durable – albeit somewhat pricy – option for the eBike enthusiast. Rohloff transmissions are built like a Swiss watch with German engineering, if that helps create a better picture. Apologies for this is not the optimal photo to show off Rohloff's offering.
Here's an example of a bike using the Rohloff E-14 electronic shifting mechanism with the Bosch motor. Leave it to Koga to offer an absolute beast of world touring machine. Very well appointed, Koga didn't skimp on the details with this one.
Make sure you also checkout Part 2 of the Eurobike 2017 show report.
P.S. Don't forget to join the Electric Bike Report community for updates from the electric bike world, plus ebike riding and maintenance tips.
Reader Interactions