Electric Bike News Week of 11-8-10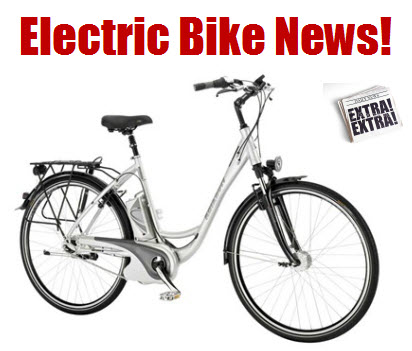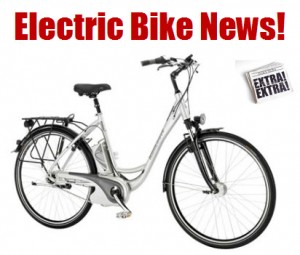 Ahhh another week of e-bike news and happenings!  This is a place where I compile news and other electric bike or regular bicycle items of interest.
I update this through out the week as I come across more cool news and cool stories, so stay tuned 🙂
And if you want to contribute an e-bike news article or story, please leave them in the comments section at the end of this post.
One more thing: If you would rather watch a video recap of this news, you can check it out here on e-bike news TV 🙂
And now the news!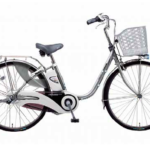 The California Energy Environmental Protection Agency in Sacremento is testing an electric bike sharing program.  I am really curious to see if electric bike sharing programs will take off.  I think the combination of mass transit and bike sharing programs is a great way to get around without a car.
Here is my initial review of the Bionx electric bike kit.
Are you a tough ebiker?  This guy is tough; riding his ebike in the snow!
Electric bikes have hit the main stream media!  CNN has a good article on some "revolutionary" ebikers.  The article goes over some good points about ebikes, a story about a guy that did a 4,350 mile trip on an ebike, as well as some coverage of people who have made their own electric bicycles.  Funny how the title of the article is so "extreme", but I guess that is what it takes for CNN!
This is AWESOME!  An electric bike that is charged by a solar panel system.  Motion Dynamics Group's Neltron Solar Ebike is an electric bike that comes with 2 solar panels that will charge the bike in 5 hours.  The price is $2495 for the bike and panels.  The "bike" looks more like a scooter, but it does have pedals.  I really hope we see more ebikes being powered by the sun and our legs!  There are some great prepackaged solar kits out there and I will do a guide to those soon.  Totally renewable powered transportation 🙂
This is a cool story about microfinance loan officers using ebikes to visit their clients in rural areas.  I like this quote from the article "Bicycles are a common mode of transport throughout the world, so finding a way to use bicycles that would transport our loan officers and leave them with energy to do their job all day long led us to this innovation."
Panansonic has a new stylish electric bike that is supposed to get 66 km (41 miles) of range on the eco setting of the bike (where you have to pedal more).  Looks like it will be only available in Japan for now 🙁
This is an article on entrepreneurs in India working on ways to bring down the costs of electric bikes.  I believe they are referring to electric scooters and motorcycles but the same ideas can be applied to bicycles.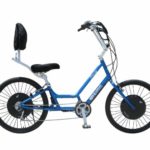 Nice! Easy rider.  The E+ Day 6 ebike is half way between a recumbent and a traditional bicycle.  Looks pretty comfy!
This is a cool idea.  A public electric bike sharing program.  Bike sharing programs have had there problems in the past due to vandalism and bike abandonment.  The Urbikes Trapper electric bikes that a Spanish designer is working on solve some of the potential vandalism problems and provide a low maintenance bike that will be comfortable for almost any rider.
Here is an electric bike kit guide to some of the e-bike conversion kits that are out there.  Some of these kits are also being speced on new ebikes.
Ok, here is a wild way to get around!  It's called the YikeBike.  Not an electric bicycle by any means but it does have two wheels and it is powered by electricity.  They say it is "easy to ride and surprisingly stable".  It also folds up so you can take it with you in a shoulder bag.  Here is there promo video; kind of funny how they show the bicycle with it's wheels gone.
What do you think?  Would you like to try the YikeBike?  Please leave your comments at the end of this post.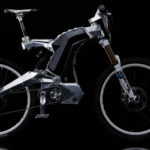 Here is a wild electric mountain bike from M55, it's called "The Beast" and I think that name fits it!  Apparently it can go 40 mph and gets 75 miles per charge.  By the looks of it, I don't think it's an economy e-bike!
Interesting…………….A front wheel that generates and stores energy while you pedal so you can power your gadgets (phone, laptop, etc.) when you are hanging out.  hmmmmm?
The Mayor of London is planning to introduce hundreds of e-bikes for the 2012 Olympics.  Sounds like it will be a bike sharing program where you can rent an electric bike for a while.  The bikes will be supplied by BMW.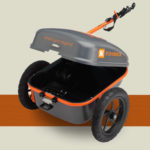 Here is an electric bicycle trailer that gives you a boost!  I rode the Ridekick at Interbike (the big bicycle convention in the US) this year and I have to say it does give you a boost!   This is an inexpensive way to add an "electric bike kit" to your existing bicycle.
Bicycle frames made of bamboo?  Yup! Check them out at Bambike.  Rumor has it they are working on an electric bike too.  In case you don't know, bamboo is a very sustainable building material.
Here is a cool bike share program in Washington DC and Arlington VA.  Currently they have 1,100 bikes and 110 stations to get and return the bikes.  Here is a video on how it works:
How about some humor? Here is the world's longest electric bike.  It is a scooter that can seat up to 8 people!
That's it for right now.  I will continue to add more as I come across them.
And please add the stories that you want to share in the comment section below.
Thanks!
-Pete
P.S. Don't forget to sign up for updates from the electric bike world, plus ebike riding and maintenance tips! (upper right hand corner of this site)
Reader Interactions