Electric Bike News Week of 11-15-10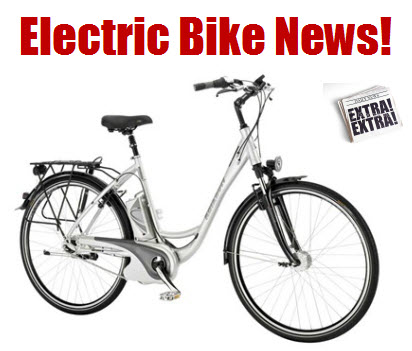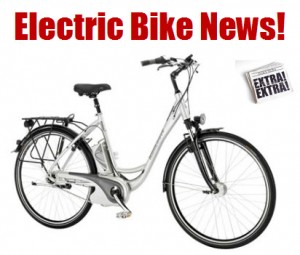 Wow! It's the middle of November already?!
This is a place where I compile news and other electric bike or regular bicycle items of interest.
I update this through out the week as I come across more cool news and cool stories, so stay tuned 🙂
And if you want to contribute an e-bike news article or story, please leave them in the comments section at the end of this post.
One more thing: If you would rather watch a video recap of this news, you can check it out here on e-bike news TV 🙂
And now the news!
Hey these guys are from Flagstaff, AZ! (where I live).  Motor Excellence is their name and they have been working on a new electric motor technology that will be more efficient than a lot of the current motors available.  Right now they are focusing on electric bike motors for production, but they are also working on motors for cars, drills, pumps and generators.  Here is a story about their history and future!
Here is a good story about a bike sharing program that Middleton Wisconsin is considering.  They also mention B Cycle which is a bike sharing program that is a branch of the TREK bikes.  The bikes they are currently using are not electric but I have heard of some programs that are considering electric bikes.
Well this is a wild e-bike design!  I am not sure how comfortable it would be to ride but it is very compact!  It has a compartment where you can charge your gadgets.
I like this short article because it hits on some great points about electric bicycles.  These are some of my favorite quotes: "ebikes were way ahead of other forms of transport in terms of cost and energy to weight ratio." and this one: "I discovered riding an electric bike can even be quicker than driving a car, especially in peak hour traffic,"
This is a good review of the Spencer electric bike with pedal assist.  The author hits on some great ebike points: "I'm soon out of the house again running various errands. Using the bike I found myself cycling more often." and this one: "A few test rides by various members of the family and they're converted to eBikes."
Here are some cool "tweets" from people on Twitter about electric bikes:
"@FNHPodcast: Electric bike was a success in getting me to work.  In fact I travelled the 10 miles fifteen minutes quicker!!!!!"
"@ArticFrank: I love to ride my bicycle! #WhyWeRide #PleaseDontSnow"
"@ToddTheDork: I have an electric bike, and I love it. In the summer I used to ride it about 15 miles a day to work and back…"
"@Cathman: Loved cycling the electric bike to work today – got here in half the time & not a matted hair in sight"
I have mentioned B-Line before.  They are an electric trike delivery service in Portland Oregon that delivers for local business.  Here is a video about their B-Shares surplus food transport to hungry people via e-trike.
Currie Technologies has opened an e-bike specific store called the I-Zip Store in Venice, California.  Here is the press release and here are the pics.  They have it set up so you can test ride the bikes indoors or along some of the great beach bike paths nearby.  Some times all it takes is a test ride 🙂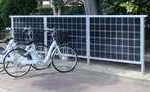 Kyocera has created a solar charging station for electric bikes.  I love this stuff!  Electric bikes being powered by renewable energy is so cool and so possible.  Ebikes take soooo little energy to charge that it perfect sense to use solar power.  OK, enough of my excitement, here is the article.
Checkout this picture of an electric bike hauling 2 other electric bikes on a bicycle trailer!  This is courtesy of the The New Wheel ebike shop.  The bike trailer comes from the Bike Trailer Shop, a company here in Flagstaff.  And here is a video of the ebike hauling trailer in action.
You may already know this, but Denmark is a bicycling country.  They ride bikes almost everywhere!  And now they are encouraging people who commute more than 5 kilometers to ride an electric bike instead of driving a  car.
Here is a cool article on how ebikes can be a great way for older people or people with disabilities to enjoy riding a bike.
Enjoying Los Angeles on $100 a day.  And yes it involves riding a bike!  Renting an e-bike would be a cool way to go too!
That's it for right now.  I will continue to add more as I come across them.
And please add the stories that you want to share in the comment section below.
Thanks!
-Pete
P.S. Don't forget to sign up for updates from the electric bike world, plus ebike riding and maintenance tips! (upper right hand corner of this site)
Reader Interactions