E-bike News: Haibike Launch Lightweight E-MTB Range, New Yamaha Mid-drive and Much More!
The e-bike industry is always trying to predict what 'the next big thing' will be. Will it be more and more lightweight e-bikes and in particular full-suspension e-mtbs that are considerably under 20kg? Haibike, one of the market leaders in making high quality but good value e-bikes, certainly think so – witness the recent launch of their Lyke range – and you would expect them to have done some detailed market research on the subject.
Another big question this week's news poses is what changes will happen simply as a result of continuing supply chain difficulties. Several recent market reports have shown how demand is as strong as ever for e-bikes in most countries, but the supply of quality European brands at least, cannot keep up with that demand. Cannondale's recent change of spec from a European Mahle motor to a Taiwan-based Hyena motor hints at the continuing volatility of supply chains and the difficulty of e-bike brands being able to nail down a given specification for a given model.
In this week's e-bike news:
Haibike's new carbon-framed, full-sus lightweight e-mtbs revealed

Yamaha PW S2 – a lighter, smaller more powerful mid-drive

News specs for popular Cannondale and Volt models

Specialized extends battery recall

Market overview – possible effects of supply chain difficulties
HAIBIKE GO LIGHTWEIGHT
EBR recently reported on Trek's new Fuel EXe full-sus e-mtb that used the new TQ HPR50 mid-drive, virtually hidden behind the chainwheel. It claimed to weigh 38.51 lbs (17.47kg), came with a 360Wh battery and a price range of between $6,500 to $14,000.
Such lightweight e-mtbs are still in a minority but there certainly appears to be an impetus towards more lightweight e-mtbs as Haibike – until now committed to models with beefier and heavier mid-drives – just launched their Lyke e-mtb range with carbon frame, Fazua motor, and 140mm of suspension front and rear.
Specifically, it uses the small Fazua Ride60 rated at 60Nm of torque together with an in-frame 430Wh battery which can be added to with a 210Wh optional external 'Range Extender'.
There are three variants, Lyke SE, Lyke 11, and Lyke 10, with the lightest Lyke SE claiming to weigh 39.7lbs / 18.5kg (the Lyke 11 and Lyke10 weigh a claimed 39.7 / 18.8kg and 41.9lbs / 19.6kg respectively). All weights given are for large size bikes.
Respective UK prices are £5,699 (Lyke 10), £6,599 (Lyke 11) and £8,799 (Lyke SE) – US prices have not yet been released. Lyke availability is slated for late November / early December.
YAMAHA PW S2 MID-DRIVE – LIGHTER AND MORE POWERFUL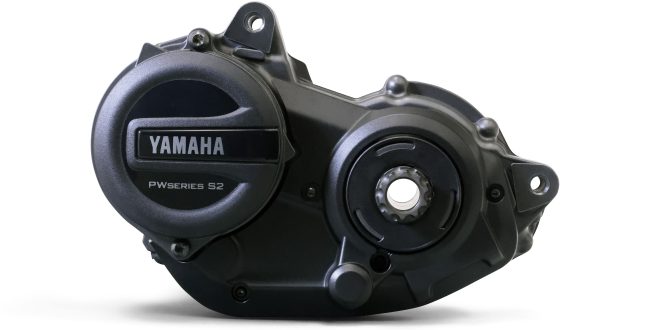 Yamaha are one of the major players in the mid-drive motor market along with the likes of Bafang, Bosch, Brose and Shimano. They recently launched the PWseries S2 mid-drive unit which is lighter and more powerful than its predecessor, the PW ST. Like the ST, Yamaha say the new S2 is a true allrounder, suited to commuting, countryside trekking, weekend touring and mountain trail riding. It will feature on 2023 e-bikes from a variety of manufacturers.
The S2 is rated to a max torque of 75 Nm maximum torque – that's over 7% more powerful than the PWseries ST and at 2.85 Kg there is a 16% weight saving. It also features Automatic Support Mode – as the name suggests, this automatically selects the right amount of assist based on riding conditions.
In tandem with the S2, Yamaha have also launched the new Display B which has a 3-inch LCD screen with large format information in English, German, French, Dutch, Italian and Spanish. It has a central location to allow more handlebar space for a smartphone holder and features a USB micro-B 1 A port.
MODEL 'UPDATES' FROM CANNONDALE AND VOLT
The UK's Cycling Industry News reports that Cannondale's most affordable eBike, the £1800 Treadwell Neo 2, has received an 'in production run' update, consisting of swapping the Mahle X35 motor and battery package for a Hyena Hydrive system (battery capacity remains at 250Wh). The most visible aspect of the change will be a more user friendly bar mounted control unit according CIN.
Volt is a long-established and popular British e-bike firm with an assembly plant in Milton Keynes UK and has just launched the latest versions of the popular Connect hybrid and Regent city style step through e-bikes and both are available for order now.
Both now use the latest Bafang M200 mid-drive which Bafang class as a "city" mid-drive rated at 65Nm torque — around the same as the highly regarded Bosch Performance Line Gen 3 motor.
The Connect also features Tektro hydraulic disk brakes, SR Suntour NCX suspension, SKS mudguards and Spanninga LED lights plus updated styling, smooth frame welding, and integrated yet removable 504Wh battery. It retails at £2499.
The Volt Regent – as well as that new Bafang mid-drive replacing the previous Shimano unit – features upgraded suspension, improved hydraulic brakes, and a frame-integrated 504Wh battery. The Regent also has adjustable position handlebar stem, swept-back handlebars, mudguards and pannier rack with integrated lights. It also retails at £2499.
SPECIALIZED EXTENDS BATTERY RELATED RECALL
Bicycle and Retailer Industry News (BRAIN) reports that Specialized has 'expanded its battery pack recall from last year, for first-generation Turbo Levo and Kenevo mountain bikes manufactured between 2017-2019. The recall includes additional battery part numbers and manufacturing dates.' A minority of the models in the batches mentioned are affected – estimated at fewer than 15% of the battery packs.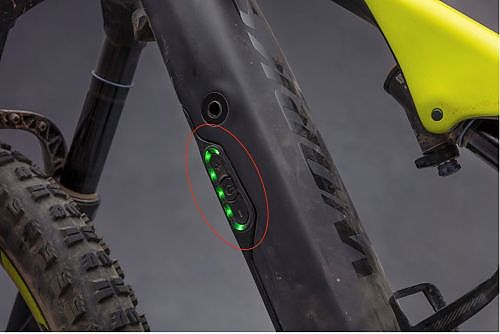 BRAIN describes the potential fault; 'if conductive water (salt or chlorinated water) penetrates the seal around the Control Pad — like through repeated pressure-washing — and reaches a specific small area of the protection circuit board, it can trigger a short-circuit and potentially lead to fire and burn hazards.'
If you have one of the affected e-bikes you should immediately stop using it and contact Specialized Bicycle for a free repair. Do not charge it or expose it to wet conditions until it has been repaired by an authorized Specialized retailer. Note there have been no reported injuries or incidents due to the fault.
E-BIKE MARKET TRENDS OVERVIEW
Bike Europe reports 'The total sales in the Belgian bike market fell by 1.2% in 2021, turning the tide on the 4% growth seen in 2020. A drop in e-bike sales and the sportive segment, which were both hampered by limited availability due to the supply chain problems, contributed to the overall decrease.'
Another interesting trend that may also be playing out in the wider e-bike market in other countries is the move away from smaller shops retailing various e-bikes to larger direct to consumer brands who are able to effectively influence, or at least adapt more easily, to supply chain difficulties. For example this BRAIN article from 2021 shows Rad Power had the financial clout and quick thinking to use smaller ships for importing e-bikes into the US to avoid the queue of larger ships at ports.
Whatever the future holds in terms of supply chains, e-cargo bikes are forecast to be one of the winners. This recent market report says the 'global electric cargo bike market size was USD 647 million in 2021 and is expected to grow at CAGR (compound annual growth rate) of 13.7% from 2022 to 2030.'
Even looking at this week's news it seems that supply chain difficulties may be behind some recent changes to established models, as the UK's Volt swapped from Shimano to Bafang mid-drives on a couple of longstanding e-bikes and Cannondale went over from the Mahle system to an Asian-sourced Hyena rear hub. Whilst EBR doesn't know the specific reason behind these spec changes the implication is clear; Asian-based frims may be the ones to benefit from the supply chain difficulties if they can readily satisfy the demand that European brands are struggling to keep up with.
OTHER NEWS
BRAIN again – this time reporting on the Bosch eBike Systems hour-long session at next month's Philly Bike Expo, aimed at dealers, consumers and other industry members. The Bosch event is Saturday, Oct. 29 at 3 p.m.
Over in the UK Ebiketips reports on how '"Highly dangerous" e-bike chargers have been found for sale on Amazon Marketplace, eBay, Wish.com and AliExpress by consumer safety charity Electrical Safety First. All sites have subsequently removed or blocked the relevant listings amid calls for greater regulation of online marketplaces.
Amazingly many of the dangerous chargers featured plugs without a fuse, thus, as ebiketips says 'having no means of cutting out in the event of a fault in the supply lead, which is especially dangerous where a lithium-ion battery is being charged.'