E-bike News: New Lightweights from Trek and Brompton, Shimano Expands Mid-drive Tech and Much More!
It's that exciting time of the year when e-bike companies start to announce new tech and new e-bikes thick and fast. So this week we have not only a brand new full-sus e-mtb from Trek but one of the lightest mid-drives out there with it. Brompton continue their recent launch of new bikes with their lightest e-bike yet and Shimano map out how urban e-bikes can now feature a more powerful mid-drive, electronic automatic gear shifting and ABS braking. Plus milestones for Eli's micro electric car, e-cargo bikes in the UK and European e-bike sales.
In this week's e-bike news:
Trek's bike like 38.5lb Fuel EXe e-mtb

Brompton's 34.4lb electric folder

Shimano's new mid-drive rolls out alongside ABS braking and auto gear shifting & Bosch brings out new ABS system

Ducati's new e-folders

European e-bike sales over 5 million for the first time

Eli deliver first one hundred neighborhood electric vehicles

Vancouver OKs 270 miles of protected bike lane

UK e-cargo boom
TREK'S NEW FUEL EXE: HIGH PERFORMANCE, LIGHT WEIGHT, ULTRA-LOW NOISE
Trek has just announced its entry into the superlight e-mtb category with a new bike powered by a new motor from German company TQ. Claimed weight is 38.51 lbs (17.47kg) – very light for a full suspension e-mtb. It's called the Fuel EXe.
It's arguably one of the most, if not the most bike-like looking e-mtb out there, with the TQ HPR50 motor virtually hidden behind the chainwheel and a 360Wh frame-integrated battery in a downtube that's narrower than most e-mtbs. A hex wrench means it drops out of the bottom of the frame. An optional 160Wh range extender battery fits onto the top tube. There is also a frame-integrated display in the top tube.
Its light weight, performance stats and hefty price tag look more or less in line with other high-end lightweight e-mtbs such as the Orbea Rise and the Turbo Levo SL. The motor also promises to be much quieter than other top end e-mtbs.
There's all the detail you could possibly want in this video:
There are six models priced at $6,500 to $14,000 with higher spec models featuring a carbon frame. They are available directly from Trek stockists in limited numbers as of now.
BROMPTON LAUNCH THEIR LIGHTEST E-FOLDER YET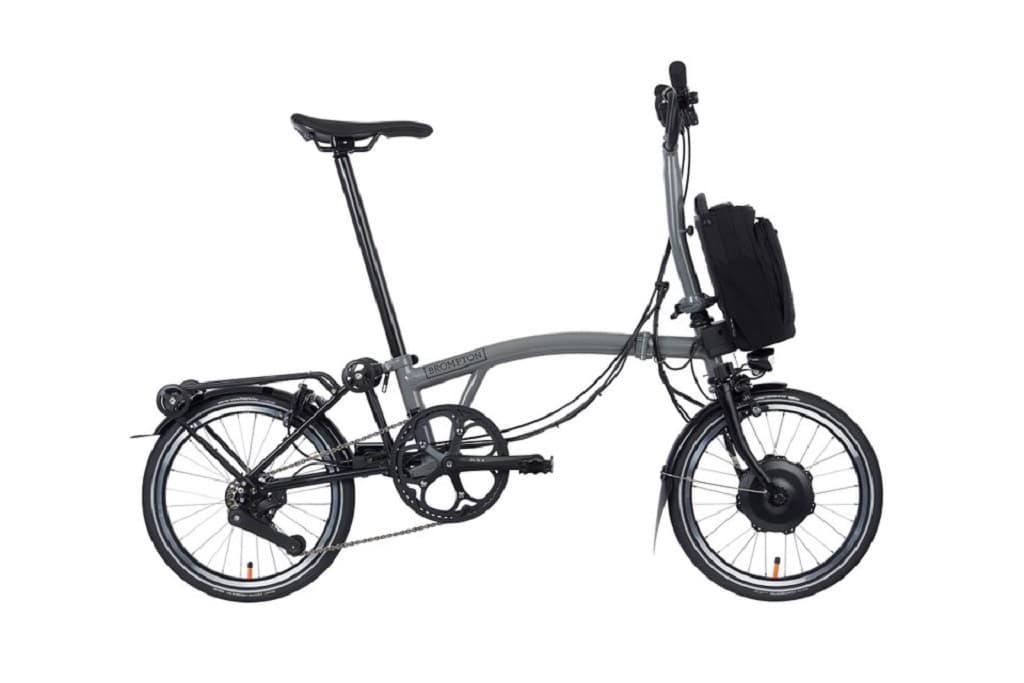 London-based Brompton, world famous for the neat and quick fold of their non-electric bike, have just launched the Electric P Line – at a claimed 34.4lbs / 15.6kg they say it is their lightest e-bike yet.
This new bike is an electric version of the recently launched non-electric P line which features a titanium rear triangle and a newly designed proprietary 4 speed derailleur.
Lift off the quick remove battery and you have a 28lb / 12.7kg package – much easier for carrying when it's folded down to a very handy 60 x 59.5 x 28cm (23.6 x 23.4 x 11 inches) – the battery can be slung over your shoulder as in the pic above. There's also an optional roller rack that means with the seatpost partly extended it's easy to push it along platforms etc, wheeled luggage style.
Prices start from £3,695.
SHIMANO ANNOUNCES EP6 MID-DRIVE – PROMISES HIGH END PERFORMANCE FOR A MID-LEVEL PRICE. PLUS ELECTRICALLY SHIFTING E-BIKE SPECIFIC DRIVE CHAIN AND ABS BRAKING
Shimano already has a wide range of mid-drive motor systems and now comes the EP6, offering 85Nm torque high end performance but a more mid level price than their top of the line EP8 mid-drive.
At the same time Shimano announced a new electronically, automatically shifting e-bike specific drivetrain called CUES Di2 and a new anti-locking braking system (ABS). The gear system will interpret the rider's speed and cadence and change gear accordingly. It will be available as 10 and 11 speed derailleur systems.
Expect to see the systems appearing on urban e-bikes over the coming months.
BOSCH LAUNCHES NEW ABS BRAKING SYSTEM
Not to be outdone in the braking technology department, the UK's Ebiketips reports that 'The firm has now launched a smaller, lighter version (of it's existing ebike ABS braking system) it says will be suitable for every kind of e-bike. Bosch's new ABS, with brake components from Magura, is again based on motorcycle technology, but with a new control unit that is 77 per cent smaller and 55 per cent lighter than its predecessor.'
DUCATI LAUNCHES TWO ELECTRIC FOLDERS
Ducati has just unveiled two new folding electric bicycles. The new SCR-X and SCR-E GT are both 20" wheeled electric fat bikes with Bafang rear-mounted hub motors. Both are Euro spec 15.5 mph assist limited pedelecs.
The SCR-E GT has semi-slick tyres street tires and a removable 500 Wh battery whilst the SCR-E GT has rear suspension, knobblies and a 614 Wh battery.
Availability is touted as later in July but no prices are currently available.
EUROPEAN E-BIKE SALES HIT RECORD 5 MILLION
Bike Europe reports that 2021 European bicycle and e-bike sales surpassed the 22-million-unit mark for the first time since trade association CONEBI started to collect the figures back in 2000.
'This growth was in particular driven by the continued robust demand in e-bikes, which topped 5 million units being sold' it adds.
WHAT IS A NEIGHBOURHOOD ELECTRIC VEHICLE? ELI KNOW AS THEY JUST SHIPPED THEIR FIRST 100
The world of electric vehicles is full of confusing acronyms – and here's another one, NEV. That's Neighborhood Electric Vehicle to those in the know. Start-up California-based Eli makes them and has just announced over 100 of their NEVs have been built, shipped and sold.
Eli say 'with these sales we've received a critical piece of feedback from dealers and distributors 'Build us more…'
The Eli Zero NEV is not an electric bike but a micro electric car and nicely bridges the obvious gap between e-bikes full size cars. It offers things like weather protection and a full seat with space for a passenger and a stable four wheel platform with power assisted steering. It doesn't need specialist charging infrastructure to make it practical like full size electric cars do.
Neighborhood Electric Vehicles is a class of street-legal transportation vehicle in the US that has a maximum speed of 25 mph, and can legally be driven on most roads posted 35 mph or less. You need a drivers' licence, insurance and registration in states where NEVs are allowed – which is most states according to the map below.
VANCOUVER PLANS 270 MILES OF PROTECTED BIKE LANES

The Vancouver Sun reports that authorities there have just approved a plan for around 280 miles of new traffic-separated cycling paths, including bike networks in every Metro Vancouver Urban Centre, and 200 more bike lockers, according to a Metro Vancouver news release.
REPORTS OF UK SURGE IN E-CARGO BIKES
E-cargobike sales in the UK have doubled in the five months to the end of May, according to the Bicycle Association says this Guardian article. The article adds 'That comes after more than 40% growth last year and despite a general downturn in overall bike sales, which have slipped after the boom enjoyed during the pandemic lockdowns.'
The Bicycle Association figures do not include businesses or individuals who buy direct from suppliers, such as Urban Arrow, Tern, Bakfiets and Babboe, who, according to the article 'have seen a surge in interest as cities around the UK – from Birmingham and Glasgow to London – introduce low-emission zones which levy charges on fossil fuel-reliant van and car drivers.'