Electric Bike Company, Model E Review, 2023
A Quality Cruiser E-Bike Customized to Your Liking in the U.S.A.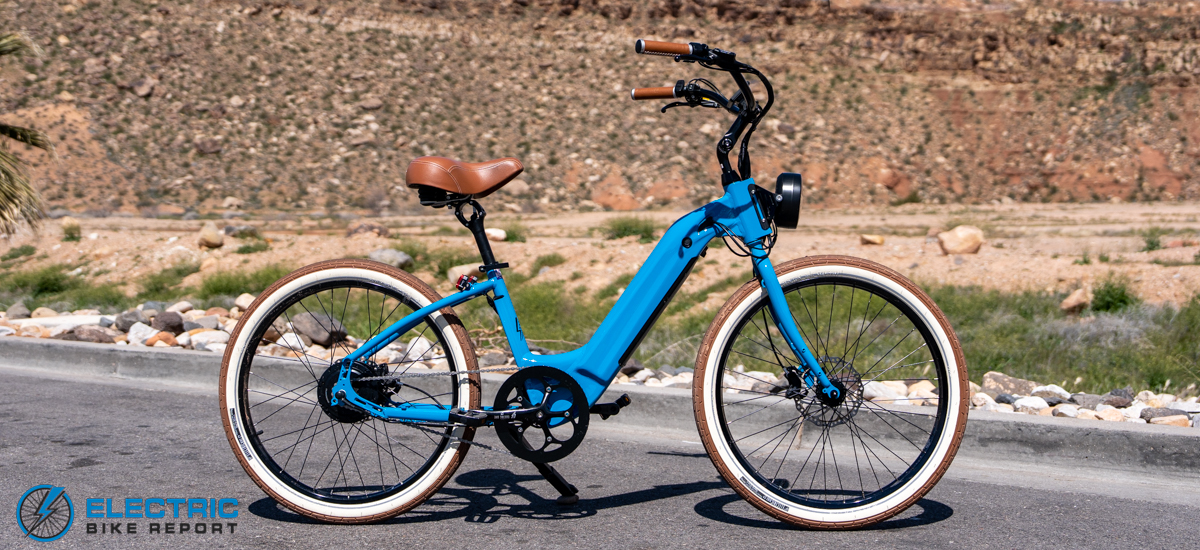 In our review of the Electric Bike Company's Model E cruiser, we'll go over this bike's key features and components, and how this well constructed cruiser will gain your adoration, while keeping its value. If you are looking for a high quality cruiser e-bike, then you'll want to continue reading here.
Built on a 15-inch medium size step-thru frame, this Class 2 e-bike features a throttle and pedal assisted speeds up to 20 mph (or faster if you contact Electric Bike Co.). EBC builds all their e-bikes in the U.S. Using industry-leading craftsmanship, EBC gives buyers custom design choices, like paint color for the frames, forks and wheels, custom seats and grips, and other accessories.
Our Model E we received for testing and review is built around its 500-watt motor which delivers power to its single gear axle, simplifying the ride for a more maintenance-free experience. Like its brothers and sisters in the EBC lineup, the Model E is meant to be a bike you keep and ride for a long time. The motor and frame have an industry-leading 10-year warranty, the battery 5 years, and a 2-year warranty on most of the remaining parts on this bike. So when you're buying a Model E, you're buying an e-bike that's really protected!
If you're into customizing your cruiser e-bike to make it look more unique than any other, the Electric Bike Company is the place to go. When you see the available options for paint and accessories, you'll find the Model E is a great choice for that kind of bike.
Class 3 E-Bike:
Throttle up to 20 mph, PAS to 20 mph (can be changed to 28 mph).
Electric Bike Company Model E Video Review

Pros
Quality built e-bike for a good price starting price. Other cruisers are available for less money, but EBC puts fine craftsmanship in the design and build of their e-bikes, making them a high quality e-bike.
EBC custom builds their bikes for the customer, meaning they can build your bike with more unique features, like frame and wheel colors, gearing, battery capacity and accessories to enhance your ride
It's easily one of the most comfortable e-bikes you'll find anywhere. Frame ergonomics, upright riding posture, handlebar reach, pedals, and cushy seat all add up to a nice ride.
Weight capacity of 420 lbs means this bike can carry 80-100 lbs more than most any other cruiser out there. This is great for heavier riders, and riders who need to carry cargo.
A 10 year warranty on the motor is the best we've seen for motors, indicating manufacturer's confidence in their product, so the buyer can be confident, too.
Fast charging! A 3.5 amp super charger charges battery in 2-3 hours, not 6-8 hours like many others.

Cons
The single-gear of our test model felt a little limited. Fortunately, it's one of the many upgrade options and we'd recommend the 7-speed drivetrain.
ELECTRICAL SPECS & FEATURES
Motor: 500W, 48V Electric Bike Company proprietary motor, 60 NM, 10-year Warranty
Class: Shipped as a Class 2 e-bike, throttle & pedal assist up to 20 mph. (Can re-program to Class 3, PAS up to 28 mph)
Battery: 48V 15 Ah, Samsung, with NMC cells, 5-year warranty (upgrades are available)
Range: Up to 50 miles
Charger: 3.5 Amp super charger, 2-3 hours charge time
Throttle: Right thumb throttle
Display: Color LCD screen with USB outlet
Lights: Front and rear safety LED lights, controlled from LCD screen
Weight & Dimensions
Total weight (w/battery): 56 lbs
Max weight capacity: 420 lbs

Rack/Basket capacity: 40 lbs each (front & rear)
Recommended rider height: 4'6″ – 6'8″
Wheelbase: 48″
Wheel end-to-end: 74.6″
Components & Accessories
Brakes: Bengal hydraulic brakes, dual piston caliper, (optional Tektro Dorado Hydraulic Disc Brakes)
Brake Rotors: 180 mm Stainless steel (front and rear)
Drive Train: Direct single gear (optional Shimano 7-speed)
Freewheel: 18T cog for medium to hilly terrain
Crank Set: 58T, 170 mm forged alloy, dual-sided aluminum bashguard
Frame: 6061 aluminum ally, 3mm thickness average
Fork: Rigid Steel 1-1/8″ fork with threaded steerer tube
Headset: Semi-integrated, 1-1/8″ straight steerer tube
Stem: Integrated 120 mm, adjustable from 0º- 60º
Handlebar: Aluminum cruiser style – 27″ wide for comfortable upright riding position
Grips: Locking hand stitched leather
Chain: Stainless Steel for longevity
Pedals: Wellgo aluminum, integrated bearing pedals with comfort non slip rubber
Tires: 26″ x 2.35″ Schwalbe Fat Frank e-cruiser tires
Rims: 26 inch, double walled, aluminum 2″ Jetset rims
Seat: Custom, 300 x 300 x 100mm thick, high density foam
Seat Post: 30.4mm x 300mm, up to 350 lbs
Cargo: Rear rack and front basket available
Overview – Electric Bike Company Model E
Many e-bike companies offer cruisers as part of their lineup. But the
Electric Bike Company
focuses only on cruiser e-bikes, making them a leader in cruiser design and construction. Based in Southern California, this company builds, customizes and sells a lot of cruiser e-bikes. That's right, their e-bikes are built right here in the USA! Of course, some of the bike components are from other countries, but EBC isn't stuck relying on one or two suppliers, giving them the freedom to put whatever parts they want on their bikes, or rather, it gives YOU the freedom to put whatever YOU want on YOUR bike. The Model E you see in this review includes several variables you can pick for yourself from handlebar styling, drivetrains, grips and more.
As we looked over the Model E, we could see the quality workmanship and components EBC put into this bike. For example, the bike's foundation, the frame is a real work of art. It's built using rust-resistant 6061 aluminum alloy, double walled and as thick as 3mm at stress points. Also rust-resistant are the axles, rims, chainring, chain, sealed bearings, and bottom bracket, that are made with the 13-gauge stainless steel. This reduces wear and tear, requires less maintenance, and helps this bike last longer.
"Long-lasting" quickly becomes a theme here. The motor is constructed with high quality copper and neodymium magnets. EBC is so confident in the motor's reliability that they back it with a 10-year warranty. This should give you confidence knowing you're getting an e-bike that will have lasting value.
With any EBC bike, the quickest thing to catch your eye is the paint job. You can color this bike a thousand different ways thanks their custom paint options. Choose the frame, fork, chainguard, and basket colors from their options, or send in your own. Or keep things budget friendly and go with a popular stock color option. The blue on ours popped nicely, it's one of the many reasons people consider EBC's bikes.
Not only can you get unique customization, but you get unique after purchase service as well. The Electric Bike Company's strong base of loyal customers is a reflection of the high quality customer service they strive to deliver. I contacted them through their 24/7 chat line (posing as a customer), and asked a ton of questions about the Model E. Jeff and Mike were quite knowledgeable and super friendly (I eventually told them who I was). Mike, the customer service manager, said they make customer satisfaction a top priority. He said most of their customers submit special orders to customize their bikes, requiring professionalism and doing things right the first time. In the event your Model E shows up and something is not how you ordered it, the tech on the phone will go grab the builder of your bike to ask questions. They share the same shop in California – so it just takes a quick walk down the hall. It's unusual to have customer service and assembly in the same state, let alone the same building.
If you're new to riding cruisers, but not new to riding, then you might want to remind yourself of what cruising is all about when you first hop on the Model E. Your interaction with this bike, from posture, to hand placement and reach, to pedaling, and to your overall operation of this bike is going to be different from how you've ridden before with an emphasis on comfort. I am mostly a mountain bike rider, so it took me a few minutes to settle down and really get in the vibe of cruising. I love it now, because I have a whole new perspective on riding, as I hope you will too be the end of this Electric Bike Company Model E review.
Now, let's go over the performance test results and see how this bike did.
Circuit Speed Test – Electric Bike Company Model E
Before we began the circuit test, we wondered how well this e-bike would ride with just one gear (an 18-tooth cog), especially when we had to do the first lap, with no pedal assist coming from the motor. As expected, this 56 lbs fat tire bike wasn't easy to pedal on the uphill section, with no pedal assist. You'll want to always make sure you have enough charge in the battery before you ride, so you can avoid experiencing this.
Switching from no power to PAS 1 there was a slight increase in speed, Going from PAS 2 to PAS 3 and PAS 4, our Model E gained speed by about 2 mph each time. That's a consistent pattern and we like seeing that with the e-bikes we test. Most riders are looking for a gradual increase in speed, not a surprising jolt. Then came PAS 5.
PAS 5 is where you can see a speed increase of up to 4 mph, and we recommend you use that carefully, and prudently. PAS 5 had me going 26 to 28 mph consistently, which is fine for riding on the city streets, but not recommended on defined paths that you share with other riders and pedestrians. Plus it might not be legal, since most have a speed limit of 15 to 20 mph.
Riding at top speed, I was impressed to see there was almost no ghost pedaling, thanks to the 58T chainring. EBC plans to offer a 60T chainring to eliminate ghost pedaling altogether. The 18T rear cog on the single gear axle worked pretty well with overall riding – best when riding on long flat stretches – but can be difficult to pedal on long or steep hills.
Good traction and overall control from our 26" wheels with inverted tread design, knurled tread surface, low profile and fast rolling without losing traction.
Range Test & Battery Performance – Electric Bike Company Model E
"How far will this bike take me using the battery?" That is one of the most common questions we get here at EBR. Battery range is one of the key features that either encourages or discourages a would-be buyer. Our range test helps ease bike shoppers' worries about an e-bike's range because we base them on real world riding conditions.
The Model comes standard with a 12 Ah battery. So our test results reflect what this battery can do. As you can see in the chart above, both test results came pretty close to what the manufacturer claimed the range would be.
PAS 1 was good for slow riding on the flat paths. Negating our use of PAS 1 for the range test were the many hills and moguls on our course here in Southern Utah. That meant we had to use PAS 2 for riding with minimum pedal assist. Our PAS 2 yielded a distance of 45.92 miles, and averaged 10.9 mph.
Our maximum pedal assist test, using PAS 5, produced a distance of 21.26 miles. Keep in mind that your results might differ from ours. Factors such as rider weight, road conditions, elevation, wind, weather, and even time of day can all affect the results. Your results will probably come pretty close to ours, so you'll know what to expect.
EBC uses Samsung batteries which are certified and internationally approved, and includes a 5-year warranty (except for cases of water damage). Throughout this review I've mentioned how the team at EBC can customize your Model E anyway you like. Well, that involves the batteries, too. This starts with the primary battery, which you can upgrade and get a 14Ah battery for a little more range. If you add the front basket, there's room for two more 9 Ah batteries, meaning you could have as much as 30Ah of battery power. That would significantly increase your range to at least 115 miles, based on our calculation using our rider and test course.
All Model E bikes come with EBC's SuperCharger, which will completely charge the base 12 AH battery in 2 to 3 hours! That's quicker than most other e-bike battery chargers we've seen.
Regardless of what kind of distance you're planning to ride on a consistent basis, the Samsung battery on the Model E we tested worked well and delivered an acceptable range on both our range test rides.
Hill Climb Test – Electric Bike Company Model E
"How well will this e-bike climb hills?" the second-most common question we get. That is why we run every e-bike we review through the hill climb test. This test doesn't make or break an e-bike in how we view it. Every bike is built to meet different needs, and every rider has his or her own unique expectations from the e-bike they buy. The person who buys the Model E is likely not planning to do a ton of strenuous hill climbing.
As you can see from the chart above, the Model E can get you up some steep hills either via the throttle or PAS. The throttle is slow and steady, but it will get you most anywhere. A little pedaling goes a long way, and significantly improves thing when you add a little leg-power to the ride.
For sure, the Model E would have climbed the hill quicker if it had more than one gear. Gearing is another feature EBC can customize and add to your new Model E, for a few dollars more. If hill climbing is on your itinerary, then having EBC add the Shimano 7-speed would be an option worth pursuing. But if you're riding mostly on the flats, then you probably don't need it and will get by just fine on a single-speed experience.
Safety and Brake Test- Electric Bike Company Model E


The Model E comes stock with Bengal brakes, featuring dual piston calipers, and 180mm alloy rotors. Optional are the Tektro Dorado brakes, with quad piston calipers. This is what came on our bike and you can get those installed on your Model E. The 24-feet average stopping distance from our test was okay compared to other e-bikes in general. The average is slightly shorter around 22-feet.
Cruising on an e-bike usually involves riding at a slower pace. The upright posture, mustache handlebar, and laid back ergonomics on the Model E encourage the rider to ride at a more leisurely pace. When I rode this bike on the bike path, which was loaded with kids on spring break, my average speed was around 15 mph and the brakes worked great for me.
The Fat Frank tires superbly handled the bumps and dips I rode over. The rigid forks rode firmly and with the tires absorbing the bumps, I didn't miss not having suspension forks on this bike. Suspension is another option EBC can customize for you, adding a Zoom hydraulic suspension fork, with 80mm of travel, 135mm hub width, and 9mm quick release.
One last note are the large brake lights – bigger than other lights we've seen. That really helps warn other riders who are behind you. And the headlight is larger than most we've seen, too, which is comforting to know if you end up riding home in the dark.
Ride Comfort & Handling, Cockpit, and More – Electric Bike Company Model E
I found the standard seat, which is wider than most seats you'll find, and has thicker padding, was super comfortable during all my rides. That says a lot because I find most seats uncomfortable after 10 to 15 miles of sitting during a ride. When you look at the curvature of the seat's design you'll notice how it fits the contours of your bottom. As an option, EBC can install the Satori suspension seat post to further soften your ride. I like how the Electric Bike Company put thoughtful consideration toward where riders need to plant their behinds when they ride!
For a rigid frame bike I could really feel its durability on the road. The 26″ x 2.35″ Schwalbe Fat Frank e-cruiser tires handled great and I always felt in control. Yesterday, I rode this Model E 15 miles, facing wind gusts of up to 50 mph. There were a few times when I felt like the wind was about to blow me off the bike, but the bike stuck to the road and didn't budge. I felt like the bike said to me, "I've got this." When riding other, lighter bikes there were times when that same notorious local wind was blowing the bike off the road, too. That says a lot about how well the Model E safely stuck to the road and kept me safe!!
The 26 inch, double walled, rims make a difference, also. Combined with the stainless steel 13 gauge spokes, these rims can handle 420 lbs of rider and cargo, which is 70-100 lbs more than most e-bikes.
I'm not a fan of the mustache style handlebar. A remnant from a by-gone era, when bike frames were longer, these bars look really cool but you give up some handling ability with them, and they're not comfortable for riders with wrist issues. I'm also not a fan of the leather grips. They may look nice but they are slippery, especially when your hands perspire. I recommend switching out for the rubber grips and getting a safer ride.
The color LCD display has a USB port for charging your smartphone. When you first turn on the display it will flash a safety advisory message that you'll need to accept. You will also need to actually switch on the PAS after your turn on the display. I could see people getting a little annoyed by that, but I also understand the safety concern EBC has for their riders and like the approach here. The color display was easy to read under bright sunlight. I also liked the thermometer, I haven't seen that on any other display units.
Summary / Where to Buy – Electric Bike Company Model E
If you're looking for any sort of cruiser electric bike, then the Electric Bike Company's Model E makes a good choice, based on quality, safety, customization and price. EBC makes building electric cruiser bikes their only business. Their specialization is indicative to how good they are in the cruiser e-bike industry. Each bike is handcrafted and uses top of the line materials to avoid rust, wear and tear. Don't believe it? Check their warranties.
I think they fulfilled their goal of making this the e-bike for everyone. I am 6-feet tall, and weigh 195 lbs, and I fit into this bike very well. After adjusting only the seat post and handlebar I was out on the road and having a fun time riding this bike. Cruising is a different style of riding, and this bike worked great at introducing me to this laid back approach.
Even though our test bike's frame is rigid, the Fat Frank tires did a marvelous job cushioning me from the speed bumps and dips I hit. When riding headlong into high winds, this bike didn't get fazed and just kept plowing along. I have a hard time finding bike seats that are comfortable for my butt. The standard seat on the Model E was super comfy for me, which is super important when you're cruising.
And lastly, the team at Electric Bike Company offered great customer service. They didn't know who I was when I called and got on their chat room. That gave me a really good impression of how they treat all of their customers. When you're buying an electric bike, you're going to have questions and, maybe, some issues. My experience made me comfortable recommending them to other would-be customers.
So all in all, the Model E is a great choice and one I recommend. Click the price button above and just see all the customization available at your finger tips, or look at the top sellers to see the most popular ways people are choosing to ride a model E.
Happy Riding! Make sure to let us know if you have any questions down in our comments section or if you think we left anything out in this review of the Electric Bike Company Model E.
Reader Interactions