eBike News: Juiced Bikes Scorpion, Pedego Step-Thru's, Lightweight Kit, eBiking Italy, & More! [VIDEOS]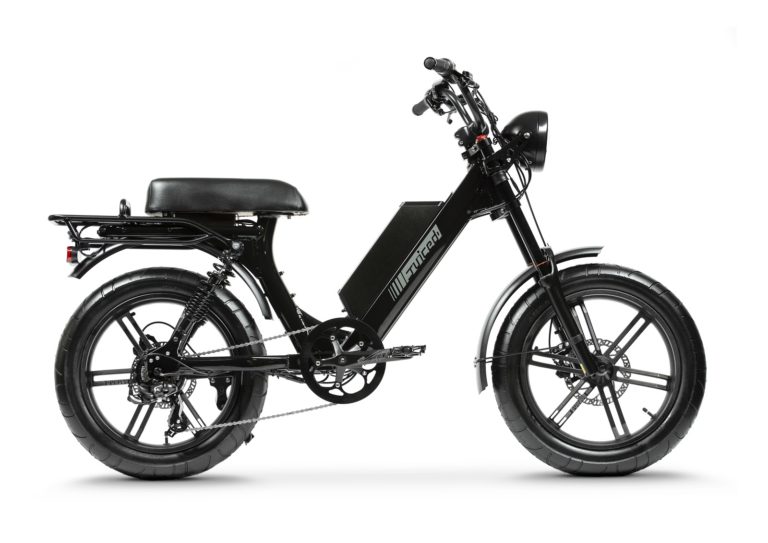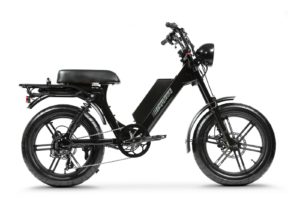 In this week's eBike news roundup:
Juiced Bikes Scorpion eBike/eMoped
Pedego Fat Tire Step-Thru eBikes
Light & Portable CLIP eBike Kit
Greyp eMTB Wins Eurobike Award
Hollywood eCargo Bike & RV Racks
SeatyGo Quickly Removable Seat
eMTB World Championships Video
eBike Tariff Exemption?
And Much More!
New eBikes & eBike Systems
Juiced Bikes Scorpion
We mentioned the new Juiced Scorpion before and now this full suspension eMoped style eBike is available starting at $1,399.
Some of the spec highlights are a 52V battery, 750 watt motor, 28 mph, and a stated range of 45 to 75 miles.
eMoped style eBikes are on the rise with their classic styling and comfortable ride position. The Scorpion blends in the wide tires, moto style headlight, full suspension design, and large seat from classic mopeds.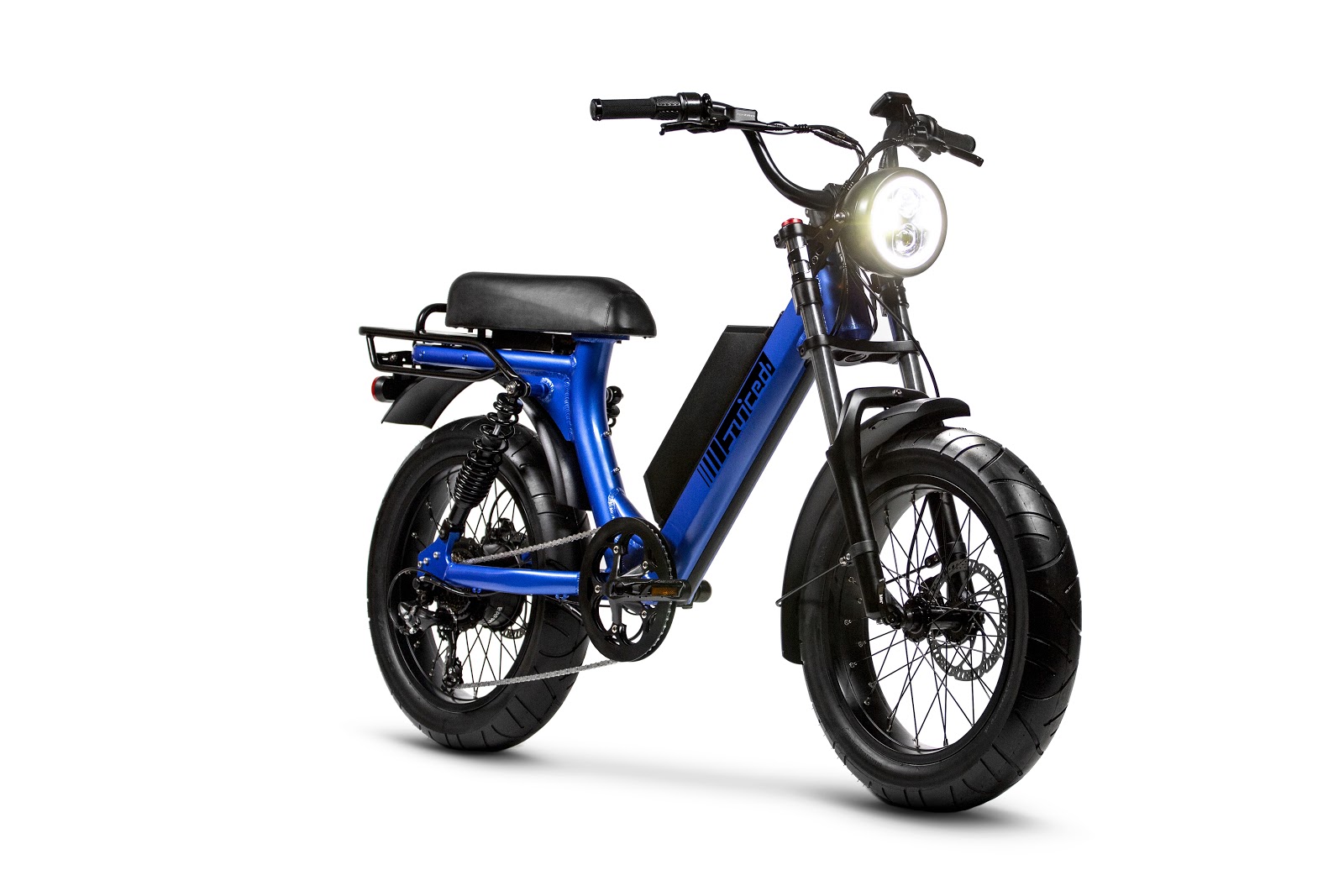 "In the e-bike market, we're all very focused on pushing the performance envelope. With the Scorpion, however, we wanted to emphasize the importance of the design, while still ensuring the bike was packed with advanced performance features our customers love," says Tora Harris, CEO and Founder of Juiced Bikes. "Gone are the days of underpowered pedaling. With the Scorpion, we are delivering superhuman power and speed combined with incredible versatility at an extremely affordable price. It's really the perfect mobility solution for a broad range of riders."
Juiced Bikes is also offering the HyperScorpion that offers higher performance specs and starts at $1,999.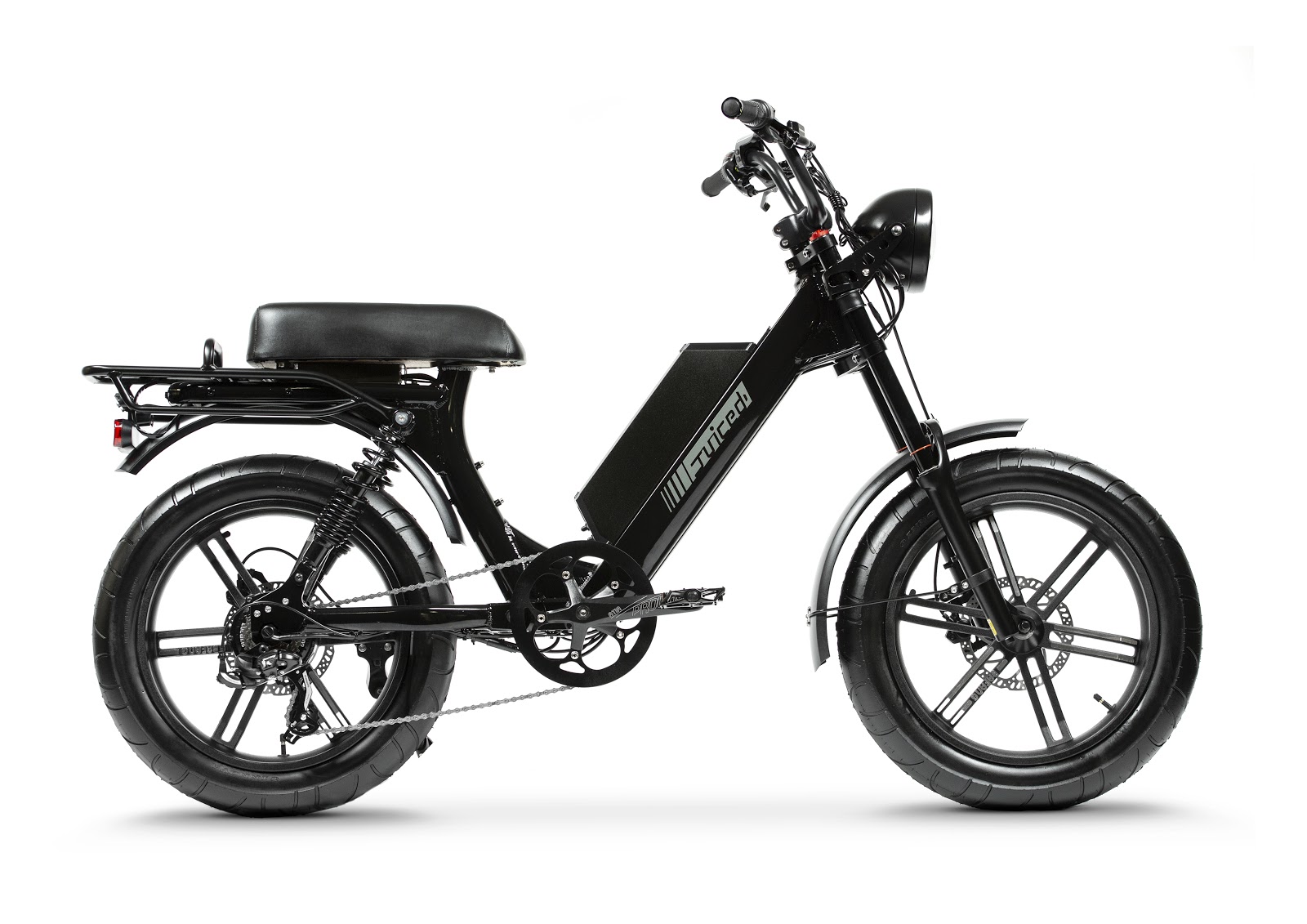 The Scorpion and HyperScorpion will be available in Gloss Black and Metallic Blue and the HyperScorpion will also be offered in a premium Brushed Aluminum finish.
Bikes will ship to pre-order customers in March, 2020.
Learn more at Juiced Bikes.
New Pedego Step-Thru's
Pedego announced that they have added a step-thru frame option to their fat tire Trail Tracker and Trail Tracker Gorilla Edition.
"The Pedego Trail Tracker is the sports bike of choice for people who love excitement on rugged terrain," said Don DiCostanzo, Pedego Electric Bikes CEO and co-founder. "The new step-thru models bring the adventure to even more people."
Priced from $3,795, the Trail Tracker Step-Thru Gorilla Edition features cruiser handlebars and a cushioned saddle for upright comfort. It is available in jet black with black rims.
Priced from $2,695, the Pedego Trail Tracker Step-Thru is available in jet black with lime green rims.
The Pedego Trail Tracker family also includes the 26-inch Classic as well as 24-inch and 20-inch models.
The Gorilla Edition family also includes a 26-inch Classic.
CLIP Portable eBike Motor
Here is a lightweight friction drive motor kit that is designed to be easily added to your own bike or a bike share.
They are still in the development stages and here is a video about CLIP:
Below are some of the specs for the system.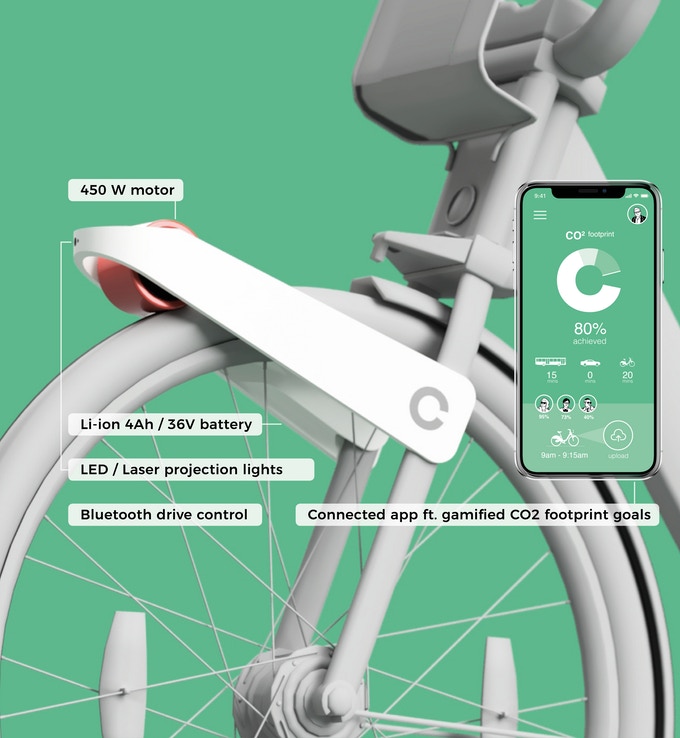 The stated weight is 3.8 pounds and the idea is to have a small enough form that CLIP can be carried in a backpack.
That provides the rider to an easy way to charge the CLIP at work and the stated charge time of 15 minutes provides up to an hour of riding.
From CLIP "Our patented universal attachment system is designed to quickly & easily attach CLIP to any front fork with a 26" – 28" wheel. The roller is designed to create the maximum contact with the tire and so create ideal friction even in wet weather."
"Moving to Brooklyn and adopting bike-commuting as a regular habit, to realize a very specific pain-point every bike-commuter anywhere in the world experiences – that of the brief moments of extreme effort. That one uphill stretch or the final last 10 minutes before home when you're exhausted at the end of the day. So we designed CLIP to reduce that specific type of effort when you're riding your bike," says co-founder Somnath Ray on the inspiration behind the project. "By creating a lightweight, affordable and portable device everyone could easily attach to their bike, any bike. It's light enough to toss in with everything else in your backpack and compatible with both shared bikes and your personal bike. Finally, when you arrive, you'll be able to simply unclip it from your bike, carry it with you, and recharge it fast on your desk for the ride back home."
"Biking is the best urban mobility solution for the 10-35 min commute and yet only 2% of daily commuters bike to work. Biking to work every morning is one of the best things you can do for yourself and the environment," adds co-founder Clement de Alcala. "What holds so many of us back is that no one wants to show up at their 9am meeting worked up in a sweat. Brief moments of extreme effort discourage committed bikers and foil the best intentions. CLIP is designed to solve the 'brief moments of extreme effort' problem so you can choose biking as your commute of choice every-time!"
Check out the CLIP website for more info.
High Tech Greyp eMTB
The Greyp 6.2 won the eMTB category award at Eurobike recently and here is a video with an overview of this high-tech eMTB:
The owner of Grep, Mate Rimac: "Unlike traditional bike manufacturers that are basically combining push-bikes with electrical components, we have developed the bike around an electrical drivetrain, a bunch of sensors and advanced connectivity. The systems features and eco-system that we are showing today are much more important than the bike itself. I believe that we succeeded in combining both cycling and the digital experience by integrating sensors and cameras, connecting bikes to the internet and developing an eco-system to create a completely new riding experience. We invested four years into the development. We believe this bike is the turning point for our company, and if I can put my modesty as aside for a moment, will stir up the industry at least a little bit."
You can find out more about these high-tech eMTBs at the Greyp website.
Accessories
New Hollywood eBike Racks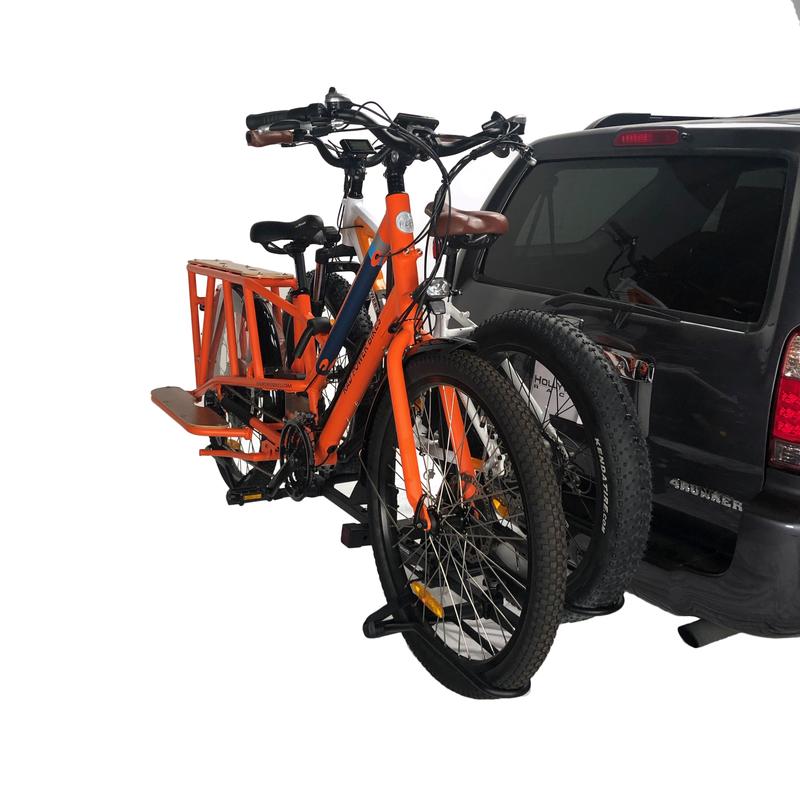 First up is the new Hollywood Sport Rider SE designed for cargo bikes with more spacing between the bikes to allow for runner boards found on many cargo bikes.
This rack can carry 2 cargo bikes or 1 cargo bike and a fat tire bike or traditional tire size bike.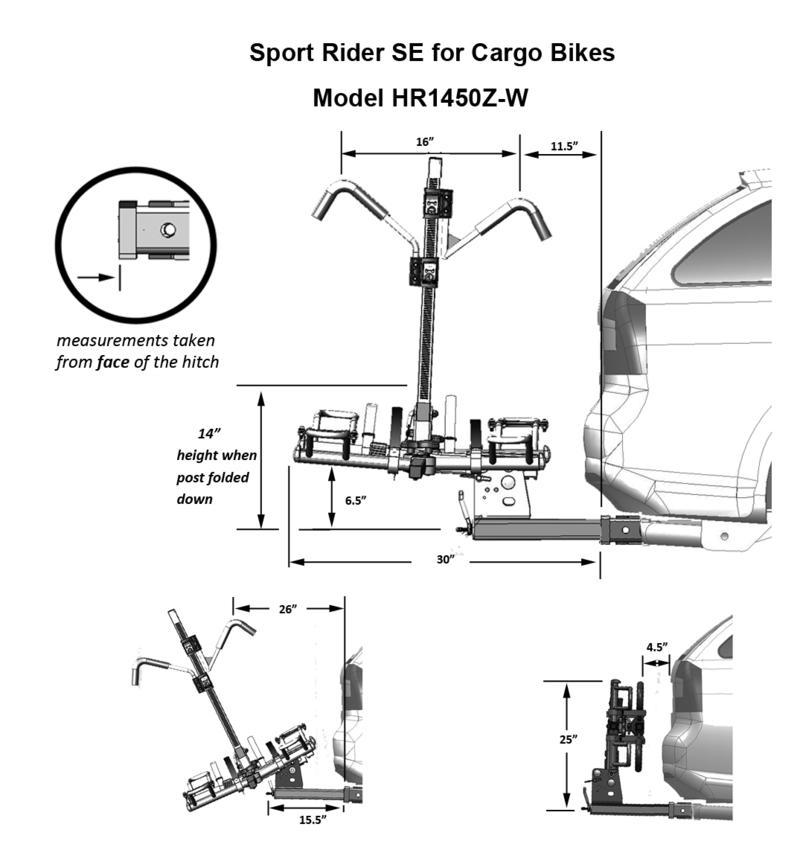 The rack can be tilted and folded as shown above.
The Hollywood Sport Rider SE designed for cargo bikes is priced at $499.99 and you can learn more about it here.
The next rack is the Hollywood RV Rider that carries 2 E-bikes (up to 80 lbs. each) on the back of an RV Motorhome, a 5th wheel or a flat towed vehicle.
It can carry two 80 pound electric bikes with options for Fat tire and Cargo bikes as well. This also has tilt and folding capabilities like the Sport Rider SE.
The RV Rider starts at $549.99.
SeatyGo
Here is a new innovation in seat's, the SeatyGo:
The SeatyGo is a quickly removable seat top to prevent theft and weather damage, while allowing for multiple seat designs.
There are 3 seat options: Dynamic, Urban, and eBike:
The SeatyGo starts at $65 on Kickstarter.
Rinsten Spring
Speaking of seats, the Rinsten Spring is a simple and economical way ($69) to add some suspension to the seat. Here is a quick demonstration video:
From Rinsten "Our spring damps vertical and lateral impacts and vibrations and adjusts to pelvis bending during cycling. Thanks to our spring your back literally "sticks" to the seat and doesn't shift. This allows you to apply less effort when riding and avoid injuries. This shock absorber makes your cycling comfortable and keeps your body healthy. Hardness of the spring can be adjusted to your weight, riding style and terrain you cycle on"
Find out more at the Rinsten website and the Rinsten Spring is also available at Amazon.
Velocker
We have featured Velocker before and now they have launched an IndieGoGo campaign. Check out the video below:
The Velocker aluminum boxes are designed to work with conventional bikes and cargo bikes. They start at $165 on IndieGoGo.
Founder of Velocker Brian Hoffman said "We thoughtfully designed every detail and feature of the Velocker cargo system to be useful, safe and cost effective. In addition to the lockable cargo box capacity, Velockers also provide a large flat deck and tie down points to strap larger items to. Our proprietary mounting system is heavy duty, secure and easy to install."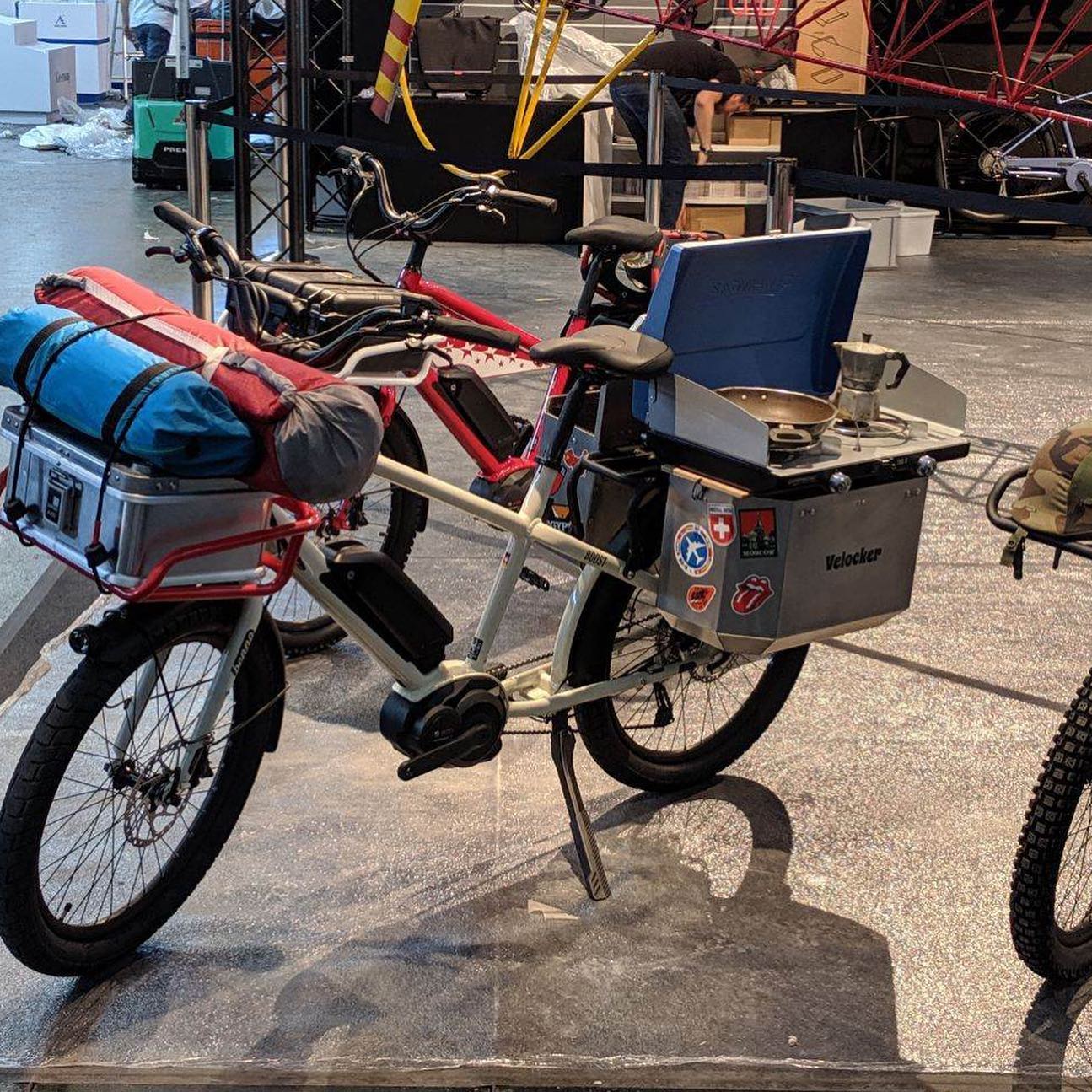 Brian continues "The bicycle industry's reception to Velocker has been overwhelming. For Eurobike 2019 we collaborated with the e-bike innovators at Benno Bikes to create the "Camping Bike," an off-road adventure-camping ebike. It was one of the most photographed displays at Eurobike. Velockers are compatible with most rear bicycle racks and if you do not have a rack, we can suggest or provide one. We are working with several major bicycle manufacturers to bring you the best possible cargo solution."
More info at EBike Cargo.
Get Inspired
eBiking Italy's West Coast
"Ampler asked the public to put together an epic cycle route, and gave four winners the chance to go out and do it on Ampler bikes. Here is the story of Rebecca and Ian, who ventured across Italy after their successful application."
That is an inspiring story and what a great way to see Italy. Where would you like to do some eBike touring?
Wyn Masters at eMTB World Championships
Shimano put together this video of Wyn Masters experience at the recent eMTB World Championships; it looks like he had some fun!
What happens when a downhill and enduro pro tries his luck at the first ever e-MTB world championships?
More info on the Shimano STEPS eBike systems here.
Electric Cars Are Subsidized, Why Not More eBikes?
Lloyd Alter from Treehugger makes a good point noting that electric bikes don't have many subsidies while electric cars in general have a lot of incentives.
A recent study found that 48% of car trips in the US are under 3 miles; a trip that many electric bikes and eScooters could accomplish.
From the article "Spending billions to promote electric cars while continuing to spend many times more billions pouring concrete to expand highways will not get us to where we have to go in ten years, let alone by 2050. Spending millions right now on paint and bollards to make bike lanes and dedicated bus lanes so that people do not have to drive could make a difference right now."
If electric bikes were to be used more for these short local trips that could reduce traffic congestion and improve riders health. It would make sense to give electric bikes some incentives too!
eBike Biz
eBike Tariff Exemption?
Bicycle Retailer reports that electric bikes from China might be exempt from the US Tariffs. But that is still a big might.
"The U.S. Trade Representative published a list of Chinese products granted exclusions in the Federal Register on Friday. The list includes singlespeed adult bikes, motorized skateboards, and electric motorcycles. The electric motorcycle category apparently includes e-bikes, although BRAIN (Bicycle Retailer and Industry News) has not been able to confirm that with industry experts."
Enormous Interest in The Netherlands eBike Market
Bike Europe reports that The Netherlands eBike market continues to expand "In fact, it would be logical to see the first signs of saturation in the Netherlands, which has been Europe's (relatively speaking) fastest growing and largest e-bike market for years. However, this is not the case, as the sales data of more than 300 dealers covering the first eight months of 2019 shows. Turnover-wise their sales of city e-bikes grew by close to 36 percent during the named period."
Stay tuned for more e-bike news and reviews and thanks for reading!
-Pete
P.S. Don't forget to join the Electric Bike Report communityfor updates from the electric bike world, plus ebike riding and maintenance tips!
Reader Interactions