E-Bike News: City Trike, So. Cal E-Bike Tours, E-Mtb's, Pedal Promotions & More! [VIDEO]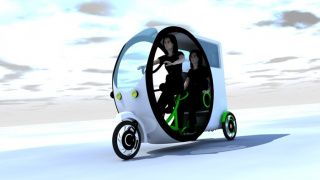 City Trike
is a new start up that is offering 3 different styles of pedal/electric trikes; The City Trike Cargo, The City Trike 2Go, and the City Trike Taxi.
These are designed with weather protection canopies, cargo carrying capacity, 250 watt to 750 watt front hub motors (depending on the market), easily swappable 48 Volt 10 ah batteries, regenerative braking, optional solar panels for charging the batteries, and more!
Here is a video about these new pedal/electric trikes:
Make sure you visit City Trikes crowdfunding webpage for more info.
This is a great story about a bike rack business in Cleveland Ohio that is providing jobs to the homeless.
Here is a picture of the Prodeco Outlaw SS electric mountain bike that just arrived for testing and review.
And here is a picture of the rear suspension of the Emotion Neo Jumper full suspension electric mountain bike that I have also been testing for review.
I just came across Portland Pedal Promotions.  They carry around advertising billboards on their bike trailers and their riders can distribute flyers, samples and printed material.  This is a cool business idea and it could work well with electric bikes too!
I like the name of this e-bike tour company: Pedal or Not.   They provide e-bike tours of the Santa Monica and Venice, California areas.  Pretty cool article about their tours.
"Fat" electric bikes are a growing niche in the e-bike world.  Check out this guide to "Fat" e-bikes to find out more about them!
Turbo Bob recently reviewed the EVELO Aurora electric bike with the NuVinci N360 continuously variable transmission.
That's it for now.
Please share this with your friends and let's get the word out about electric bikes!
Thanks
-Pete
P.S. Don't forget to join the Electric Bike Report community for updates from the electric bike world, plus ebike riding and maintenance tips!
Reader Interactions