E-Bike News! Captain Kirk, 80 mph E-Bike?, Carbon E-Bike, Wireless Display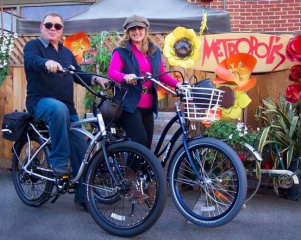 Captain Kirk
 rides a Pedego electric bike!  William Shatner and his wife Elizabeth recently bought their bikes at Metropolis Bikes in North Hollywood.
The LEAOS electric bike hides the motor, battery, controller, chain all within it's carbon fiber frame!
Mashable did a nice feature on the stylish and simple Faraday Porteur.  The Porteur is a clean design because it hides the batteries in the top tube and the wires are also concealed in the frame.
Falco E Motors is new to the US Market and here is a preview of their new electric bike kit with a wireless display!
The new Prodeco Outlaw SS electric mountain bikes are starting to roll off the assembly line in Pompano Beach, FL.  Speaking of Prodeco, here is my report from a recent visit to the Prodeco assembly facility.
Invented by a former road motorcycle racer, the RoadRACe Power Pod is an easy way to add electric assist to a hand cycle or tricycle.
An eZee electric bike rides up the famously steep hill of Baldwin Street in Dunedin New Zealand (see below!).
The city of Dunedin is considering adding a fleet of electric bikes for their employees to ride.  A fleet of electric bikes used by New Plymouth (NZ) has allowed them to get rid of 5 cars!
Here is another e-bike article from New Zealand.  The author initially was a little skeptical of e-bikes but after some time in the saddle of a Pedego he changed his tune!  Great article on what its like to experience an e-bike ride.
Currie Technologies recently moved their headquarters to Simi Valley California.  "The building is encompassed by a bike path that runs from one end of the valley to the other."  Sounds like a great move!
An electric bicycle that goes up to 80 mph?  Yes, you should check out this article about the Hanebrink X5.
Checkout this modular electric bike design from Italy that can be a traditional e-bike, a front load e-cargo bike, and a front load e-cargo trike.
Here is a view from my e-bike test route, not bad!  The full review of the E-Bike Kit will coming out soon.
That's it for now.  Stay tuned for more e-bike news!
-Pete
P.S. Don't forget to join the Electric Bike Report community for updates from the electric bike world, plus ebike riding and maintenance tips!
Reader Interactions