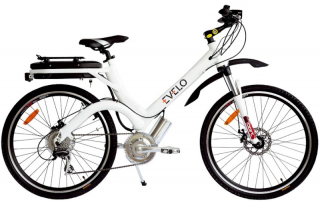 By Gary M. Kaye from In the Boombox.
I had a chance to try out the EVELO Aurora, an e-bike with some very sweet features. EVELO makes three models.  The Aurora is the middle of the line.
All their bikes feature a mid-drive motor, and all can operate either as a pedelec or fully throttle driven.  The mid-drive motor is compact, efficient, and mounted high enough off the ground so clearance is not an issue if you want to go off-roading.
Since the power source doesn't reside in the hub, it opens up the possibility of [Read more…] about EVELO Aurora Electric Bike Review – One Smooth Ride