EVELO Aurora Electric Bike Review – One Smooth Ride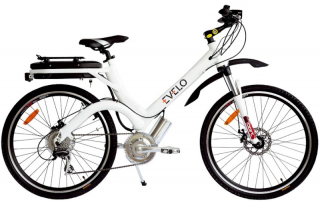 By Gary M. Kaye from In the Boombox.
I had a chance to try out the EVELO Aurora, an e-bike with some very sweet features. EVELO makes three models.  The Aurora is the middle of the line.
All their bikes feature a mid-drive motor, and all can operate either as a pedelec or fully throttle driven.  The mid-drive motor is compact, efficient, and mounted high enough off the ground so clearance is not an issue if you want to go off-roading.
Since the power source doesn't reside in the hub, it opens up the possibility of doing more interesting things, like either putting in a sealed hub (a Shimano 8 gear is standard) , or in the case of the bike I tried, a NuVinci N360 CVP drive.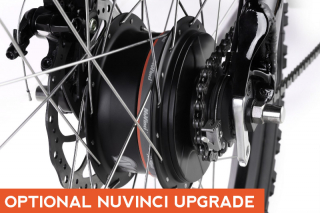 If you've never tried the NuVinci hub, it may forever change your notion of biking, since there are no gears to change.  Moving from lower to higher or vice versa is seamless, with no jarring, and no loss of momentum during a gear change.  The NuVinci hub does add $400 to the $1995 base price of the Aurora.
As with many e-bikes there are three different pedelec settings. The assist kicks in after about one full revolution of the crank.  It is zippy.  And on the highest setting you'll find yourself up at about 20 mph on flat terrain before you realize it.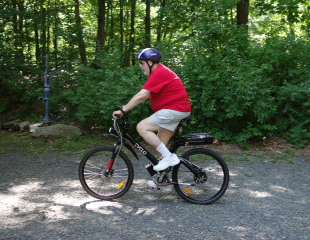 I found that for local trails, the lowest pedelec setting was more than adequate to move me along.  The Aurora also has a throttle which will kick in from a standing start, making it easy to get moving even if you're stopped on an uphill grade.
My only complaint with the drive system is that there is only one on/off switch that powers both the throttle and pedelec modes.  That means you cannot use the throttle independently of the pedelec assist.  I would prefer to be able to disengage the pedelec and just use the throttle for an occasional boost.  But that's just my preference.
The 250 Watt motor was sufficiently powerful to deal with the hills in Western Connecticut, and felt strong enough to get me up even steeper inclines.
This model comes with a front RockShox fork which can be locked out for flat pavement.
There is a lot of engineering that goes into the EVELO Aurora.  The bike is solidly built from aluminum alloy.    The Aurora has a step through design which is ideal for women, baby boomers, and seniors.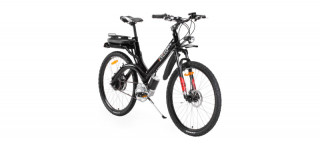 The battery, which is lighter than many I've seen, snaps firmly into the rear rack.  It comes with front and rear lights, and disc brakes.  EVELO claims you'll get 20 miles if you run all electric on its standard 10 amp hour battery, and 40 miles with average assist.  An optional 17 Ah battery, which adds $600 to the price, will bring the range to 60 miles.  Yes, the batteries are still one of the most expensive parts of an e-bike.
My complaints with the Aurora are relatively few.  It does not have an attachment for a water bottle cage.  The rear rack, which was primarily designed for the battery, has a relatively small spring loaded rack so you can carry a small item, but does not allow for attaching standard panniers.  The company does suggest several other pannier and carry bag options including:
1) RX Trunk Bag EXP with expandable side panniers – this bag features a set of retractable panniers, includes a shoulder strap and Teflon coating for water and stain resistance.
2) Multifunctional Rear Seat Trunk Bag and Panniers – This is a simple and inexpensive option that does not take up a lot of space.
3) Electra Townie Rear Rack Bag – This is one of the bags that was used during the Trans-American Electric Bike Tour.
The bike is also a bit on the chunky side.  The NuVinci hub adds about 5 lbs, making the whole rig (without battery) about 51 lbs, which was a little tough to lift onto a bike rack.  The battery is 8 pounds. Evelo says it's hoping to put future models on a diet.
This is a solidly built bike with features that make it a pleasure to ride.  And while it does have some minor shortcomings, overall the Evelo Aurora is a great way to get around, and up and down.
Where to get an EVELO Aurora?  Check with EVELO for a dealer or EVELO Ambassador near you.  If there isn't a dealer near you, the Aurora is available online.
P.S. Don't forget to join the Electric Bike Report community for updates from the electric bike world, plus ebike riding and maintenance tips!
Reader Interactions