Help Pedego Electric Bikes Win a Superbowl Ad! [VIDEO]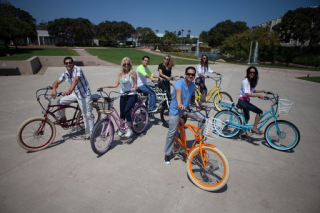 Pedego Electric Bikes
is entered in a contest called
Intuit Small Business Big Game
where the winner will win an all expenses paid 30 second advertisement during the Superbowl!
If Pedego wins the ad spot it would translate to 121 million viewers learning about Pedego and electric bikes in general!
This is a chance to raise electric bike awareness in a very big way.
Checkout this video that Pedego put together for the contest.  It talks about their bikes and how they use Intuit products (Quickbooks, etc.) in their daily business.
Here is a more info on how the contest works and the timeline of events.
Early October:  The public votes for the top 20 businesses.  (Voting is currently closed and the top 20 are being decided)
Late October: Over 8,000 Intuit employees will be given the opportunity to review each of the 20 semi-finalists. The employee vote will decide which businesses move on as the Top 4 finalists, announced on 11/11.
November: All Top 4 finalists begin the last round on even footing; votes do not carry over from previous rounds. The business with the most votes wins the grand prize.
February: The commercial for the winning business will run on the Big Game on 2/2/14.
What you can do to help:  Share this post and the Pedego video with your friends and let them know about this opportunity to raise electric bike awareness from a Pedego Superbowl ad.  Then stay tuned to see if Pedego makes it to the top 20, top 4, and hopefully #1!
Thanks!
-Pete
P.S. Don't forget to join the Electric Bike Report community for updates from the electric bike world, plus ebike riding and maintenance tips!
Reader Interactions