Haibike XDURO NDURO Wins the Gold Award in ENDURO Mountain Bike Magazine's Design and Innovation Award 2014 Competition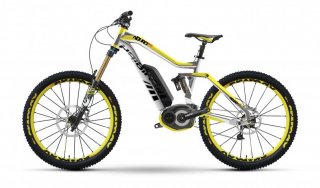 This is a press release from Currie Technologies.
Currie Technologies and Haibike are proud to announce that the Haibike XDURO NDURO model electric mountain bike has won the Gold Award in ENDURO Mountain Bike Magazine's Design and Innovation Award 2014 Competition.
The Gold Award is earned through honed innovation, clever features, technical developments and product performance that the select ENDURO jury feels will influence the future of mountain bike development, as well as simplify handling, increase terrain possibilities, and maximize safety.
To learn more about the testing process, visit this page.
A select jury of industry professionals and athletes has awarded the Haibike XDURO NDURO the Gold Award for five distinct reasons:
A pioneering approach to mountain biking

Excellent performance and geometry

Seamless integration of the Bosch Electic Motor

Optics and Frame Design

Peerless integration of trail specific equipment, including Telescopic Props, Fox Float X Shock, and SRAM XX1
ENDURO magazine has termed the Haibike XDURO NDURO a game changer in the mountain bike industry.
Haibike and Currie Technologies, the exclusive distributor of Haibike in the United States, are proud to receive this award.
Haibike electric bikes will be available in the United States in May, 2014.
A note from Pete:  Here is my ride review of the Haibike XDURO AMT Pro after a few days of riding here in Sedona.
—————————————————————————————–
ENDURO Mountain Bike Magazine
ENDURO Magazine is one of the premiere international Mountain Bike magazines. Available in German and English both in print and online, it's contributors come from all across the globe to share their love of Mountain Biking.
To learn more visit https://enduro-mtb.com/en/.
ABOUT CURRIE TECHNOLOGIES
Currie Technologies®, an Accell Group company, is renowned for their large selection of stylish, premium quality and technologically advanced electric bicycles marketed under the IZIP and eFlow brand names.
The company is also the exclusive distributor of Germany's Haibike electric bikes.
Since 1997, Currie has been one of the oldest and most established U.S. developers and distributors of E-Bikes with a network of dealers nationwide, offering a selection of models to meet every riders need for cost-effective transportation alternatives, recreation, exercise and just plain fun.
Currie Technologies of Southern California holds various patents on its products including their Electro- Drive™ Propulsion Systems, unique electric drive systems that provide superior performance and durability at a reasonable price.
To learn more about Currie Technologies® product lines, please visit www.currietech.com .
ABOUT HAIBIKE
The Haibike brand was established in Germany 1995 by Winora Group president, Susanne Puello and her husband, Felix. However, its roots date back to 1914 when Susanne's great, great grandfather, Engelbert Wiener, a racing cyclist, founded E. Wiener Retail Trading Company manufacturing of custom bicycles.
An Accell group company, Winora is a complete family of brands, which includes Haibike, the company's premier sport-performance road and mountain bike brand.
Haibike has worked continuously to build its name in the sports world by producing award-winning products through a high degree of innovation, advanced design and engineering.
Haibike is a leading bicycle brand in Germany and throughout Europe with its involvement with their International Pro Cycling Team and Olympic champion and double gold medal winner, Sabine Spitz.
For more information about Haibike, visit www.haibikeusa.com
End of press release from Currie Technologies.
 P.S. Don't forget to join the Electric Bike Report community for updates from the electric bike world, plus ebike riding and maintenance tips!
Reader Interactions