E-bike News: Pole Voima, Convercycle Extendable E-cargo, Ducati E-folder & More
Once upon a time Ducati meant just one thing; motorbikes and not just any motorbikes – very, very fast ones. So it's perhaps a sign of the times – and the way two -wheeled power has become slower and electric in many ways – that this week's news sees the announcement of another Ducati e-bike. Well, it's not exactly Ducati, but we'll get to that later…
Perhaps more innovative are the hugely powerful looking new e-bike from Finnish e-bike company Pole and the amazing extendable e-cargo bike from Germany's Convercycle, which really do look to be pushing the bounds of current bike technology.
In this week's news:
The Pole Voima – an e-mtb unlike any other

Convercycle now shipping – it's both a regular e-bike and an e-cargo bike

A new, more affordable Modmo e-city bike

Ducatic extends its e-bike and e-scooter range

Blubrake's new smaller, lighter ABS braking for e-bikes

Ridepanda bags big investment
THE INNOVATIVE POLE VOIMA
The new Pole Voima looks a fantastic e-mtb to ride; with 190mm front suspension for huge drop-offs and jumps and their own Kinematic rear suspension that is said to both even out the biggest of bumps and allows for transfer of motor and human power to the wheels without any 'bob', it looks an incredible ride.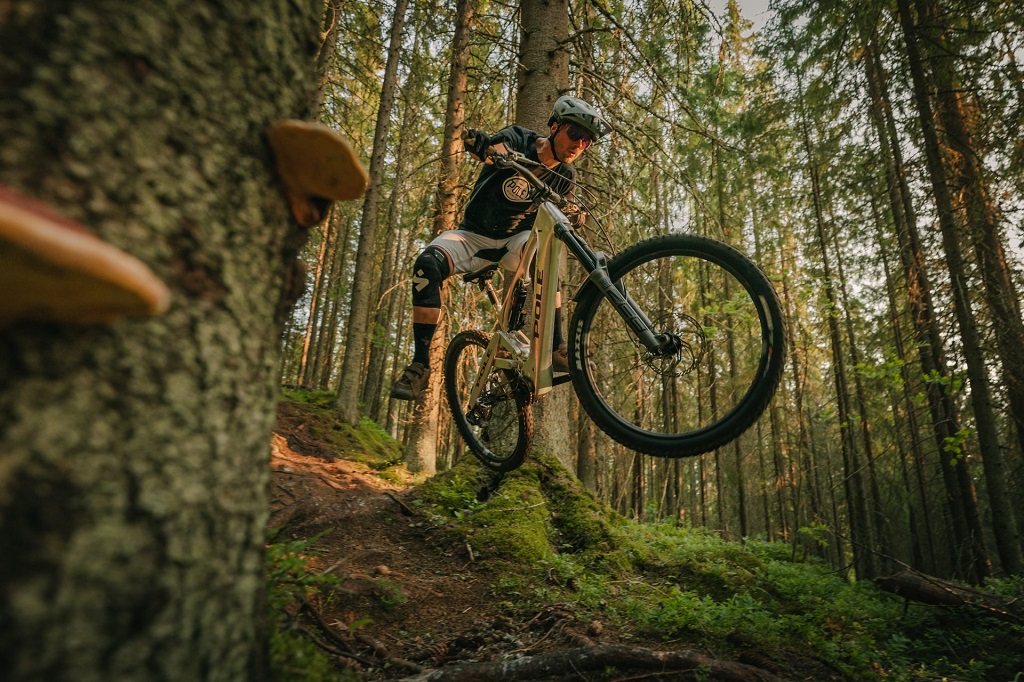 At 23.5kg / 52lbs it's not one of the lightest e-mtbs out there but factor in the huge 725Wh BMZ battery, the long 190mm front suspension and powerful 90Nm Brose mid-drive, and weight-wise it is probably a leader in its class too. The very innovative looking bonded and milled 7075-T6 aluminum frame (no welding in sight) also claims to be one of the toughest out there, period.
Naturally it's not cheap, with a €5490 price tag with spring 2022 as the availability date.
If you want more tech detail on the bonding and milling innovation here it is, direct from Pole:
CONVERCYCLE BEGINS DELIVERY OF ITS FOLDING E-CARGOBIKE
Frankfurt-based Convercycle E-Cargo can be converted from a city bike to a cargo bike without any tools and very quickly, say the company. EBR has featured the design before in its development phase and now the first deliveries of the hugely innovative design have begun.
As you see in the video below, the rear payload area, which can take up to 80kg / 176lbs simply folds out when you need it and back under the rear of the bike when it's not required. If you have €3799 and live within the EU or UK you can order the electric version now, although there is a lower priced non-e version too (shipping costs to various countries here).
MODMO LAUNCHES NEW MODEL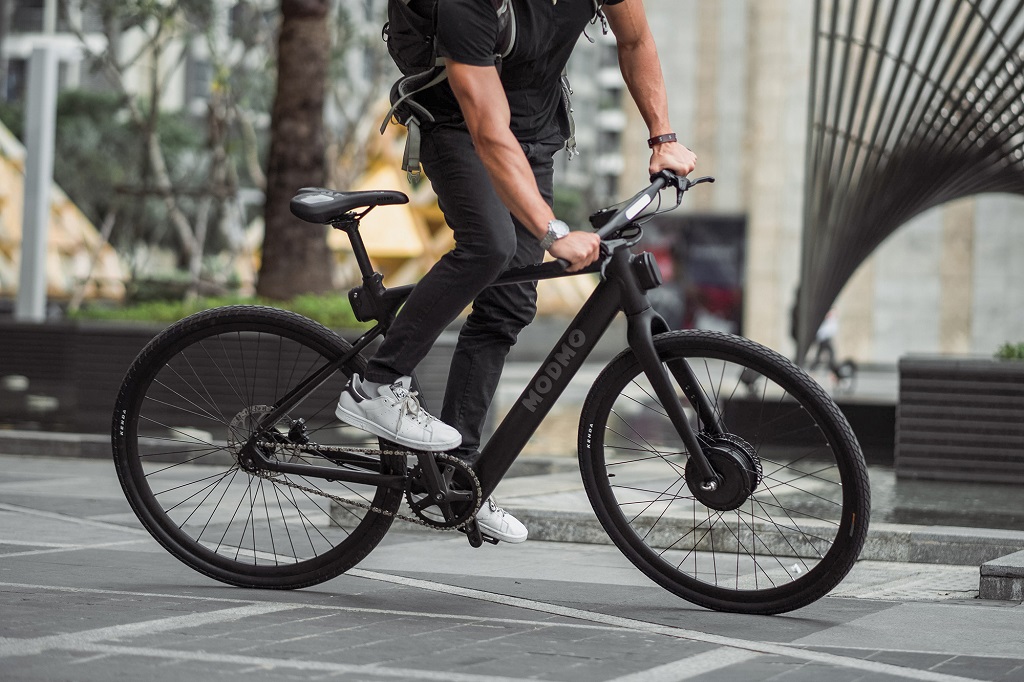 There has already been a lot of online publicity for Modmo's Saigon e-bike and the initial model (originally just the Saigon but now known as the Saigon+). Now comes the Saigon S with a more budget spec and a lower price to match.
The battery size is smaller than the original Saigon+ 630Wh though we couldn't see an actual Wh capacity quoted anywhere. The claimed 70 mile range on a single charge suggests the smaller battery is around 378Wh, given the comparison with the original model's claim of 124 miles. There is also a chain drive in place of a belt drive.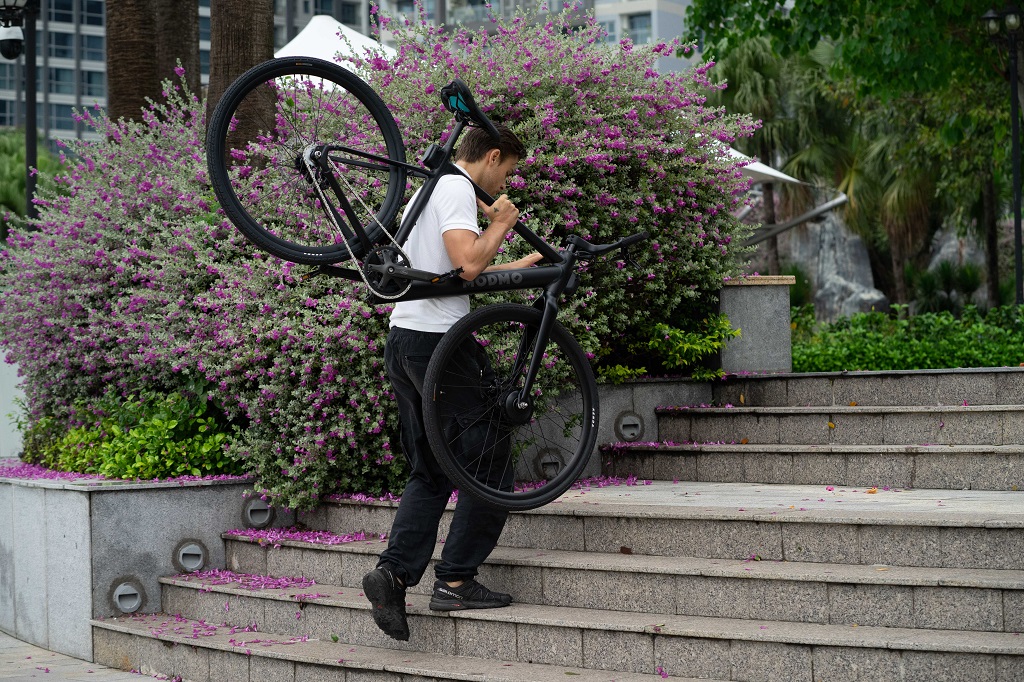 Many features remain, including the 250-Watt front hub motor, hydraulic disc brakes , single-speed gearing and the many high tech aspects including integrated handlebar digital display, rear Bekan LED light within the seatpost and interchangeable front and back loading accessories.
The Saigon S is currently available for pre-order, with a four-month production and shipping lead time, for €1,599 including tax and shipping. MODMO is currently offering a nominal €99 deposit fee for its pre-order, and if the buyer wishes to purchase the bike outright, as an incentive, the Saigon S will be discounted an extra €200, and the bike will arrive equipped with complementary mud guards and a kickstand.
DUCATI GETS INTO E-BIKES AND E-SCOOTERS…OR DOES IT REALLY?
On paper the Ducati MG-20 looks quite innovative and so you might think it's great to see a company so associated with petrol power getting into electric mobility with the addition of a further magnesium-frame folding e-bike to their growing range. It has small but stable-looking 20″ x 2.125″ tires, 250W rear hub motor and a decent size 378Wh battery with Samsung cells. It's a Euro spec e-bike, limited to 15.5mph assisted speed.
Perhaps disappointingly it's not designed or engineered by Ducati as it is 'developed under licence' by MT Distribution. To emphasise the point Ducati has also just released details of their PRO-I EVO e-scooter – except it's not really a Ducati but a rebranded Xiaomi model.
That's not to say some rebadged e-bikes and e-bikes can't be good value products, especially if they have had features added or specs tweaked to improve them as can happen. But if they haven't, rebadging is likely only to increase the price without adding any performance benefit.
The MG-20 should be available from July retailing at €1599.
BLUBRAKE ABS NOW SMALLER
Blubrake make anti-lock braking for hydraulic disk brakes on e-bikes and their latest version has just been released, claiming to be 65 per cent smaller and 48 per cent lighter than its predecessor. It comes ready installed on e-bikes and Blubrake name Bulls and Stromer amongst the e-bike manufacturers that use their system.
It claims to prevent braking lockups using a system of speed sensors and accelerometers that can trigger an actuator controlling the hydraulic pressure of the front brake.
RIDEPANDA ATTRACTS PORSCHE AND YAMAHA AS INVESTORS
Ridepanda offer direct to consumer and business to business sales of e-bikes, e-scooters and e-mopeds, and everything in between. The company has just raised US$3.75 million to fund growth and apparently count Porsche and Yamaha amongst their backers.
Ridepanda are based in San Francisco and ship to 48 U.S. states, offering a real mix of electric micromobility vehicles, from conventional e-bikes like Aventon through e-scooters to an eclectic mix of e-mopeds and three-wheeled electric vehicles.
Several reports stress Ridepanda's 'refined recommendation engine' which will recommend a particular vehicle for customers based on their needs.
Reader Interactions