E-Bike Cycle Tourists Set New World E-Bike Long Distance Record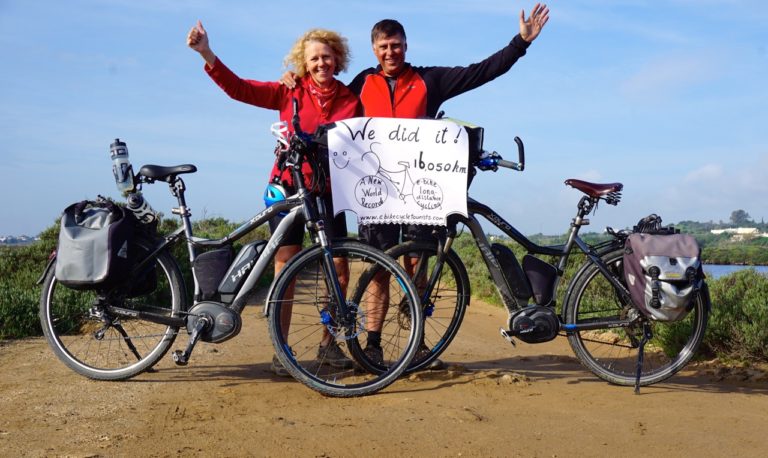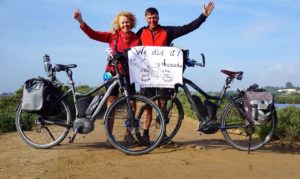 By Gary Corbett
We did it!! After 901 hours of cycling over 220 days at an average of 75 kilometres per day through 12 countries in Europe and the United Kingdom, the e-Bike Cycle Tourists have finally set a new world e-bike long distance record.
The old mark of 16,047kms (9971 miles) – which was set by German Maximilian Semsch who circumnavigated Australia in 2012 – was finally passed on a sunny winter's day in the Algarve region of Portugal much to our collective delight.
The achievement was celebrated with high fives, hugs and kisses, lunch at a restaurant, a photo session and, of course, a celebratory bottle of wine.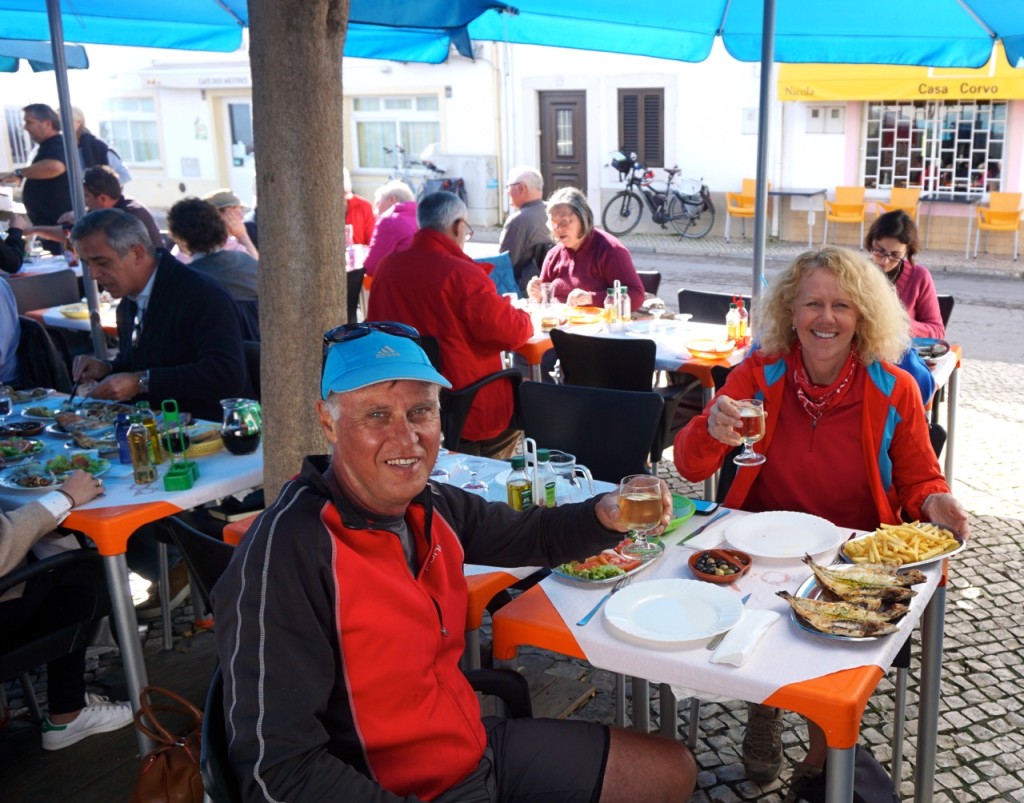 To have finally claimed the world record after six months of planning and nine months of almost continuous unsupported e-biking – that has seen us pedal through England, Scotland, Wales, Ireland, France, Germany, Switzerland, Austria, Belgium, Holland, Spain and Portugal – was, to be honest, a huge relief.
But far from being the end of the story, the achievement has not only spurred us on to continue cycling, but to set a much, much higher world record mark before we eventually call it quits.
As such we now plan to continue cycling in Europe through until August 2016 before returning to home soil in Australia to regroup before heading off overseas once again – possibly to the USA – to hopefully continue our amazing e-bike adventure. By the time we return to Australia, if we can maintain our current daily kilometre average, we should have clocked up at least 25,000 kilometres. And the final target? Who knows!
So how does it feel to have finally broken the world e-bike long distance record? One word succinctly sums it up – unbelievable – with the underlying emotion one of satisfaction.
Satisfaction that we have proven conclusively that it IS possible for anyone of any age – including us at 60 and 57 years respectively – to go long distance cycle touring on an electric bike. Satisfaction that we have proven the nay-sayers wrong who said we would not achieve our goal. Satisfaction that we have achieved something that no-one else has and, more than anything, satisfaction that we have a world record next to our names.
Not a bad situation at all for two people who had never ridden an e-bike before setting out on the record attempt!
Now, nine months almost to the day since we set out from London, you could say we are roving e-bike ambassadors keen to continue promoting everything that is good about e-bike commuting.
With our Haibike xDuro Trekking RX e-bikes – in combination with the Bosch Performance crank drive motor and 400wh battery system – having not missed a beat on either of our two e-bikes while towing our fully laden Tout Terrain Mule single wheel trailers, we have continued to rack up the kilometres on a daily basis.
But just as importantly the reliability of our Haibikes has given us the confidence to not only promote e-bikes as a fun, healthy and environmentally friendly form of transport, but as a feasible form of transport for people interested in embarking on a long distance cycle tour – something we were told could not be achieved because of the daily drama involved with charging our bikes' batteries without the help of solar power.
While it is true that we did have reservations before setting out about how easy it would be to find mains electricity outlets on a daily basis to charge our Bosch batteries, the truth of the matter is that we should never have worried.
Why? Because there are just so many options available. Campgrounds, cafes, friendly farmers, e-bike charging stations, some of the many people we have met along the way and, when really pressed, people whose doors we have knocked on have all been the source of all important electrical charge on a daily basis.
Along the way we have met many, many wonderful people who have helped us in so many ways beyond just supplying an electrical outlet.
Complete strangers have offered us accommodation, have gone out of their way to ride with us to get us on the right track after finding us hopelessly lost, people have offered us free ferry rides, coffees, maps, bike servicing and in Ireland a call out was put out via Facebook for the e-bike community to show us a "real" Irish welcome.
The result was a long list of people throughout Ireland who selflessly offered all sorts of assistance from accommodation to actually meeting us at the ferry in Dublin and, four weeks later, picking us up on the west coast to drive us back to the ferry at Rosslare on the east coast to catch the ferry back to Wales.
What we have clearly found along the way is that despite what you hear in the media, the world is full of kind and generous people who are only too happy to offer assistance when it is needed.
Throw the quickly growing appeal of e-bikes into the equation and we feel as though we are riding the crest of a wave that isn't about the break any time soon.
So continue pedalling we will, with hopefully many more kilometres, adventures and new friends still to be met along the way.
The bottom line is that because we are feeling so fit and healthy – and because we want to continue promoting everything that is fantastic about touring on e-bikes – we don't want our journey to end.
Hopefully there is a sponsor or two out there who may be interested in coming on board to help us  continue to spread the e-bike gospel!
Thanks to Gary Corbett for this update on their adventures!
P.S. Don't forget to join the Electric Bike Report community for updates from the electric bike world, plus ebike riding and maintenance tips!
Reader Interactions