eBike Industry Interviews: Bimotal Elevate With CEO Toby Ricco
We are always excited about new innovations in the ebike market and the new Elevate from Bimotal is a premium removable powertrain that is lightweight and powerful. We have been keeping an eye on this product and recently we were able to have a conversation with Toby Ricco, CEO and founder of Bimotal. Toby provides an overview of the Elevate system – and explains how this removable motor can add 50-100Nm of torque to the back wheel of your regular mountain bike. Elevate solves the issue of multiple bikes because you can use your existing bike with the option to add power when needed. The mount weighs less than 200 grams, the drive unit is two pounds and the whole system is under six pounds. A battery pack fits in your bottle cage with a throttle attached to the front handlebar to control the system. We found Elevate to be an intriguing solution to several problems and were excited to discuss this system with Toby.
Thanks for joining us here on Electric Bike Report, Toby! We're excited to discuss Bimotal and Elevate with you today. Can you tell us a little about yourself and your company? How did you get started? What spawned the idea for the Elevate system?
Thanks! I'm happy to be here. Yeah, so I've always been an avid mountain biker, but a skiing accident left me with a knee injury that made it so I could no longer power up the hills like I once did. I considered buying an ebike, but at the time I had a custom Cannondale Lefty that was fully spec'd, only weighed 25lb, and had 160mm of travel. Most ebikes are close to 50lb and didn't have the same level of specs so I just didn't feel I'd be able to get the same experience. Plus, I had customized my bike quite a bit and I wanted to keep riding it! So I started to analyze retrofit systems and how I could design something that would allow me to use my current bike, but which added torque when I needed it. I focused on the drivetrain and then zeroed in on the rear rotor as a means for adding power to the rear wheel.

At the time you were working at Tesla, right? How did that affect your innovation and design?
Yeah, my Tesla background was a huge contributor to the design of the Elevate. I was working with power electronics and I knew that one of the biggest challenges is managing the thermal transfer — or how to offset all the heat that is generated from a motor system. I knew we needed something lightweight, small and with a design that would remove or transfer the heat away from the rear wheel and drivetrain. Using mounts that connect to the rear rotor, we've designed a compact but powerful motor with a casing that helps absorb heat transfer.



So tell us how the Elevate works and how it attaches to your existing mountain bike
The Elevate is a removable motor system that mounts to the same points as your externally mounted disc-brakes. The rotor is 50grams, studs are 20grams, and the harness and wiring adds just under 100 grams, so the whole mount is less than 200 grams. The battery pack sits in your bottle cage and a throttle attaches to the front handlebar for control. We wanted the motor to add torque without adding any tension on the chain or cassette. We designed the Elevate to be fully removable so you can hop off your bike, attach the motor to the mount in just a couple of seconds, and then get back on again and continue with your ride. The whole Elevate system weighs less than 6 pounds.

Do you have a target demographic?
Our initial target is mountain bikers, but we want to expand to road and commuters with time. Electric mountain bikes are the fastest growing ebike segment and my background is in mountain biking, so that seemed like the natural place to start. The large rear rotor and wider wheels on a mountain bike also provide the perfect place for the motor mount. Weight matters when riding a mountain bike and our goal is to provide a super light weight motor that will augment the power on your existing bike. I imagine there are other riders like me who already have a lightweight, high-spec mountain bike and don't want to buy a heavy, expensive ebike just to add motor power. The fact that the motor is removable is also attractive to mountain bikers because they can easily mount or remove the motor in less than 20 seconds so you only have to attach it when needed. The Elevate is a great option for downhill riders who want some extra power up the mountain, but then they can remove the motor to bomb down, and then go up again. We also think the Elevate will help riders who want to keep up with friends or those who may have an injury, but want to continue to ride.

Tell us a little about the battery. What is the range per charge and what is the anticipated longevity?
Good question. The range will of course vary depending on your weight, terrain, and how much throttle you use. We anticipate most riders will get between 15-30 miles per charge on a 250 watt hour battery. Our batteries use Samsung or Panasonic cells, so they are pretty standard for the industry and will last as long as any comparable ebike battery. The battery sits in your water bottle cage for convenience and riders can certainly get more than one to extend their range.

The Elevate offers between 50Nm and 100Nm of torque, which is certainly impressive. Can this amount of torque offset the integrity of a rear wheel that wasn't designed for motor power?
The Elevate generates less torque than what you generate braking – it's just in a different direction. Since the force of the motor should be lower than manual braking forces, it shouldn't have any negative impact on the rotor or wheel as both components are designed for much more torque than this.
How far out does the Elevate motor extend from the rotor? Could it compromise your ability to navigate technical terrain when mountain biking?
The motor sticks out 20-30mm from your brake calipers, which is less distance than your pedals. We tucked it in and engineered it to have a low profile so you can still ride your regular route without an issue. Certainly, there will be some areas where the motor could be an issue — like if you decide to go boulder hopping, but most riders won't even notice it's there.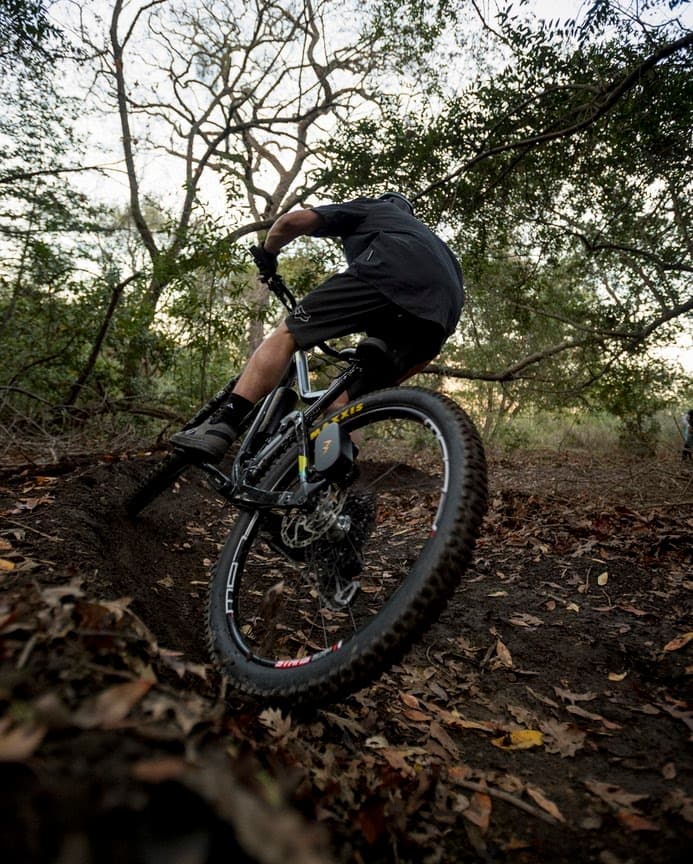 The Elevate was also designed to be protected in the event of a crash. The casing is very solid and the mounting studs have a stress concentration so if you hit the motor hard, there is a breakaway point where the studs will break rather than the motor itself. The studs are cheap and easy to replace. This is kind of like the detach point on a charging box for your computer. If you step on the cord, the stress point disengages so you don't break the charger. We want the Elevate to make riding easier and more fun, and we engineered the motor to be compact and sturdy so you don't have to worry about it.
How is the rear rotor affected when the mount is attached?
There is a one-way bearing inside the drive unit. In our testing the drag and noise are almost imperceptible when the motor is not in operation, and you can coast and pedal as on an unassisted bike.

What is the noise output of the Elevate motor? Can other riders hear it?
We've measured noise output at 60-70dB right now, but we are looking to reduce that. While it isn't super loud, we are working to engineer the motor housing to more readily absorb noise and also reshaping the gear teeth to reduce noise output as well.
What is the interaction between pedalling and throttling? Is there motor-inhibition so you can't brake and throttle at the same time?
The throttle supplements but doesn't inhibit rider power so when you throttle you can continue to pedal for double the power. We don't have motor inhibition currently, but we're looking to add that in the app. Riders can also choose whether to set the Elevate to Class 2 or Class 3 speeds. 28mph is the limit for Class 3 and 20mph is the limit for Class 2 so depending on where you live and what the local ebike laws are, you can adjust the power output generated by the throttle. The throttle modulates torque just like a gas pedal on a car. Riders can adjust motor power based on how far down they press the throttle.
How does the Elevate compare with the new, lighter ebikes like the Specialized Turbo Levo SL, Orbea Gain, etc?
Our goal is to provide a direct option to any motorized ebike. Mountain biking is very weight-centric and ebikes, as light as they are, still can't quite compete with high-end mountain bikes. The fact that Elevate is modular provides several advantages:
You can easily attach and detach Elevate, reducing overall unsprung weight when you don't need it.
Modular parts can be easily upgraded as new components and software are available.
Riders who already have a high-spec bike don't need to buy a new one to continue to ride.
Riders can get a mount put on different bikes, and then just attach the motor to the bike they plan to ride that day. Elevate opens up options for added power on any compatible bike.
Elevate uses light weight batteries that can be swapped out mid way through the ride so it can compete with high-end eMTB's. The Elevate is all about more power, less weight.
We've heard some concern about the price of the Elevate. What is your response to those who feel the $1950 price tag is a bit steep?
Substantial engineering has gone into Elevate so this is not a cheap retrofit. It is an engineered powertrain that is removable. We are focused on providing lightweight power that is easy to use. A high-spec ebike can run between $7000 to $10,000. By comparison, Elevate is extremely affordable. Elevate also adds substantial value to your current mountain bike. Rather than have to buy a new ebike, riders can use any compatible bike they currently own. You can also ride without the motor attached so you aren't hauling around unsprung weight when you don't need it. For those who have the space and resources to buy more than one bike will still do that, but for those people who want a premium product that enhances the functionality of their favorite bike, Elevate is a great option.

What are your future goals as a company? What do you want to bring to the market?
Our goal is to get people outside and out of their cars. Premium powertrains are our specialty and we want to use this expertise to help propel the use of non-gas powered vehicles in all communities. We do have a round of seed funding coming up that we anticipate will help us move forward with our goals. Ultimately, we intend to go full stack whether it's bikes, scooters, or another form of small vehicle. Anything that makes it easier for people to use alternate transportation is our focus.
Thank you Toby for sharing your time with us at Electric Bike Report! We look forward to seeing Bimotal's growth in the future.

PHOTO CREDIT
Karl Nielsen/Bimotal
Reader Interactions