The Statistics of the E-Bike Cycle Tourists Record Breaking Journey
By Gary Corbett
In many ways it is hard to believe, but the E-Bike Cycle Tourists quest to set a new world e-bike long distance record in mainland Europe and the UK has come to a successful conclusion after e-biking 27,800kms over the past 16 months.
The journey, which took us through 13 countries from London in April 2015 through to Friedrichshafen in Germany in August 2016, not only smashed the previous record of 16,047kms, but hopefully set a new challenging benchmark for someone else to better.
More to the point the trip has been a life changing experience that we believe has conclusively proven the suitability of e-bikes in general – and the Haibike xDuro Trekking range of e-bikes we have been pedalling in particular – for unsupported long distance cycle touring.
While we have clearly taken e-bike cycle touring to the extreme in our enthusiasm to set a new world long distance record, from the feedback we have received the success of our journey has been the catalyst for many, many others to start planning their own e-bike cycle touring holiday.
All that is needed is a sense of adventure, some forward planning, a reliable e-bike and the reward is a holiday experience like no other.
For anyone contemplating their own e-bike cycle tour the statistics of our journey are sure to make for interesting reading.
Essentially the figures provide a blueprint of what can/could be expected on a long distance e-bike tour and should, we hope, answer many of the questions e-bike enthusiasts from around the world have been asking us.
While very few people are interested in cycling day after day for 16 or more months as we have done, there are still many parallels between our trip and the reality of an e-bike tour for anyone planning their own e-bike adventure.
So no matter whether you are setting out for just a few days, weeks or maybe even months, you still need to factor in the daily need to source mains electricity to charge your e-bikes batteries and to be prepared for the 1001 other things that can/could happen.
What can't be over emphasised is the importance of reliable equipment.
There is no way in the world that we would have been able to cycle so many kilometres at an average of 75km per day (on the days when we actually cycled) over such a long period of time without the assistance of reliable equipment.
As such we were clearly delighted with how our Haibike xDuro Trekking RX e-bike and Tout Terrain trailer combinations performed over all sorts of terrain and in all sorts of weather conditions from below freezing to 40-plus degrees.
While most moving parts such as brake pads, chains, cassettes, tyres, Bosch sprockets, brake rotors and rear wheels on our Haibikes had to be replaced one or more times, the heart and soul of both e-bikes – their Bosch performance crank drive motors – did not miss a beat.
Likewise our Tout Terrain Mule trailers, the most faithful travel companions you could ever wish for, have been equally as reliable tagging along behind our Haibikes with up to 40kg of equipment on-board.
It is important to note that the 27,800 kilometres we cycled was achieved on three e-bikes – 17,073 kms (and a new world e-bike long distance record) on our 2015 model Haibike xDuro Trekking RX e-bikes, 4493 kms on Chinese-made hub motor e-bikes supplied by Cyprus E-Bikes for the time we were in Cyprus and 1508.9 kms on 2016 model Haibike xDuro Trekking RX e-bikes in England.
Overall it was an amazing journey highlighted by the many, many kind, generous and friendly people we met along the way.
The bottom line is that e-bikes are an amazing way to see the world.
Do yourself a favour, start planning your own e-bike tour … you are guaranteed to have the holiday of a lifetime!!
The Statistics of the E-Bike Cycle Tourists Ride
Haibike xDuro Trekking E-Bikes
Number of full bike services – 6 … 2 in London and France and 1 in Germany and Ireland
Parts replaced – 8 chains on each bike, 8 cassettes, 7 sets of brakes, 1 Sram hub, 2 rear wheels, 1 Bosch controller, 2 Bosch sprockets, 2 bike stands, 4 sets of pedals, 3 water bottle holders, 2 Schwalbe Marathon tyres, 27 tubes, 2 brake rotors on each bike, 1 rear brake system, 4 saddles, 2 Suntour seat suspension posts, 1 rear mud flap, 2 sets of gear cables, 3 helmets, 1 Bosch battery, 4 pannier bags, 1 handlebar bag,
e-Bike Flat Tyres –27 (Haibikes and Chinese hub motor e-bikes combined)
Tout Terrain Trailers
Parts replaced – 3 mudguards, 10 tubes, 2 clamp bolts
Trailer Flat Tyres – 10
Average kilometres per day = 75
Total Hours Cycled = 1490
Days of Cycling in Consistent Rain – 12
Nights Wild Camped – 5 
Most Kilometres cycled in one day – 141.39 on the west coast of France
Times a Request to Charge our Batteries was Refused – 2
The Number of Wonderful People We Met – Lost Count!
Longest Day of Cycling – 7.35 hours of actual cycling over 112.20kms cycling from east of Glasgow to Troon in Scotland
Best Battery Range on 2015 model Haibike xDuro Trekking with 400wh battery – 95.20 kilometres from Texel to Sotterum in Holland (with the aid of a tailwind that was nothing short of a gale)
Best Battery Range on 2016 model Haibike xDuro Trekking with 500wh battery – 114 kilometres in the South Downs National Park region in the south of England over undulating country.
Worst Battery Range – 39.95kms from Tenby to Lianelli in Wales (the hills were unrelenting)
Best Average Speed towing a trailer per day – 19.2km/h from Texel to Sotterum in Holland (yes, that same tailwind)
Worst Average Speed towing a trailer per day – 14.1km/h from Belford to Huxton in England (more unrelenting hills)
Fastest Speed with the Trailer Attached – 62.9km/h between Caherdaniel and Cahirsiveen in Ireland (definitely got the adrenalin pumping)
The Best Campsite – Kawan Village Camping Isle Verte on the banks of the Loire River in Montsoreau in France (every cycle tourist should make a point of staying there)
The Worst Campsite – don't know the name but it was along the Rhine River at Otterstadt in Germany (what a disgrace – 12 Euros for no showers and a locked toilet block at night)
Hottest Day – 40-plus degrees while cycling along the Moselle River in Germany
Coldest days – In Bath and Newbury in England in April and October 2015 (on both occasions our tent was frozen solid in the morning)
The Best Cycle Track – sections of EuroVelo 15 in Germany near Mainz, the track around Lake Constance in Germany, Austria and Switzerland and EuroVelo 6 through Germany and Austria.
The Worst Cycle Track – National Route 1 on the east coast of England (can only be described as a national disgrace)
Flat Tyres – 14 on the Haibike e-bikes, 13 on the Chinese hub motor e-bikes in Cyprus and 10 on the Tout Terrain trailers
Crashes
Gary (2). In Holland when a hot-headed driver at a roundabout deliberately drove into the trailer – the result was a sore back and a buckled trailer wheel. A slow speed crash in France when the front bike wheel went into unseen deep mud – no injuries.
Rachel (3). In England on day one when she hit the front brake at an intersection on a hill while still getting used to the bike – the result was sore shoulders. In France when she lost control on a bike path while turning – the result was a bruised knee. In England at Brighton after another cyclist passing at speed clipped her while she was dismounting – the result was a bruised knee and a cut ankle.
Budget – $A90 per day = 60 Euros or 47 pounds. Includes everything including e-bike repairs, camping fees, air fares, ferry fares, camping, AirBnB accommodation, food, emergency dental treatment and our mandatory caffe latte every day.
The number of supermarkets we have visited – lost count!
Camping Equipment
Equipment replaced – Vango Omega 350 tent (after 6 months of continuous use the tent started to leak. We replaced it with the same model of tent because we love the design), 1 Thermarest mattress, 3 tent poles, 1 Moonwalker camp cooker.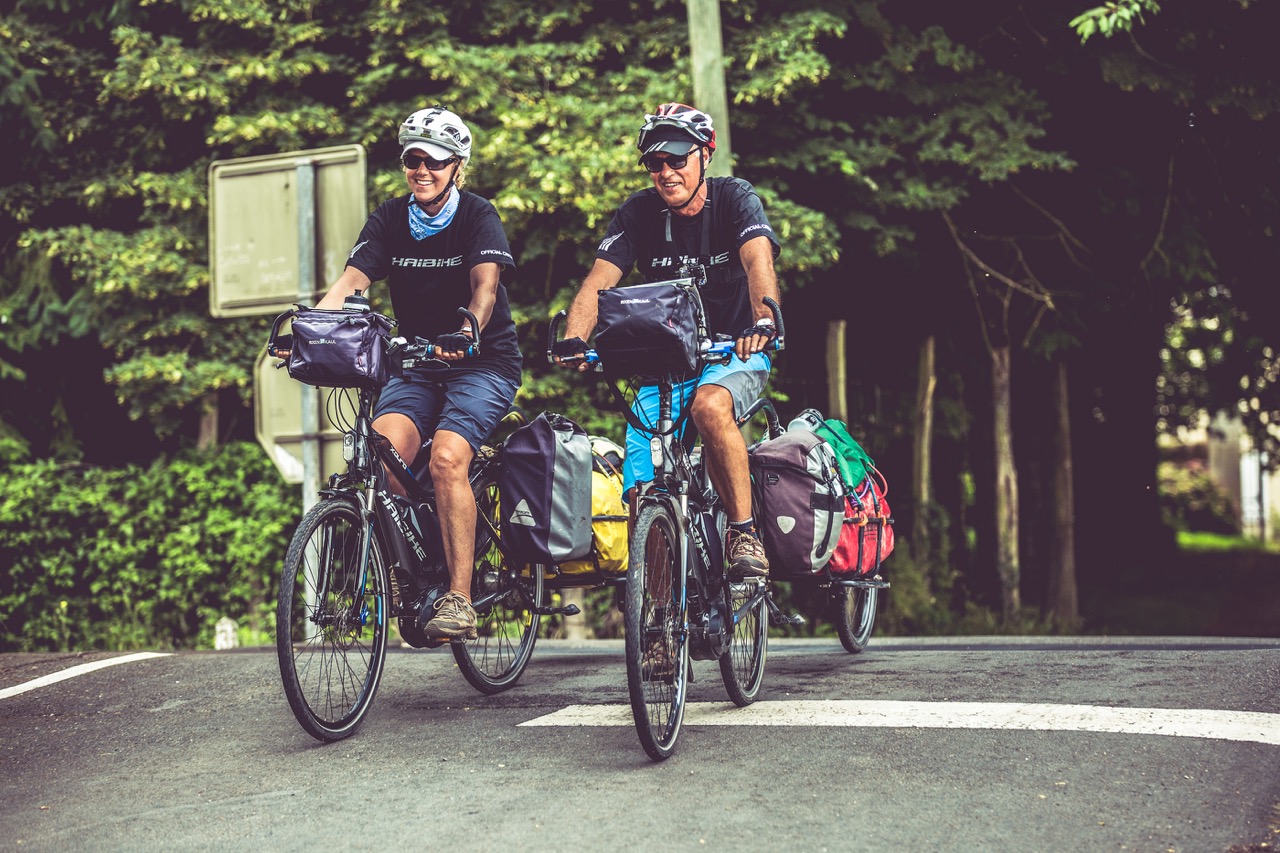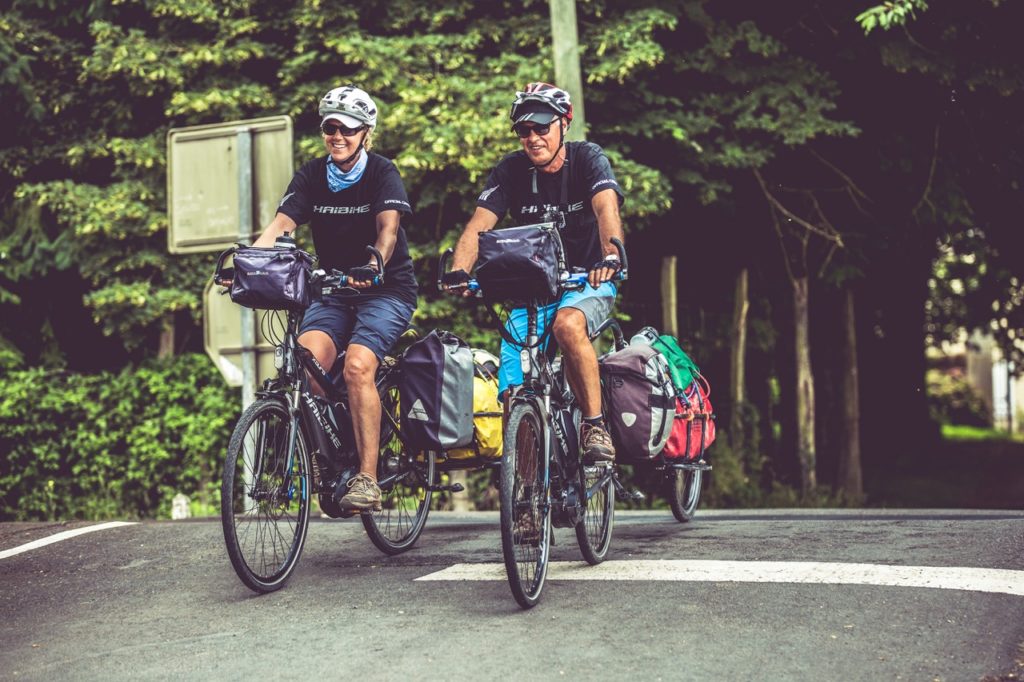 Stay tuned for more from the E-Bike Cycle Tourists as they continue their eBiking adventures!
P.S. Don't forget to join the Electric Bike Report community for updates from the electric bike world, plus ebike riding and maintenance tips!
Reader Interactions