Aventon Pace 500 Step-Through Review 2022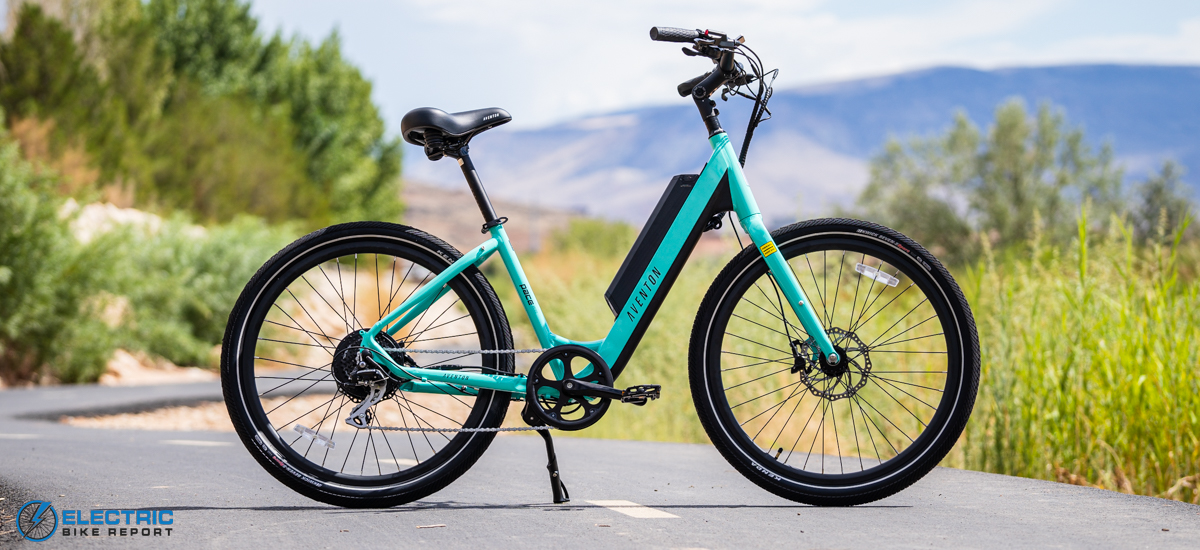 Aventon Pace 500 Step Through Review: Overview
From the start of our review of the Aventon Pace 500 Step Through the bike didn't waste any time proving itself as a smooth sailing, comfortable Class 3 electric bicycle.
Our team has tested and reviewed other Aventon e-bikes, including our review of the standard Pace 500. We were all curious to see how the step through version of the Pace 500 varied from its predecessor; it turns out there's more that's been changed than just the frame shape.
During our review process we quickly learned that the Pace 500 Step Through is going to be a great option for commuters and cruisers alike. The comfortable contact points and geometry offered me a pleasant riding experience that not only kept me comfortable, it kept me having fun and out riding longer than I was initially anticipating.
If you're looking for an affordable cruiser or commuter, the Pace 500 ST is a great choice thanks to its Class 3 speeds, comfortable upright geometry and overall ride experience.
Bike Category: Commuter/Cruiser
The Aventon Pace 500 step through is equally a good choice for commuting and cruising.
Bike Class:
Class 3: Throttle assist up to 20 MPH, Pedal assist up to 28 MPH
Aventon Pace 500 Step Through Video Review

Pro's
The Pace 500 Step Through has very comfortable riding geometry that's great for cruising and commuting.
The Pace 500 Step Through is not only good looking, it backs it up with Class 3 speeds and smooth ride.
The Pace 500 Step Through is a great bang for your buck. You get hydraulic disc brakes, a 500W motor, a double butted alloy frame and more for just $1,500.
The Pace's 500W motor is great for maintaining high speeds and flying up hills.
Demand for e-bike components is larger than supply. Aventon's done well with the brakes they've found. The Zoom brakes we received on the Step Through model did just as well as the Tektro ones we reviewed on the Standard Pace 500 earlier this year.

Con's
We wouldn't mind seeing a little more tidy cable set up on future models. The current cable routing isn't bad, but we think it could be a little cleaner.
Limited frame sizing. Taller people may struggle to ride the Pace 500 Step Through due to it only being available in small and medium frame sizes.
ELECTRICAL SPECS & FEATURES
Battery: Removable 48V, 11.6Ah lithium-ion battery
Display: LCD easy read display
Motor: 48V 500W brushless rear hub motor
Peal Assist: Levels 1-5
Range: 25-50 miles
Throttle: Left side lever throttle
Weight & Dimensions
Battery weight: 7 lbs
Claimed weight: 49 lbs
Real weight: 50 lbs
Maximum rider weight: 250 lbs
Maximum load on rear rack: 50 lbs, *rack not included
Dimensions: 32.5" x 25.75" x 72" (height x width x length)
Components & Accessories
Brakes: Zoom hydraulic disc brakes, 180mm rotors
Fork: Rigid 6061 alloy fork, tapered
Frame: Double butted 6061 alloy
Gearing: 8 speed Shimano Acera, 11-32 cassette.
Grips: Ergonomic rubber grips
Saddle: Aventon branded Velo Comfort saddle, 245mm wide
Handlebar: 31.8mm alloy handlebars, 15 degree backsweep
Kickstand: Left side, standard
Pedals: 9/16" alloy platform pedals
Tires: 27.5" x 2.2" Kenda Kwick Seven-5 Sport, reflective sidewall, e-bike rated
Aventon Pace 500 Step Through Review: Performance
Acceleration / Speed
The Pace 500 Step Through is definitely a fast bike, but it also eases you into the higher speeds in a way that feels safe and in control. It never felt like I was going to fall off the back of the bike when engaging the throttle, or starting from a standstill in a higher assist level.
Both the throttle and the higher assist levels seem to be calibrated to ease the rider into the higher speeds which definitely adds some safety points. Less experienced riders will really appreciate the way this bike accelerates.
Thanks to clear differences between the pedal assist levels, it's easy to avoid higher speeds if you don't want them. Pedal assist levels 1 and 2 are great for the more "leisure paced" rides.
Bottom line is the Pace 500 Step Through is ready to move, but only if you are too.
Range Test
Here at Electric Bike Report, we like to conduct a range test to see how long the battery lasts on the bike we are testing and to check the manufacturer's claimed range, which is often derived from an equation and not a real-world test. We do two separate tests, one on maximum pedal assist and one on minimum pedal assist. This gives us a good idea of the true range the bikes we test provide.
I'm a big fan of the way Aventon calibrates their motors. From past Aventon reviews and tests it feels like PAS 5 is designed to keep the rider as close to the top speed of 28 mph as it can. I was curious to see if that was going to be the case on the Pace 500 ST.
I reached 23.52 miles before the 48V, 11.6Ah battery died, which I think is respectable. What I was really impressed by is the fact that I had an average speed of 23 mph. Considering the fact that it was 106 degrees and that it felt like I had a headwind in both directions, I felt the battery performed quite well.
On the flip side, Aventon seems to tune their PAS 1 to barely help at all: from my experience PAS 1 makes it feel like you're riding a standard bike.
The low level of assistance makes for a long range, and on our minimum pedal assist test our test rider reached 51.30 miles with an average speed of 10 mph before the battery finally died.
Considering the fact that our test rider is 6-foot-5-inches, 220 lbs, and that the Pace 500 ST uses a 48V, 11.6Ah battery, the result is pretty impressive.
Our results corresponded with the claimed range fairly accurately. I was only a mile and a half off of the claimed minimum range of 25 miles during the PAS 5 test. While we were 15 miles away from the claimed maximum range of 67 miles, our results made a lot of sense because our test rider was 50 pounds heavier than the rider used in Aventon's range calculation. Plus, 50-plus miles is still really far.
Circuit test
We like to conduct what we call the "circuit test" where we ride our e-bikes around a 1 mile loop in each assistance level, plus one lap with the bike turned completely off. This gives us a good idea of how much the bike is assisting the rider in each assist level and how much of a change there is from level to level.
The Aventon Pace 500 ST has 5 total pedal assist levels (PAS) all of which offer their own benefits. Aventon has always done a good job creating a true PAS 1 and PAS 5 on their bikes and I was curious to see if that was the case on the Pace 500 Step Through.
It was indeed the case, and I was very impressed by the calibration of the Pace 500's pedal assist levels. As I was hoping for, the Pace 500 had a very true PAS 1 where it felt like all the bike was doing was compensating for the additional weight of the motor and battery. Basically, it made me feel like I was pedaling a standard bicycle. My average speed was only 2.2 mph faster on PAS 1 than on no assistance (12.6 mph to 14.8 mph).
The biggest jump between assist levels was from PAS 3, up to PAS 4 where I went from an average speed of 20.6 mph up to 24.1 mph.
PAS 5 felt like it was calibrated to keep me above 25 mph no matter what. The acceleration was quick and it was really easy to maintain high speeds without over exerting myself. If you're going to be commuting on the Pace 500 Step Through, then you're really going to appreciate the performance PAS 5 provides.
I think Aventon has calibrated the Pace 500 Step Through in a way that's good for a wide range of riders. Those who want to go on a slower, more leisure oriented ride will really appreciate PAS 1 and PAS 2, while commuters and those valuing speed will really like the assistance PAS 4 and PAS 5 provide.
Hill Test
Here at Electric Bike Report, we test all of our bikes on one of the steepest hills in town to see how well they truck uphill. Typically we'll do two separate tests, one in the highest pedal assist setting and another using just the throttle. This gives us a good idea of how well the motor performs under stress and how capable the bike is at climbing hills in general.
On the highest assist setting, I reached the top of our 0.3-mile test hill in 1:12.00, with an impressive average speed of 15.1 mph. The Pace 500 ST held onto its speed for a surprising amount of time, and I honestly didn't expect it to clock the speedy time that it did. The fast rolling tires and 8-speed drivetrain complemented the power of the 500W motor nicely.
It took me 1:43.00 to reach the top of our test hill on throttle only with an average speed of 10.5 mph. I could definitely feel the motor working on the steepest part of the hill, but I never dropped below 8 mph. With the average grade of our test hill being over 12 percent I see my hill climb results as a victory.
Handling
Despite the swept back handlebar and low step frame the Pace 500 handles more like a city commuter than it does a cruiser. The handlebar sweep is still straight enough that my hands were in a good position for absorbing bumps and keeping the bike on its course.
The fully rigid design offers very snappy handling characteristics that allowed me to maneuver the bike around sharp corners and obstacles better than I was initially expecting to be able to. I actually had to be careful with how low I was getting on corners as I found myself scrapping the pedal on the ground from time to time. I didn't really see this as a bad thing because it shows the Pace 500 can get low on corners: just make sure you don't go too low!
Cruisers and commuters both will like the handling characteristics of the Aventon Pace 500 Step Through, it's a happy median of what makes each style of bike so great. It has the comfort and positioning of a cruiser and the performance and handling of a commuter.
Ride Comfort
The Pace 500 ST walks the fine line of being a nimble riding bicycle while still possessing cruiser-like characteristics that kept me comfortable and upright during my rides.
I liked the pedaling position of the Pace 500 quite a bit. The cruiser-style bottom bracket position is a little farther forward than on a typical commuter bike and it provided me with a lot of comfort when pedaling. It mainly felt great on my knees, which was much appreciated for how many miles I put on the Pace 500 ST.
I consider the Pace 500 to be a very comfortable bike and I think it really boils down to the upright positioning and comfort oriented componentry like the 245mm wide Velo Comfort saddle and ergonomic rubber grips.
Aventon Pace 500 Step Through Review: Electric Components
Motor
The 500W geared hub motor did a really good job keeping me riding at high average speeds and boosting me up steep hills where a lot of effort is typically required.
This motor feels like the right tool for the job on the Aventon Pace 500 ST; it has the ability to keep riders riding at Class 3 speeds for a long period of time, and it has enough power that you never really have to work hard if you don't want to.
The average commuter isn't going to want to get to work all sweaty and flustered and the 500W motor keeps that from being the case. Cruisers ride at a very casual pace and are rarely looking to put down a hard physical effort, so the 500W motor is great for the cruiser/comfort crowd too.
Battery
The 48V, 11.6Ah battery is semi-integrated into the frame and proved its worth to us on the range tests. Despite the extreme conditions (temperature of 106 degrees fahrenheit) the battery kept its composure.
I was honestly expecting the battery to overheat or have a very short range due to the conditions, but the heat didn't seem to affect the battery much at all. This is saying something considering my iPhone gave me a notification that "iPhone needs to cool down" before I could use it again.
Yes, my phone isnt an e-bike and the Pace 500 ST isnt a phone, but they both use lithium-ion batteries and it was great to know the Pace 500's 48V, 11.6Ah can perform in even the hottest of conditions. With that being said I wouldn't recommend riding in that level of heat, even with assistance things can get pretty brutal out there.
The battery also only weighs around 7 lbs, so if it does die you won't be lugging too much additional weight. I pedaled the Pace 500 turned completely off and while it isn't my main choice, it is doable if you're in a pinch. More on that in the Drivetrain and shifting section.
Pedal Assist / Throttle
The Pace 500 Step Through comes with 5 pedal assist levels and a lever throttle on the left side of the handlebar. The 5 levels of pedal assist make for a wide range of speed adjustment all the way up to 28 mph. The pedal assist levels are clearly distinguishable from one another and all offer their own benefits.
Aventon ships all of their bikes with an on demand throttle, making this a Class 2/3 e-bike. That throttle has a lot of range in its power output and was easy for me to engage between no throttle and full throttle (20 mph).
The Pace 500 turns on in PAS 0 (no assist) and Aventon designed the throttle to only be usable when the bike is in PAS 1 or above, which I think is a great safety feature. This feature adds a lot of safety to the Pace 500 as it isn't very likely for somebody to accidentally engage the throttle when getting on the bike.
Between the throttle and 5 pedal assist levels I think most riders will find a speed and level of power that suits their needs appropriately.
Display
The Pace 500 ST comes with a Standard LCD display with a backlight for low light conditions. Interacting with the interface was fairly straight forward and it doesn't take a rocket scientist to get familiar with how to use it. The display includes speed, battery life, voltage, pedal assist level and trip/overall mileage.
One thing I wish they included was a live wattage meter so that I could see how much wattage the bike was expending. From my experience it's a lot easier to conserve battery life when you can see how hard the motor is working. While you can technically do the same thing with the voltage readout, I find it's easier to understand with wattage.
The display is plenty big to read everything you need to without having to focus too hard on it. I was able to see my battery life and current speed with a quick glance making for a safer ride overall.
The battery readout on the display is a predictive readout, so you'll see the battery life jump around quite a bit. Keep in mind the system is trying to predict how much battery life you have left relative to how hard the bike is working at the time.
Aventon Pace 500 Step Through Review: Components and Accessories
Brakes
The Zoom hydraulic disc brakes come with 180mm rotors front and rear. These brakes have proved their worth to me, and I was genuinely impressed with the stopping power. In our brake test it took me an average of 13' 4" to stop from 20 mph.
Not only were the Zoom brakes powerful, they also provided me with consistency. All of my test results were within a foot of each other. It didn't take much time on the bike to become familiar with how the brakes felt, and what to expect when engaging them.
One thing worth noting is there is some grey area as to which brakes you'll receive on the Pace 500 ST, as there is a part shortage throughout the whole industry right now. The Zoom brakes are new to us. The other Pace 500 model we tested this year came with Tektro brakes – a brand we're a bit more familiar with.
One thing we've learned is that you can't judge a brake by its brand, you have to test it. When we tested the Zoom hydraulic disc brakes they definitely proved their worth to us with their performance.
I bring up the grey area on parts and components because on the Pace 500 ST's spec sheet you'll see there isn't a brand specified for which brakes you'll receive. Hopefully things will get back to normal but for now, that's the case.
Frame
The double butted 6061 aluminum alloy frame is good looking and plenty stiff and strong for the Pace 500 ST's intended use. The welds are low profile and I never felt like I was riding a bike that was unstable or dangerous.
While I wouldn't recommend any downhill mountain biking on the Pace 500, this frame does appear to have been built to last. Aventon has been manufacturing frames for nearly a decade now and I trust their process. I would have liked to have a couple mounting points for a water bottle and hand pump, but aside from that I have no complaints about the frame.
Fork
The fully rigid 6061 alloy fork fits the sleek theme of the Pace 500 Step Through quite nicely. It also has mounting points for a light and a front rack for those wanting some extra storage space. The fork comes with vertical quick release dropouts for the front wheel.
Drivetrain / Shifting
The 8-speed Shimano Acera drivetrain allowed me to have a gear for every hill and straight away I encountered. It also gave me a wide enough gear range that I was able to pedal the Pace 500 turned off without much of an issue. The shifts were very crisp and consistent throughout the 8 gear range and I had no issues at all. Even on our steep test hill I was able to spin the gear I was in comfortably.
There should be a gear for pretty much every scenario you encounter whether you're a speed hungry commuter, or a laid back cruiser.
Contact Points / Comfortability
All of the contact points on the Pace 500 ST proved to be comfortable for long periods of time. The 245mm Velo Comfort saddle distributed my weight evenly and I never had a sore bum because of it.
I am also a big fan of the ergonomic rubber grips, the shape feels great to hold onto even on long rides. The 15 degree swept back handlebar isn't so swept back that it was hurting my wrist or putting my hands in a weird position, instead it kept me a little more upright and still gave me the nimble handling characteristics I was hoping for.
The pedals are pretty standard. They're alloy platform pedals and they have reflectors. They provided me with decent grip and they can withstand a pedal strike so I have no complaints. Pedals are one of those things that are easy to replace, so if you have a particularly large foot or are looking for a different type of pedal than what's provided it won't be much of a problem to swap out.
In all, I consider the Pace 500 Step Through to be a comfortable bike. As I've said I think it's a good median between a cruiser, and commuter. It takes aspects of both when it comes to its contact points.
Tires
The Pace 500's 27.5" x 2.2" Kenda Kwick Seven-5 Sport tires come with a reflective sidewall, and are e-bike rated when it comes to puncture resistance and sidewall support.
I really appreciated having a decently voluminous tire on the Pace 500, because the bike is fully rigid there isn't much cushion on bumps and rougher surfaces aside from the tires which seemed to do a good job of reducing vibration.
They also are pretty grippy and I had no problem getting low in corners. The width and volume of the Kenda Kwick Seven-5 Sports add a lot of performance benefits to the Pace 500.
They hold a decent amount of air which allows the rider to run a wide range of tire pressures, and they are decently grippy which is definitely appreciated when going around corners. Despite us racking up around 100 miles on the Pace 500 the tires have not been punctured or compromised in any way.
Extras / Accessories
The Aventon Pace 500 Step Through doesnt come stocked with any additional accessories, but there are plenty available for purchase on Aventon's website.
Aventon has a rear rack, and a set of fenders designed specifically for the Pace, . They also have a lot of accessories that will be useful regardless of which model you have. Some of those extras include a 500 lumen headlight, a Burley child trailer and a Kryptonite Kryptolok. I was actually pretty impressed by the amount of additional equipment they offer.
With all 432 of the accessories and extras currently listed taken into account there should be equipment that is useful for you regardless of your lifestyle.
Aventon Pace 500 Step Through Review: Summary / Where to Buy
The Pace 500 Step Through proved itself to be a well made and smooth sailing electric bicycle that falls somewhere between a cruiser and commuter. I really enjoyed the experience that Aventon's Pace 500 ST provided — I was able to ride at Class 3 commuter speeds while staying comfortable like I was riding a cruiser. The comfort of the Pace 500 mixed with its high speed capabilities made for a unique experience I think a lot of riders will appreciate.
The Pace 500 Step Through is a good choice for those who are going to be riding a lot on paved paths, around the neighborhood and throughout town. The upright positioning allowed me to take in my surroundings more and put in more miles than I think I would have otherwise. I think cruisers and commuters will both find a lot of value in the versatility of the Pace 500, it feels like the best of both the commuter and cruiser worlds.
Aventon is doing a lot of good things with the Pace 500 Step Through. From the sleek looking double butted 6061 alloy frame to the 500W brushless rear hub motor, the Pace 500's quality is apparent to me especially when you take the $1,500 pricepoint into consideration. What you receive for what you pay makes the Pace 500 ST a hard bike to ignore.
Aventon mainly sells their bikes direct-to-consumer. You can head to their website through the button below.
The average speeds I was able to ride at on the Aventon Pace 500 Step Through really impressed me, I wasn't expecting to clock an average speed of 23.0 mph over the span of the range test; that's 2 mph faster than we received on the standard Pace 500. While we don't know exactly what is going on, we think Aventon has changed their bikes to expend a little more wattage than in previous models. This makes for a slightly shorter range, and higher speeds in general. *We will update this post as soon as we hear back from Aventon on this topic.
The whole industry is dealing with a parts and inventory shortage right now, so there is going to be some variation in the components you receive. For example, you'll see the Pace 500 Step Through's brakes are listed as "180mm hydraulic disc brakes" without any brand specified. This is because you could receive Zoom, Bengal, Tektro, or another brand completely. While there is some variation in componentry the quality of the parts we've received hasn't seemed to diminish at all throughout the shortage.
The Aventon Pace 500 Step Through is a solid choice for any commuter or cruiser who values comfort, and speed. The Pace 500 walks the fine line between being a quick sport commuter bike, and a leisure paced cruiser; at the end of the day it can be either of the two, it all depends on how you'd like to ride that given day.
Happy Riding, make sure to let us know if you have any questions down in our comments section or if you think we left anything out in this review of the Aventon Pace 500 Step Through.
Reader Interactions