Aventon Pace 500 Step-Through Review 2023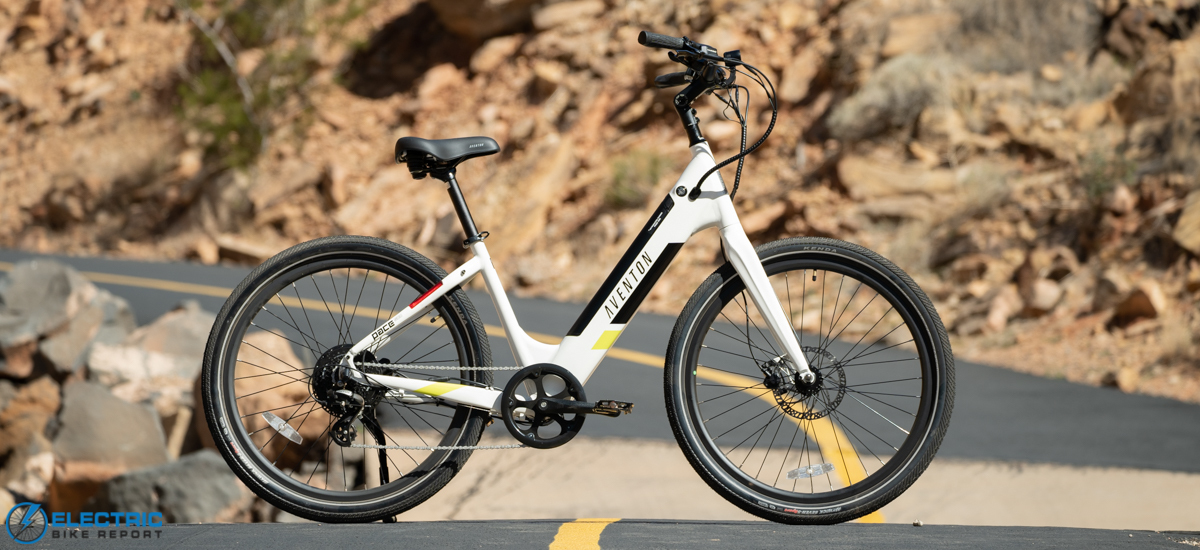 An old favorite with a new look: Aventon's Pace 500, their original and best selling electric bike, just got a face lift and a few new parts.
In this Aventon Pace 500 review, we take a first-hand look at the newest generation of Aventon's tried and trued electric cruiser bike.
The Pace 500 has long been one of our most highly recommended affordable e-bikes for its looks, for its power and for its really, really nice handling. This new version of the Pace seems to have capitalized on those qualities by making very small (but impactful) changes. In addition to its redesigned look, the Pace 500 also got a larger battery and several other cool features like a color LCD display and inset tail lights.
Launched in March 2022 alongside its sister bike, the Pace 350, we got an early release version of the bike to put through our gauntlet of testing.
So, how's it stack up against the old bike? Very well, actually.
Bike Category:
Cruiser/Commuter
Bike Class:
Class 2: PAS/Throttle assist, up to 20 mph
Aventon Pace 500 Video Review

Pro's
Company's always risk ruining a great bike by updating them, but that's not what Aventon did here. They made a good e-bike better by not overdoing it.
The 614.4Wh battery is now frame integrated and extended the bike's range.
The addition of Aventon's new full color LCD display is a really great add. It's useful, easy to read and has some fun features we don't see often.
Our review bike had name-brand components across the board, which was refreshing after several years of parts shortages.
It has the upright geometry of a cruiser bike but the pedalability and light handling of a commuter, making the Pace a uniquely comfortable and capable e-bike.
I love the inset tail lights. It's a purely aesthetic thing, but seems to have become something of a signature design feature for Aventon.

Con's
Like many step-throughs I've reviewed, the Pace 500's frame is geared toward smaller riders. I love step-through e-bikes, but at 6'1" the Aventon is on the smaller side for me. It would be great to see Aventon make a step-through version for taller people.
ELECTRICAL SPECS & FEATURES
Battery: 48V, 12.8Ah (614.4Wh)
Display: Aventon full color LCD
Motor: 500W rear hub motor
Headlight: Integrated
Taillights: Integrated
Peal Assist: 5 PAS levels, cadence sensor
Range: 40-plus miles, claimed
Throttle: Thumb throttle
Weight & Dimensions
Claimed weight: 53 lbs
Maximum rider weight: N/A
Maximum load on rear rack: N/A
Components & Accessories
Brakes: Tektro HD-E350E hydraulic disk brakes, 180mm rotors front and rear
Fenders: N/A
Fork: Rigid aluminum
Frame: 6061 aluminum
Drivetrain: Shimano Altus 7-speed
Grips: Rubber lock on
Saddle: Aventon comfort saddle
Handlebar: Swept aluminum
Kickstand: Included
Pedals: Included
Tires: Kenda K1052 27.5" x 2.2"
Aventon Pace 500 Step-Through Review: Bike Overview
This is the next generation of the Pace 500. And though it has the same general shape as the Pace 500 we know and love, much about this bike is new or updated to match some of the other features we've seen on Aventon e-bikes we've reviewed over the past year.
But let's start with the obvious: Its new look.
The fresh frame design is fairly similar to the newly released Aventon Soltera, which employs similar ovalized tubing and a similar (very similar) fork, but has a slightly different design for the integrated but removable battery.
The Pace 500 is billed as an electric cruiser, but one of the things we love about it is that it can be used for so much more than that. Compared to the very large and slightly cumbersome classic-style cruisers, the Pace employs a more compact design that's easier to maneuver, lighter (53 lbs) and more friendly to smaller riders or those who don't want to muscle a big machine.
This is the step-through version of the Pace 500 and, aside from some slightly different tube shapes, perhaps the most notable change is that the battery has been fully integrated into the downtube of the frame.
This is the step-through version of the Pace 500 and, aside from some slightly different tube shapes, perhaps the most notable change is that the battery has been fully integrated into the downtube of the frame.
That battery, a 48V, 12.8Ah (614.4Wh) unit, is also larger than the 556.8Wh battery we saw on the old bike. This, according to our testing, seems to have improved the bike's battery range, but we'll dive more into that in the range test portion of this review.
Like the old bike, it's built around a 500W rear hub motor, ships as a Class 2 e-bike that can be adjusted to Class 3, and sports a thumb throttle, cadence sensor and five levels of PAS.
Rounding out the componentry list on our review model of the new Pace 500 are a number of staples such as a Shimano Altus 7-speed drivetrain, Tektro hydraulic disk brakes, and last but not least, Aventon's new full color LCD display. A display is a small thing to make a big deal over, but it's frankly been a highlight for me on all of their new generation of e-bikes. Not only is it full color but it has a number of fun features, such as how many trees you've saved and KGs of carbon emissions you've reduced.
Last but not least, Aventon gave the new Pace 500 the very sleek inset tail lights that sit flush inside the seat tubes of the frame. It's not a big deal, but it's one of those small design features from Aventon that I really dig.
Aventon Pace 500 Step-Through Review: Motor Performance, Speed and Acceleration
The Pace 500 is powered by its namesake 500W rear hub motor that feels snappy but controllable. It ships as a Class 2 unit equipped with a throttle and five levels of pedal assist that are controlled by a cadence sensor. Like the old bike, this one can be adjusted up to Class 3 speeds should you choose and your local e-bike regulations allow.
Like many other affordable e-bikes we review with 5 PAS levels, the bottom few power settings don't give a whole lot of help from the motor. This can be good if you're looking for ultra long range or want a good workout, but you may find yourself choosing higher PAS levels if you want this e-bike to actually feel like an e-bike.
In our circuit test, where we sample the performance of each PAS level plus a lap with no help from the motor at all, this yielded some interesting results. Namely, our test rider actually rode faster with the motor off than he did in the first two PAS settings.
This, he said, is likely due to perceived exertion and a little bit of variable wind. Meaning he expected to do more physical work during the no motor lap, then likely ended up unintentionally letting off the gas just a little in PAS 1 and 2. Add that in with a bike that actually rolls pretty quick and some wind, and you've got our strange looking circuit test chart.
This serves as an important reminder of the real-world conditions we test the bikes in. It's not as if the bike actively slows you down in PAS 1 or 2. Instead, it just goes to show that the bike rolls quite well and you might not see as much motor engagement if you produce speeds on your own above 10 and 12 MPH where PAS 1 and 2 respectively seem to limit their engagement.
Lastly, one thing we really kept an eye on in our testing was what, if anything, Aventon did to update the Pace 500's motor. The old version of the bike had a wonderfully snappy motor that punched far above its weight class, and thankfully it appears nothing has changed — at least from a power delivery perspective. It's still snappy and it's still fast, which we really like.
Aventon Pace 500 Step-Through Review: Range Test & Battery Performance
As we hinted at earlier, the battery is one of the few hard components that appears entirely changed from the last version of the Pace 500.
Not only is it now integrated into the frame — a big aesthetic improvement — but it's larger. The new Pace 500 is spec'd with a 48V, 12.8Ah (614.4Wh) battery that's about 10 percent larger than the old 556.8Wh battery in the previous model. As you'd expect, that larger battery yielded some better results in our range testing.
We did two range tests, one in PAS 3 and the other in PAS 5. In the PAS 3 test, the Pace 500 lasted for 57.75 miles at an average speed of 13.4 mph. In PAS 5, we saw a 27.88 mile range with an average speed of 16.9 mph.
Those results are solid improvements over the battery range of the previous bike, which in low PAS tests were around 51 miles and about 24 miles in high PAS tests.
Aventon Pace 500 Step-Through Review: Hill Test
It's not uncommon that our test hill, Hell Hole, pushes a 500W rear hub e-bike to its limit; the new generation of the Pace 500 is no exception.
We do two hill tests on our review bikes, one on the highest pedal assist setting ( PAS 5 in this case) and again using just the throttle. Among 500W rear hub-driven e-bikes, we typically see them clear the top of Hell Hole in PAS 5 with little trouble, but it's the throttle only test where things can get tricky. That's where the Pace had its issues.
In PAS 5, the Pace 500 cleared the top of Hell Hole in 1:37.00 with an average speed of 11.2 mph. But in the throttle only test, it made it about one-third of the way before the hill got the best of it.
Before you all use that data to peg the Pace 500 as a bad hill climber, let's add some context to the numbers.
For starters, we chose our test hill specifically because it's extraordinarily long and steep. Many 500w e-bikes have struggled and even failed on this hill, especially in the throttle only test when they rely exclusively on motor power alone.
Lastly, it's worth noting that it took very little pedaling from me to get the Pace 500 to clear Hell Hole in the PAS 5 test. All it needed was a little additional torque from my legs and the Pace 500 had no issues getting to the top.
Aventon Pace 500 Step-Through Review: Brakes and the Brake Test
Slowing the Pace 500 down is a set of Tektro HD-E350E hydraulic disk brakes with 180mm rotors front and rear, a reliable name brand setup that we know well and very much trust.
They perform well, too.
In our brake test, which takes the average of five full power stops from 20 mph, the Aventon came to a stop in 11-feet-11 inches, which is several feet better than our current all-time braking average of 15-feet-11-inches.
Obviously the Tektro brakes can be largely credited for this result, but brakes aren't the only factor that determines whether an e-bike stops well. Not only is the bike relatively light at 53 lbs, the Kenda tires did a fantastic job at keeping the bike stuck to the ground even when they locked up and began to skid.
It's also worth noting here the importance of having name-brand componentry on your bike for when something goes wrong and you need maintenance. Tektro is one of the largest brake manufacturers in the world, and it's very likely your local bike shop is equipped to service them. The same cannot be said for all affordable hydraulic disk brakes.
Aventon Pace 500 Step-Through Review: Ride Comfort, Handling and Cockpit
The handling of the Pace 500 has always been a highlight for me, and I'm happy to report that it appears little has changed in this department.
Like its predecessor, this bike's handling is very light and neutral. It's intuitive to ride and extremely forgiving — one of the biggest reasons we highly recommend this bike for newer riders, those looking for something very dependable and even senior riders.
It's built on a fully-rigid chassis, which means there is no suspension, but again I'd actually say this is a good thing. Suspension forks can be nice when it comes to taking the edge off bumps, but they can be expensive, and cheap versions pose reliability issues and sometimes are more of an aesthetic choice than something that's actually functional.
In the case of the Pace 500, the rigid fork is comfortable, definitely contributes to the bike's good handling and also just looks very nice — to me, it looks very similar to the bladed fork we saw on the new Soltera.
Cockpit wise, the highlight is Aventon's full color LCD display. Other companies have started putting color LCDs on their more affordable models, but this one is just a step higher than some of the other ones I've seen.
From a functionality perspective, it's very clean and easy to read. I also like how well it integrates with the touchpad, so there's little if any odd cheat code-like button combinations you have to press to turn the lights on or change settings. It also has some fun features, like how many trees youve saved or KGs of carbon reduced, which are cool touches.
Aventon Pace 500 Step-Through Review: Summary / Where to Buy
The Pace 500 was Aventon's first e-bike, and to this day it's arguably their most successful model. It's an award winning e-bike that's not just Aventon's best seller, but it's one of Electric Bike Report's most highly recommended affordable e-bikes we've reviewed.
It's always tricky when a brand tries to reinvent a classic; you run the risk of ruining a fan favorite simply by changing it. But that's not what Aventon's done here with the newest generation of the Pace 500. In this case, they made a good e-bike better.
They accomplished this by not changing too much. Much of the old Pace 500 still shines through in this most recent iteration — it's the same snappy handling, the same upright yet compact frame and the same quick motor. Much of what Aventon has changed are aesthetic details, or details targeted to improve the user interface. This includes the updated design, the hidden battery and new features in the cockpit like the full color LCD and nicely done grips. The one notable componentry change was simply making the battery larger, which gives that snappy motor more juice.
All in, I'm incredibly pleased with the new Aventon Pace 500, and I'd bet the die-hard fans of the bike will be, too. If you like the Pace 500, it can be bought online on Aventon's website and shipped to your door.
'Happy Riding, make sure to let us know if you have any questions down in our comments section or if you think we left anything out in this review of the Aventon Pace 500.
Reader Interactions