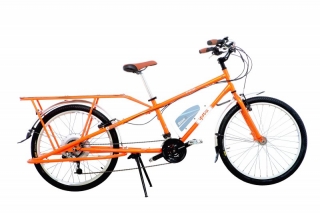 One of the recent developments in the electric bike and traditional bicycle world has been the cargo or utility bike. Cargo bikes are designed to carry loads that are larger and heavier than a traditional bicycle can carry.
Electric cargo bikes offer an additional electric assist to the rider which allows them to carry a heavier load for a longer distance. The electric cargo bike in many cases is a great alternative to driving a car for running errands and commuting to work.
There are many users than can benefit from using an electric cargo bike.
The average person who commutes to work and needs to run errands around town can use this type of bike without getting too sweaty and they can carry what they need for work and/or pick up what they need while running errands.
Businesses that need to make deliveries around town can benefit from the maneuverability of a bicycle in a congested urban environment. Electric bikes with cargo carrying capabilities can also be a great marketing tool for businesses because of there unique look and they make a statement about the businesses environmental concern.  Check out this video of how FedEx is using an electric cargo trike in Paris.
Below are some links to electric cargo bikes and cargo bikes that can be converted to electric with some conversion kit options. I will be constantly adding new links to this list, so stay tuned!
Current types of complete electric cargo bikes:
Yuba elMundo: This is a ready to go electric version of the popular Yuba Mundo.  They also just recently released their Yuba BodaX electric cargo bike.
Thrust Electric Bikes:  These are cool electric delivery bikes that have a large cargo box on the back that can provide advertising space.  They are based off the Madsen cargo bike.
Xtracycle: makes some custom electric cargo bikes based on their popular cargo system.  They just came out with their new Xtracycle electric Edgerunner.
Juiced Riders: They make electric cargo bikes with 20″ wheels and a low step thru frame for stable load carrying.
IZIP Metro:  This is a short wheelbase bike with the ability to carry some cargo thanks to the large front basket and rear rack.  Here is the full review of the IZIP Metro electric bike.
Urban Arrow: Is a Dutch bike brand that offers a large cargo basket in the middle of the bike with a mid drive motor.  Their bikes are "for families with young kids that want a green, affordable and time saving alternative for their city cars."
Biruni Motorbikes:  Is a new e-cargo company offering affordable cargo e-bikes that have a relatively short wheelbase.
Complete Electric Cargo Trikes:
IZIP Tri Ride: Is an affordable electric cargo trike.
Cycles Maximus:  Offers regular and electric trikes for cargo and people transport.  They have large cargo box options.
Pedego: Offers a soon to be released electric cargo trike that features smaller wheels for stability and the ability to fit through doorways.
Cargo Bikes that could be converted to electric:
Trek Transport: A complete cargo bike from Trek; one of the largest bike companies.
Kona Ute: The Ute is an off the shelf cargo bike ready to pick up some groceries!
Xtracycle Radish: This is Xtracycle's own complete cargo bike using their cargo system.
Surly Big Dummy: This is a mountain bike type cargo bike that uses the Xtracycle kit.
Xtracycle Kit: This is a great way to add cargo carrying capabilities to your existing bike. Nice if you really like your current bike.
Madsen: These are cool cargo bikes that have a large box on the back that can fit some very large items.
Bullitt: Along the lines of carrying big cargo is the front load Bullitt cargo bikes.
Metrofiets: These are custom made cargo bikes made in Portland Oregon and they carry the load in the front part of the bike.
Ahearn Cycles: These are considered cycle trucks and they carry the load on the front of the bike.  They are designed and built in Oregon.
Frances Cycles: Here is another cycle truck.  Pretty wild looking.
Work Cycles: This company offers many utilitarian bikes.  Cargo bikes, cycle trucks, and child transport bikes.
Civia Cycles: This is a company dedicated to bike commuting.  The link is to their new cycle truck.
Worksman Cycles: This company has a lot of inexpensive utility bikes.  They have been around for a long time.
Ant Bicycles: Here is a cycle truck that has a very clean look and a nice basket on the front.
Republic Bikes: Offers the Socrates cargo bike that has a large cargo basket on the front with a 20″ front wheel to get the heavy cargo load lower to the ground.  Oh yeah, and you can custom design your bike with your favorite colors!
Electric bike conversion kits available for cargo bikes:
Clean Republic: has a front wheel motor kit that is very easy to install and it is a very economical kit.
E-Bike Kit: has front and rear wheel motor kits that are economical.  They offer direct drive and geared hub motors.
Bionx: This is a very clean and lightweight electric bike kit that has a good track record.
EcoSpeed: Offers a bolt on mid drive motor system (powers through the cranks) that is pretty powerful!
Other ways to carry cargo on a bike:
Ride Kick:  This is an electric cargo bike trailer that "pushes" your bike!  So if you already have a bike that carries some cargo and you want an easy way to add (or remove) electric assist, then this maybe your solution.
Bike Trailers:  If you already have an electric bike that you like you can use a bike trailer to easily haul some extra cargo.  The cool thing about a bike trailer is that it is easy to add or remove from your bike.
Bike Racks and Bags (or Panniers):  There are many great cargo racks and bags that you can add to your existing electric bike to haul more gear.
The price of electric cargo bikes:
You can expect to pay $2000+ (USD) for an electric cargo bike.  This may seem like a lot, but when you consider how it can be used in lieu of your car for a lot of trips around town it starts to be more reasonable.
The stop and start driving around town causes a lot of wear and tear on your car.  By using an electric cargo bike instead you will save money on gas and maintenance (tires, oil changes, tune-ups, etc.).   Not to mention having more fun :).
See this article for creative financing ideas for electric bikes.
Other electric cargo bike resources:
MyCargoBike.net is a good resource for cargo bike and electric cargo bike info.  Don enjoys riding an electric cargo bike to get around Seattle.
Here is a blog that provides instructions on a DIY rain cover to keep the kids dry.
That's it for now.  I will be adding more resources to this page,  so stay tuned.
-Pete
P.S. Don't forget to join the Electric Bike Report community for updates from the electric bike world, plus ebike riding and maintenance tips!