The Electric Bike: Your Next Family Vehicle
We live in an incredible age. With the convergence of the bicycle, electric power and technology, suddenly human beings have the the ability to feel what's it's like to become "bionic".
Not only that, but the price of becoming bionic comes at a price tag in just the low to mid four figures. The gateway is wide open for those who want the amazing feeling and freedom electric assist bicycles provide.
If you're new to electric assist bicycling, you might be asking yourself some questions. I talk to hundreds of people each year about eBikes. I also help just as many throw a leg over an eBike for the first time and take them on a ride.
This is my favorite way of introducing people to this very new, empowering and healthy form of personal transport. For them, the end of that ride means the beginning of the questions. Most of them want to know if they can justify such a purchase, and if so, can an electric assist bicycle qualify as a family vehicle.
"Can an eBike be a family vehicle?". Having lived with eBikes for years, my short and long answer is "Yes!". While I wouldn't necessarily commit to an eBike as the only family vehicle, I have been astonished by how useful – and how used – an eBike became for my family.
My wife and two daughters, at first skeptical, quickly adopted our electric assist cargo bike at home, around town and while traveling. It has served as our "escape pod" during trips to major metro areas up and down the West coast. Riding four-up on that cargo bike has brought us some of our greatest memories, together.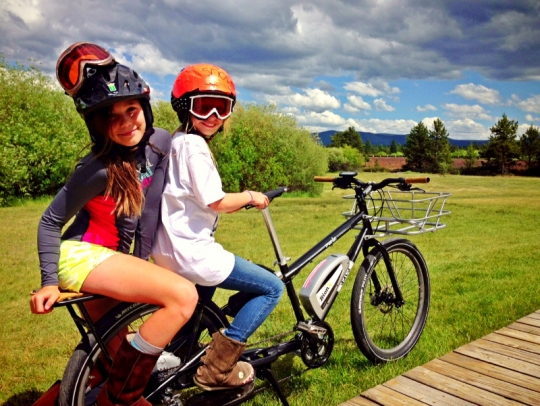 We get around cities faster, park right in front of our destinations, and see and hear cities in ways we never could have in a car or with public transportation. We not only see more, but we end up doing more.
We stop at more shops and sites, taking alleys and byways we may have never known existed. Our family has dissected cities and towns in hours and days in ways that might have taken years to learn on foot or by car.
Returning home, the realization of those freedoms meant the bike did not sit idle in the garage. The whole family began using it for trips around town, individually or as a group.
By the time they were ten years old, the kids felt comfortable enough to take the bike out on their own or together. Trips to friends houses miles away no longer meant asking mom or dad and piling into an automobile when we finally had time to take them. They were happy to run to the store for groceries or run other errands when asked.
That same bike also became a recreational vehicle of sorts for me. One of my favorite things to do is park the car, load up the bike with camping and fishing gear and head out for days at a time.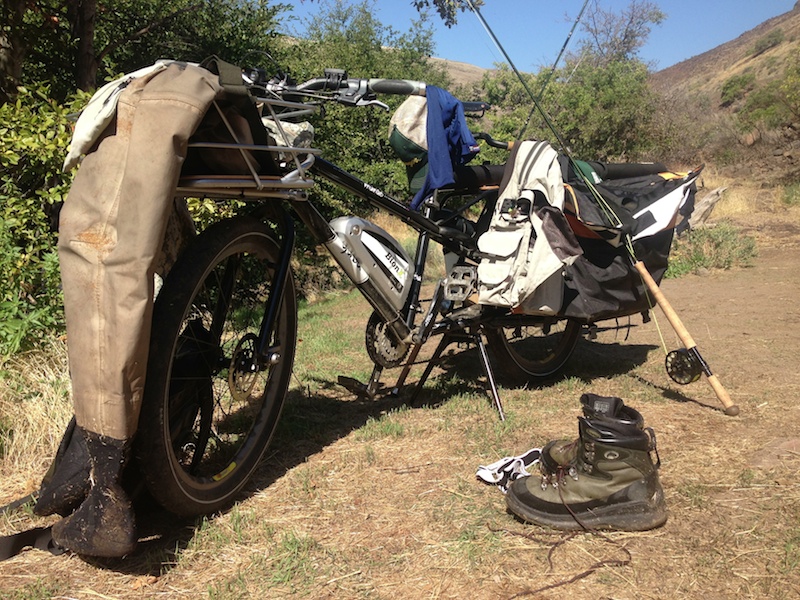 Without a solar array or extra battery I was somewhat limited by how far I could ultimately go, but where I went was far enough to get away from the masses. With an eBike, I discovered adventure that in many ways went beyond that which owning motorcycles and other special purpose "off road" vehicles provided me in the past.
An eBike might be the right "next vehicle" for you and your family, too. Good ones are worth paying for, especially when the wellbeing of your family is riding on it.
Whether or not you can afford one of course is another matter. Many shops offer quick and convenient financing on eBikes. Over the years there have been many stories of people who have been able to re-coup the entire bike cost and more over the course of just one year by mothballing one of their cars.
The price of oil did drop substantially in the last six months, but as we all know, gas is just one expense of vehicle ownership. For myself and many of those I've helped introduce to electric assist cycling, saving on gas ranks low on the list of eBike benefits.
At the top of list are things like fun, health and freedom. Indeed, regular pedal bikes offer these as well, but the electric assist experience is so different that it needs to be felt to be understood.
Whether you are a world class athlete or overweight and far below your best health, an eBike can enhance your life. It may even become your next family vehicle of choice.
P.S. Don't forget to join the Electric Bike Report community for updates from the electric bike world, plus ebike riding and maintenance tips!
Reader Interactions