Yakima StageTwo Hitch Rack Review 2021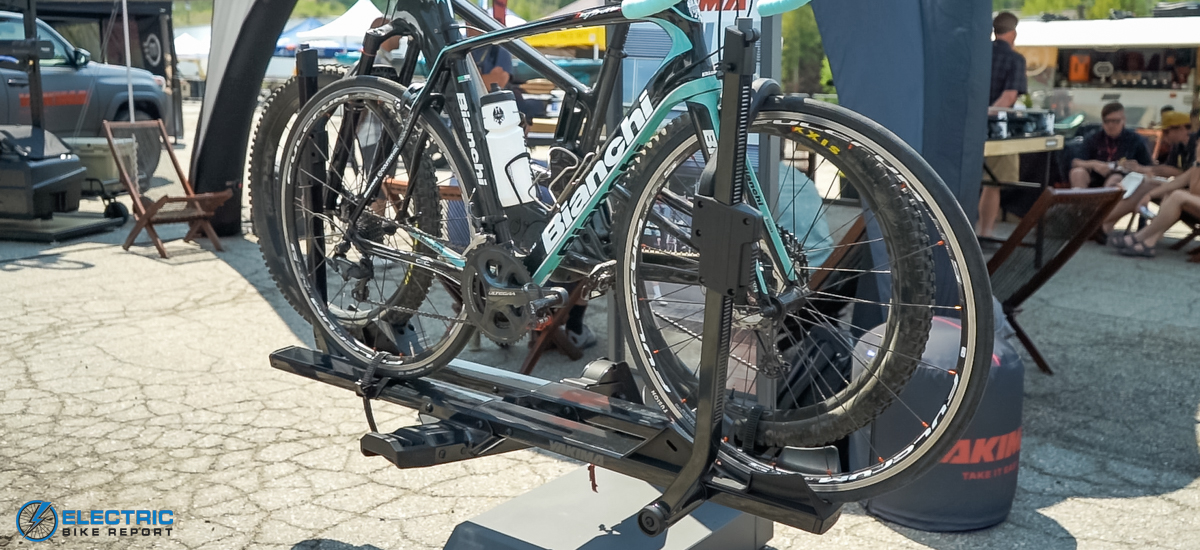 Yakima this November is set to release their new StageTwo hitch bike rack, a premium tray rack capable of carrying up to two 60 lb electric bikes (or a few more lightweight e-bikes if you add the two bike extension).
The new StageTwo rack is compatible with 2-inch and 1 ¼-inch hitches and is loaded with additional features and improvements designed to make it more user friendly. It's got the usual bells and whistles you'd expect from a premium rack — such as improved stability and thoughtful accessories — but it's got some particularly smart features that make it ultra-cool.
Electric Bike Report got a first-hand look at the new Yakima StageTwo hitch bike rack during the Big Gear Show in Park City, Utah this August to get a feel for the new e-bike hauler before it's released officially on November 15.
Yakima StageTwo hitch rack e-bike carrying capacity and features
Weight capacity and e-bike compatibility
The Yakima StageTwo can carry up to a 60 lb e-bike in each of its two trays for a total carrying capacity of 120 lbs for on-road use. That's a pretty standard capacity for hitch racks on the market today, and is enough to carry most e-bikes. It's also high enough that the rack should be able to carry most heavyweight e-bikes (some commuters and fat-tire e-bikes can push 65 lbs or even 70 lbs) if you remove the battery.
Like most other tray-type hitch racks there is an optional add-on that makes the StageTwo capable of carrying four bikes, but that add-on reduces the StageTwo's carrying capacity to 40lbs per tray.
Yakima is unique in that it rates the weight capacity for its racks based on on-road, off-road and RV uses. The standard two bike version of the StageTwo connected to a 2-inch hitch is on-road and RV rated for up to 60 lbs per tray, but add the plus-two extension and that figure reduces to 40 lbs per bike and the rack loses its RV rating. In off-road scenarios using the 2-inch hitch, the rack is rated for 36 lbs per tray,
Yakima is also going to sell an optional fat tire kit that'll make the trays compatible with electric fat bikes.
Special features: A ramp, two colors and a rear wheel strap that stays out of the way
The StageTwo comes in two colors: A more traditional Anthracite (black) and a vapor colorway, which looks a little like a desert khaki. It's also outfitted with a redesigned remote tilt that allows the rack to tilt flush against your car when no bikes are being carried or down when the tray is loaded so you can open your back hatch.
Yakima's also designed an optional two-piece ramp called "RampUp" that connects to the end of each tray to help with loading and unloading heavy e-bikes. That ramp is designed to nest into itself and be stored inside your car.
But, arguably the best part of the StageTwo: The rear wheel strap — the plastic strap that ratchets over the rear wheel and holds it in place — has been designed to hang out of the way during loading and unloading. Gone are the days when you had to maneuver the rear wheel around the strap or you had to try (in vain) to tuck it out of the way — Yakima has finally solved that problem.
Vehicle compatibility
The Yakima StageTwo is compatible with vehicles equipped with either 2-inch or 1 ¼-inch hitches, though you are a little more limited on carrying capacity if you use the smaller hitch.
Yakima also makes a host of adapters and accessories that make the rack compatible with cars needing extenders, swing arms or other special considerations. The StageTwo is equipped with Yakima's redesigned SpeedKnob attachment point that makes the rack easy to install and remove. The StageTwo is set to be available for purchase on November 15.