Solar Electric Cargo Bike & Fat Free E-Bike from NTS Works [VIDEO & PICS]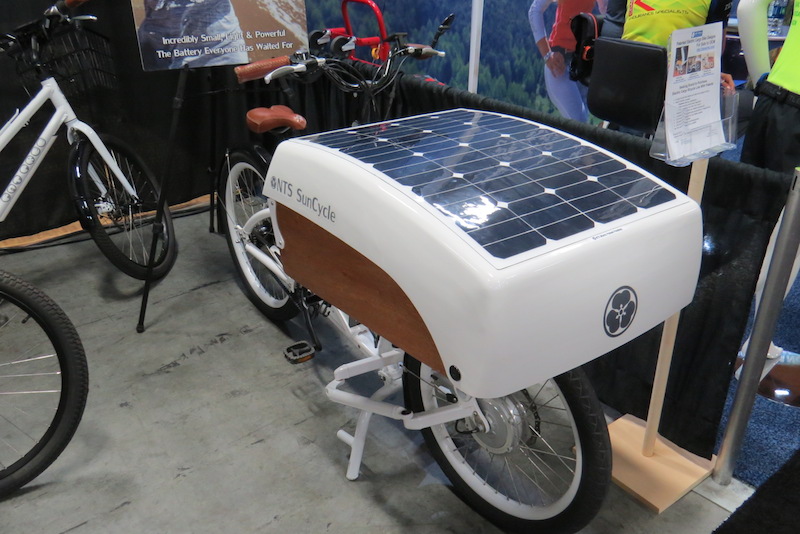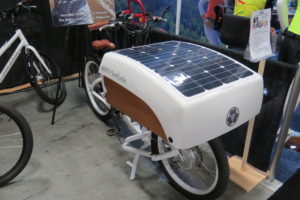 A solar electric cargo bike.
It sounds futuristic!  But the SunCycle is a real bike from NTS Works.
I had a chance to catch up with the CEO of NTS Works, Neal Saiki, at Interbike and shoot a video of the innovative SunCycle solar e-cargo bike.
In addition, Neal shows us their Fat Free e-bike that is designed for ease of use for almost any size rider.
Enjoy the following video with Neal showing off the SunCycle and Fat Free:
And here are some pictures of the SunCycle & the Fat Free e-bike: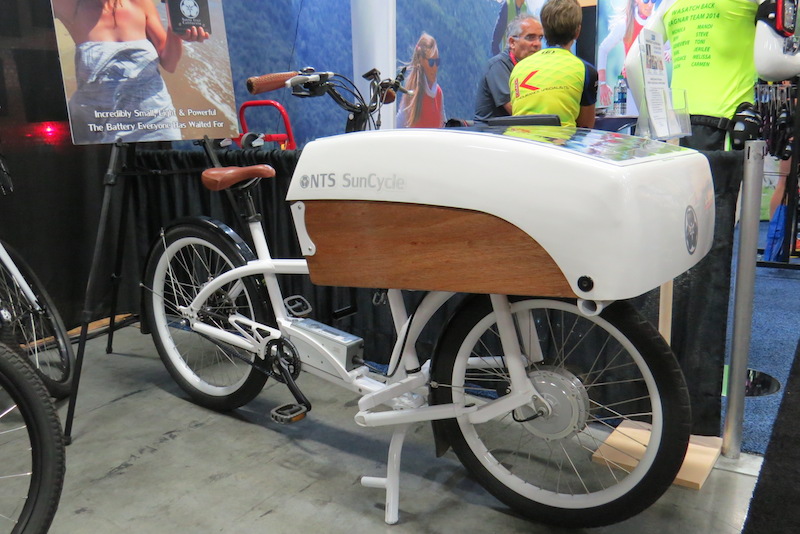 What car?! The SunCycle makes it easy to leave the car at home with it's cargo trunk, 350 watt front hub motor, large 517 Wh lithium battery, and solar charging capability!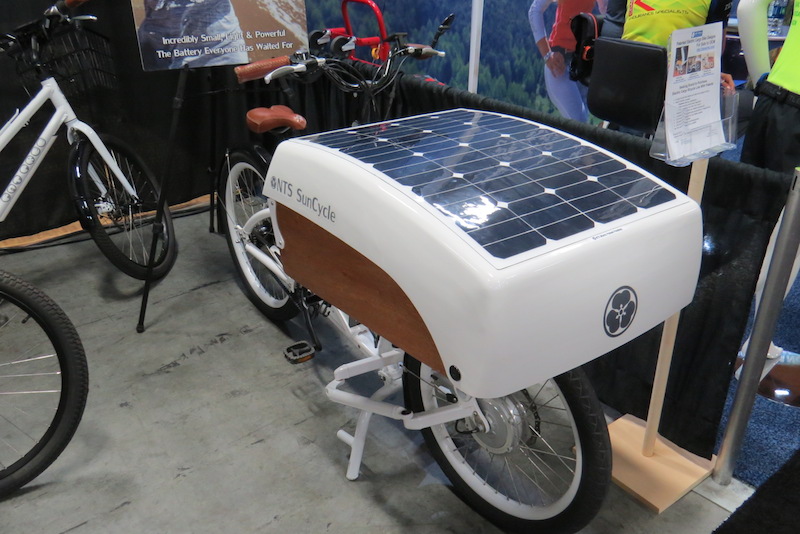 The 60 watt solar panel recharges as you ride as well as when you have the bike parked in the sun. Pretty cool!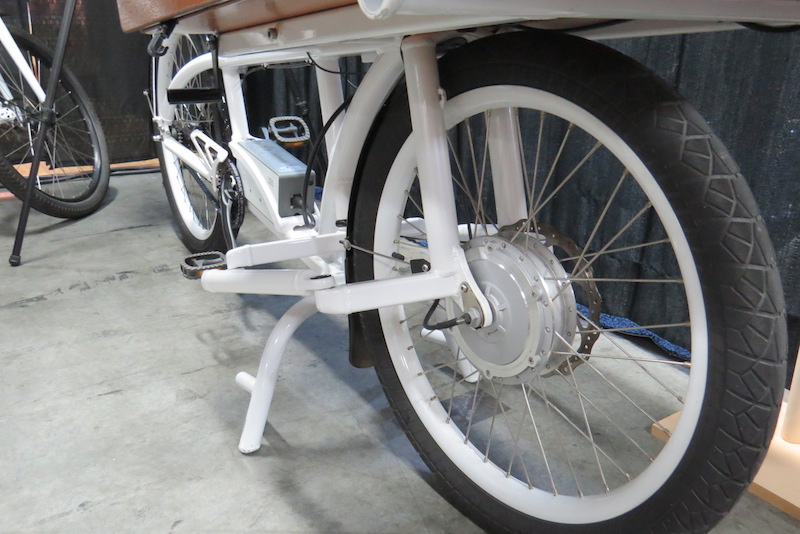 A 350 watt (250 in Europe) geared front hub motor powers the SunCycle. NTS Works has a unique steering system that apparently makes this cargo bike feel like steering a normal bike even though it has a long wheel base and cargo load over the front wheel.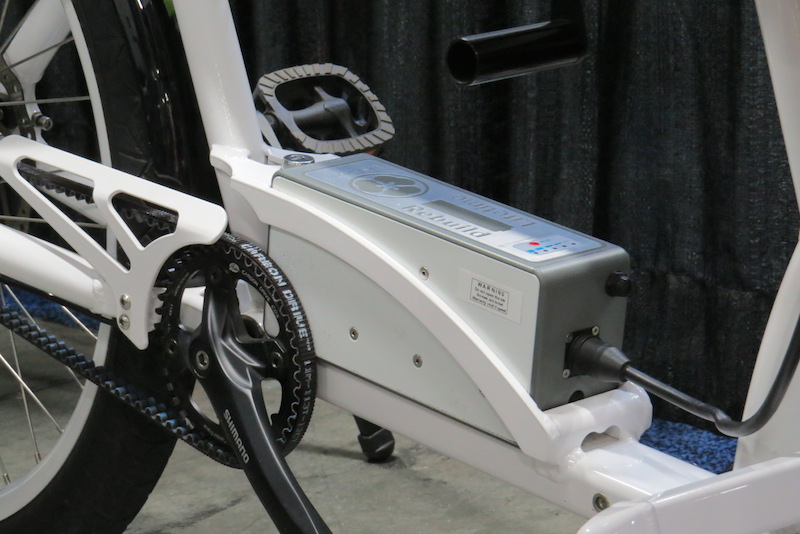 This is the NTS Works rebuildable 36V 14.3ah lithium battery that is located low and centered on the bike for good weight distribution. The SunCycle uses the Gates Carbon Drive belt to keep things clean.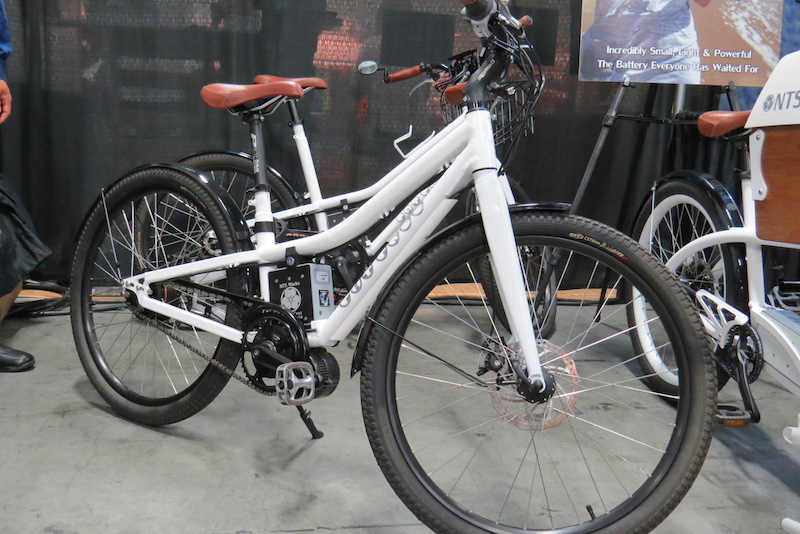 The Fat Free e-bikes from NTS Works have a low step design that is intended to make it easy to get on and ride. They offer 3 different sizes to fit a wide range of riders.
The Fat Free uses the Bafang (8Fun) mid drive motor and the NTS Works rebuildable 48V 9ah lithium battery back. These components are centered and very low on the bike for good weight distribution.
This is the twist grip shifter for the continuously variable NuVinci N360 drivetrain. There are no specific gears, just a range of gear options from low to high. It is comparable to a volume dial on a stereo.
Here is another interview with Neal with more in depth info on his background and the NTS Works bikes.
That's it for now. Stay tuned for more NTS Works electric bike news.
P.S. Don't forget to join the Electric Bike Report community for updates from the electric bike world, plus ebike riding and maintenance tips!
Reader Interactions