Visiobike: Pushing The High Tech Electric Bike Boundary! [VIDEO]
The Visiobike e-bike is high tech.
Here's why: Google Glass integration, serious smartphone integration, rear view camera, carbon fiber frame, integrated Panasonic lithium battery in the frame, MPF mid drive motor, auto shifting NuVinci H|Sync continuously variable hub, Gates belt drive, & more!
To give you an idea of what the Visiobike is all about, here is a video from their INDIEGOGO campaign: 
Recently I had a chance to chat via Skype with Marko Matenda, the CEO and co-founder of Visiobike. Marko has an education in economics and he sees the emerging e-bike market as having a bright future.
Mr. Matenda has seen Visiobike from a concept on paper to a fully functioning carbon fiber electric bike with smartphone integration in 3 months!
The focus of Visiobike is to push the high tech envelope of electric bikes.  Marko said that they don't want to be like other e-bike companies, they want to continue to innovate and push the e-bike tech boundary.
Pushing the tech boundary is not cheap! The Visiobike currently ranges in price from 3900 € Euros to 4950 € (Euros) ($5,300 to $6,750)
There is a lot of technology built into the Visiobike but the design is focused on providing a simple rider experience.
For instance, with the brand new NuVinci H|Sync automatic shifting system (no shifter!), you would never have to worry about shifting gears again.  And the Gates Carbon belt drive would eliminate maintenance and a dirty chain.  Those are upgrades that are available for the stock Visiobike.
The smartphone integration is very impressive but before we get into that there is another feature that Visiobike is currently working on…….Google Glass integration!
In case you don't know, Google Glass are glasses/sunglasses that have similar attributes to a smartphone. With Google Glass integration you could see your current speed, battery level, and pedal assist level "in" your sunglasses!
Beyond Google Glass, the smartphone integration is very impressive.  Every electronic device on the bike is tied together and integrated with your smartphone via wireless Bluetooth connection.  That includes: electric motor, battery, camera, automatic gear system, and GPS/GSM chip.
The smartphone app gives you info like: speed, pedal assist level, battery level, odometer, trip distance, light controls. Google Maps is built in for finding your best route.
Since you take your phone with you off the bike, it can track your bike if is stolen thanks to the built in GSM/GPS module.
Data from Visiobike is synced with the "cloud" and you can track your ride stats on your smartphone or computer. The cloud integration allows for the firmware of the bike to be updated "over the air" and the settings of the bike can be adjusted in the cloud based software.
If that weren't enough tech, there is a rear view camera under the seat that transmits to your smartphone mounted on the handlebars so that you can see what  is happening behind you!
Visiobike can detect if you are in an accident and it will save the last 3 minutes of video. In addition it will call emergency services within 60 seconds unless you decline.
So now you have an idea of how high tech the Visiobike is, let's talk about the other specs.
The carbon fiber frame is unique in that it has no seat tube and the Panasonic battery is housed in the downtube.
The MPF mid drive motor is housed in the bottom bracket area of the frame.  With the integrated battery and motor in the frame, the Visiobike doesn't appear to be an electric bike.
Visiobike will initially be available in Europe but they are planning on bringing the bikes to the US.  The European version Visiobike's comes in either the standard 250 watt motor that stops assisting at 25 kmh or the 500 watt speed pedelec that can reach 45 kmh. No word yet on what the US spec will be.
Here is a recap of some of the specs on the Visiobike,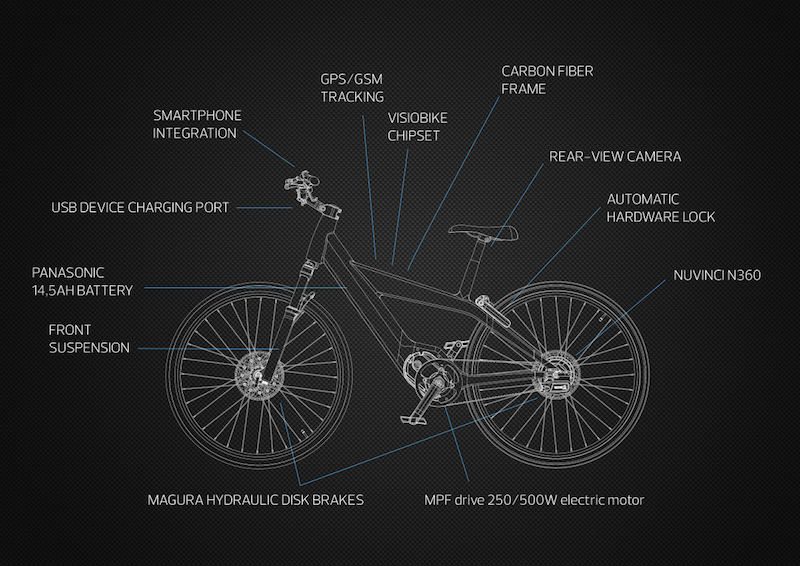 Here is a link to the Visiobike website and also make sure you checkout their INDIEGOGO campaign where you can buy one of the first Visiobike's!
What do you think of the high tech Visiobike? Would you like to have one for your commute?
Please leave your comments below.
Thanks
-Pete
P.S. Don't forget to join the Electric Bike Report community for updates from the electric bike world, plus ebike riding and maintenance tips!
Reader Interactions