Dutch Solar Cycle Electric Bike: Never Plug In?!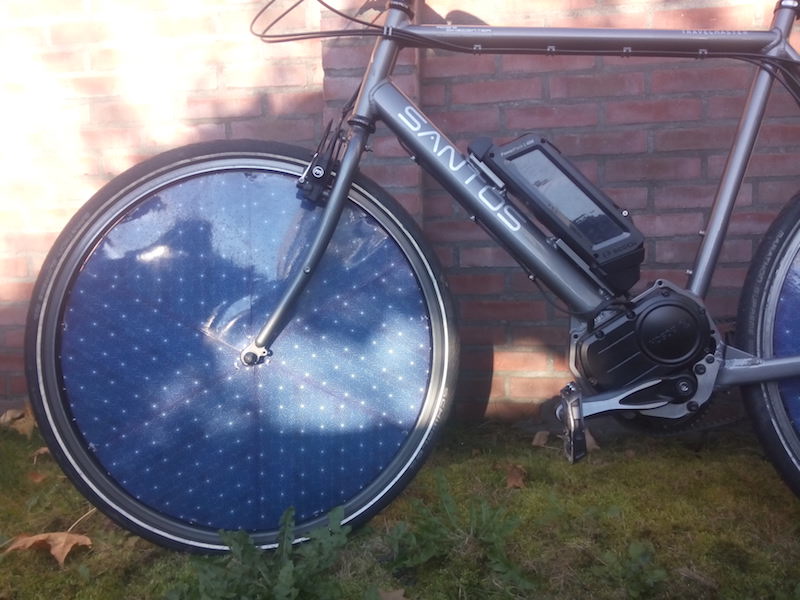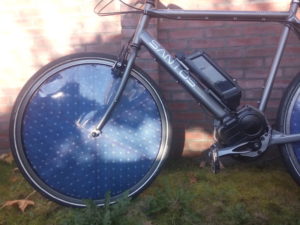 What if you never had to plug in your electric bike for a charge?
It looks like that could be a reality in the near future.  The Dutch Solar Cycle is a new "S-Bike" that has solar panels built into both wheels to charge the e-bike battery.
An electric bike is a lightweight electric vehicle that does not require much energy to propel.  In addition, your pedal power helps to offset the energy required.  All of that leads to the reality of a solar powered electric bike, very cool!
Solar Application Lab is a company that has developed a new way to efficiently capture energy from a few solar cells with their patented nano inverter.  The Dutch Solar Cycle is their flagship product to prove the efficiency of their solar panel system.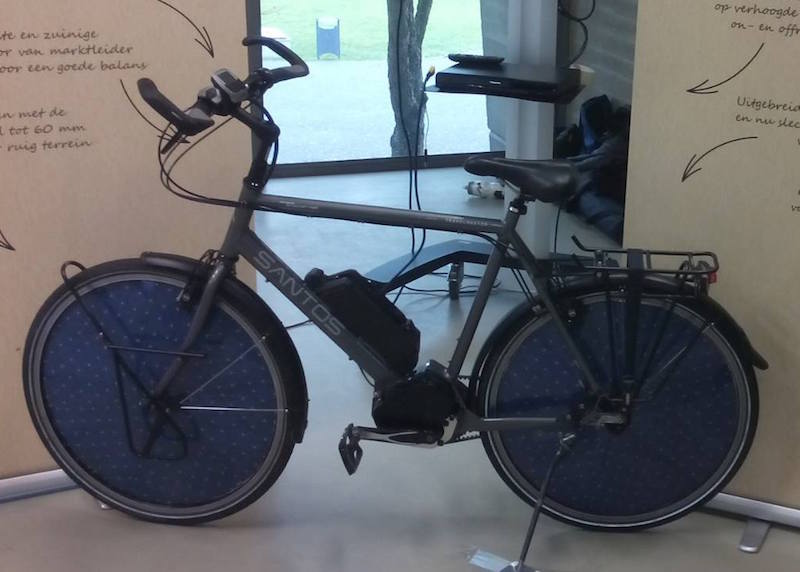 Here is an explanation of this new solar technology from the Solar Lab Application website, "Design freedom with solar cells used to be very limited due the amount of straight and unshaded surfaces required to effectively generate electricity. At Solar Application Lab we are working with a patented nano invertor, which is able to harvest energy from any single solar cell or small cluster of cells. We are able to place various types of cells together, in any shape or sized panel desired."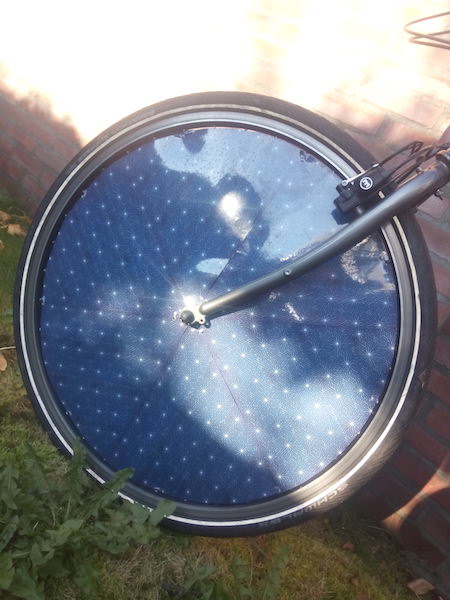 This technology allows solar charging in non-ideal conditions like cloudy days or if the panels are dirty.  Charge time is estimated at 4-6 hours on a sunny day and twice as long when cloudy.  The solar panels charge the battery using induction, similar to how an electric toothbrush charges.  If a charge is needed when the sun has set then there will be the ability to charge the battery from an outlet.
The Dutch Solar Cycle has the potential to never need a charge from an electrical outlet.  To prove that, Guus Faes co-founder of Solar Application Lab, will ride 8,000 km in The Sun Trip solar bike tour.  That is 8,000 km of unsupported touring (no charging outlets or support vehicles) from Milan (Italy) to Astana (Kazakhstan).
Here is a video trailer for The Sun Trip:
Right now Solar Application Lab is using a Bosch equipped e-bike with a 250 watt motor and a 36V 11ah lithium battery as a test bike.  They are working on their own S-Bike design and they hope to have 250 beta test bikes by the end of 2015 to early 2016.  Production bikes are probably 3 years out.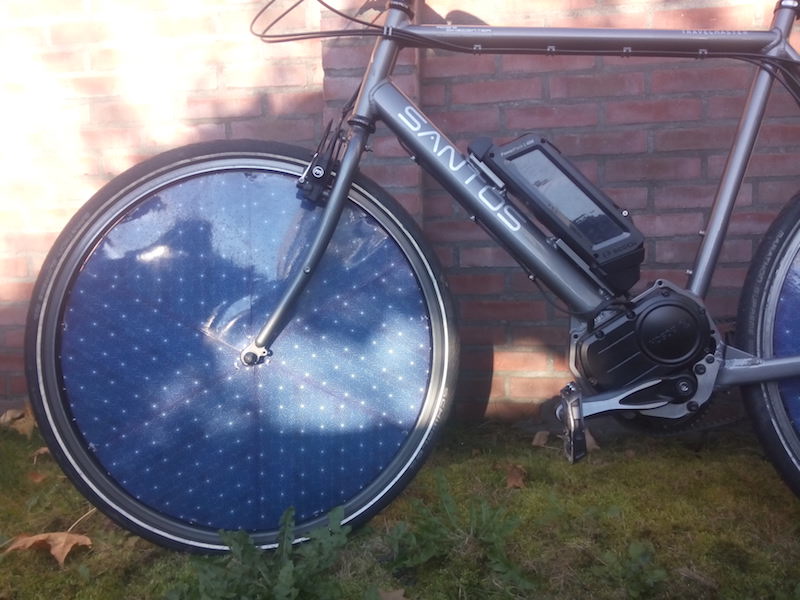 The solar panels will probably add $500 to $600 to the price tag of an e-bike.
In addition to powering an e-bike the panels can also be a power source for fun.  Marc Peters, founder of Solar Application Lab explains, "our philosophy revolves around modular solar technology (resilience to shading and soiling due to unique and patented nano-inverter) that truly lives up to the slogan 'power to the people' as the panels can be removed from the bike and function in a different context, for example people setting up their own party that requires chilled beers & beverages, of course some complementary music, and 2 S-bikes to power it all :-)"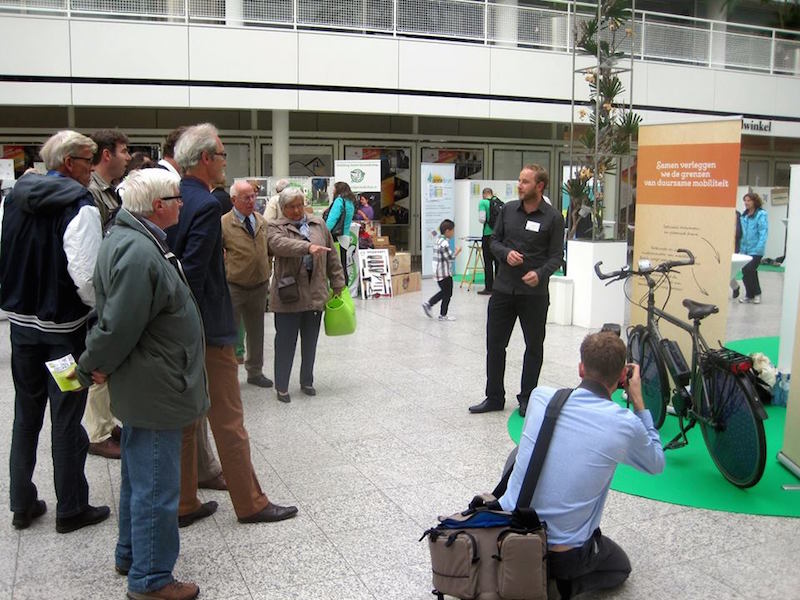 The Dutch Solar Cycle has been drawing crowds and it will most likely be in the media a lot more.
And here is an interesting idea: a solar electric bike could be "greener" than a conventional bicycle.
Stay tuned for more e-bike news and reviews.
-Pete
P.S. Don't forget to join the Electric Bike Report community for updates from the electric bike world, plus ebike riding and maintenance tips!
Reader Interactions