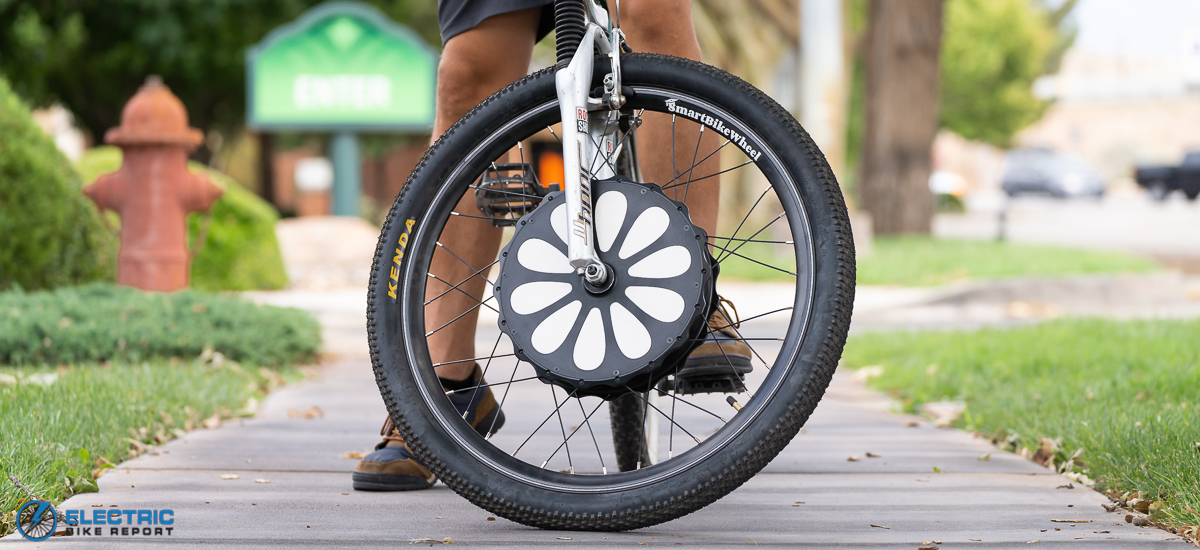 E-bike conversion kits are a solution that allow you to add a motor, battery and electric controls to a non-electric bike to make it into an e-bike. Chosen with care and installed correctly, the resulting e-bike lets you ride with electric assist just like a 'regular' e-bike. With the range of readymade e-bike designs larger than ever, kits have some competition from off-the-peg, ready to pedal e-bikes. However, they still offer positive advantages as well as some drawbacks which are considered first-off.
E-Bike Conversion Kit Pros
You Like Your Current Bike: You might want a bit of power assistance on a cherished non-electric machine that fits you like a glove.
Unique Bikes: The type of bikes you prefer may not be available in electric versions (folders and recumbents are cases in point, though more are appearing on the market, especially e-folders). Electric bike conversion kits can be useful at the ends of the power envelope less catered for by off the peg e-bikes, that is to say moderately powered but very 'bikelike' machines or at the other end of the scale, power hungry beasts.
Swapping: E-bike conversion kits can be swapped between bikes, giving the option of trying electric-assist on several different machines. Similarly, if the kit is a very easy to remove front hub wheel kit (for example as is the case with Leeds, Cytronex,Swytch etc.), you can use your bike unassisted at any time by simply swapping the wheel back to the original and leaving the battery off (the bike then weighs just a few hundred grams more than before). With such systems you can also choose at any time to electrify more than one bike and fully utilize your battery, just by swapping it between bikes.
Greener: If you already have a bike you want to make electric, e-bike conversion kits are generally a 'greener' option than a brand new e-bike, for the obvious reason they don't need another brand new bike to be manufactured to replace the one you have bought!
Tinker or Do Something Totally Different: Those who love fiddling with bikes may be intrigued by the endless permutations of motor kits and bikes – the performance of a kit will be affected by the bike it is fitted to. Hub motors are usually geared for a specific wheel size to ensure they stay within the speed limit set for electric bikes in the territory in which they are sold. However, to take one example of how you can play with the design characteristics of motors and bikes, if you fit a hub geared for a larger wheel into a smaller one it will give excellent pulling power at low speeds, producing an excellent hill-climber or load-hauler.
You even have the chance to design an e-bike radically different to anything any mainstream manufacturer offers. To give one example, Canada's Grin Technologies have a range of solar panels and associated devices that allow for solar charging of your e-bike conversion kits bike as you ride along.
Great Value: E-bike conversion kits can be great value for money. If you have a 'recipient' bike languishing in the shed or have picked up a decent quality steed at a good price, it can be converted quite cheaply when compared to the cost of a new e-bike of similar quality. Do note the Fitter's Responsibilities section below about the quality of the recipient bike you might want to fit a kit to.
Lightweight: Kits also make it possible to put together an incredibly lightweight electric bike – a total weight of 22 pounds or 10kg is actually possible, and if money really is no object even lighter! There are an increasing number of off-the-peg lightweight e-bikes available now however, though these are generally mid to high priced e-bikes, so e-bike conversion kits can still be an economic way to a lightweight e-bike. E-bike conversion kits that add a little over 3kg to the weight of a non electric bike are now widely available and there are even lighter options out there, though these tend to be rather light on the amount of power assist you get.
IMPORTANT NOTE: Kits containing illegal motors and control units are in the market, and many people are using them on the road, either innocently or otherwise. A fast and/or powerful kit can be a lot of fun, but bear in mind that once you exceed the parameters set in the regulations, you are on your own. In most territories, your bicycle will be treated as a moped in the eyes of the law, and subject to the much more stringent penalties that come with motorcycle use. If you are found responsible for injuring someone, you will be in very serious trouble. The electric bike legislation is a safety net for your protection, and you leave it at your own risk.
E-Bike Conversion Kit Cons
May Be Complicated: Some e-bike conversion kits are easier to fit than others, but most require at least basic bike DIY skills. However, the simplest, such as the Leeds system and the rather more sophisticated Cytronex system really only require you to install a wheel, mount the battery on your bike and attach a basic cable run, so don't really require any specialist bike knowledge. Even then you might need to do some unexpected mods in supposedly 'universal' fit systems, for example filing out fork dropouts that are a little too narrow.
All-In-One Wheels like the Zehus and Smart Wheel can offer an easy install option, though they have their performance limitations.
Somewhat Limited: If you want a mid-drive system your choice is very limited and they are more difficult to fit than most hub motor systems.
Aesthetics: Often kits will not look as neat as off-the-peg electric bikes. External cable runs secured with cable ties are the order of the day, whilst most complete electric bikes nowadays come with cables hidden within the frame.
Having said that, the smallest and neatest e-bike conversion kits out there do integrate very well onto the bike and it may be hard to tell it's an e-bike.
May Not Fit: Not all e-bike conversion kits will fit all bikes. Attention needs to be paid to getting the correct speed of motor for your size of wheel (although most hub motors come ready spoked into the correct size of wheel) and finding a suitable battery mounting point amongst many other factors. Front hub motor e-bike conversion kits are generally easier to fit than rear hub e-bike conversion kits simply because they don't involve interfering with the gear system. Some e-bike conversion kits must be fitted by a qualified fitter whilst with others it is only recommended unless you are a very competent bike mechanic.
Quality: As with complete electric bikes, quality varies from kit to kit: Heinzmann for example stand out in this regard because of its high quality connectors and cabling, giving you the confidence to produce smooth tight cable runs, minimising the kit's visual impact.