Custom Electric Bikes with BionX & Gates Belt Drive
North American Handmade Bicycle Show
there is a retro e-cruiser with a classic gear shifter, a titanium e-mountain bike, and an electrified Santana tandem!
All of these custom e-bikes feature the BionX electric bike system with the Gates Carbon belt drive.
These bikes were part of a challenge that Gates put forth to custom bike frame fabricators.  They were to design a unique e-bike using the BionX  system with a 3 speed internally geared hub with the Gates carbon belt drive.
Gates also challenged some builders to assemble custom e-bikes with the Bosch/Gates/NuVinci combination as well as the SRAM E-Matic/Gates belt combination.
Alright, let's check out these custom BionX/Gates e-bikes!
Retro! This is a retro cuiser e-bike from ANT Bikes in Walpole, MA. "The bike was designed to have the look and feel of a 1930s-era motorbike," says ANT owner Mike Flanagan.
This e-cruiser features a classic springer style suspension fork and a split top tube frame design.  The red rims and cream colored Schwalbe Fat Frank tires are a nice touch too!  The cables were routed inside the frame to keep the bike looking clean.
Note the stick shift on the frame near the seat!  The Gates carbon belt and BionX rear motor with internal 3 speed hub gearing keep the ANT bike looking clean.
The Green Arrow is a titanium electric mountain bike from Ti Cycles of Portland, OR.  Ti Cycles won the best cargo bike award at the North American Handmade Bicycle Show last year.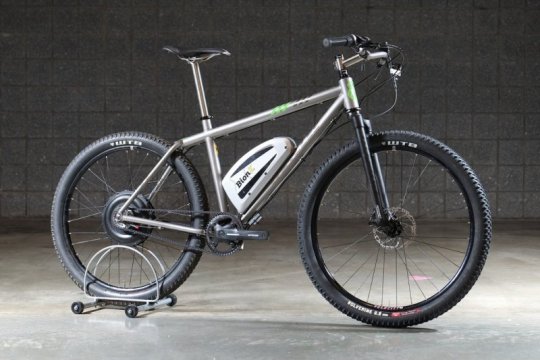 The Green Arrow utilizes a 27.5″ (650b) front wheel with a 26″ rear wheel.  The larger front wheel allows you to roll over obstacles easier while the smaller rear wheel provides for shorter wheelbase and quicker acceleration.
"One of the frame's most striking features is our distinctive pierced top tube, which runs as one continuous piece from headset to rear tire, pierced by the seat tube." said founder Dave Levy.
Another electric tandem! Santana Cycles from LaVerne, CA put together this nice looking e-tandem with the BionX system and Gates belts. This set up is sure to make riding a tandem uphill a lot more fun!
The BionX battery fits perfectly along the boom tube of this Santana tandem.
That's a wrap of the BionX/Gates Carbon Drive custom electric bikes from the Gates E-Bike Showcase at the North American Handmade Bicycle Show.
Make sure you checkout the Bosch/Gates/NuVinci custom electric bikes as well as the custom SRAM E-Matic/Gates e-bikes.
-Pete
P.S. Don't forget to join the Electric Bike Report community for updates from the electric bike world, plus ebike riding and maintenance tips!
Reader Interactions