E-Bike Report From Eurobike: New Tech & New Batteries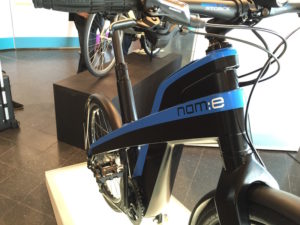 It's time for the e-bike technology update from Eurobike 2015!
Some of the new e-bike technology at Eurobike was injection molded frames for quick production, EnergyTube modular battery solutions, a hub motor with built in automatic transmission, an autonomous electric trike prototype, and more.
Battery cell energy density improvements from Samsung and LG were also a highlight of the show. These battery cell improvements being driven by the auto industry could have a big impact on e-bikes.
Make sure you checkout the other Eurobike updates:
Smartphones, E-Mtb, Commuters
Cargo, All Wheel Drive, & Mid Drives
New E-Bike Technology
This is a Heisenberg electric bike designed for EnergyTube, a modular battery system.
Here is a quick video to give you an idea of what EnergyTube represents:
With the EnergyTube, vending machines around cities could be available to quickly swap out your e-bike battery. This would be a battery leasing scenario where you would never own the battery but pay a monthly fee to lease them. This would go a long way to reduce the initial cost of electric bikes. Also, as the video mentions once the batteries are no longer good for e-bike use they can be used in other applications like backup energy storage.
This is a closer look at the Heisenberg e-bike with EnergyTube battery in the downtube of the frame.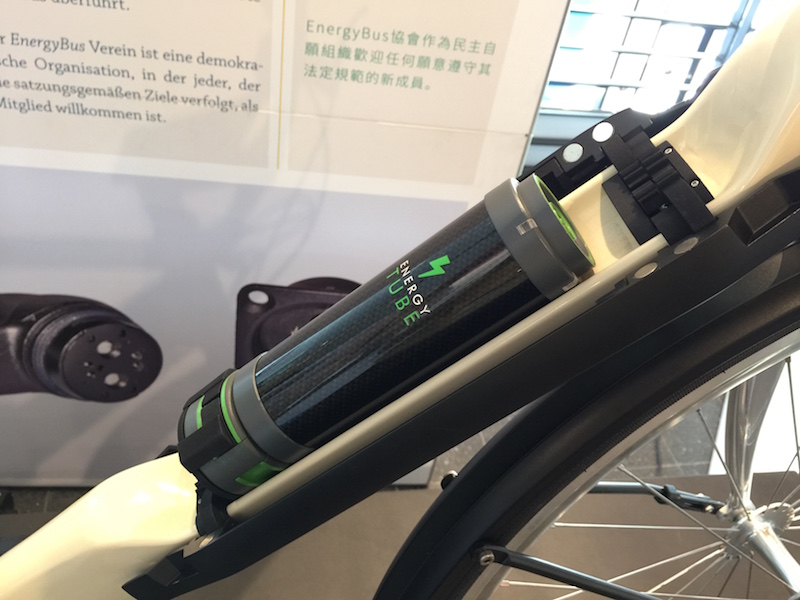 And here is the opened cover and EnergyTube exposed. There is only 1 EnergyTube in this Heisenberg bike but they said that there is room for at least 2 on the downtube of the frame. The EnergyTube's are less than 100 watt hours (can be transported on a plane). Their size offers creative ways for bikes designers to incorporate multiple EnergyTube locations into the e-bike design.
This is the EnergyLock, a charging cable and lock that is integrated into the seatpost of the bike. It also has other benefits that are covered on their website.
This is an injection molded electric bike frame from Rehau, a company that makes bumpers for cars. This particular frame is made for Storck Bicycles. What is exciting about these is that they can be manufactured quickly at their German factory; four to six hours instead of waiting 120 to 180 days for composite bike frames from China or Taiwan. Bike Europe has more about these frames.
This might look like another rear hub motor but the Gemini by NexxtDrive has a lot more going on inside than you might initially think. Here is the description from their website:
"Gemini is a totally automatic shiftless system that totally eliminates derailleur or hub gears, shifters, cables, dynamos, and torque sensors.
Gemini's two motor/generators act in concert with the human input, under highly sophisticated, patented, software control. The amount of electrical assist provided to augment the human input is varied by the controller – seamlessly altering the transmission ratio to respond to the operating environment.
By continuously adjusting the ratio as the conditions change (slope, speed, human effort etc) Gemini operates always at the optimum ratio and therefore with maximum efficiency.
The transmission can provide electrical recuperation when braking or moving downhill to charge the battery, thereby increasing the overall efficiency. Coaster braking is also possible."
I had a chance to test ride the Gemini system and it is remarkably very simple; just get on and ride. The system takes care of all of the shifting and pedal assist in a very smooth way. It used a belt drive that added to it's simplicity and low maintenance.
The hub pictured above is a prototype; the production versions will look more refined.
NexxtDrive is also working on a mid drive motor with a similar built-in automatic transmission. They are currently looking for OEM's and suppliers interested in using the technology.
Self driving cars have been in the news with Google and others working on autonomous vehicles. How about a self driving e-bike?  coModule is a company that presented a prototype autonomous e-trike. Checkout the video above that demonstrates driving the e-trike with smartphone (not the finished product). Maybe this is the future? Gizmag has more on this technology.
BionX has a new battery pack that integrates into the downtube of the frame. This will be available on some Wheeler e-bikes (in select European markets), eventually on the OHM Cycle e-bikes and others yet to be announced.
Here's a look at the new BionX color display that provides a lot of the traditional cycle computer info in addition to level of assist and battery level.
This is the new BionX control pad that has a bunch of functionality. On/off, light control, battery level indicator, pedal assist level indicator, pedal assist adjustments, and display toggle switches.
Battery Improvements
It seems that every week we hear of some new battery technology but the reality of them coming to market is a slower process.
The good news is that we are now seeing some significant improvements. At Eurobike this year we did see Bosch introduce their new 500 watt hour PowerPack that is the same size as their 400 watt hour pack.
And below are some further improvements to the battery cell energy density.
LG Chem was at Eurobike showing their new 4.2ah lithium cells (new 20650 vs. the 18650 standard) that have a significant energy density improvement over their older 2.2ah cells. In the picture above you can see how much smaller an electric bike battery pack could be with these new cells; the pack with the new cells on the left is placed next to a pack with the old cells on the right.
LG also showed a variety of 600 watt hour packs that uses the new cells. These packs are of comparable size to a lot of the 400 watt hour packs that are currently on the market.
LG Chem is forecasting that they will have a 4.8ah cell available sometime in 2017. Time will tell if/when these are available on electric bikes.
Samsung also showed off some new cells (18650 standard on the left and new 21700 on the right) and they are also providing complete pack solutions for bicycle brands. Their new 500 watt hour pack has a stated range of 100 km. According to a Samsung representative, these new cells have the potential to bring down the price of e-bike battery packs in the future. Time will tell….
That's it for now. Stay tuned to Electric Bike Report for more e-bike news and reviews!
-Pete
P.S. Don't forget to join the Electric Bike Report community for updates from the electric bike world, plus ebike riding and maintenance tips!
Reader Interactions