eBike News: Double Batteries, eTrailer, Pyrenees eBiking, Wireless Charging, & More! [VIDEOS]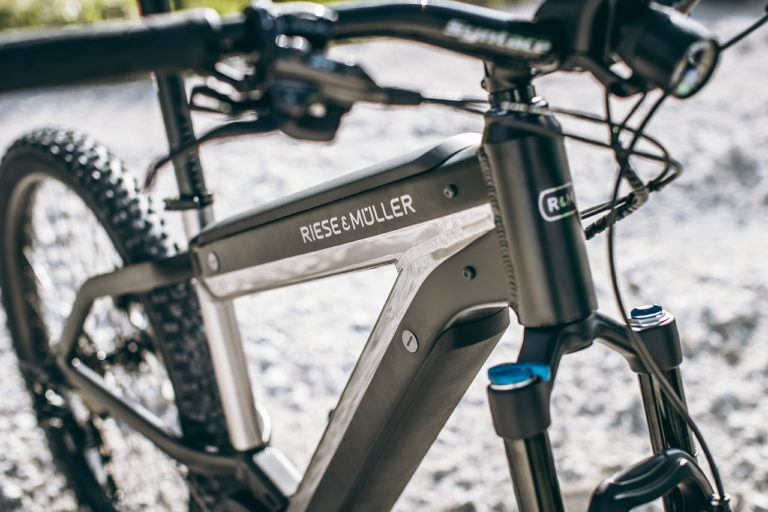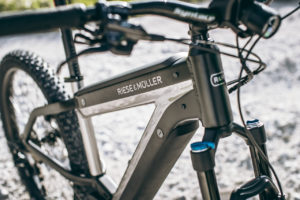 In this week's ebike news roundup:
Riese & Müller's Double Battery Supercharger
A Look at Rose's 2018 eMTB
One Wheel Electric Trailer
eCargo Bike Subsidy in Paris
eBiking Along the Pyrenees
Wireless Charging of eBikes
New Developments from Netherlands and the UK
And Much More!
New E-Bikes and E-bike Systems
Riese & Müller New Charger & Supercharger in US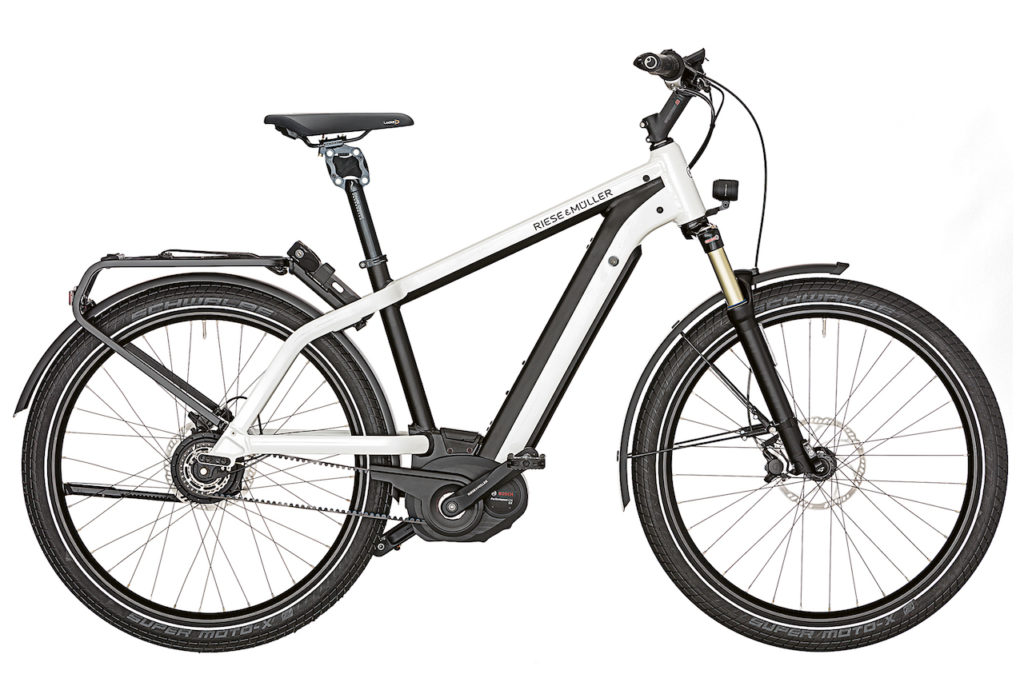 Two new 2018 lines from premium e-bike manufacturer Riese & Müller, the New Charger and the Supercharger are now being rolled out in the US.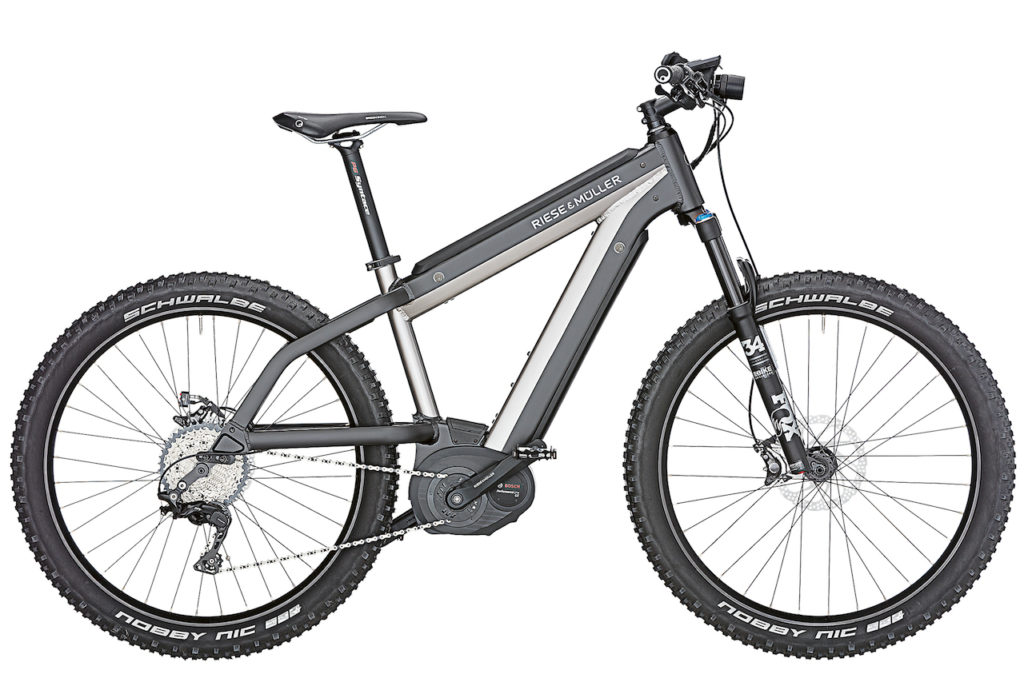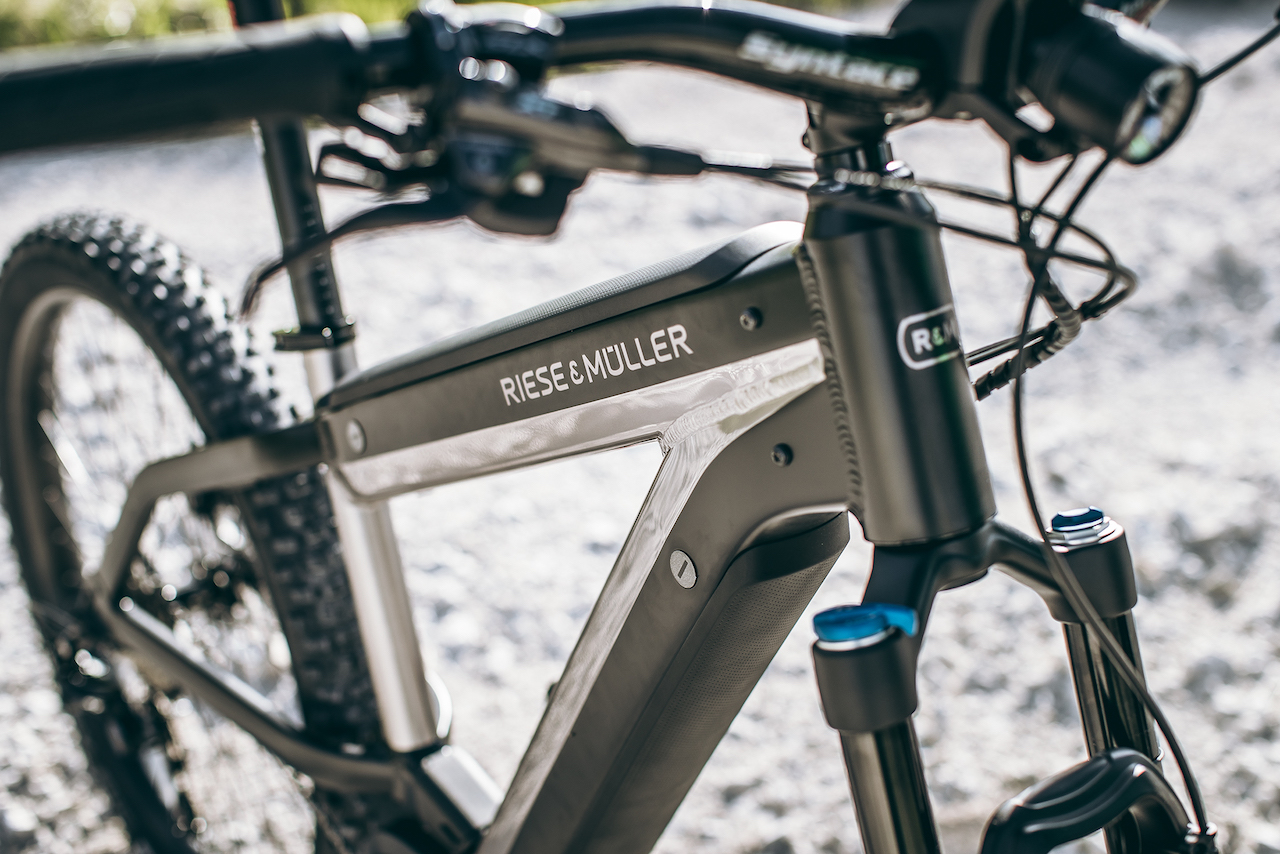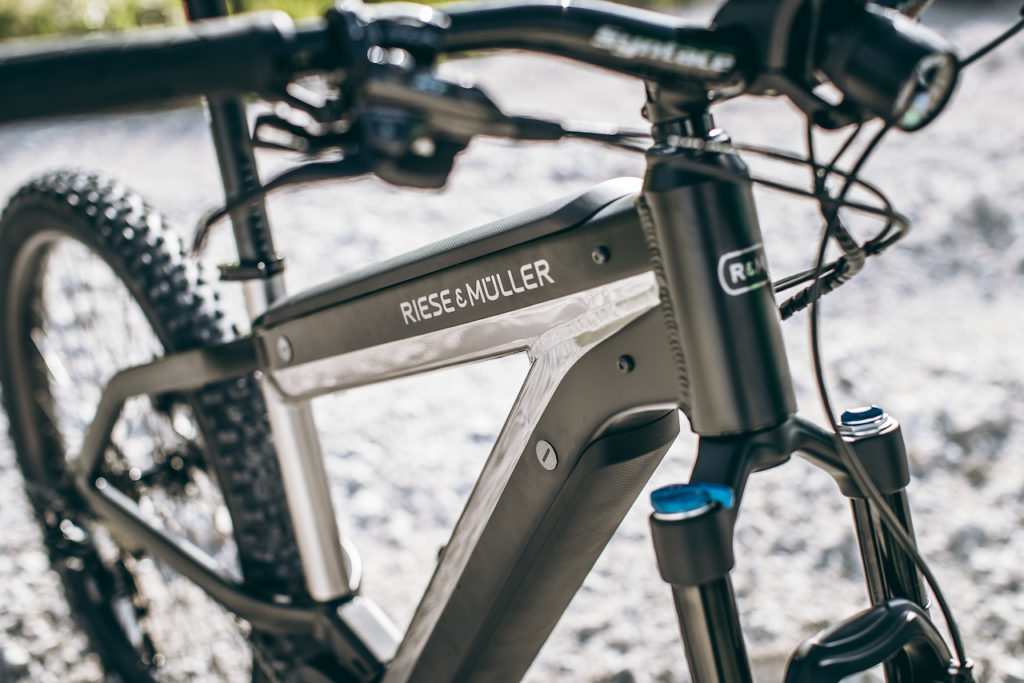 The Supercharger has Bosch PowerTube batteries in the top and down tubes of the frame.
R&M describe them as 'the first, fully integrated e-bikes from Riese & Müller by incorporating the Bosch PowerTube battery into the successful Charger lineup.'
Riese & Müller seem to be everywhere on EBR at the minute, as we feature a report on riding the extremely robust and stylish New Charger Nuvinci GH around the spectacular scenery of the UK's South Pennines as well as part two of the R&M Nevo review here.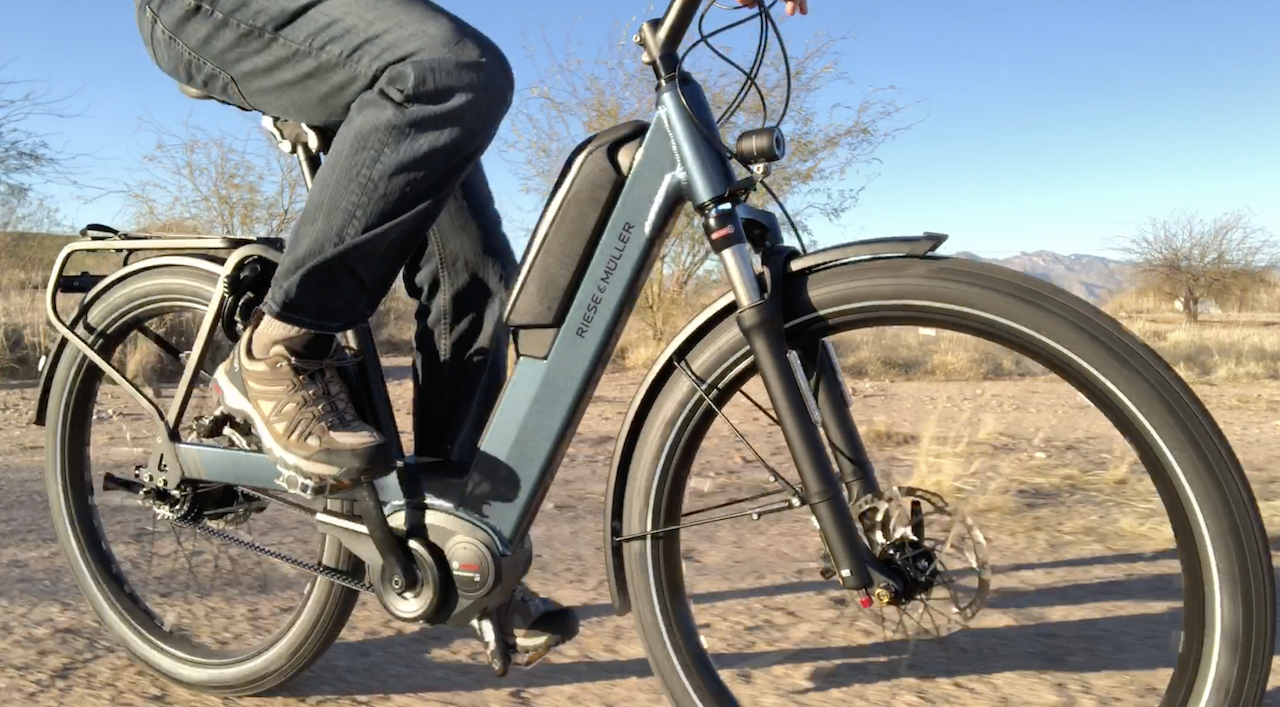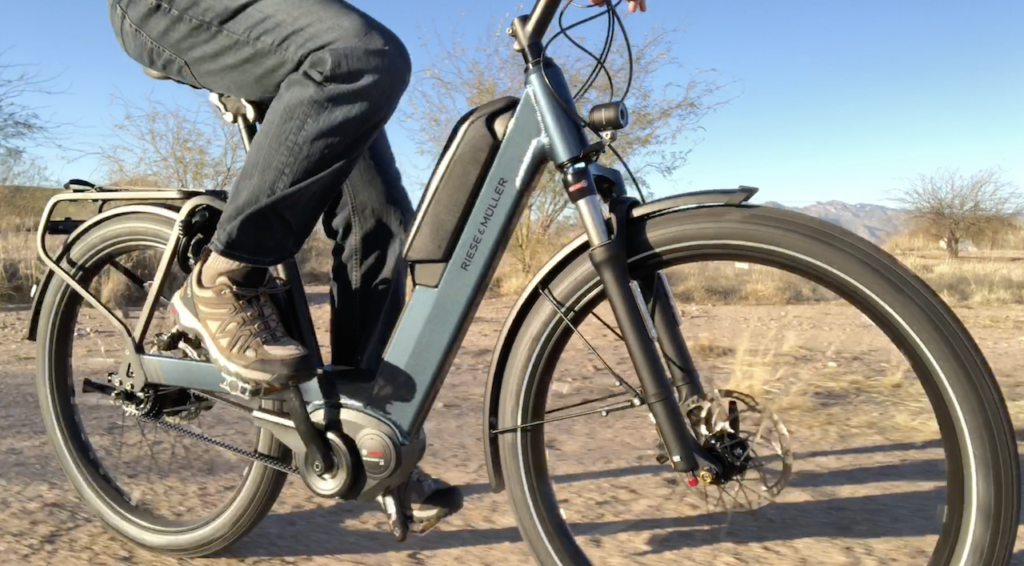 Rose's eMTB Can be Bought Direct
Rose are a high quality German brand and are unusual in that they sell direct from Germany throughout Western Europe (though they have a string of concept stores across Western Europe too).
Although the ELEC TEC FS – produced in collaboration with Continental who have added their own system components to a Brose motor – was 'launched' in summer 2017, it is now available on the market in its 2018 spec and getting reviewed in the press.
This review from E-mountainbike likes the spec and the price of the bike though it states that it's a pity that it doesn't use Brose's new e-mtb specific and more torque-capable Drive-S motor variant and comes to the conclusion it seems perhaps best suited to slightly more moderate terrain and longer rides. We also noted the bigger than average 612Wh frame-integrated battery – perhaps making it a contender for those seriously considering e-mtb touring.
Available at the time of writing for £3814.96 plus delivery. There also appears to be a less expensive version on the Rose website at £3034.34 (presumably a pre-2018 model). See Rose's story about the design and development of the bike:
Nireeka 'The Most Affordable Carbon Smart E-bike Ever'
This crowdfunding video claim for this striking looking, full-sus e-MTB is certainly a headline grabber. Of course, as with any crowdfunding offer it's a case of buyer beware, but on paper it certainly looks value for money, with website prices currently quoted at US$869-US$1199.
Nireeka's approach looks quite unusual in that it combines a carbon-fibre monocoque frame – a material usually associated with very high-end and premium-priced models – with a budget conscious spec and a Bafang rear hub motor (500W, 20mph assist ie US spec). It claims weight is less than 19kg, pretty good for an e-mtb, especially given the price.
Here is more info on their Indiegogo.
Caboost Electric Trailer
It is in the prototype stage but the Caboost electric trailer looks like an interesting iteration of trailers that push a conventional bicycle.
Get Inspired
Paris eCargo Bike Subsidy
CIN's report on Paris's announcement of subsidies for e-bikes and cargo bikes was picked up by Bicycling. There will be €400 subsidies for e-bikes and €600 ones for cargo bike purchases (electric or otherwise).
The article also reveals that Mayor Anne Hidalgo wants the city to ban diesel cars by 2024 and rid itself of all gas-powered cars by 2030. The city is also 'in the midst of a plan to add about 50 miles of bike lanes and some 10,000 bicycle parking spaces around the city by 2020.'
Want to E-mtb Across the Pyrenees?
Trans-Pyr is 'designed to offer a great personal challenge and provide one of the best mountain bike adventures available. The route will immerse riders in the scenery and cultures of the Pyrenees, from the southern slopes of the Pyrenees, crossing and merging Catalonia, Aragón, Navarra and Euskadi (the Basque country).'
It does indeed look like a fantastic route along the spine of one of Europe's great mountain ranges – and there is now an e-bike entrance category. You can enter here.
E-Bike Tech
Wireless Charging for E-bikes
Cycling Industry News reports that entrepreneur Prith David is looking for industry partners to help take his wireless charging device, that can be built into e-bikes, to the next level. The article tells us that so far the wireless device for bikes has been used to successfully charge bike batteries from Bosch, Panasonic and BionX.
David told CIN 'I think this is the perfect solution for electric bike rental fleets. I envisage this also out the front of rows of shops or by transport hubs.'
E-Bike Biz
eBike Ban in NYC
Fast Company has a very in depth article that brings up some interesting points on the eBike ban: "New York Is Confiscating Delivery Bikes, Hurting Immigrants, And Helping No One"
Dutch Market back on Track -Helped by E-bikes
The Dutch market – like many others – has seen a slump in conventional bike sales in recent years. So much so that 'volume' sales were on the decline, although e-bikes helped keep turnover growing. But Bike Europe reports that 2017 figures show both volume sales and their value were both increasing compared to 2016. And after a mini-slump in 2016 e-bike sales have also returned to growth.
BionX Insolvent
Also according to Bike Europe 'BionX had to file for insolvency late February. The BionX Service Center in Europe, part of the two EU subsidiaries of BionX Int'l Corp, continues its business as usual for the time being.'
You might be familiar with BionX – especially if you are from Canada where they had a particularly strong following – or if you have followed e-bikes for many years. BionX were one of the first high quality entrants into a market dominated by more budget models from the far east, many of questionable quality, and BionX did much to 'raise the bar'.
E-Bike Law
More E-bike Friendly UK Policy on the Horizon?
The UK's BikeBiz reports that members of both Houses of the UK Parliament will attend 'an e-bike panel event in Portcullis House' and that apparently 'The experts will be discussing the policy actions necessary to stimulate the electric bike market' and also 'Straight after the panel discussion there will be a bums-on demonstration of e-bikes on Birdcage Walk.
Stay tuned for more e-bike news and reviews and keep on riding.
-Richard
P.S. Don't forget to join the Electric Bike Report community for updates from the electric bike world, plus ebike riding and maintenance tips.
Reader Interactions