European Electric Bike Tour: The Perks of Riding an E-Bike – Part 2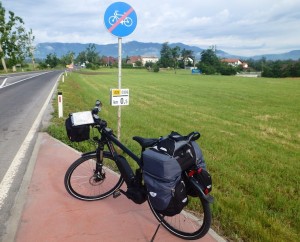 This is a guest post from Grant Walter who is currently touring Europe on his electric bike. Here is Part 1.
E-bikes are very popular all over Europe and many of the myriad of bike tour operators offer an e-bike option, usually at an additional cost, but obviously there aren't too many unsupported tourers using e-bikes as yet, but for me, this has been a positive.
My e-bike attracts a great deal of interest and this in turn often helps me out.
On (attempting) to leave Croatia some days ago I rode down a hill on a single lane road that had no signs at all, then just around a bend there was a small 'douane' (customs) sign on an electric light pole so I knew I was at least on the right road. I cycled past a small cabin, the Croatian officials just waved me on towards a slightly larger blue cabin about a hundred metres away.
I rode up to the cabin and proffered my passport. The official very gingerly took it with a sigh, he looked at me, looked at my bike, spending more time on the bike than I and then told me that I wasn't allowed to enter Slovenia at this checkpoint, I must return to Croatia.
A momentary stalemate as we stared wordlessly at each other. He then told me to go to another part of post and he emerged from the cabin and walked to where he had pointed for me to go.
I wasn't liking this… I should've had more faith, he stopped and again very carefully studied my e-bike before asking a torrent of questions about it; the usual, how far can I ride on a charge, how long does it take to recharge, how do the hub gears work, is the belt drive any good, and, of course, how much does it cost.
The questions really did come thick and fast!
It was raining and we were under a large covered area and I wasn't so keen to be back in the rain so I offered him a ride, while he eagerly accepted he was quite nervous about being seen, so his ride was brief but his grin was big as he put the bike and the motor thru it's paces.
When he returned the bike to me, we talked about the only real negative of e-bikes as touring bikes; the battery, it's weight, the need to carry a relatively heavy charger and the need to have electricity available every day. We also talked about whether carrying a second battery is viable (personally, I think the cost (they're expensive) and weight outweigh any benefits, after all, touring is more than just doing long distances).
All good things end, he had work to do and I needed to ride on, so as he pulled my passport out of his pocket and handed it back to me he gave me very precise instructions on how to ride to a checkpoint where I could enter Slovenia. That it was on the 'no bicycles allowed' autobahn didn't seem to matter!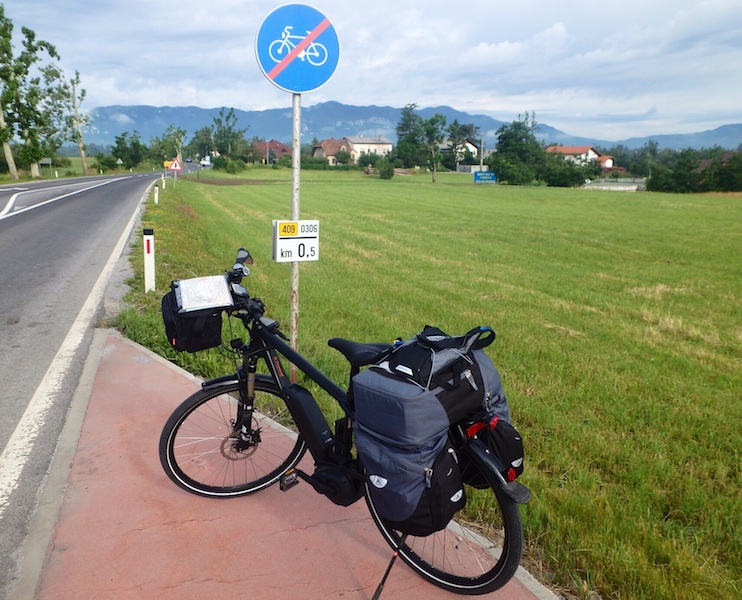 A few absolutely terrifying kilometres later, I was standing under a 'no bicycles' sign while my passport was stamped and I was allowed to enter Slovenia.
Again, the bike attracted comment. The young official was so chatty, so friendly, that I ventured to ask him the obvious question about the 'no bicycles' signs everywhere in the checkpoint. The answer? A shrug, a wide grin and his finger pointed to a pictogram of an automobile on the entry stamp he had just put in my passport. "You are an auto, not a bicycle, see, it says so here"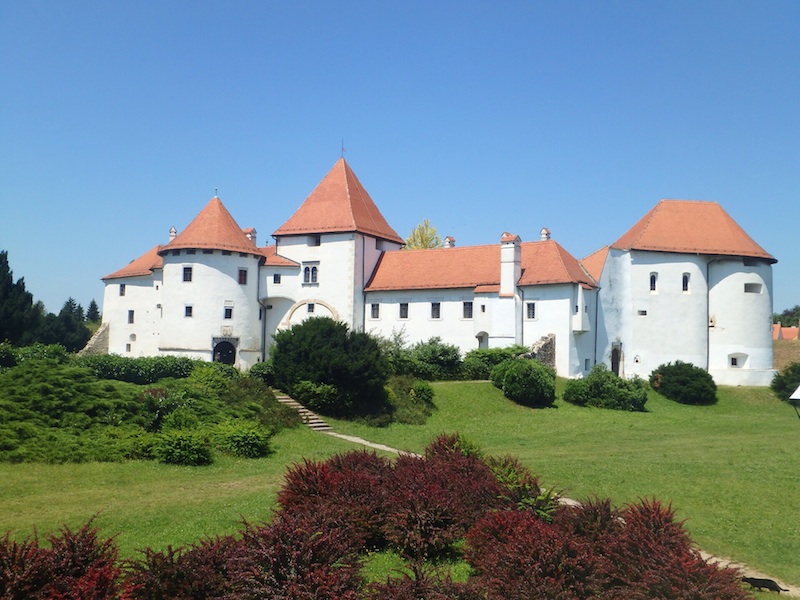 Cycling in both Croatia and Slovenia is good, while I found many, short, cycle paths, mostly I cycled on back roads. The quality of these minor roads was amazing, every now and again there's broken or patched pavement, but mostly the roads were very good.
Motorists were also very good towards me – not always so good to each other – but they were courteous and patient for me. On the route I took there were plenty of towns and villages, and while many offered no facilities for travellers, the distances between towns with accommodation or ATMs and so-on weren't greater than 30 miles.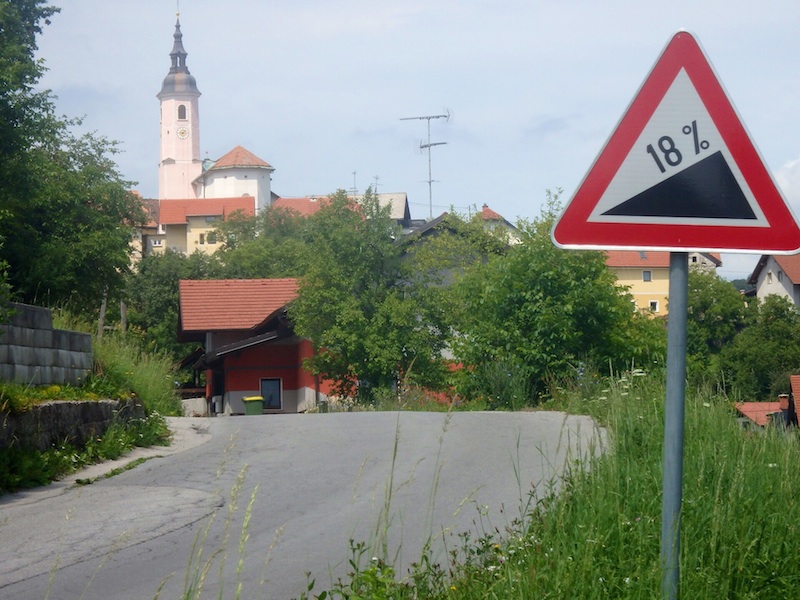 Though in Slovenia in particular it's not the distance between towns that I found challenging, rather it was the climbing; riding towards Ljubljana I faced a 14%, a 15% and two 18% gradients in relatively close proximity, it was tough going even with e-assist (and it's the only day that I used more than 90% of the battery power.)
Naturally when you ride for a good part of the day food is something close to the heart and the cuisine in both Croatia and Slovenia features lots of meat, lots of diary – the cottage cheese looks and tastes like cream, it's fabulous, but not something I'll be telling my cardiologist about – and plenty of fresh veggies, raw, grilled and baked.
My daughter is vegan and after spending some time with her in Berlin and Budapest I've noted that everywhere I've travelled, including, Croatia and Slovenia, offer a wide variety of vegetarian options in almost every type of eating place, from fast food to fine dining. Good wine too.
Best of all, both Croatia and Slovenia are very inexpensive compared to neighbouring countries. In Slovenia in particular, almost everybody has at least a few words of English which makes all those little interactions every day just a little bit easier.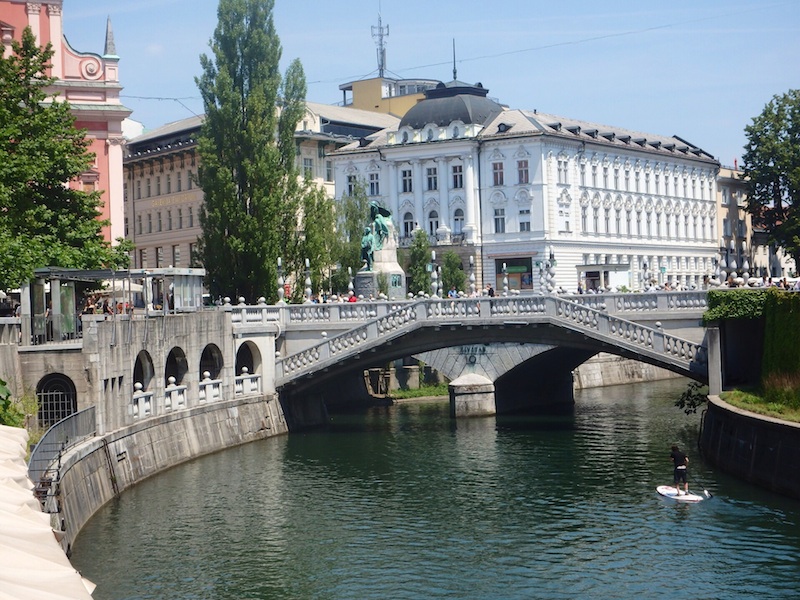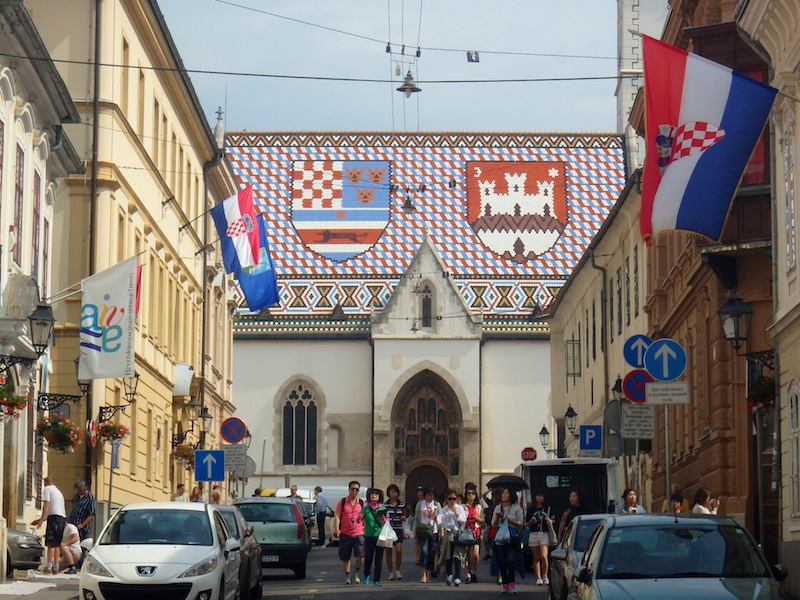 Thanks to Grant Walter for sharing his e-bike adventures!  Make sure you checkout Part 1 and Part 3.
Checkout some of these other e-bike touring stories:
Electric Bike Touring: 3,300 Miles from Seattle WA to Washington D.C. on a Pedego Interceptor
Electric Bike Touring: 80 Year Old to Ride 2,500 Miles on an Easy Motion NEO Jet!
Electric Bike Touring in Croatia, Austria, & Italy's Dolomites
E-Biking to the Grand Canyon with the Ride the Future Tour Crew! [VIDEO]
Tour de Mongolia – A Solar Powered Electric Bike Tour! Lots of Pictures.
Electric Bike Tour In The Nepalese Himalaya!
Iceland Challenge Short Film: Electric Bike Touring in Iceland! [VIDEO]
An Electric Bike Tour Across the USA!
Are you interested in e-bike touring? Where would you like to ride?
Please leave your comments in the section below.
Thanks!
-Pete
P.S. Don't forget to join the Electric Bike Report community for updates from the electric bike world, plus ebike riding and maintenance tips!
Reader Interactions