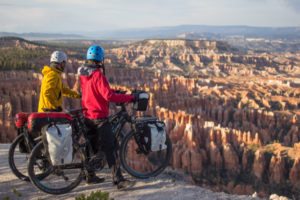 Susanne Brüsch is an adventurer at heart.
She jumped into the electric bike industry in Europe nearly 20 years ago when eBikes were just barely a blip on the radar in the European marketplace.
After working through the trials and tribulations of the young industry she set her sights on electric bike adventure tours to show the world what electric bikes are capable of.
With her company Pedelec Adventures, she has had amazing eBike adventures in Morocco, Mongolia, Iceland, many parts of Europe, the Southwestern USA, and a soon to be extensive trip through other parts of Africa.
I had a chance to catch up with Susanne after her recent Sand to Snow eBike adventure [Read more…] about UPDATED: Interview with eBike Adventurer Susanne Brüsch: Sand to Snow in the USA [VIDEOS]