The E-Bike Report from Eurobike 2015 – Smartphones, E-Mtb, Commuters
I have recently returned from Eurobike in Friedrichshafen Germany, the largest bicycle tradeshow for the European marketplace, and I am happy to report that electric bikes were a major focus at the show!
A lot of the bicycle brands had electric bikes front and center in their display area.
At some of the brands you had to actively look for the conventional bikes because their were so many e-bikes on display (Haibike for example).
My focus at Eurobike 2015 was split between checking out the new e-bikes, 3 presentations of a U.S. e-bike market overview, and talking with companies interested in participating in the Electric Bike Expo multi city test track program.
This Eurobike report and the reports to follow are just a look at only some of the e-bike scene at the show. I wish I had more time to cover it all!
I would say that the highlights of the show were:
Smartphone & GPS integration
Lots of e-mountain bikes. A number of +Plus size tires (3"+ wide) e-mtbs
Simple commuter style e-bikes.
Many electric cargo bikes.
All wheel drive e-bikes.
More mid drives systems from Bosch, Shimano, Yamaha, Panasonic, Brose, Bafang, etc.
New battery cell sizes from Samsung and LG
New technology:

Plastic frames for local mass production,
Energy Tube battery solutions,
Hub motor w/ built in automatic continuously variable transmission.
Autonomous e-bike
The following are a number of pictures and videos from the show.
Smartphone & GPS Integration
Smartphone integration was a focus for Easy Motion, Specialized, Kalkhoff, Gocycle, Continental, and others. Stromer has had this feature on their ST2 e-bike for a while, along with GPS tracking.
Easy Motion will be offering the smartphone integration and GPS tracking as upgrade options for their e-bikes.
This seems to be a trend that we will see more of because smartphone apps are a feature rich way to get e-bike stats, ride routes, and fine tune the e-bike ride characteristics.
E Mountain Bikes
The electric mountain bike niche was again a big presence at Eurobike. Many brands had e-mtbs on display. The new trend for e-mtbs is the Plus size tires which are 3″+ wide tires in either 27.5″ or 29″ wheel sizes.
The following video is a quick look at the new Specialized Turbo Levo e-mtb with Plus size tires.
The Plus size tires seem like a nice size for electric mountain bikes because it would allow you to ride on a wide variety of terrain while handling better and being more efficient than the 4″+ fat bike tire sizes.
This is the Haibike SDURO All Mtn Plus with the Yamaha mid drive system. Haibike will be bringing their SDURO/Yamaha e-bikes to the U.S. market for 2016.
Here is a closer look at the Yamaha system and rear suspension on the Haibike SDURO All Mtn Plus. You can also see the Plus size tires are pretty big!
For those looking for a downhill style e-mtb, Haibike had this rig with almost 8″ of suspension travel! This featured the new Bosch Performance CX mid drive system with more torque for mountain bike riding.
Giant had a number of electric bikes with the Yamaha mid drive system on display.
Checkout how they "blended" the battery into the downtube for a clean look.
eflow had this full suspension rig with their battery in the seat tube. Their e-mtb's are using the Continental mid drive system.
That selection of electric mountain bikes just scratches the surface of e-mtbs that were at Eurobike!
Simple Commuter Style
Kalkhoff had a number of their Integrale line of e-bikes on display. These bikes have a very clean look with a bunch of features: integrated downtube battery, mid drive with Gates Carbon Belt drive, and internally geared rear hub.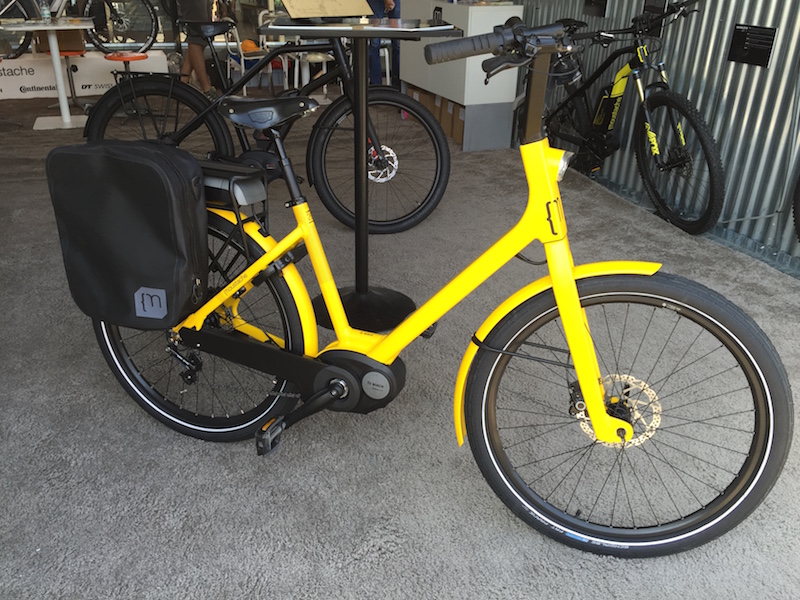 Moustache had this boxy clean looking step thru called the Lundi with the Bosch mid mid drive and an internally geared rear hub.
Victoria had a number of these step thru commuter style e-bikes on display. The location of the Bosch battery is pretty clever!
Easy Motion has a new line of "fixie" style e-bikes called the EasyGo. The price will be $1,200 and it has a 250 watt rear hub motor with a 216 Wh lithium battery mounted just behind the seat.
Winora won a Gold Eurobike E-Bike award for this Radius electric bike. It's a compact e-bike that can has some folding elements for easy storing in the office or apartment. It uses a 250 watt Yamaha mid drive motor and 400 Wh lithium battery.
The Coboc Commuter is another clean looking e-bike with the 335 Wh battery integrated into the frame, a 250 watt rear hub motor, and smartphone integration. It weighs 34 pounds, pretty light for an e-bike!
That's it for now, stay tuned for part 2 of the Eurobike e-bike report!
-Pete
P.S. Don't forget to join the Electric Bike Report community for updates from the electric bike world, plus ebike riding and maintenance tips!
Reader Interactions