Bosch Highlights as Presenting Sponsor of The Electric Bike Expo Events [VIDEO]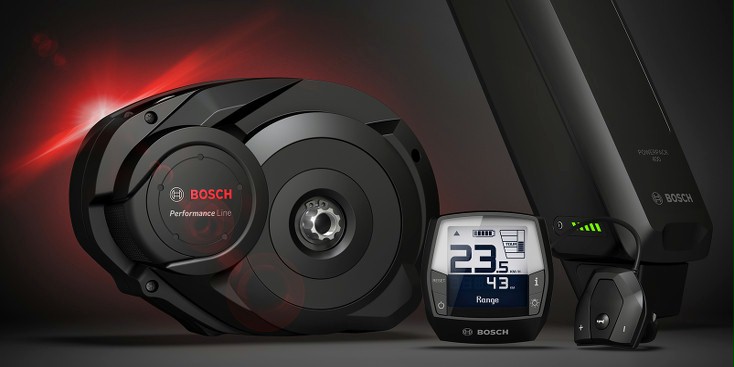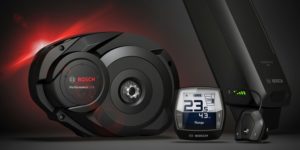 Bosch has signed on to become the presenting sponsor for the Electric Bike Expo multi city test track event series for 2016!
Bosch hit the U.S. market last year and introduced their popular mid drive system on e-bikes from Felt Electric, Haibike, Lapierre, Easy Motion, and Xtracycle.
Here is a quick video to give you some background on their high tech drive system:
At the Electric Bike Expo events you will get a chance to learn about the different components of the Bosch system and test ride it on bikes from Felt Electric, Haibike, Easy Motion, and other bike brands.
This is the Felt Electric Outfitter "fat" e-bike with 4″+ wide tires for riding almost over anything! Felt also makes a variety of other e-bikes; cargo, commuter/touring, and mountain bikes.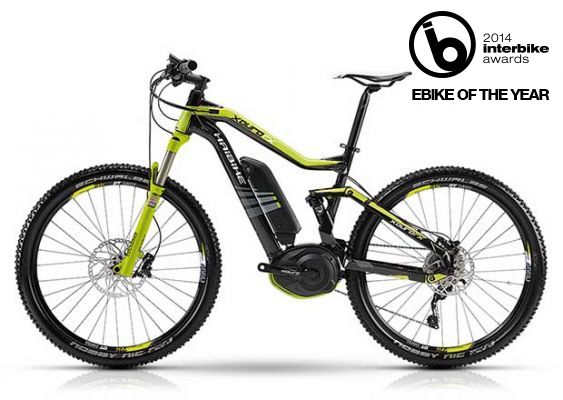 Haibike is well known for their extensive line of electric mountain bikes. They also have a good line of commuter, touring, road, and fat e-bikes.
Easy Motion USA has a full suspension e-mtb, a sport road style e-bike, and an urban step thru style e-bike for 2016.
I recently had a chance to catch up with Claudia Wasko, the director of Bosch eBike Systems for North America, about their presenting sponsorship of the Expo:
Pete: Bosch is a well known brand in the automobile, power tools, and appliance markets. Could you give us a little background on how Bosch decided to get into the electric bike drive system market?


Claudia: In July 2009, the eBike department was established as a project and start-up within the Bosch Group. In the same year, the first eBike prototypes were constructed, and the decision to establish this product division was made. In 2010, we presented the Bosch eBike system at the European trade fair "Eurobike" for the first time, and we then immediately began series production in 2011.
Bosch is founded on the principle of bringing technology to bear that emphasizes the "life" in "quality of life". In this way, Bosch's mission statement, "Invented for Life", is a succinct way to explain why Bosch first investigated manufacturing eBike systems. Pedal-assist eBikes today embody technology that is powerful, reliable and useful, but still preserves the healthy human element of cycling and all the physical and social benefits cycling entails.
Several different areas of Bosch's wide-ranging expertise come together in the eBike system's design. Each year Bosch produces millions of high-precision, compact, and highly efficient electric motors similar to those used in our eBike drive units. The eBike's energy storage system – its battery pack – draws on Bosch's long experience of producing tried and trusted lithium-ion batteries and chargers for its power tools. Finally, Bosch's extensive knowledge of automotive electronics comes into play in the drive system's display, power electronics, and sensors. Thus, the eBike system benefits from Bosch's global experience in the large-scale production of a wide variety of technologies.
In short: Based on our core competencies and given our mission statement, eBikes were a logical fit.
Pete: Why is it important for Bosch to be the presenting sponsor of the Electric Bike Expo events?


Claudia: eBikes are an experiential product by nature – until you throw your leg over an eBike, get a feel for the electric assistance and realize how it can open up new doors to commuting and recreation, it can be difficult to grasp how eBikes work and what their value is. Hands-on experiences with eBikes show the public, press and even policymakers that eBikes are more similar to standard bicycles than dissimilar. Having a wide variety of eBike models represented at this type of event show North American attendees that this industry is more than just a few dabblers or experiments – it's an open floor of possibilities that numerous highly-regarded manufacturers are placing their trust in. This is the perfect model to get the word out on eBikes to all the key target groups necessary to help eBikes thrive in North America, and we can't thank you enough for organizing this opportunity, Pete. Your expertise in the eBike space is a great compliment to Ray's trade show handling, and we have no doubts that the Electric Bike Expo series will be something special.
Of course, the Bosch name carries substantial weight in its support of the Electric Bike Expo. We are the market leader in Europe with over 60 brands carrying our system; we can safely say that in our home territory, Bosch is synonymous with eBike. Our support speaks volumes about our faith in the North American market as the next frontier for eBikes. We're excited to see this event "let the pedals do the talking" for eBikes on a national scale. Once again, thanks for all of your hard work so far.
Pete: Bosch recently introduced the Bosch Smiles program by providing a group of people with a Bosch powered electric bike (Felt, Haibike, Lapierre, Xtracycle) to ride for a month. How is that going and what kind of feedback are you getting from the riders?
Claudia: So far, Bosch Smiles has been a great success in terms of awareness-building and – most importantly – creating smiles on the faces of our demo riders. We've completed over half of our planned demos at this point and gotten some great feedback and photos from participants. When we deliver the eBike to our participants, we get a chance to ask for their thoughts on how often they believe they'll use their eBike during their demo period, among other questions. We follow up on these questions after the demo, and almost always, participants say that they rode much further and more frequently than they had anticipated at the outset. Simply put, it's fun to ride an eBike!
In particular, it's great to see the positive responses from families using eBikes to ride together. One of our previous participants is a mother of five living in Berkeley, CA who absolutely loved using Xtracycle's Bosch-equipped cargo bike to take her children to all sorts of places in the Bay Area. Seeing families bonding over eBikes is a wonderful thing, and we're thrilled to be a part of that equation. We're planning on having a collage on display at our Interbike booth this year, showcasing a number of our Bosch Smiles riders' photos and impressions. Keep an eye out for it!


Pete: Could you tell us what makes the Bosch mid drive systems unique?
Claudia: Balance, efficiency, and reliability – these are the hallmarks of our perfectly tuned Bosch eBike system. We believe the mid drive has several key advantages over hub drive motors: it distributes weight more evenly on the eBike, provides greater capacity for torque, is better protected by casing, integrates great battery range relative to battery capacity, and allows room for our manufacturing partners to innovate on design integration and choosing gear system components.
The "feel" is perhaps the greatest differentiator on a Bosch mid drive motor. The motor helps create a low center of gravity under the rider, which smoothes the rider's experience to the point of the electric assistance being inconspicuous. There's no jarring push or pull – it maintains the feel of a standard bicycle, but with an added boost engaged by the rider's pedaling. BikePortland.org recently published their impressions on the Bosch system, and continually mentioned how riding a Bosch-equipped eBike was "…amazingly smooth, to the point of being non-existent." The mid drive motor helps to retain the bicycle's character.
Pete: Can you share any news on the new features for the 2016 Bosch systems?
Claudia: In terms of new technology for the North American market, we have three big innovations coming soon: new motors in the Performance Line, launch of our Active Line, and the introduction of eShift.
Two new types of Performance Line drive units will be available on eBikes from our manufacturing partners. The Performance Speed enables electric assist speeds of up to 28 mph, which is a fantastic option for pavement bikes and long-distance commutes.
The Performance CX offers enhanced torque of up to 75 Nm, perfect for steep climbs. The Active Line's drive unit is lightweight, tuned for a gentler transition between assistance modes, and boasts increased battery range while maintaining assistance speeds of up to 20 mph.
eShift is an electronic solution for functionally integrated gear shifting – in other words, it's an automatic gear shift option that allows riders to concentrate less on shifting and more on enjoying their ride. We will be offering three different types of eShift developed by NuVinci, Shimano and SRAM, each with their own style of shifting. NuVinci H|Sync operates based on the cadence you define – choose the desired RPM, and the eBike will shift to the optimal gear to help reach and retain that pace. Shimano Di2 utilizes a simple shift paddle to digitally make gear selections, and also provides gear recommendations on the Intuvia display. SRAM's DD3 Pulse uses a 3-speed hub gear system that automatically changes gears based on your current speed, much like a car's automatic transmission, while also offering a manual shift option.
Finally, we should also mention that we're partnering with a stellar lineup of new manufacturers for Model Year 2016 alongside our current partners. We have some great new eBikes coming from Benno, Cannondale, Electra, Gazelle, KTM, Orbea, Scott, and Trek in a wide variety of styles, feature sets and price points.  Bosch, together with its service partners Magura and LTP, is here to support the North American eBike market, and we're looking forward to seeing a new wave of "Bosch Smiles" as the Electric Bike Expo unfolds.
Thank you to Claudia Wasko for taking the time to answer those questions!
Here's a closer look at the Bosch drive system.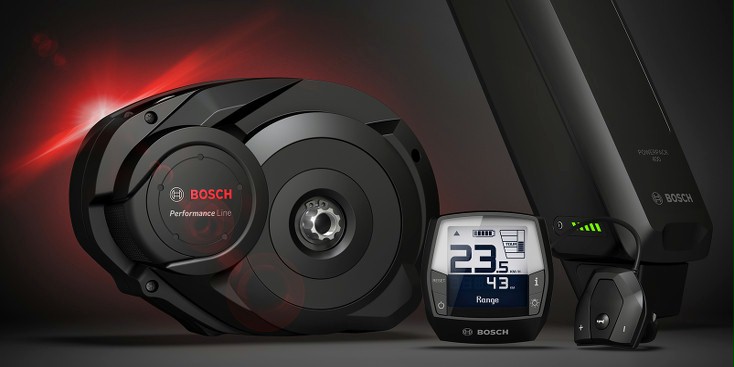 These are the components that make up the Bosch Performance Line drive system. From left to right; the mid drive motor, Intuvia display with handlebar control pad, and PowerPack 400 watt hour lithium battery.
The Intuvia display has a bunch of traditional cycle computer stats like current speed, trip distance, odometer, etc. The display also provides an estimated range feature that will tell you how much range you have left depending on which assist level you are in, very cool!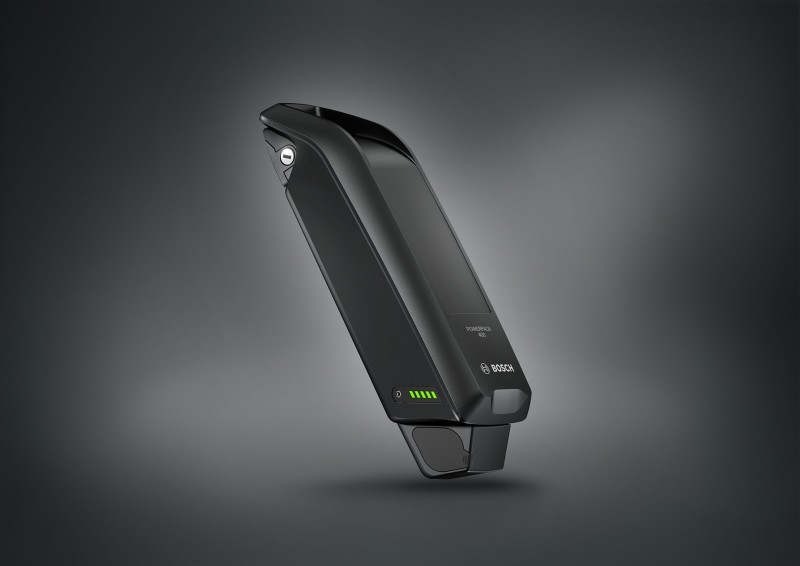 The PowerPack 400 watt hour (36V 11ah) lithium battery pack weighs about 5.5 pounds and charges on or off the bike in about 3.5 hours.
Earlier this year Bosch presented their system to the media in Sedona, AZ and I had a chance to talk with North American Bosch team about their system. Here is the Bosch article with a video interview and many pictures of the Bosch system from Sedona.
Stay tuned for more announcements about the Electric Bike Expo and the other Bosch powered e-bikes that will be available for test ride!
-Pete
P.S. Don't forget to join the Electric Bike Report community for updates from the electric bike world, plus ebike riding and maintenance tips!
Reader Interactions