2,200 Mile Electric Bike Adventure from California to Colorado [VIDEO]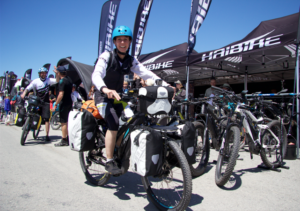 It's time to think beyond riding around town on your e-bike; it's time for an e-bike adventure!
Susanne Brüsch from Pedelec Adventures is riding 2,200 miles from California to Colorado on her Haibike electric mountain bike!
Her tour is called Sand to Snow and she will be riding through a lot of western highlights like Yosemite, Death Valley, the Grand Canyon, Zion, Bryce, Monument Valley, Moab, and the Rocky Mountains.
Along the way she will be stopping at 2 Electric Bike Expo events. You can meet Susanne at the Palo Alto (April 22-24) and Denver (June 17-19) Electric Bike Expo events where she will be presenting on her adventures and promotion of electric bikes.
The Denver Expo will be the finish line of her adventure.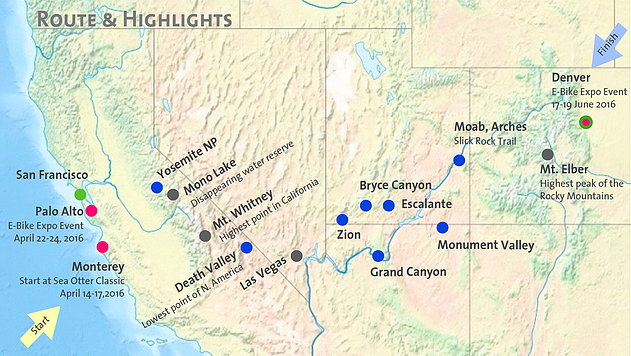 Here is a look at the route that Susanne and her Pedelec Adventures team will take as they hit some of the Western highlights. Looks like a great route!
Susanne is focused on demonstrating what is possible with an electric bike through her tours to raise awareness of this new form of transportation and recreation. She shares these adventures through her amazing pictures, videos, and stories.
Susanne and her Haibike SDURO Hard Seven RC ready to roll!
The Haibike SDURO line uses the Yamaha mid drive system with a 500 watt mid drive motor and 400 Wh lithium battery.
The Pedelec Adventures team will also use the Haibike SDURO AllMtn RC full suspension electric mountain bikes with the Yamaha mid drive system.
Susanne and the Pedelec Adventures team is using Ortlieb bags for the tour.
Here is a video of Susanne and the Sand to Snow adventure team announcing the tour at the recent Sea Otter Classic:
You can meet Susanne at the Palo Alto and Denver Electric Bike Expo events where she will also be presenting on her adventures and promotion of electric bikes.
Here are some of the stats of the Sand to Snow tour:
Distance to travel: Over 2,200 miles / 3,500 km

Altitude to climb: 50,000 metres uphill and almost the same downhill

Riding time: 45 days with an avg. 80 km per day (50mi/day)

Tour length: 65 days in total with 20 days reserved for coverage, recovery, and events, both planned and unforeseen

States crossed: 5 (California, Nevada, Arizona, Utah, Colorado)

Bike events: 3 (Sea Otter Classic, Monterey; Electric Bike Expos in Palo Alto and Denver)

Green Lane Cities: 2 (San Francisco, Denver)

Bikes: 5 Haibike ePerformance bikes, SDURO line powered by Yamaha

Batteries: 13 (one for each pedelec plus 8 spares)

Team members: 6 with 2 swapping halfway through and 4 travelling at any given time with 2 permanent tour riders

Cameras: 10 incl. 4 GoPro and a 1 drone (Phantom 3)

Bags: 25 Ortlieb carried on bikes, backs and shoulders

Sponsors: 17 plus countless supporters
Susanne has also done some other amazing electric bike adventure tours in the Sahara, Mongolia, Iceland, and more! You can learn more about her adventures at her Pedelec Adventures website.
Stay tuned for more updates on the Sand to Snow e-bike adventure!
-Pete
P.S. Don't forget to join the Electric Bike Report community for updates from the electric bike world, plus ebike riding and maintenance tips!
Reader Interactions