Electric Bike Highlights from the Taipei Cycle Show – Part 4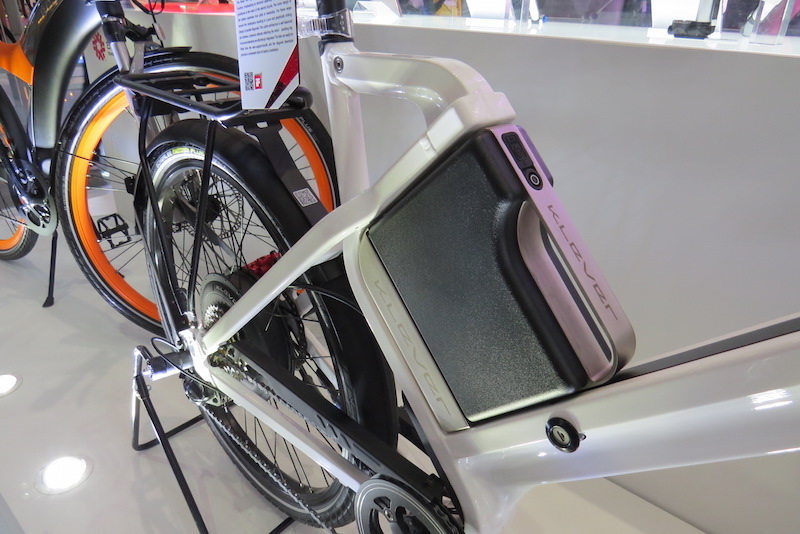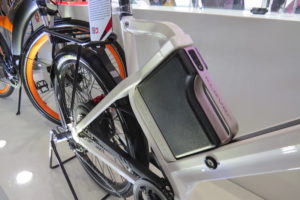 In this forth part of the Taipei Cycles Show highlights there are the innovative e-bikes from Stromer, Klever Mobility, Peugeot, BESV, and Dahon. 
In addition Extra Energy and LEVA presented their industry awards at the show.
You will also see some of the e-bike components and wheel building machines that were on display.
Make sure you checkout Part 1, Part 2, and Part 3 of the show coverage as well.
Please note that some of these products are not yet on the market or they are only available in select markets.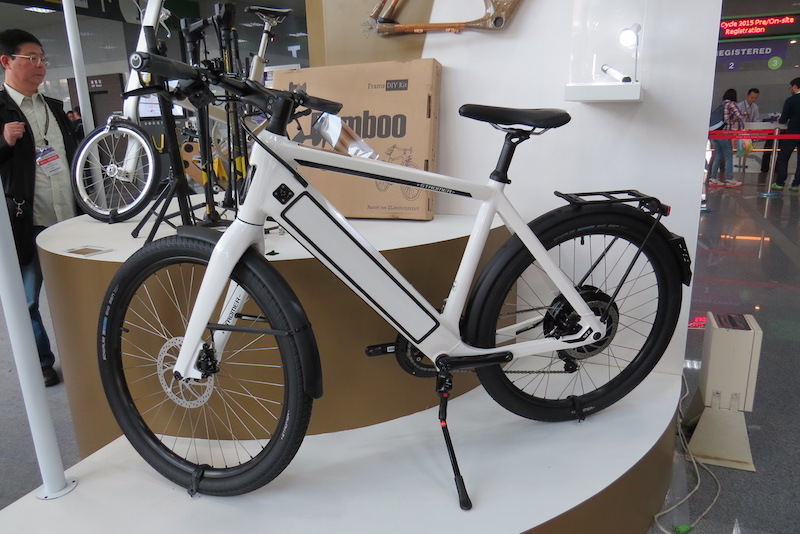 The Stromer ST2 won a design and innovation award for being the "first worldwide digitally connected e-bike".  It's ability to be tracked in case of theft has been very successful.  In Switzerland they were able to recover a stolen Stromer ST2 along with 50 other stolen bikes and recently a customer of The New Wheel in San Francisco also recovered his ST2 thanks to it's tracking features.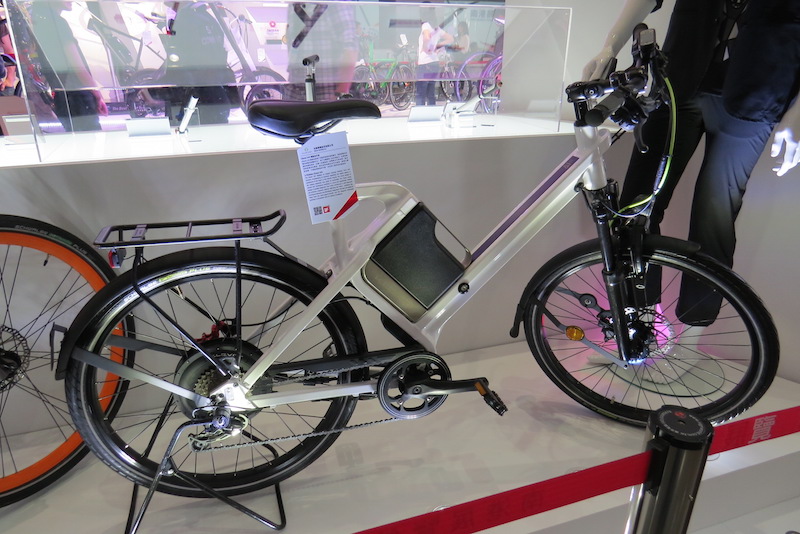 The Klever Mobility S45 won an iF Design award in 2014.  It is a speed pedelec (up to 28 mph or 45 kmh pedal assist only) and it has a unique battery design and location.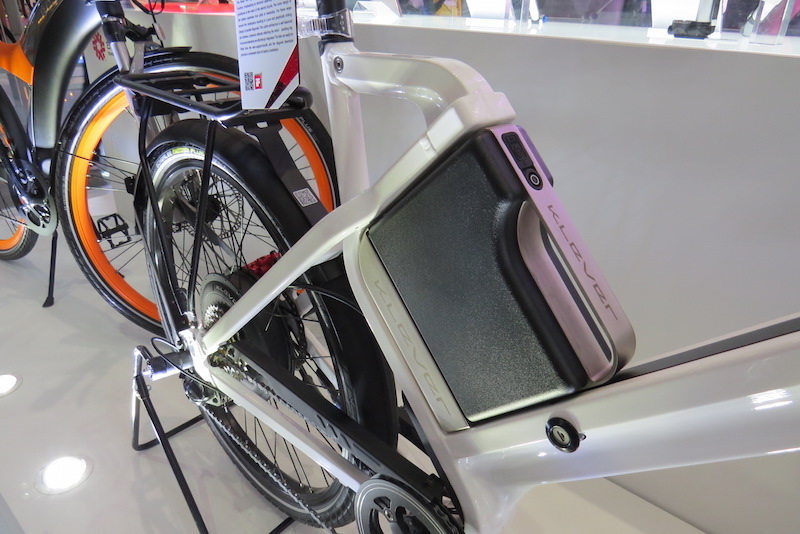 Here's a closer look at that 480 Wh lithium battery.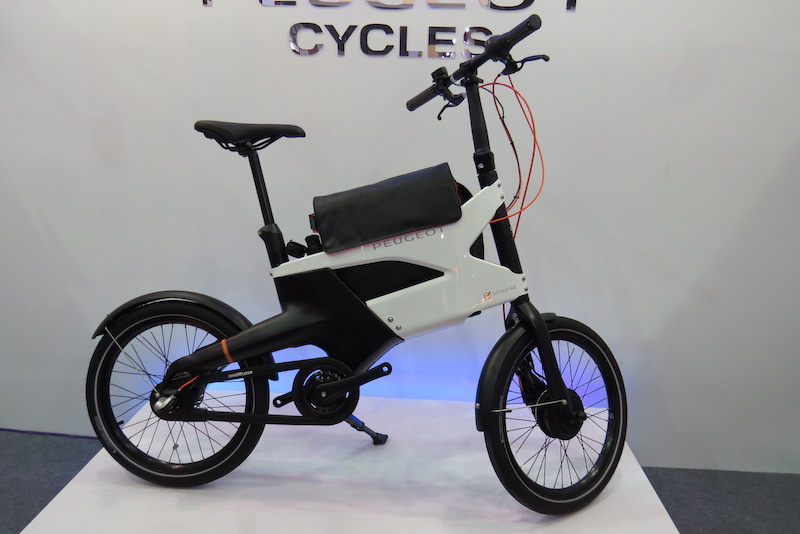 The Peugeot AE21 electric bike means business. It's a portable commuter style e-bike with room for your briefcase in the frame!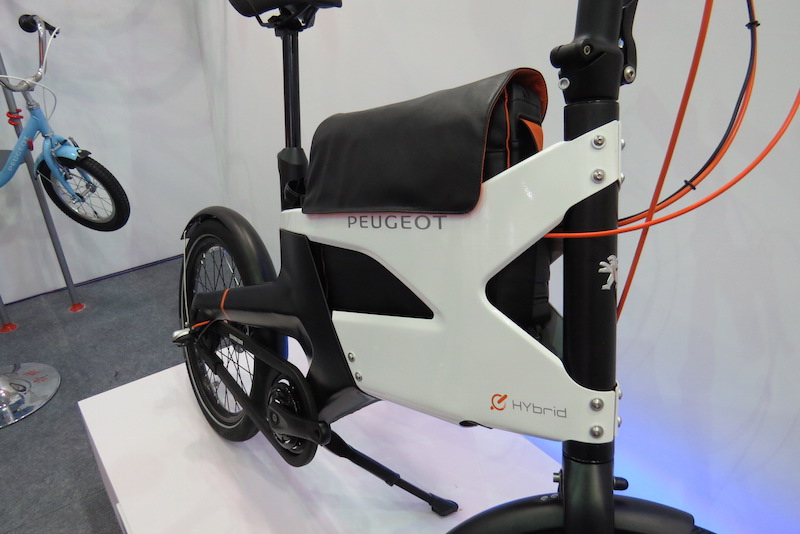 A closer look at the frame's carrying capabilities.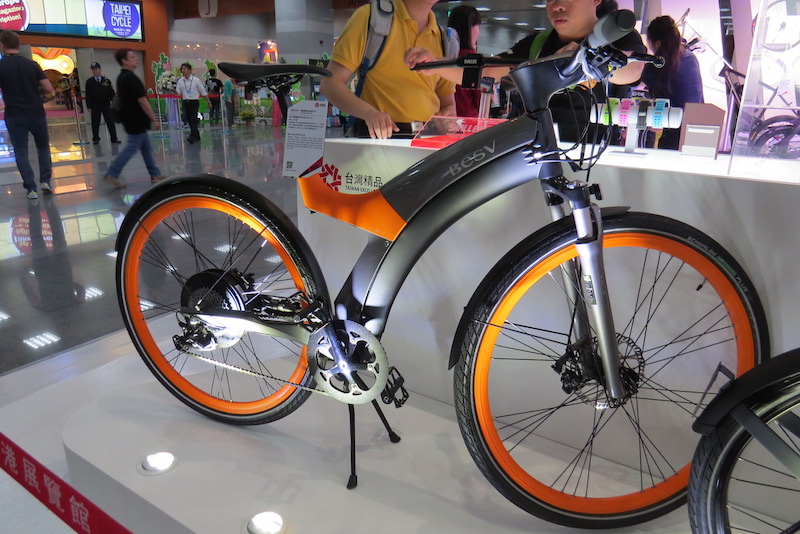 BESV showed off their futuristic looking e-bikes at the show. Here is more information about the BESV electric bikes from last years Interbike show.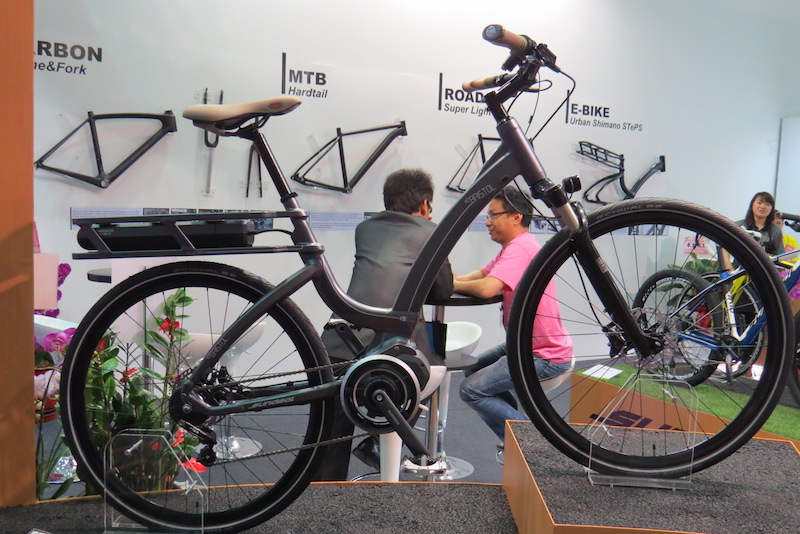 Here is an electric bike with a curvy frame design that was different from the rest. Also note how the rear battery rack cantilevers off the seat tube.
Here's a closer look at curvature of the seat tube. As I mentioned in Part 3, there were a significant number of e-bikes at the show using the Shimano STEPS system.
This is the Shimano Alfine internally geared hub (8 or 11 speed versions) with Di2 electronic shifting. It is found on some of the e-bikes using the Shimano STEPS mid drive. Rumor has that there will soon be automatic electronic shifting with this hub and the Shimano STEPS system.  Stay tuned for more info.
The new Bafang Max mid drive system was on display. This is a new mid drive system that we will see on more complete electric bikes soon.
Here's a look at the Bafang Max mid drive display that is centered on the handlebars.
And the Bafang Max control pad.
Speaking of mid drives, this is the motor from Greentrans. They sell the whole system to e-bike brands.
Dahon held a press conference to show their new folding electric bike that they designed for Ford. They also displayed some of their traditional (non electric folding bikes). Here is more information on the new Ford folding and cargo style electric bikes.
Extra Energy held an award ceremony for the best electric bikes in their latest round of testing.
The Light Electric Vehicle Association (LEVA) held their e-bike industry award ceremony. Here are the highlights from the awards:
Company of the Year: Bosch e-Bike Systems
Innovator of the Year: Zehus Human +
Bright Light of the Year. Companies with a brilliant future. 2 Awards: Hero / A2B World Wide Effort and OHM Cycle
Corporate Citizen of the Year. Two awards: Fairly Bike Manufacturing Company and Accell North America – Currie Technologies
Cross Cultural Leader of 2015: Claudia Wasko – Bosch North America
Leaders Medals Awarded to: Chairman Ma, China Bicycle Association.  Yu Shih Gang, Shanghai Bicycle Association. Norbert Haller, Designer, Berlin.  Jack Oortwijn, Bike Europe.  Annick Roetynck, AVERE.  Mr. John MacArthur, Oregon University.  Dr. Mo Hua Yang, HTE.  Larry Pizzi, Accell NA
Founders Medals Awarded to: Wang Quinghua, Bafang Motor Company.  Ni Jie, LuYuan Ebike Company.  Lee Iacocca, EV Global.  Dr. Frank Jamerson, EBWR.  Anton and Markus Gromer, Heinzmann.  Susanne Bruesch, Pedelec Adventures.  Hannes Neupert, Extra Energy.  Yamaha PAS team, 1994.  Panasonic / National Bicycle Team 1998.  Tony Lo, King Liu, Giant Bicycle Company.  Malcolm Currie, Currie Technologies.  Sid Kuropchak, LEVA.  Shanghai Cranes 1997.  Suzhou Small Antelope 1997.  Schachner Electric Bike.  Jim Green, Zap 1995.  Rob Means, www.Electric-bikes.com.  Sparta Ion Team.  Heather Marsham, Total EV 1998.  Burt Cebular, NYCE Wheels
There were quiet a few frame building companies at the show. Here is an example of mid drive frames on display for bike brands to view.
And here is an example of a company that is selling bike frame parts: dropouts, bottom bracket shells, etc.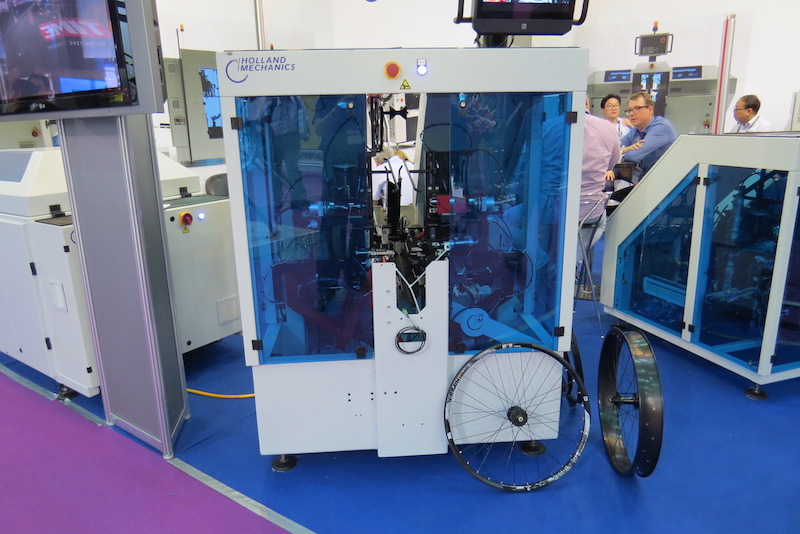 Holland Mechanics had their automated wheel building machines on display. These are amazing machines that will build, tension, and true wheels very quickly.
This is the Holland Mechanics wheel lacing machine. It needs a human to guide the spokes but it takes care of a lot of the work. Checkout my tour of the ProdecoTech electric bike assembly facility for a look at their Holland Mechanics wheel building machine.
And here's a look at the halls of the Taipei Cycle Show. It was a busy show, but it also had a relaxed atmosphere.
The entrance to the show was impressive!
That's a wrap for the Taipei Cycle Show. I hope it gave you an idea of what was happening at the show and some of the innovative e-bikes that were on display.
Make sure you checkout Part 1, Part 2, and Part 3 of the show coverage as well.
-Pete
P.S. Don't forget to join the Electric Bike Report community for updates from the electric bike world, plus ebike riding and maintenance tips!
Reader Interactions