50 Stolen Bikes Recovered Thanks to Stromer ST2 Electric Bike GPS & App!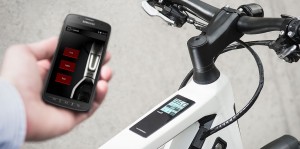 Technology to the rescue!
Discovering that your prized electric bike has been stolen sucks, but in this day and age, technology can help you recover it.
That is just what happened when Frédéric Marchand realized that his high tech Stromer ST2 had been stolen.
Not only did he get his bike back, but 50 other stolen bikes were recovered thanks to the ST2's built in GPS and the Stromer Smartphone Geolocator app!
And here's how the story goes.  Frédéric Marchand discovered that his ST2 had been stolen from outside his restaurant in Geneva, Switzerland on July 14, 2014.
Unfortunately Mr. Marchand had not yet installed the myStromer app on his Smartphone so there was no way for him to track his bike.
Even though he couldn't track his bike personally, Stromer customer service was able to locate his bike in under 5 minutes! It was located in an industrial park in a Geneva suburb.
Here is an info graphic to give you an idea of how connected the Stromer ST2 is with its cloud based Omni system:
With the Stromer app now loaded on his phone, Mr. Marchand and a staff member of the local Stromer store in Geneva headed out to the industrial park.
Initially there was no sign of his bike, but the Stromer Geolocator app showed that it was in a container that had a car blocking door.
At that point Frédéric Marchand called the police.  Once the police moved the car and opened the container they found Mr. Marchand's ST2 along with 50 other stolen bikes!
Mr Marchand said "This is now the third bike I've had stolen. But it's the first that I've got back."
All of this new technology in e-bikes is pretty fun but this story is a good example of how it can be truly useful!
Checkout this video for an overview of the high-tech ST2:
And here is an article with an overview of the Stromer ST2.
Make sure you checkout this article about how the San Francisco is putting out "bait bikes" with GPS trackers to catch bike thieves!
Here are some tips on how to keep your electric bike safe and secure.
Enjoy your next ride!
-Pete
P.S. Don't forget to join the Electric Bike Report community for updates from the electric bike world, plus ebike riding and maintenance tips.
Reader Interactions