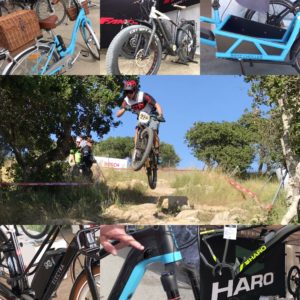 2017 continues to be an exciting year for new electric bikes!
In this continuing coverage of the new 2017 & 2018 eBikes from the Sea Otter Classic there are videos of new eBikes from Electra, eProdigy, Fantic, Focus, Haro, and Reise & Muller.
Plus there is a video about the new Bosch electric mountain bike race series and the new Bosch Purion display & control pad.
Also, make sure you checkout this post with new eBikes from BESV, BULLS, Raleigh, Yuba, and Haibike that were at the Sea Otter Classic.
The Sea Otter Classic is a celebration of cycling with racing (road, mountain, cyclocross, eMTB), rides, exhibitors, test rides, music, food & drinks, and more.
Stay tuned for many more videos of the latest eBikes! [Read more…] about New eBikes From Electra, eProdigy, Fantic, Focus, Haro, Reise & Muller, + New Bosch [VIDEOS]