eBike News: DHL Cubicycle, More Bikes Than Cars, Expo Highlights, Video Cam & Light, & More! [VIDEOS]
In this week's eBike news roundup:
DHL's new fleet of pedal electric cargo delivery vehicles
Copenhagen now has more bikes than cars!
Elby & Riese & Müller design award & honor
Long Beach Expo highlights
EVELO 4 year warranty
More mobile bike shops
Copenhagen Wheel & Haibike in mainstream media
Rear view video camera & light system
And much more!
DHL Cubicycles: Making Deliveries with Pedal Electric Cargo Vehicles
https://youtu.be/VNaoZCJFO-A
DHL has launched two pilots of the City Hub concept – in Frankfurt, Germany's fifth largest city, and Utrecht in the Netherlands, which has announced the target of becoming climate-neutral by 2030.
"DHL Express has already replaced up to 60% of inner-city vehicle routes in some European countries with cargo bicycles, and we expect that the City Hub and Cubicycle will both help us to accelerate this approach in other markets over the next 3-5 years," said John Pearson, CEO, DHL Express Europe.
"Bicycles offer a number of advantages in express delivery operations: they can bypass traffic congestion and make up to two times as many stops per hour than a delivery vehicle. The total cost of ownership over their lifetime is less than half of a van. And crucially, they generate zero emissions, which reinforces our own ongoing program to minimize our environmental footprint and supports city governments' efforts to promote sustainable city living."
The Cubicycle's have electric pedal assistance for additional speed and support in climbing hills, and it easy to handle, with a tight turning cycle. The removable containers are secure and waterproof, and offer a large volume while not impairing the view of other cyclists.
They can be equipped with GPS or Internet of Things transmitters, to facilitate real-time shipment tracking and to ensure they can be monitored for security purposes, and they are self-powered through the use of solar panels.
Here is more about the Cubicycles.
UPS and FedEx are also working on expanding their pedal electric cargo vehicles.
Here is a closer look at B-Line and their delivery trikes that are also an advertising platform.
Elby Going Places by E-bike
EBR covered the launch, back in 2015, of the funky urban e-bike Elby.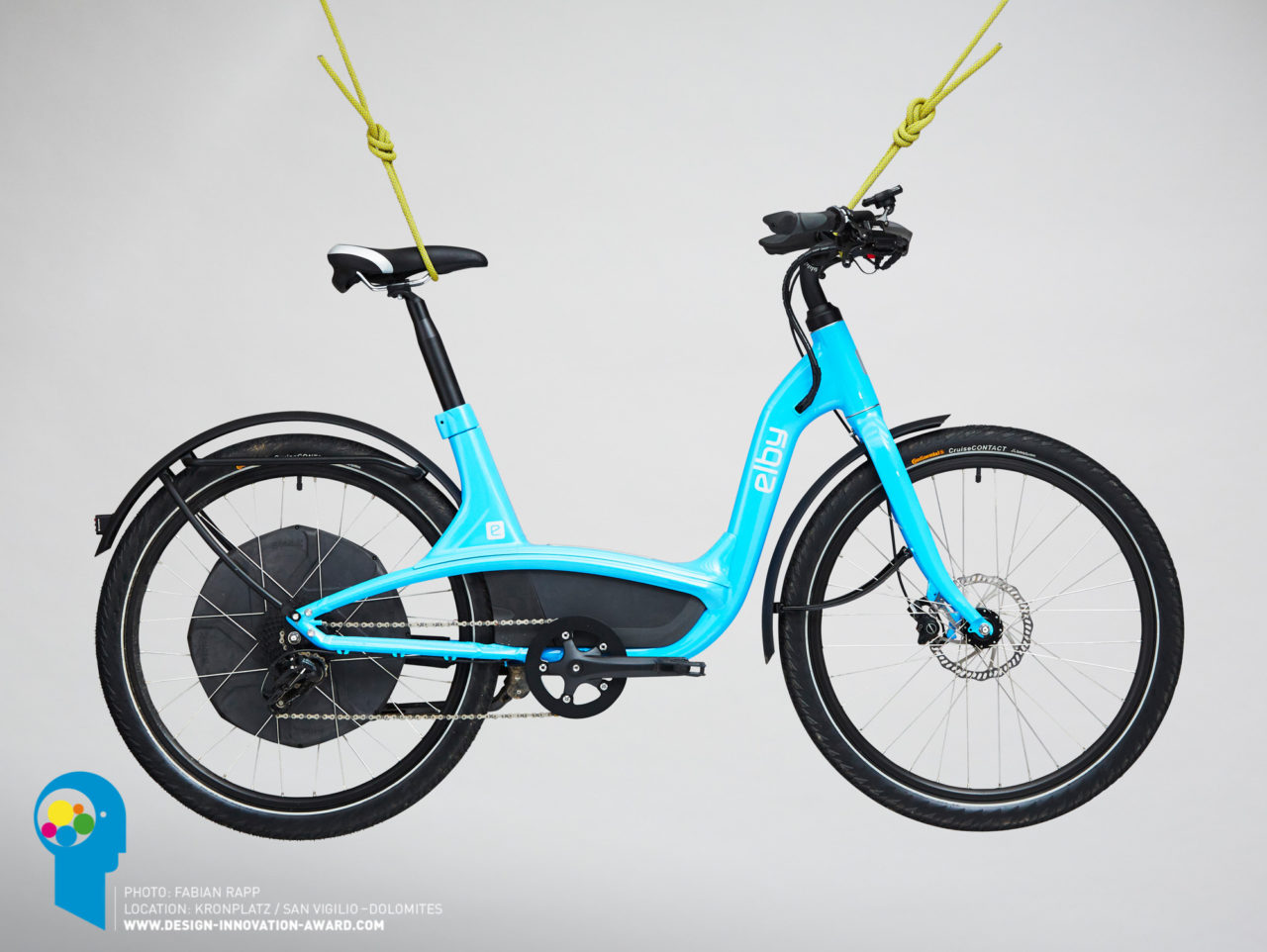 The Canadian-based firm have since made real headway in the industry it would appear. Their 9-speed, BionX-powered model recently gained an award in the Design and Innovation Awards urban bike category.
Riese & Müller Also Honoured
Riese & Müller's Packster e-cargo bike was also honoured at the same awards.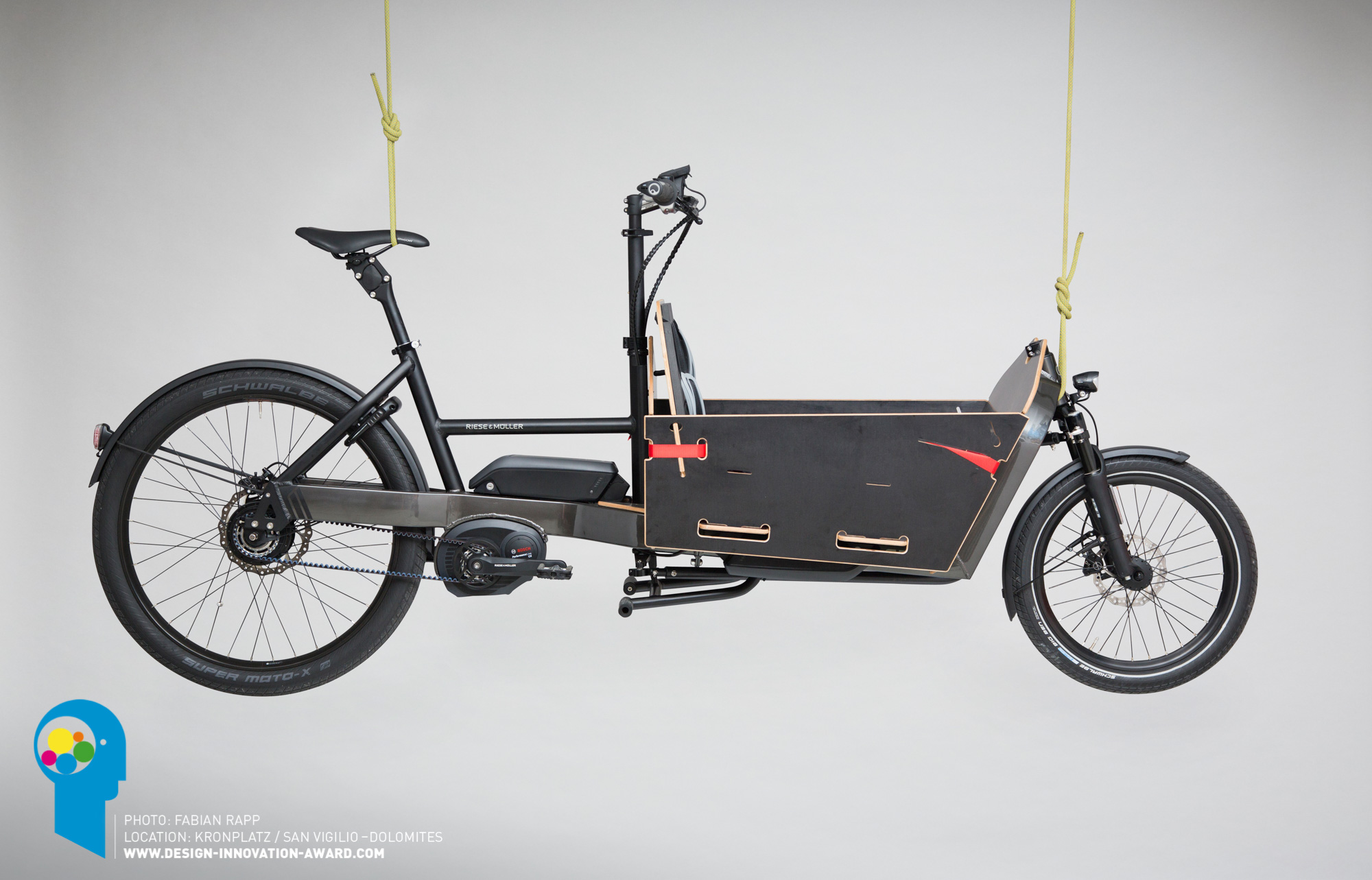 It looks like a truly rugged design, featuring Bosch crank motor and Nuvinci variable hub gear. In fact the design comes in quite a range of options, including and an e-cargo speed pedelec one!
EVELO Announces 4 year Warranty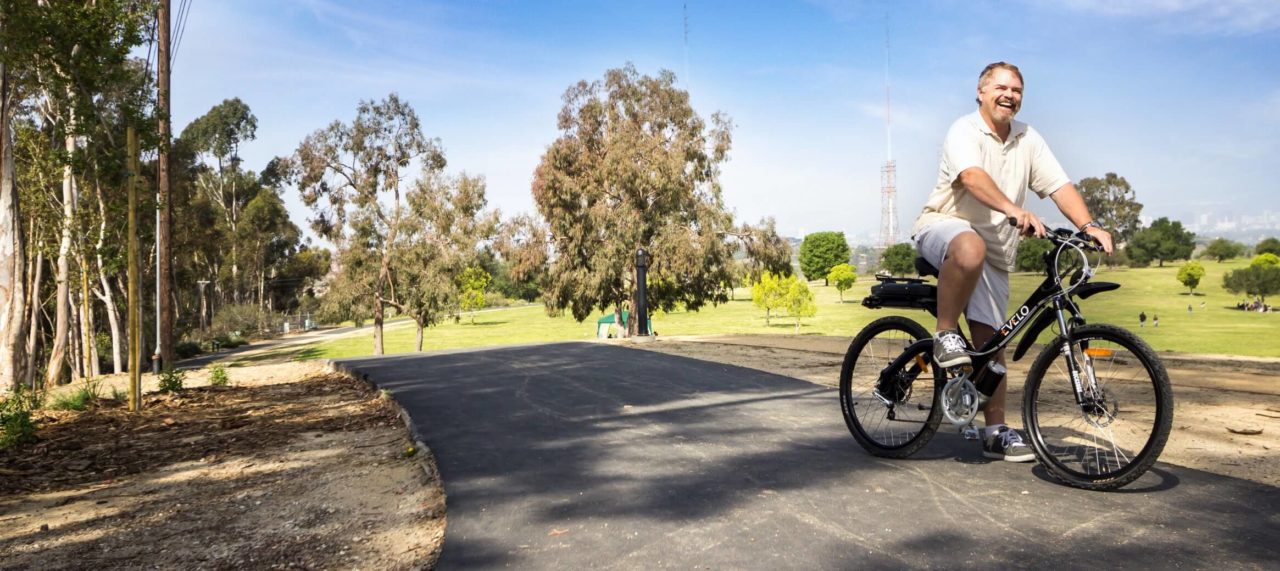 US e-bike firm EVELO have announced that all their e-bikes are now warrantied for 4 years or 20,000 miles (whichever comes first) from purchase. EVELO also says they are retroactively applying this warranty to any EVELO bike purchase since January 1st, 2017.
Here is more info on the EVELO warranty.
Get Inspired
Copenhagen Now Has More Bikes Than Cars!
Here are some interesting bits from this article from the World Economic Forum "authorities started counting in 1970. Over the last year, 252,600 cars and 265,700 bikes made their way into the city every day."
"Among people who live in the city, 56% use their bikes, 20% rely on public transport and only a mere 14% drive on a daily basis, making cycling Copenhagen's preferred mode of transport."
Copenhagen Wheel featured on CNBC
And in the spirit of Copenhagen and getting more people on bikes, the all-in-one Copenhagen Wheel from Superpedestrian was recently features on CNBC and ranked #7 in the their Upstart 25 list. Checkout the video:
Here is a link to the in-depth report and the Superpedestrian website and a guide to all-in-one eBike wheels.
Highlights from the Long Beach Electric Bike Expo
The local CBS station was on hand to cover the Expo and the benefits of eBikes:
And Clean Technica (big fans of eBikes) was also at the LB Expo and put together a highlights video and article:
The San Francisco Electric Bike Expo is coming up on March 24-26 and here is the rest of the 2017 schedule:
Salt Lake City, Utah – May 19-21, 2017
Chicago, Illinois – June 23-25, 2017
Minneapolis, Minnesota – July 21-23, 2017
Portland, Oregon – August 18-20, 2017
Miami, Florida – October 13-15, 2017
Philadelphia, Pennsylvania – November 3-5, 2017
Bosch to Make Scottish Appearance
Bosch will appear for the first time at the 2017 Scottish Cycling, Running and Outdoor Pursuits Show, March 10th to the 12th in Glasgow. There will be a 500 sq-metre indoor test track.
Take a Peak at Haibike's $16,000 E-MTB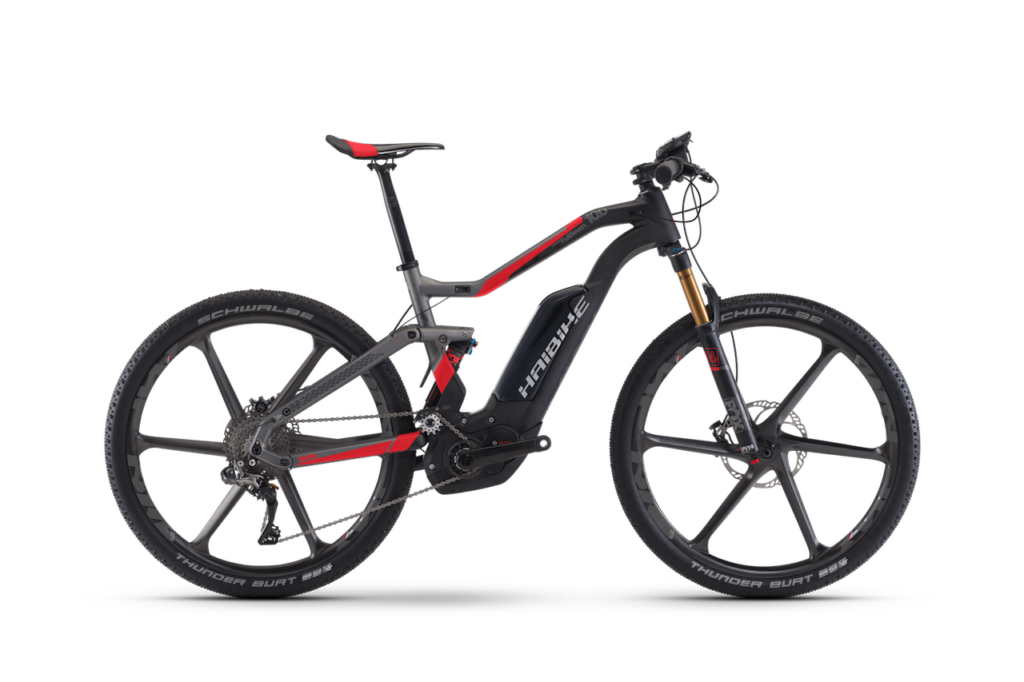 Popular Mechanics took a look at what you get for your money with Haibike's top end fully carbon fibre e-MTB, the XDURO FullSeven Carbon Ultimate. It seems the author is an experienced mountain biker and like so many riders he seems to be a reluctant convert, having to admit the bike is 'not uninspired' and eventually admitting, after some carping, it is a beautiful bike….
Bamboo e-bikes keep rolling on
EBR is a big fan of EWABI's bamboo bikes and e-bikes and they have recently posted a video featuring expert bamboo bike builder Klaus Volkmann.
EWABI founder Mark Donovan explains his E-CORP business philosophy here; it has already translated into a small workshop that is 100 percent powered by the sun where EWABI are building bamboo e-bikes that are being ridden by members of their electric bamboo bike club.
New Accessories
Hexagon – Lights, Camera, Action!
Not on the market yet, but intriguing nonetheless. Hexagon is a lights and smartphone combo that offers a rear view Wi-Fi camera that lets you survey the road behing you on a bar-mounted smartphone. It will even let you record HD video footage of your ride and can act as a powerbank for charging other devices.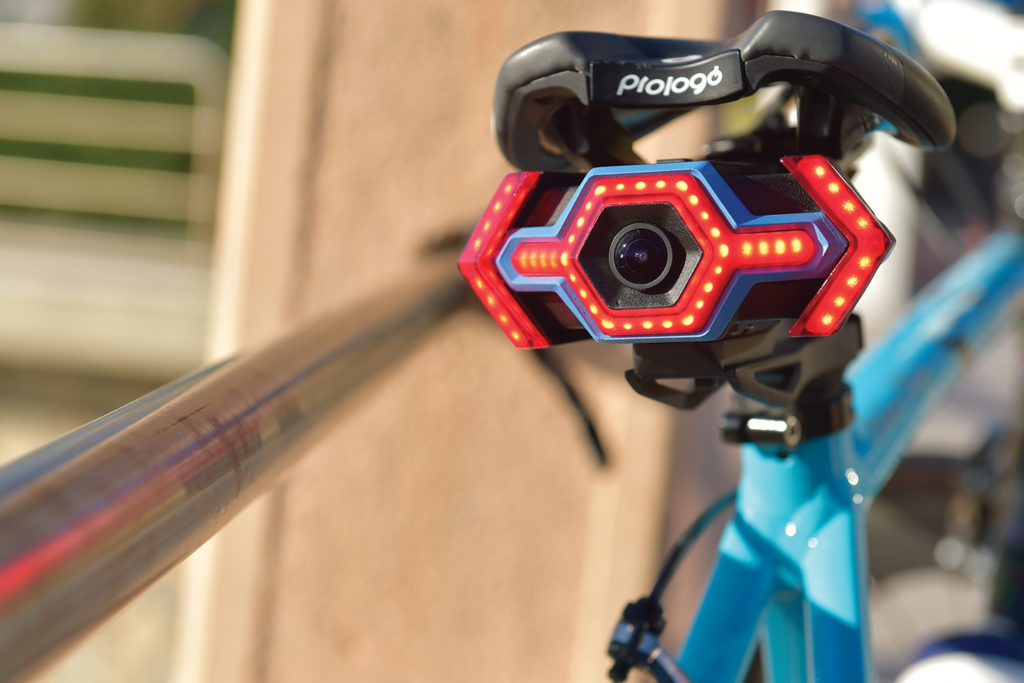 In addition Hexagon acts as a rear light and also has stop and turn signalling. Control of the functions is via a wireless handlebar-mounted control unit.
Some of the ideas are similar to the COBI that EBR has already reported on.
Green Oil Spray
The UK's Green Oil, manufacturer of biodegradeable bike lubricants, has just launched a Kickstarter campaign for its new EcoSpray Lube.
Here's the promo video:
eBike Biz
MyTool Mobile Bike Workshops Heading for Florida
How about this for a good idea; a very well equipped bike workshop that comes to you (video in Spanish):
Cycling Industry News reports the franchise operation should be heading from its South American base to Florida. Looks like an idea that could be downscaled and applied to e-cargo bikes too……
Other companies like Beeline and Velofix are expanding their franchise mobile shops around the US and ProdecoTech is also launching their fleet of mobile shops:
Here is more information on the ProdecoTech mobile shops.
German Bike Market Declines but E-bikes strong
German bike industry organisation ZIV has just announced that combined sales for bicycles and e-bikes declined by 6.9% in 2016 compared with 2015. However, e-bikes remained a very strong area, helping bike industry turnover to grow. E-bike exports especially are booming; volume up 37% in 2015 and 66% in 2016 to 233,000 units.
Subsidies and sharing rolling out across Europe
Price can be one barrier to buying or just having access to an e-bike.
A recent press release from Eurobike (organisers of one of the world's biggest trade fairs) highlighted the many ways in which both business and government are making bikes (and e-bikes) more affordable and accessible across continental Europe.
There's JobRad, a German company that works with 3500 employers and has given 1 million employees the chance to buy tax-break subsidised bikes and e-bikes. And, intriguingly, pilot schemes in the German cities of Norderstedt and Konstanz are setting up public hire transport bike schemes.
Stay tuned for more e-bike news & reviews and thanks for reading!
-Richard
P.S. Don't forget to join the Electric Bike Report community for updates from the electric bike world, plus ebike riding and maintenance tips!
Reader Interactions