2017 Electric Bikes: BESV, BULLS, Bosch, Blix, Wallerang, Stromer, Gocycle, ProdecoTech, Yuba [VIDEOS]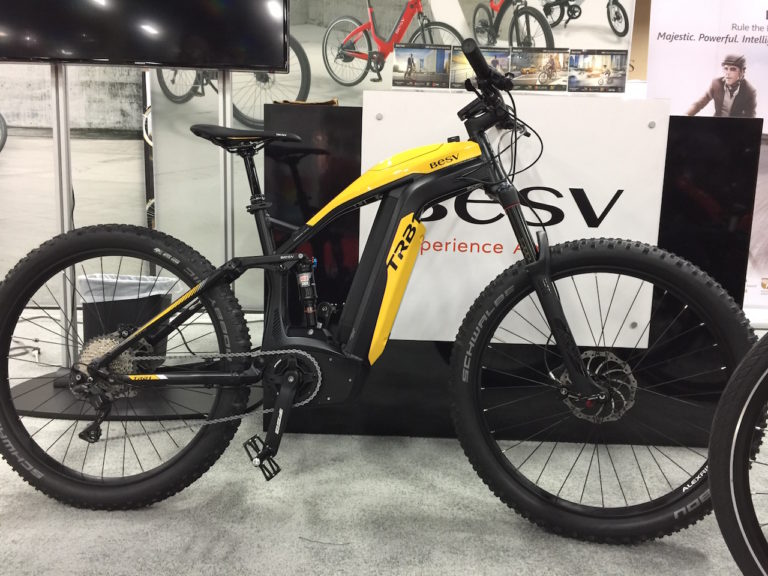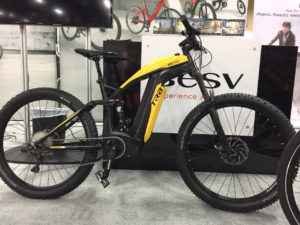 The launch of many new 2017 electric bikes made a splash at the Interbike trade show in Las Vegas!
Interbike 2016 saw growth in the number of North American eBike brands and there are also more European brands establishing themselves in the North American marketplace.
For instance, there will be nearly 30 brands featuring the Bosch mid drive system for 2017!
In this series of reports from Interbike you will get an in depth look at many of the new 2017 eBikes and learn more about the companies that are involved in the North American electric bike industry.
In this first report you will see videos from: BESV, BULLS, Bosch, Blix, Wallerang, Stromer, Gocycle, ProdecoTech, Yuba, and Pedelec Adventures. Enjoy!
BESV made a splash this year with 2 new electric mountain bikes and improvements to their current line up of commuter style eBikes that includes more affordable prices. Their new electric mountain bikes feature the Brose system and the new Shimano STEPS electric mountain bike system with Di2 electronic shifting!
BULLS has really increased their North American line up for 2017! The have commuter eBikes (including an eBike with drop bars), touring/trekking eBikes, mountain eBikes, a full suspension fat eBike, and drive systems from Bosch and Brose.
There are a number of new improvements to the Bosch electric bike system for 2017. There is the compact 2 in 1 Purion display, the Powerpack 500 watt hour battery, the compact charger, and the SRAM EX eBike specific drivetrain. Bosch won the Interbike award for E-Bike Product Innovation of the Year with their CX mid drive system that provides more torque and is lighter than their standard Performance system.
Blix is rolling out some new eBike models with the Shimano STEPS mid drive system. Checkout their step thru model and the battery mount on the seat tube. Wallerang is further developing their modular cargo system and they are offering a step thru model and a suspension fork option.
ProdecoTech launched a new mobile electric bike shop franchise at Interbike. The van carries new bikes for sale and it is also a mobile workshop that can provide bike repairs and maintenance on the go!
Here's a look at the new Gocycle G3 with improvements to the Gocycle design, smartphone app, and accessories. Plus, checkout the new Gocycle GS that is available for $1,699 for a limited time!
Scott Anderson from Stromer shows off the latest ST1, ST1X, ST2, and ST2S electric bikes. Stromer won the eBike of the Year award at Interbike for their high-tech ST2S!
Yuba has made some improvements to the Spicy Curry electric cargo bike along with a lower price and they have also launched the new Sweet Curry (non-electric) cargo bike.
And this is the Sand to Snow short film from Pedelec Adventures that debuted in North America at Interbike. Here is a link to the full interview with Susanne Brüsch from Pedelec Adventures. And below is a video interview with Susanne after the debut of her film.
Now checkout part 2 of the new 2017 electric bikes report with eBikes from:
Tern, Faraday, ProdecoTech, Haibike, Magnum, Easy Motion, eProdigy, Biomega, Vintage, and Big Cat.
Orbea, IZIP, Tempo, OHM, A2B, COBI, Juiced Bikes, eJoe, Smartmotion, EZ Pedaler.
Riese & Muller, Benno, Raleigh, Renovo, Bikee, Oyama, Nomad
-Pete
P.S. Don't forget to join the Electric Bike Report community for updates from the electric bike world, plus ebike riding and maintenance tips!
Reader Interactions