Guide To Electric Recumbent Trikes [UPDATED]
For instance, some of them have weather protection, cargo & passenger capacity, full suspension, comfortable seats, lights & mirrors, etc.
Some of these e-recumbent trikes are designed for everyday commuting around town and some of them "amplify" your pedal power up to highway speeds!
The following is a guide to complete e-recumbent trikes, ideas on adding electric assist to a recumbent trike, and a look at the future of e-trikes.
If you are looking for upright trikes, here is a guide to those electric trikes and there are some heavy duty cargo trikes in this guide.
Complete Recumbent E-Trikes
Organic Transit ELF: The Organic Transit ELF is a partially enclosed commuter vehicle focused on being an around town car replacement.
Can go 20 mph, range is 20+ miles, it can carry 350 lbs, and the base price is $5,000.
It has a solar panel on the roof to aid in recharging the batteries when you are out and about.
Here is a video showing off what the Organic Transit ELF can do:
Hase Klimax: These e-trikes offer partial weather protection with the included fairing (can be removed). Currently Hase offers their Klimax 2K series e-trikes with the Shimano Steps mid drive and their Klimax speed trike (up to 45 km/h or 28 mph) with a front hub motor.
HP Velotechnik Scorpion FS 26 S-Pedelec: This is a full suspension speed pedelec (pedal assist only) that can go up to 45 km/h (28 mph) with a 500 watt rear hub motor.
RunAbout Cycles: They make custom electric recumbents and other types of custom e-bikes in Fort Collins Colorado.
ICE Trikes: is offering some of their recumbent trikes with the SunStar mid drive motor kit. It looks like they are only for sale in the U.K.
Como Trikes: These trikes feature an aluminum frame with suspension and other high quality components. They use the Falco E-Motors system.
High Speed Electric Recumbent Trikes
Outrider USA: These are high performance "adventure vehicles" designed for power and speed!
Checkout my report on test riding their top of the line Outrider USA 422 Alpha.
They offer 4 different models ranging in speed from 20 mph to 40+ mph, and ranges from 45 miles to 165 miles. The price range is $5,995 to $11,995.
Enjoy this video of the guys from Outrider USA riding near Vail Colorado:
Raht Racer: The Raht Racer is an enclosed electric trike that "amplifies" your pedal power to assist you up to highway speeds!
It is still in the prototype stages but they are working on making a production vehicle. Here is a video from their Kickstarter campaign.
Planet Rider: This e-trike is not available for sale right now because it is still in the prototype/development stage.
It will also offer highway speeds with the intent of replacing a car.
In this video, inventor David Calley, talks about his vision for the Planet Rider and shows off the prototype:
Add an Electric Bike Kit to a Trike
Adding an electric bike kit to a recumbent trike is also an option.
Here is my review of the Terra Trike Rambler with E-BikeKit.
Here is a Greenspeed trike with EcoSpeed kit and NuVinci N360 rear hub for example.
Add an Electric Trailer to a Trike
RideKick: This is a trailer that literally pushes your bike or trike! It can also carry some cargo.
RoadRACE Power Pod: This is not exactly an electric trailer but it functions in a similar way by pushing the bike.
A Look at the Future
The following are a few designs to give you a look at what the future may hold for e-trikes.
ECO FUV: From the designer "A bicycle as we know it needs to offer other benefits to becoming a complete and ideal urban vehicle. In the FUV project was intended to complete this idea, functional and technological additions to the bicycle a more viable alternatives to travel the city looking after the environment."
E-Trike: Concept e-trike from industrial designer, George Cooper. "My initial research showed that a new form of human powered vehicle could be designed to encourage more people to cycle. This would benefit the rider's health and financial situation while at the same time improving the environment by reducing pollution and the consumption of finite resources."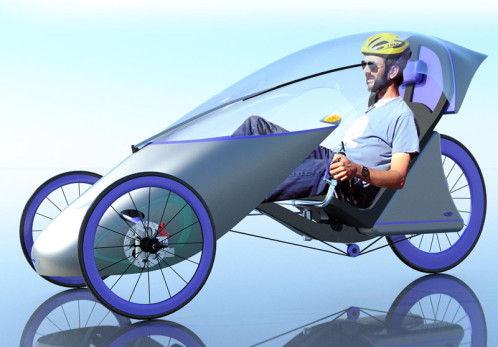 Toyota i-ROAD: Okay, there is no pedaling option for this electric trike but it is an interesting look at the future of e-mobility that is happening now.
Learn more about the Toyota i-ROAD here.
That's it for now. I will add more e-recumbent trikes as I come across them.
If you are looking for upright trikes, here is a guide to those electric trikes and there are some heavy duty cargo trikes in this guide.
If you know of a company that makes electric recumbent trikes, please leave info about them in the comments section below.
Thanks!
-Pete
P.S. Don't forget to join the Electric Bike Report community for updates from the electric bike world, plus ebike riding and maintenance tips!
Reader Interactions