E-Bike News: Benelli E-Bikes, Win a Pedego, Rubbee Friction Drive, & More! [VIDEOS]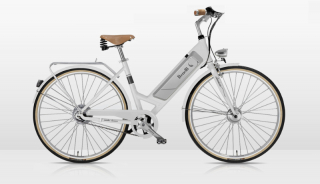 Benelli (a motorcycle company) has 
introduced 2 e-bike models
 of what they are calling the Benelli E-Classica.  They are front hub motor e-bikes with the battery in the downtube of the frame.
Enter to win one of 10 Pedego Electric Bikes being given away!  Contest ends September 12, 2013 and you must be at least 18 and a US citizen.
Here is a great article on the transportation trends in Europe: "Are Electric Bicycles Catching Cars As Europe's Favored Transport?"
Men's Fitness just published an article about e-bikes: "Why You Need an Electric Bike"
Wow!  Checkout the Kalkhoff Impulse Ergo electric bike that monitors your heart rate and shifts the gears automatically (NuVinci Harmony) to maintain a steady, sustained workout.  It is targeted to people who are recovering from a heart condition.
The Rubbee is a friction drive electric bike kit that can quickly be added or removed from a conventional bike.  Here is their KickStarter video:
And here is a link to their Kickstarter page.
Checkout this Guide To Electric Recumbent Trikes. Some of these pedal/electric trikes are offering car like features. Enjoy the videos!
Electric bikes will be a part of the Personal Transportation Vehicle (PTV) show happening in Louisville, Colorado on September 12, 2013.  The show is for the public and businesses.
I am currently visiting Bend, Oregon and here is an e-bike tour video to give you an idea of what it's like here:
Here is a link to shop in the video; Let it Ride.  Bend also has another electric bike shop: Bend Electric Bikes.
A rush hour race in Cambridge England; a car, a motorcycle, an electric bike, and a conventional bike.  Guess who won? 🙂
Here is an article about the distributor of Pedego electric bikes in Australia.
Checkout this cool story about Micah Toll who is helping people add electric assist to their current bikes.
Currie Technologies is showing and demoing the new Haibike e-mountain bikes, 2 new eFlow models, and 2 new IZIP electric bikes at this week's Dealer Camp.
Marty Schlesinger has joined Currie Technologies as their southwest territory manager of the IZIP Road Show.  Marty is the founder of Voltage Cycles.
Here is a trip report of electric bike touring in Croatia, Austria, and Italy's Dolomites.
Gary Kaye just reviewed the EVELO Aurora electric bike with a mid drive motor and NuVinci N360 continuously variable drivetrain.
P.S. Don't forget to join the Electric Bike Report community for updates from the electric bike world, plus ebike riding and maintenance tips!
Reader Interactions