Riese & Müller Nevo GX Rohloff 2019 Ride Report [VIDEO]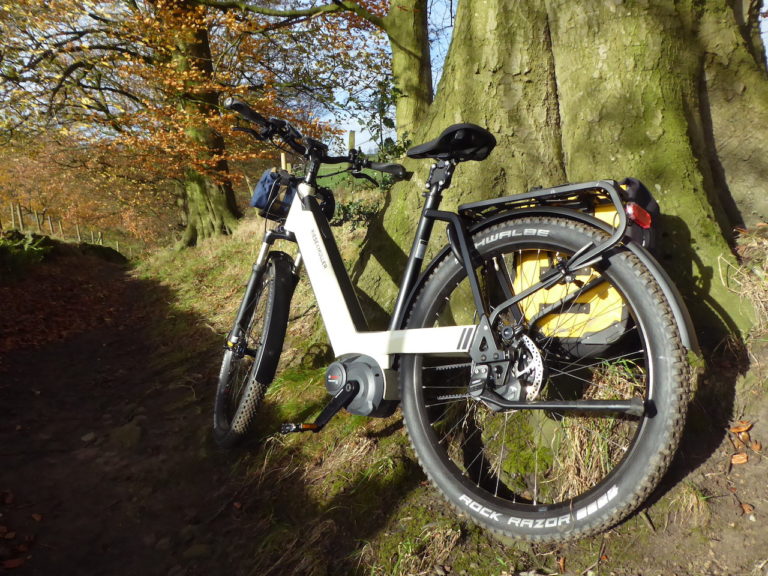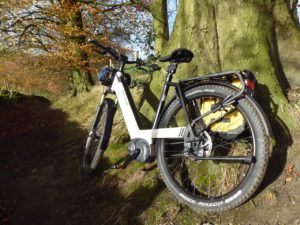 Electric Bike Report has already looked at several Riese & Müller models – from the Homage, New Charger, Delite and Packster ranges, all based around Riese & Müller's unique and practical yet funkily attractive frame designs.
We've also taken a close look at the previous Nevo model here and here.
The Nevo design has been updated for 2019 with an inframe battery as standard and the option of a second battery mounted on the down tube.
The GX Rohloff variant is new for 2019, giving an off-road twist to the previous range that was orientated towards riding on hard surfaces and the electronically shifting Rohloff hub gears also add further gearing options not previously available to the ever expanding Nevo family. This model is priced at US $7099 GB £5319.
The off-road facet is combined with the most powerful of the Bosch mid-drives, the Performance Line CX.
The practical and easy to use low step-thru frame remains, now combining it's excellent commuting, shopping and leisure riding credentials with off-road ability and low maintenance, evidenced by the Gates Carbon belt drive.
What to Expect from the Nevo GX Rohloff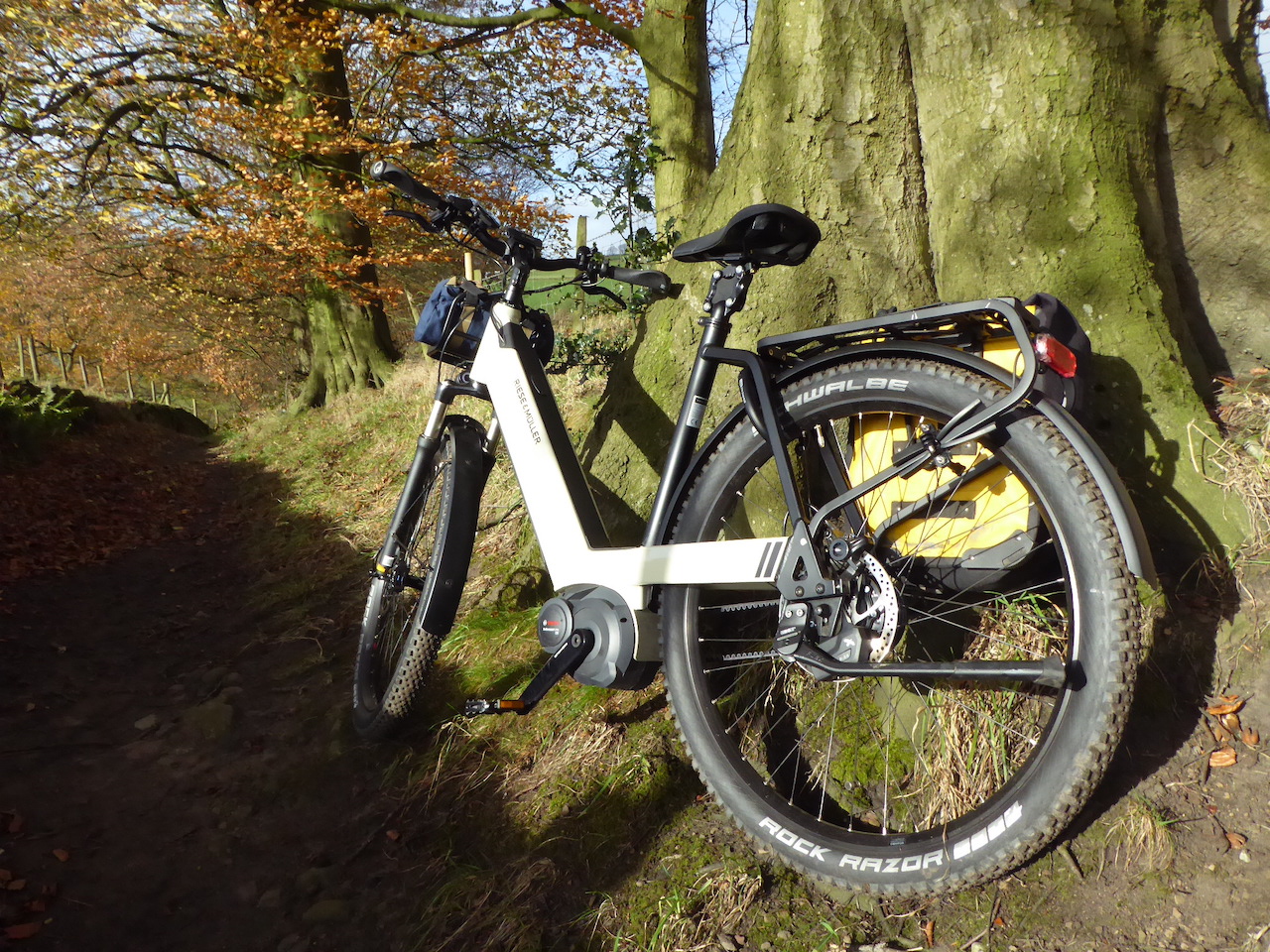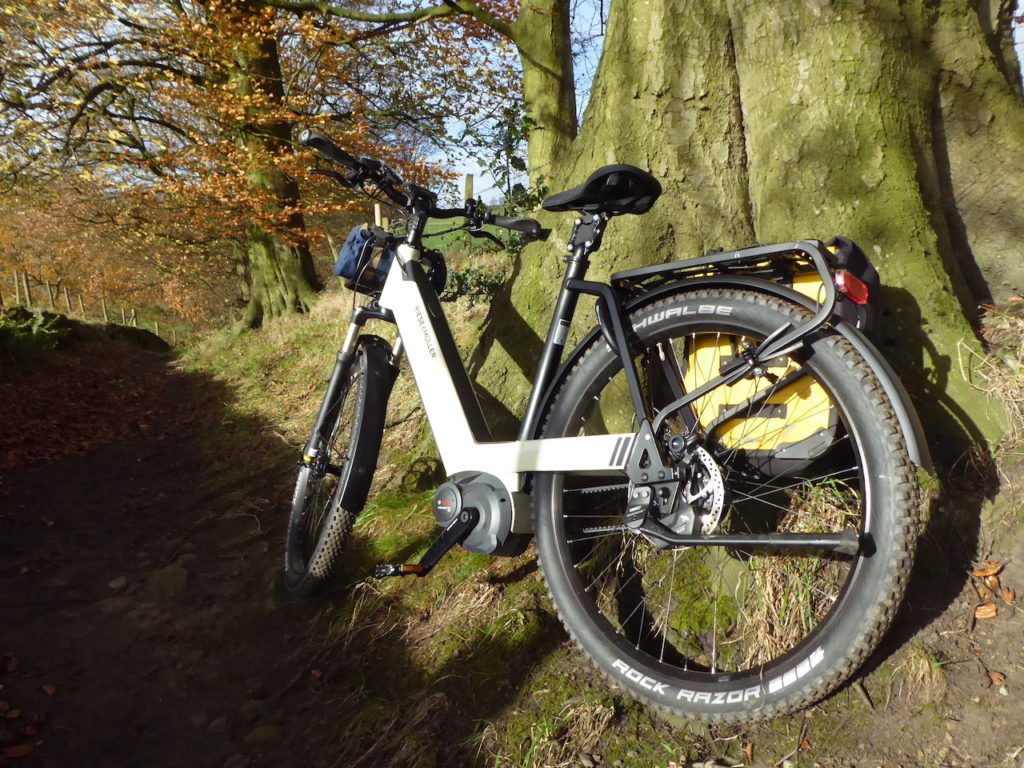 Here is a video overview to give you a closer look at the Nevo GX Rohloff:
The frame design is cross between a piece of attractive, modernist architecture with its solid, clean-lined aluminium construction and a totally practical piece of transport design.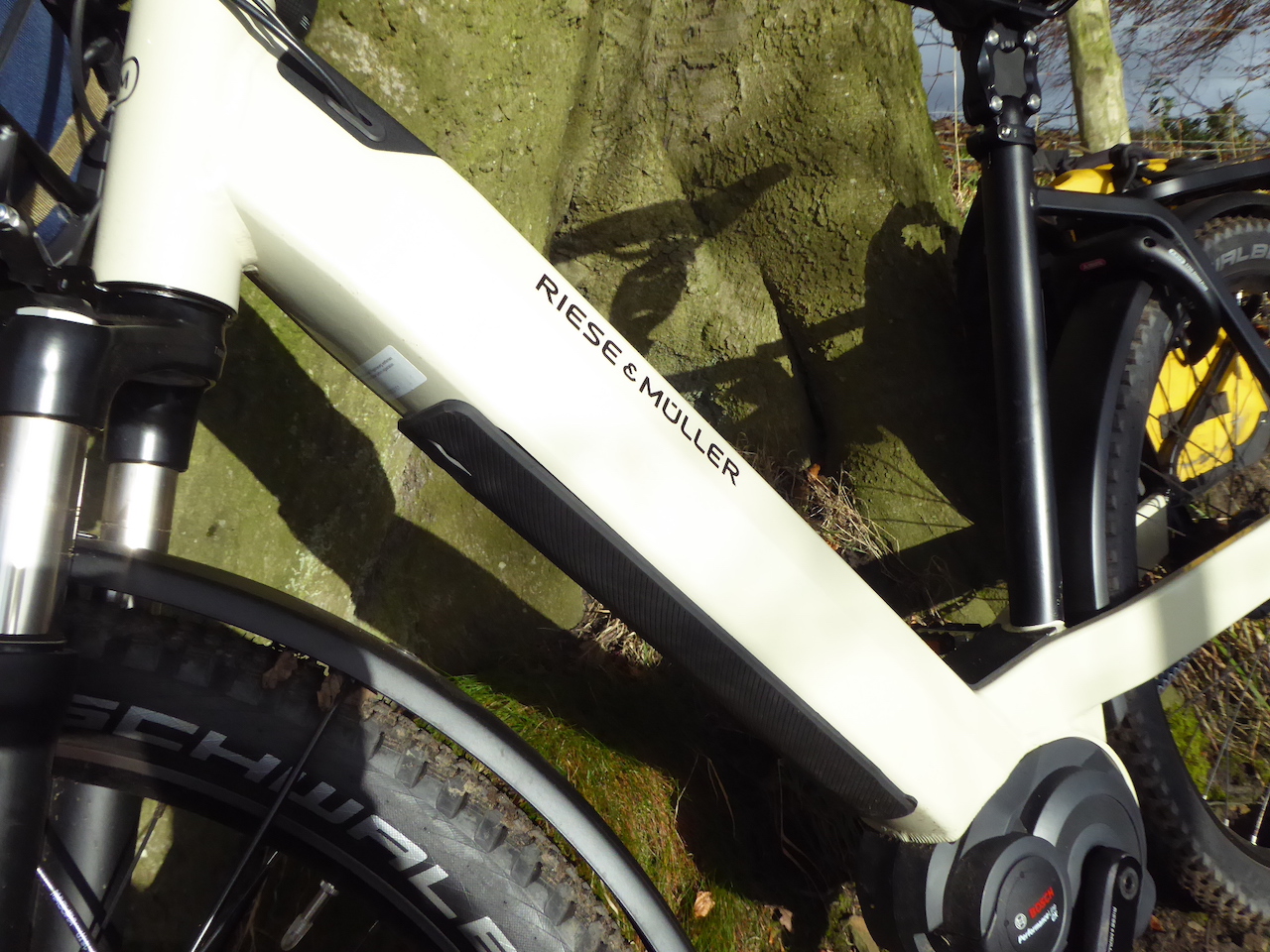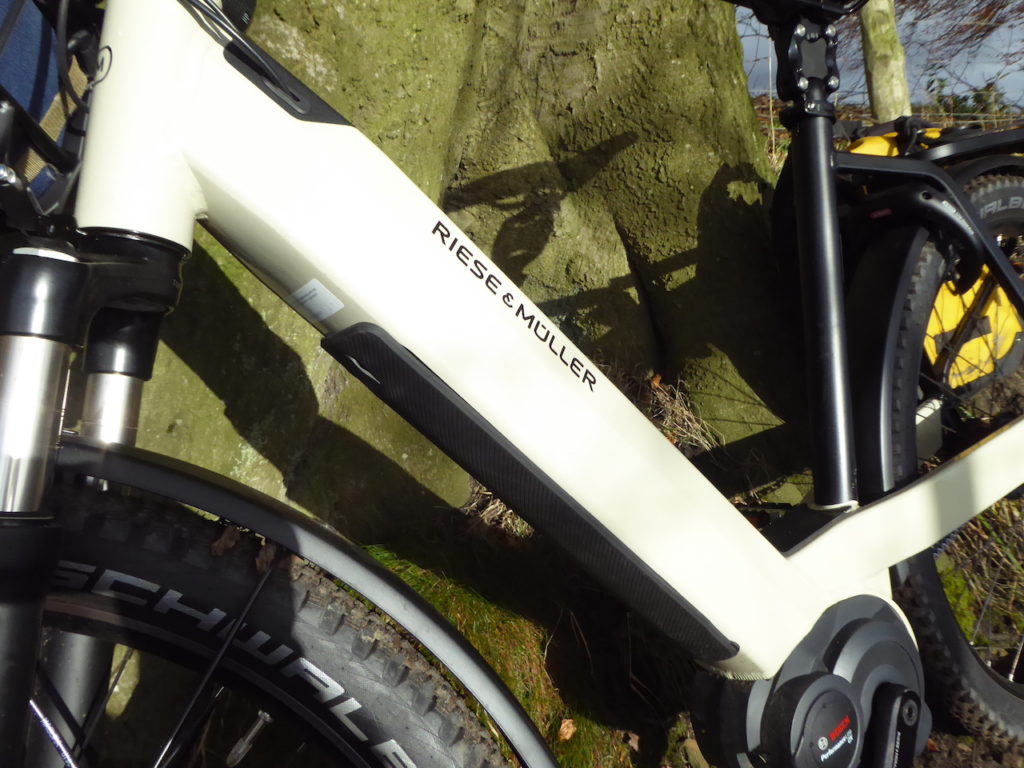 It looks hugely solid and should give riders real confidence whether on tarmac or heading onto the trails. Step-thru frames have traditionally been associated with traditional town bikes beloved of cycling nations like the Netherlands and used for everyday cycling trips for decades.
Riese and Muller are looking to take the step-thru frame to another level, retaining and even improving it's popular features like comfortable riding and ease of load carrying whilst giving you off-road capability and adding big doses of electric assist and modernist styling into the bargain.
There are big volume, aggressively-treaded Schwalbe Rock Razor tyres (ETRTO 60-584) whilst other off-road features include Cane-Creek seatpost suspension (reviewed here) and Suntour XCR32 shock units (air version) with 63mm of travel, all meaning this will be a bike just as capable of heading on off-road adventures as it will taking you around the city.
Do note though, the easy step thru frame also means a little less ground clearance than some other Riese and Muller frames where it's not necessary for the frame to sit so low – a few cm may not sound like much but if you are aiming for rather bumpier or rockier off-road riding but still want a step through frame the Homage GX Rohloff may be worth a look as it gives a little extra bottom bracket clearance and also has the benefit of full suspension and greater travel on the front suspension (though the step-thru is not quite as low on the Homage as it is on the Nevo).
Power comes courtesy of Bosch's most highly powered road legal motor, the Performance Line CX, which is a natural choice for off-road motors given it's ability to deliver high torque from a standing start and up steep gradients and its very low down weight helps stable handling.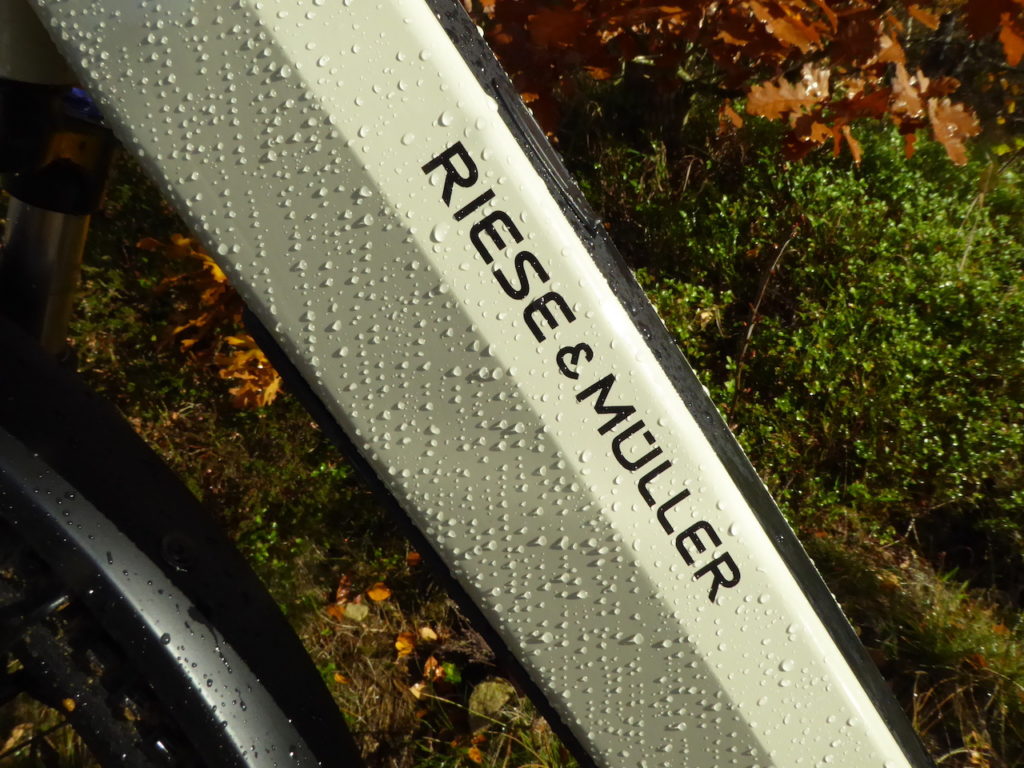 The inframe Bosch powertube 500Wh battery (size) also helps keep weight low and central and I found the double release mechanism shown in the video easy to operate (even with one hand after a bit of practice).
Vitally, it means you can't release the key lock and have the battery drop out onto the floor. There is also the option of adding a second battery to the top of the frame for an impressive 1000Wh capacity (few e-bikes out there can match that).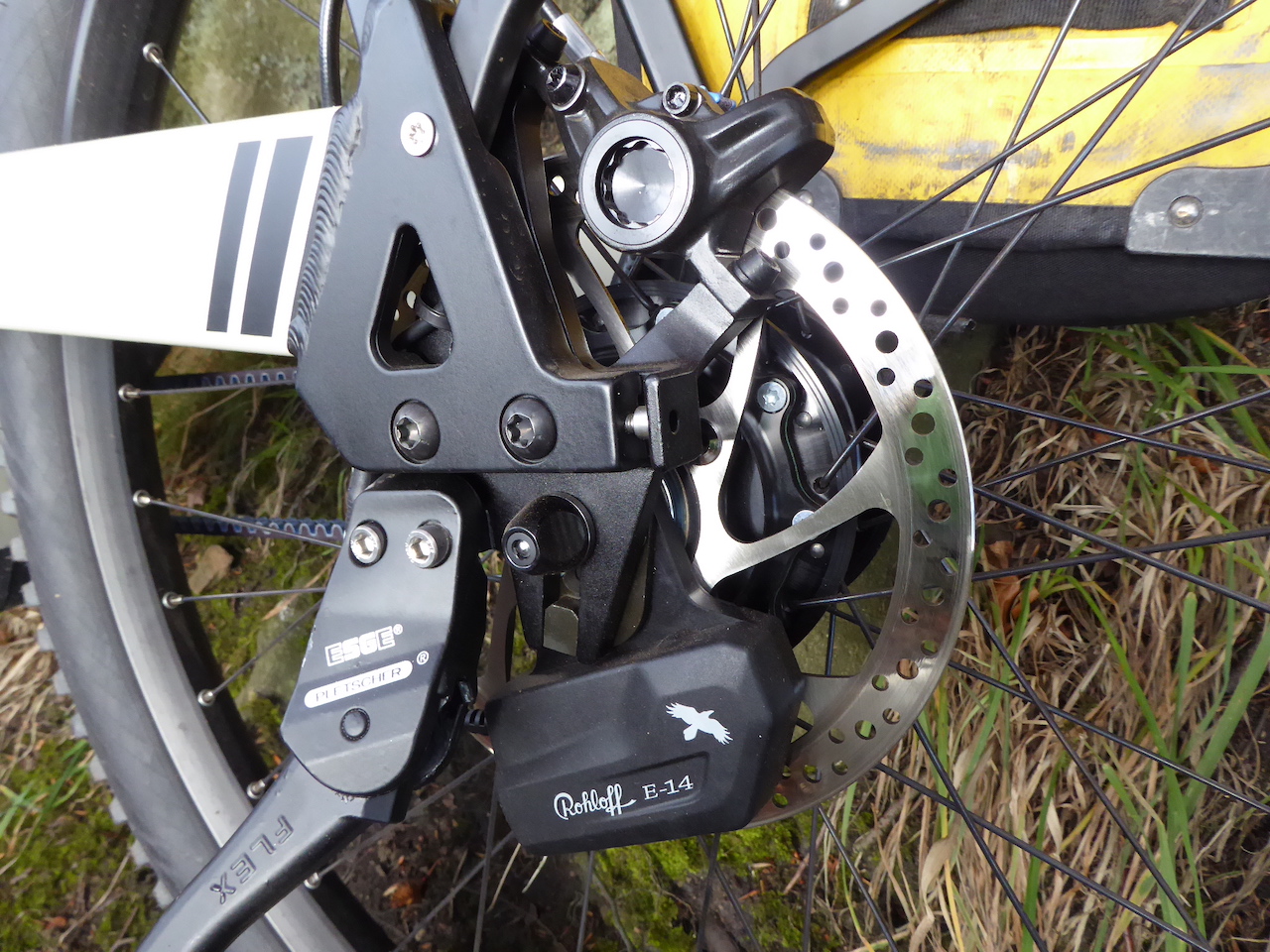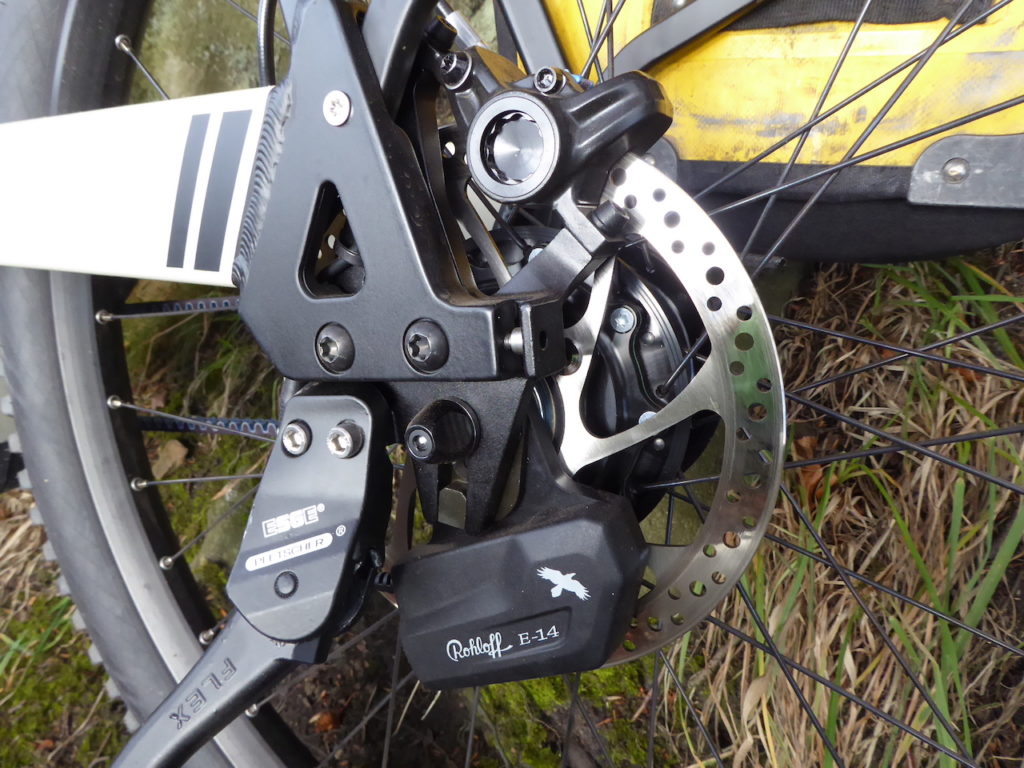 The Rohloff E-14 electronically shifting 14 speed gear hub again has best-in-class stats; it boasts a 526% gear range and a change speed of around a fifth of a second.
Multi-shift mode simultaneously shifts 3 gears in a single sequence and auto-downshift function means you are always in the correct gear to start riding again once you have stopped. The Gates Carbon belt drive is ideal on this low-maintenance set up too.
The front suspension forks in the form of Suntour XCR32 Air forks are a good quality choice for moderate off-road use, though the 63mm of travel is not as much as that found on the full-suspension Homage, a model we mention again later in the article.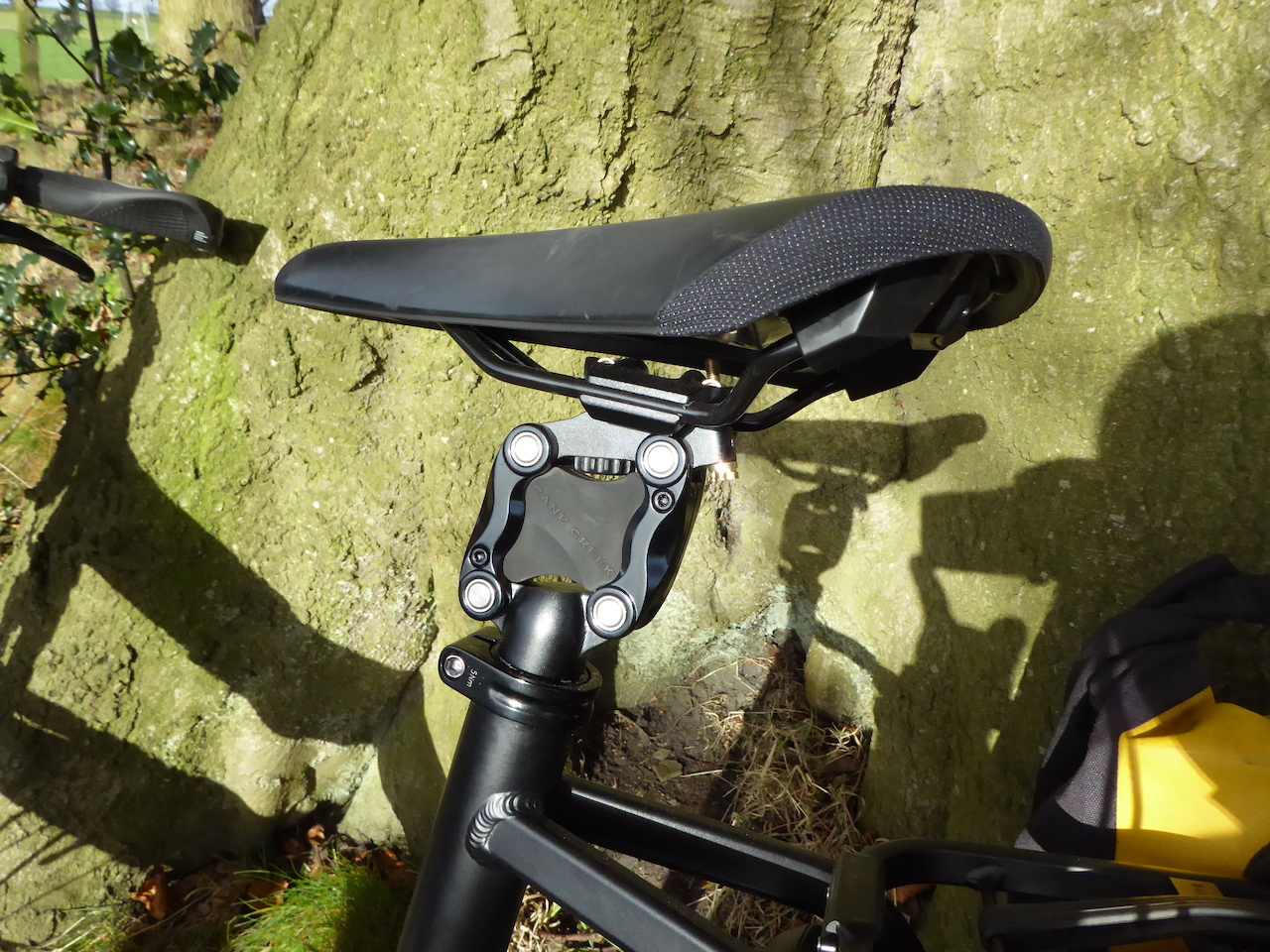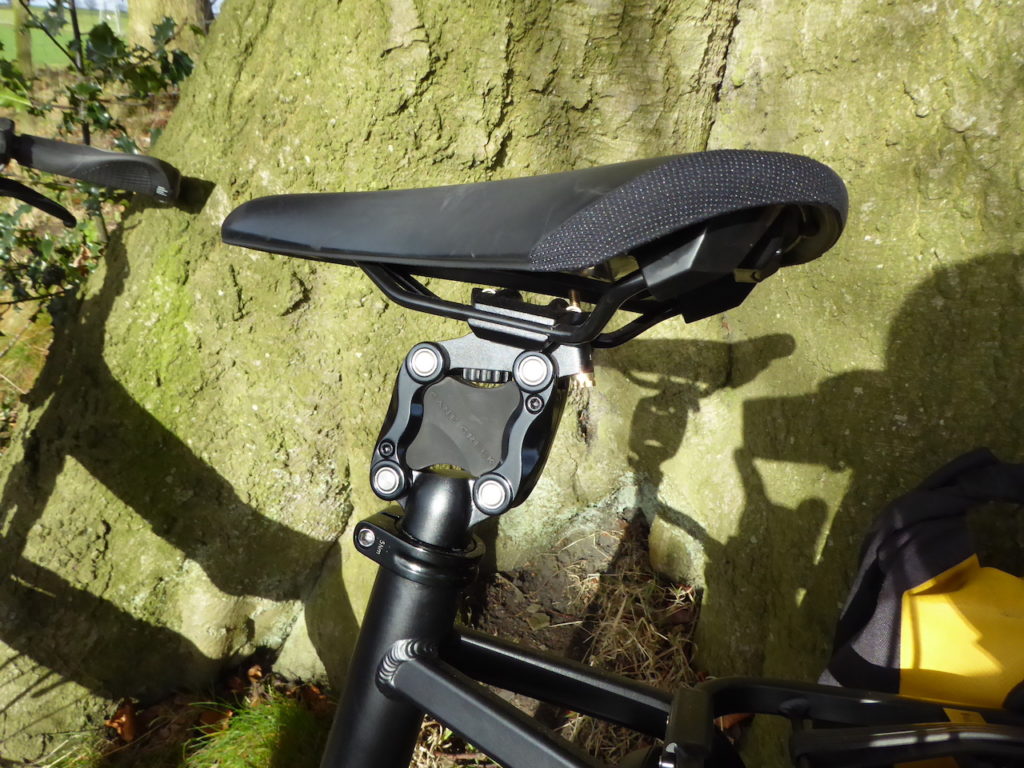 The Cane Creek suspension post provides 33mm of suspension towards the rear of the bike; again not as much as a full rear shock unit but a meaningful and very welcome amount on such a stiff, strong frame.
The Schwalbe Rock Razor large volume off-road tyres 27.5" x 2.35" (60-584) are also designed to give excellent grip and cushioning in off-road conditions.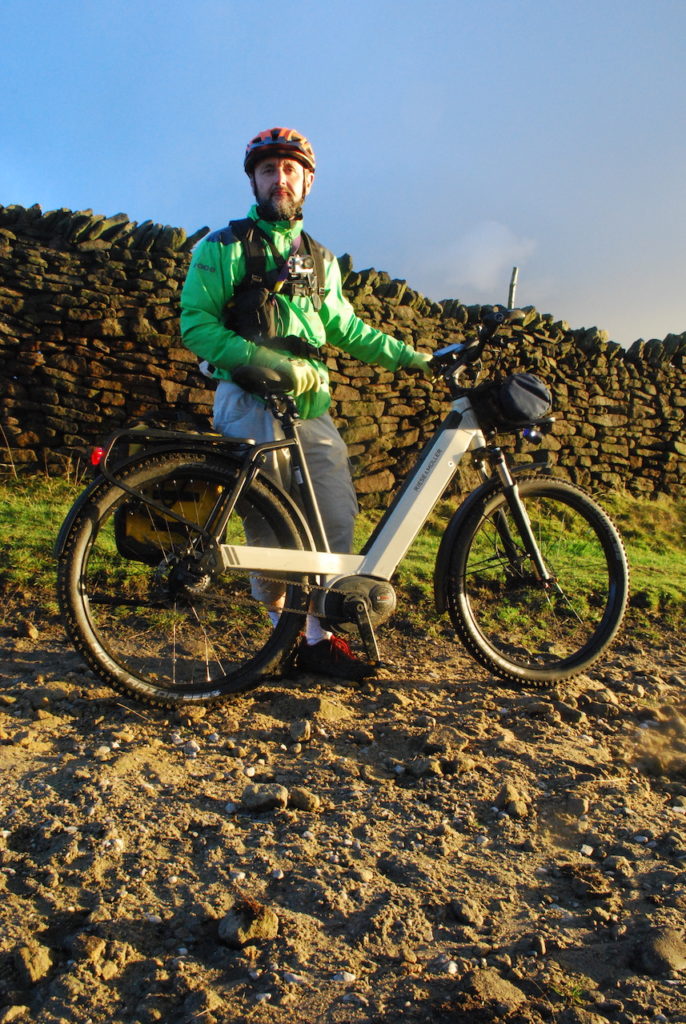 There's plenty of carrying capacity as standard on the Nevo in the form of a 20kg rated rear rack and a 3 kg rated front rack. The latter is attached to the handlebar stem, so it won't take a lot of weight without affecting steering, but it's still a very welcome addition.
Front LED lighting is provided Lumotec IQ-X E which is programmed to come on as soon as the bike is started up and also has a more powerful, automatic night time mode.
The accessories package is completed by good quality SKS fenders and a Pletscher kickstand.
The Ride
A couple of days wet autumnal riding sees The Nevo take on a variety of tracks and trails in the Pennines to the north-east of Manchester.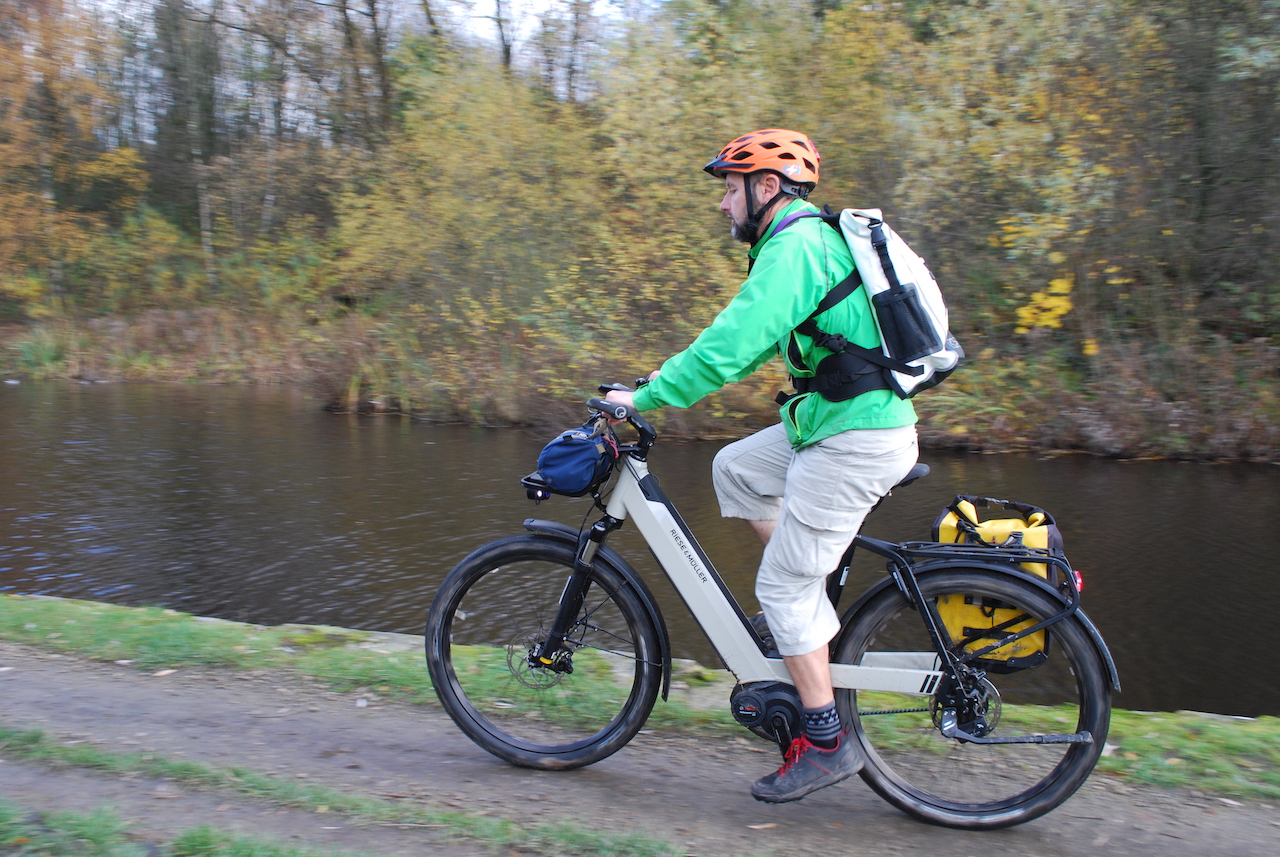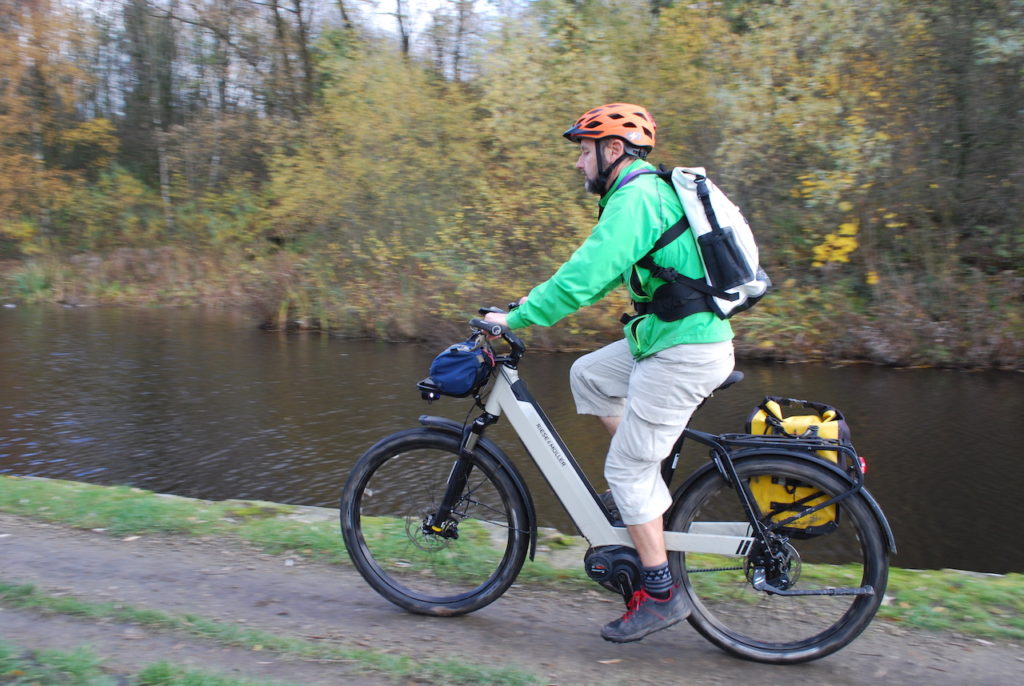 One of the first things you notice is how much easier the bike is for hopping on and off compared to many other designs; quite welcome on some of the moorland tracks I cover which need the rider to dismount fairly frequently to negotiate farm gates and bridleway gates (the kickstand helps greatly here too).
Letting the tyre pressure down helps to glide over occasional patches of deep autumn mud and the rockier sections where it helps the bike stop skipping off loose rocks underwheel and the aggressive MTB tread of the Rock Razor tyres no doubt helps here too.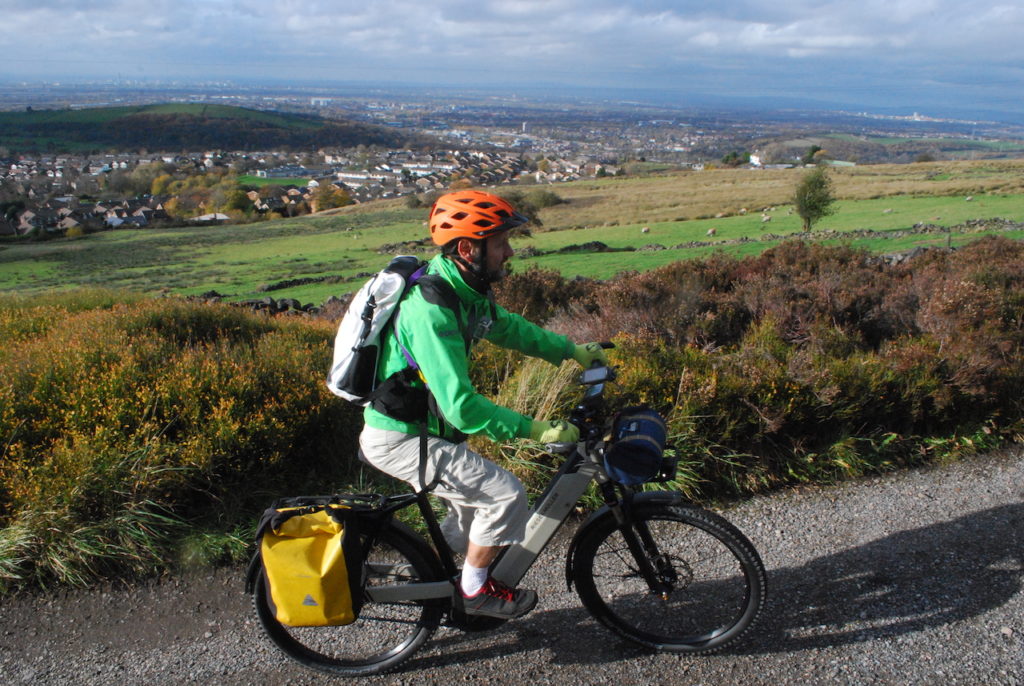 Mirroring my previous experience of the Bosch Performance Line CX / Rohloff E14 combination, there's plenty of torque-laden power available in the lower gears to get up pretty steep gradients in even the lower power settings and the mid-power settings of tour and sport are used more for getting up speed to roll over obstacles more easily than because of any actual lack of power at lower speeds in the lowest Eco setting.
As with my previous experience of this powerful motor the highest Turbo setting is not really used (well, just once in fact when I am riding back home late at night and tired and I do so just to squeeze a couple of extra mph out of the bike up hills).
On tarmac – like all other Riese and Muller e-bikes I have tried – it feels incredibly stable at speed and especially downhill, the strength, weight and design all combining to give you great confidence to corner as speed (though note chunky knobblies like these don't turn as easily or as smoothly into the corners on tarmac as slicks do).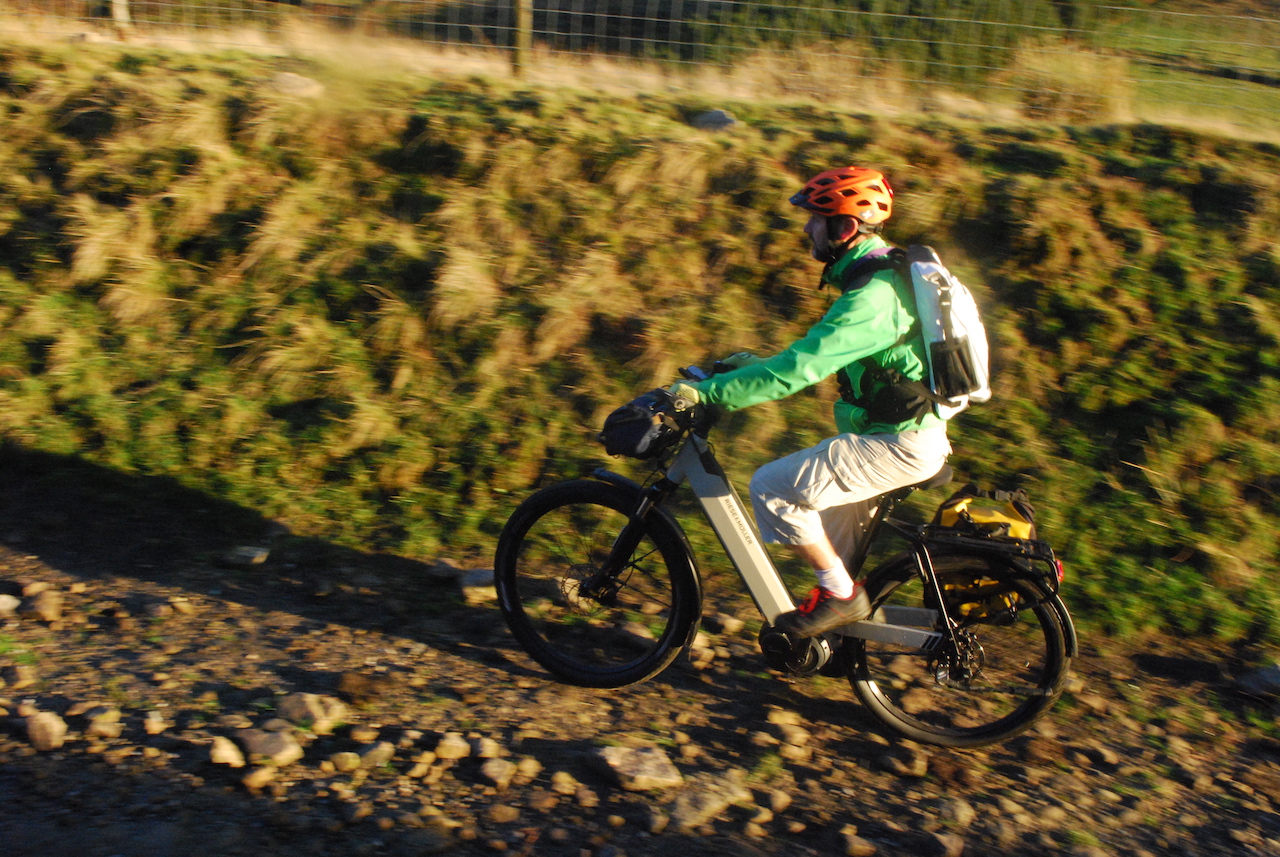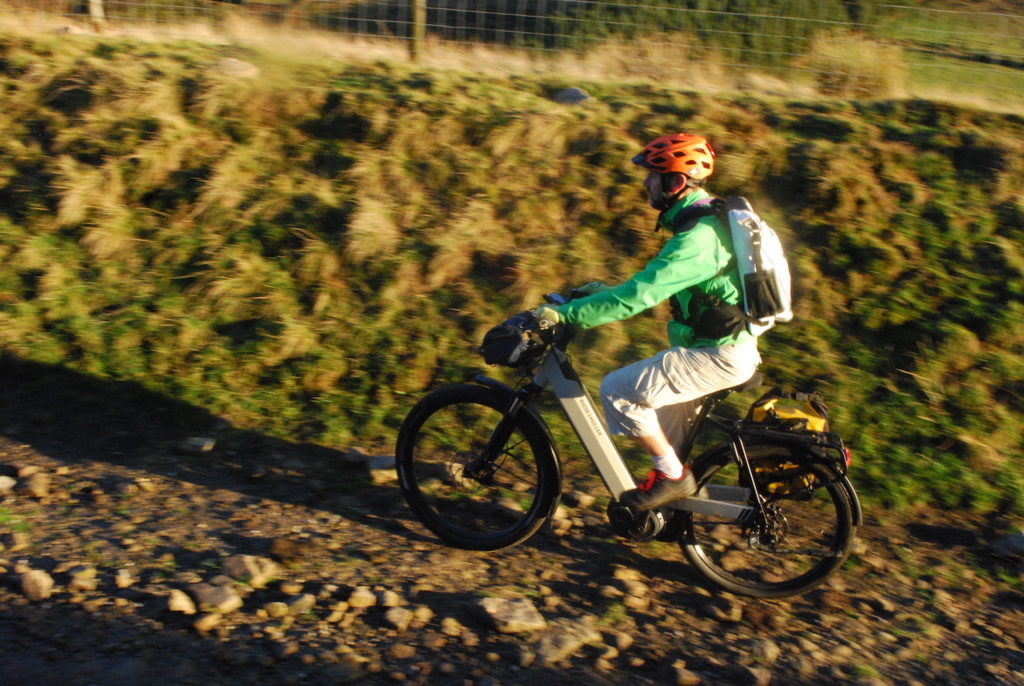 Suspension is adequate, even on the rougher sections of earth and mud tracks, though you need to pay attention over any raised rock steps because the motor is hung relatively low on the bike on this particular design and you risk scraping the bottom of the motor casing or pedals – note the Other Options section below about other R&M bikes with more off road ability.
My ride sometimes drops down to the Tame valley and heads along the lovely old surroundings of the Huddersfield Narrow Canal where the LED lighting comes into its own, switching from daytime running lights to night time through the long and very dark Scout Tunnel.
There are large and very steep horse steps up some flights of locks where the powerful walk assist feature comes into its own.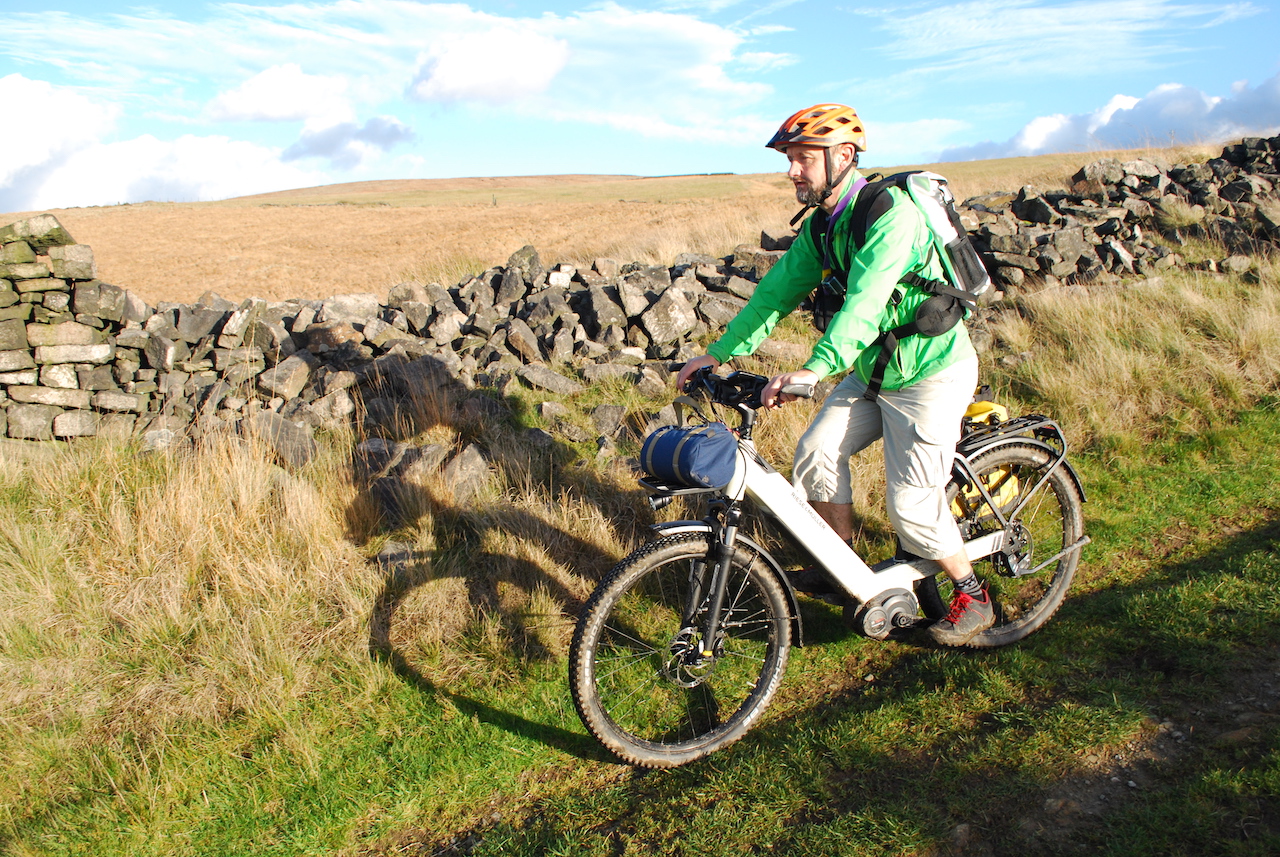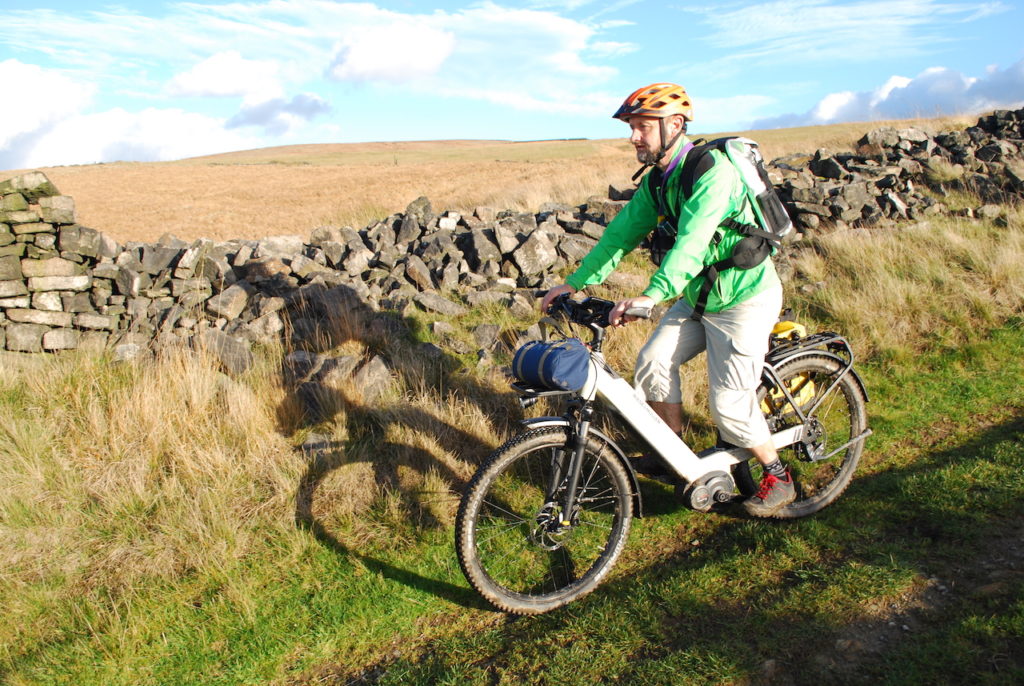 'Fuel economy' is impressive, especially considering that this is a belt drive and hub gear setup which is relatively inefficient (and the hub heavy) compared to derailleur gears.
I ride tracks and trails covering around 33 miles and still with a battery capacity bar present at the end of the day.
Although I'm often using the lower power settings to conserve battery capacity it's very stop start riding as I am constantly taking photos and checking some route details as I route survey along the way. 40 miles over hilly terrain with plenty of earth and stone tracks looks entirely possible for my 68kg frame.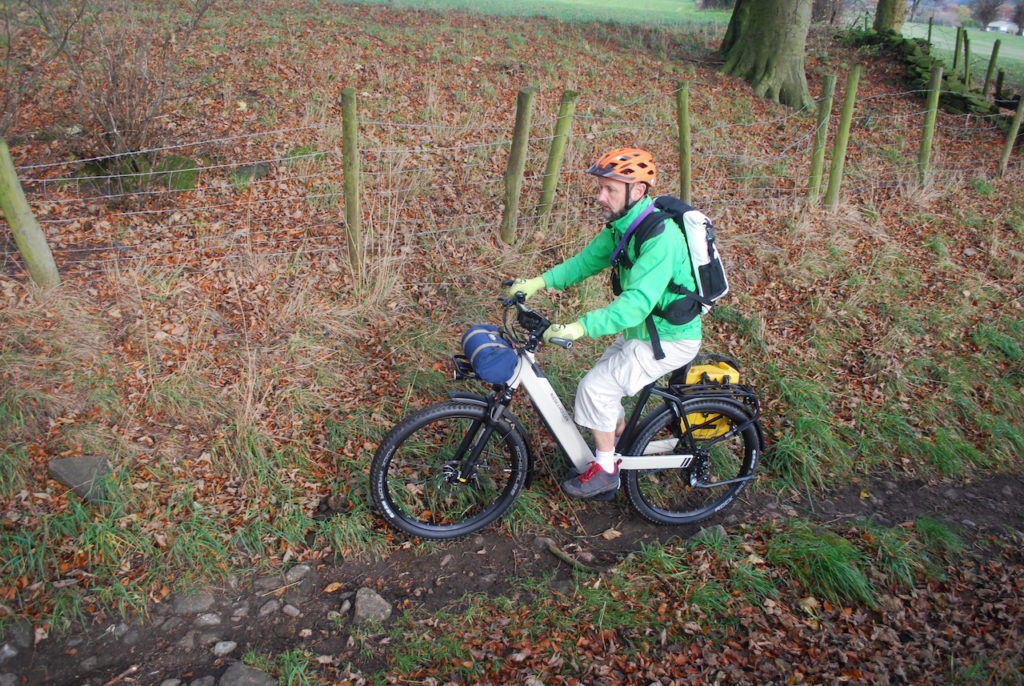 Off-roading is my hobby as well as being where I end up on a lot of test bikes, but the Nevo is incredibly useful in that it doubles as an extremely practical bike around town, where the low step-through frame comes into its own if you are making regular stops.
Post-muddy ride the bike is a cinch to clean. Gently sloshing with soapy water easily removes most mud.
Unlike derailleur and chain models where there are lots of crevices for the mud to get firmly stuck in, the Rohloff hub gear and belt drive set up means a brush and cloth will remove 90% of the dirt.
If you really want to do a thorough job then it's a cinch to remove the wheels. The rear is held in place by a conventional quick release skewer (you must remember to unplug the electronic connector first) whilst the front is a quick release thru-axle.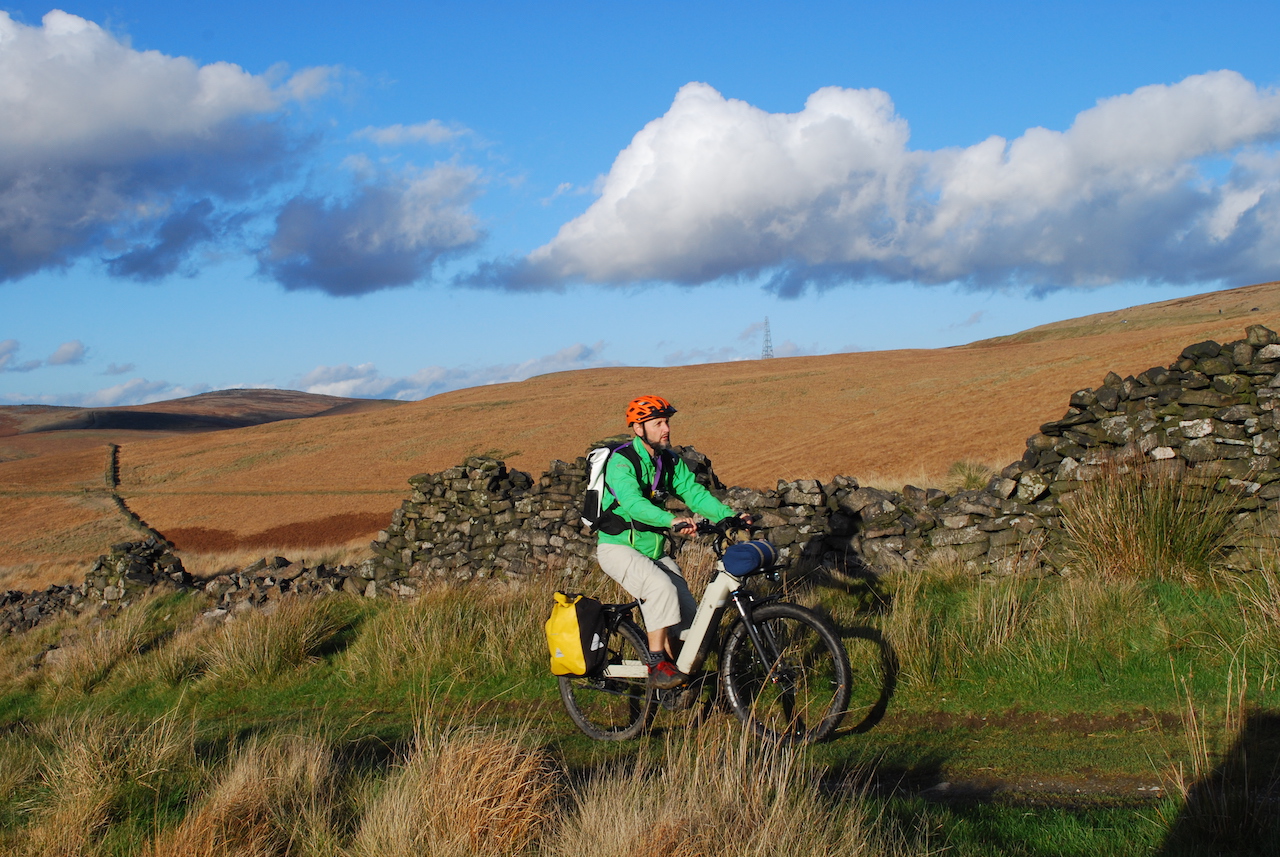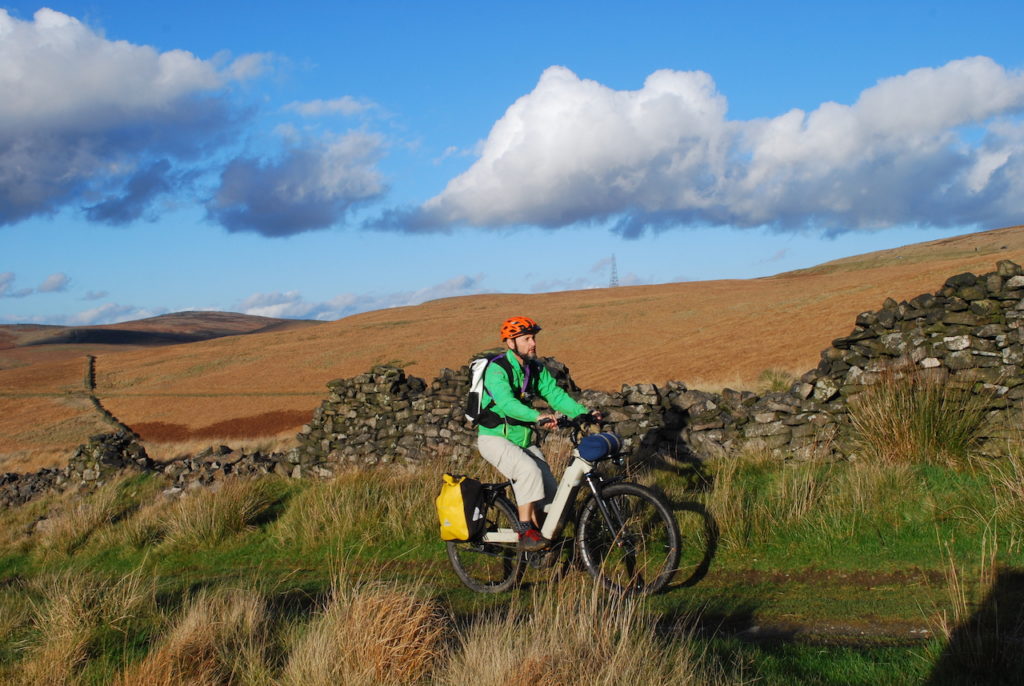 Other Options
I tried out the Euro spec model, with a pedelec assist limit of 15.5mph and a nominal power rating on the motor of 250W but the Nevo GX Rohloff is also available in the US in a class 1 version, specced at 750W and with a 20mph assist limit.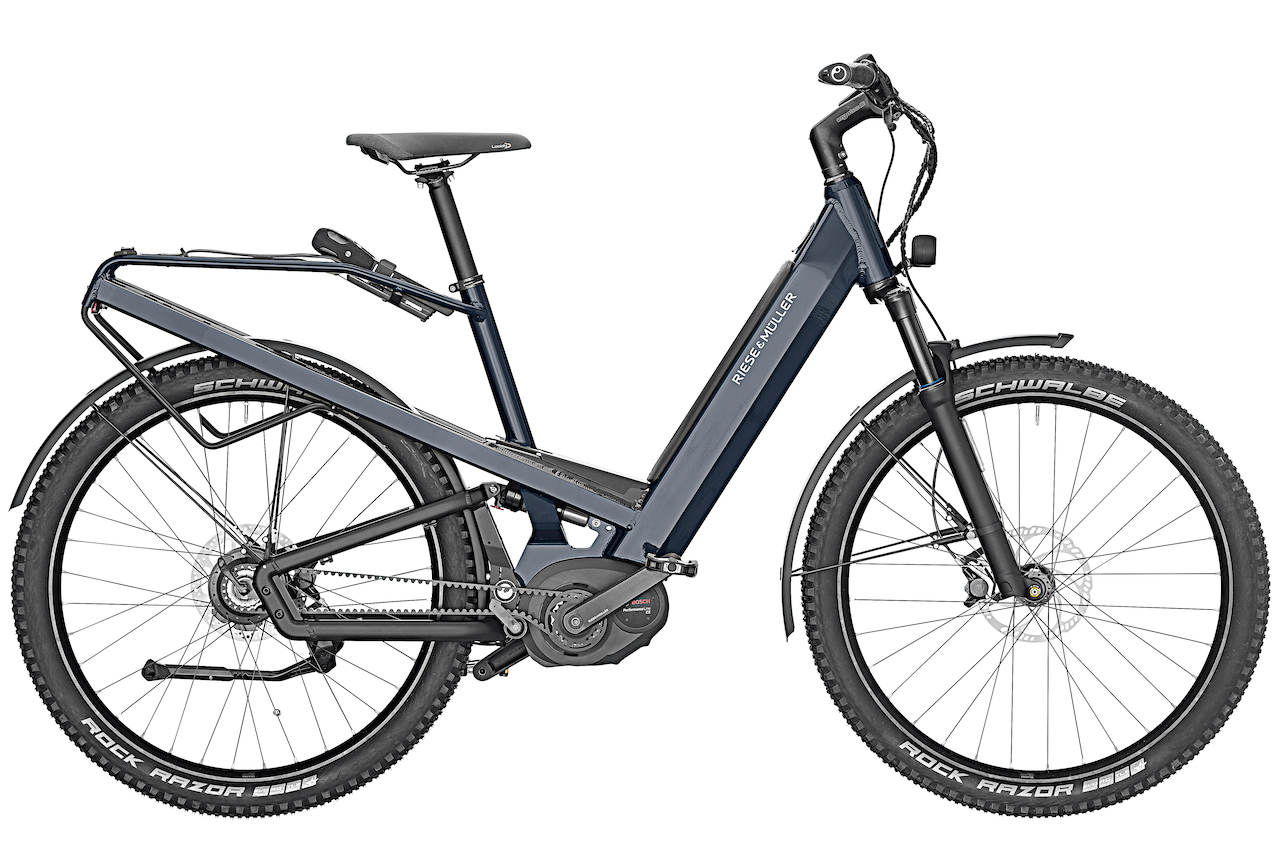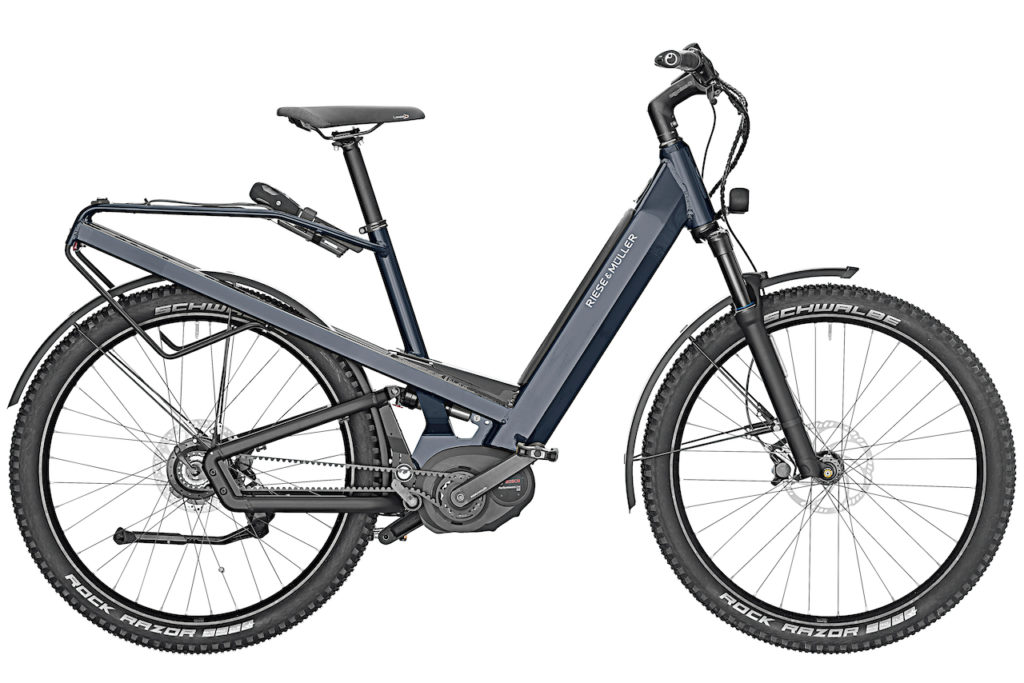 The nearest R&M model to the Nevo but with full-suspension is probably the Homage GX Rohloff which offers more off-road ability (but at about 1kg heavier, comparing both Rohloff models).
If you want to go even more off-road check out the Delite GX Rohloff which offers full-suspension and more travel yet again and is the most off-road offering from R&M that's equipped with the low maintenance Rohloff E14 hub and Gates belt drive.
Of course, with the non-Nevo options you don't get the advantages of the super-low step-thru frame, so if you want a superb quality e-bike that is one of the easiest to use around town but will also let you explore off the beaten track and off-road then the Nevo GX Rohloff is certainly a fine choice.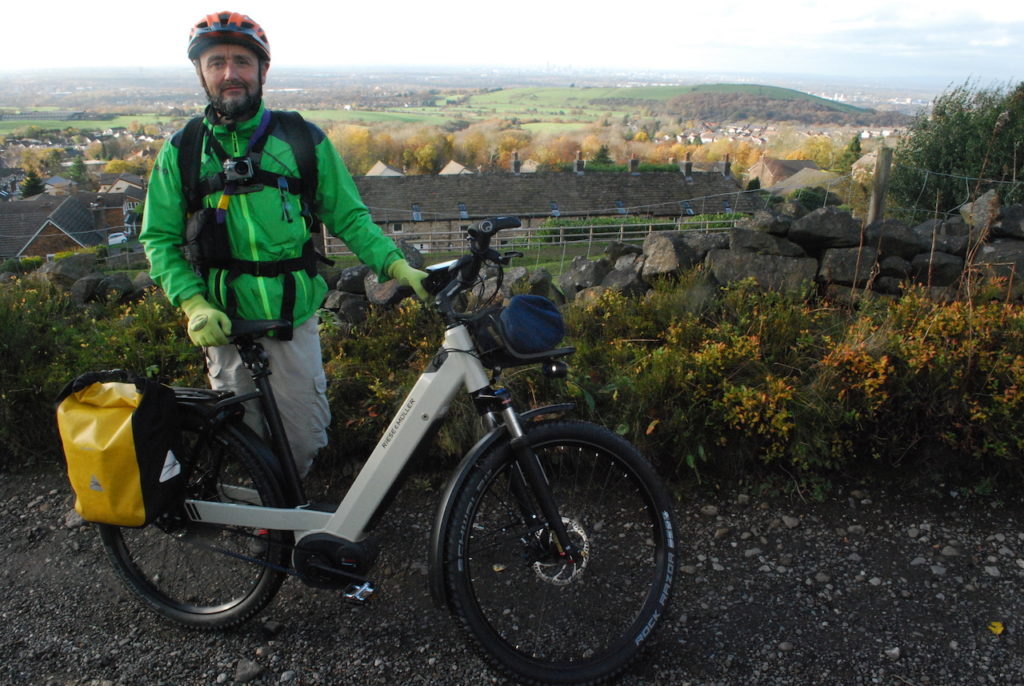 Conclusion
The Riese & Muller Nevo GX Rohloff is one of the most versatile and high quality e-bikes out there. At home on trails but also mega practical for going around town, doing your chores and picking up shopping or could take it on tour esp if you opt for the double battery option. There's also a high speed 28mph version.
Pricing
GB£ 5319 (GX Touring with similar setup but derailleur gears = 4009)
US$ 7099 (GX Touring with similar setup but derailleur gears = US$5469)
Clearly top end in terms of price but build quality and accessory equipment second to none.
Riese & Muller Nevo GX Rohloff Specifications
Frame sizes: 47cm & 56cm
Bike weight without battery: 25.5kg
Battery weight: 3.0kg
Bike weight with battery: 28.5kg
Charger weight (4amp version): 0.75kg (there is also a faster charging 6amp version).
Fork: Suntour XCR32 Air
Motor: Bosch Performance Line CX
Display: Intuiva (upgradeable to COBI smartphone display)
Battery: 500Wh with 1000Wh dual battery option. Recharge in <2 hours for a 50% charge and 4.5 hours for a full charge for each battery
Shifting: Rohloff E-14 hub gears with electronic shifting
Brakes: Magura MT4 hydraulic disc brakes
Tires: 27.5'' Schwalbe Rock Razor
Seatpost: Cane Creek Thudbuster ST suspension seatpost
Lighting: Busch & Müller Lumotec IQ-X E daylight running with automatic sensing for night time conditions, triggering more powerful beam
Full list of UK dealers here
Full list of US dealers here
More information on the Nevo GX.
Stay tuned for more e-bike news and reviews and keep on riding.
-Richard
Testing & Review Note: Each company pays a fee for testing and review on Electric Bike Report because of the considerable amount of time that it takes to provide an in-depth review of each eBike. The testing and review on Electric Bike Report is focused on providing you with a detailed "virtual" look at each eBike to help you determine if it is the eBike for you or not.
P.S. Don't forget to join the Electric Bike Report community for updates from the electric bike world, plus ebike riding and maintenance tips!
Reader Interactions