Riese & Müller Homage GT Nuvinci Full Suspension Electric Bike Ride Report [VIDEO]
Full suspension e-bike at home in the city or on trails.
The Riese & Müller Homage GT Nuvinci looks highly futuristic, but in fact it is a new interpretation of a classic Riese & Muller design called the Avenue.
Alongside R&M's Culture and the Delite it is part of their range of e-bikes combining features of city bikes such as a comfortable upright riding position, step-thru frame and slick tyres with elements of mountain bike technology, most notably a fully-suspended frame.
All this results in a range billed as 'do anything' bikes. These bikes are iconic frame designs in Germany where the company is based and are synonymous with the innovative and stylish engineering associated with the founders Heiko Müller and Markus Riese.
What to Expect from the Homage GT Nuvinci
To get acquainted with the Riese & Müller Homage GT Nuvinci, checkout this video:
This is a powerful e-bike – at its heart is a top of the line crank motor, Bosch's Performance Line CX.
Being a crank motor it works by amplifying your pedal effort and the level of 'boost' applied is determined by the power setting you have selected using the control buttons on the handlebar control (conveniently located next to your left thumb so you don't even have to take a hand off the bars to change power up and down the power scale).
The lowest level of assist, the so-called Eco setting, tops up your pedal power by 50% of the effort you are putting in, whilst the highest Turbo setting provides 300% extra power, allowing you to zoom up very steep hills as if you were on the flat.
With 75 Nm (Newton metres) of torque deliverable from the motor quick acceleration of steep hills, even from a standing start is no problem.
It comes in 250W / 15.5mph (Euro spec) and 350W / 20mph (US spec) variants and a 45kmh speed pedelec version (legality of the latter depends on what country you ride it in and on being able to obtain the correct government paperwork and insurance etc).
The frame is superchunky and superstiff and added to the high quality front and rear suspension and wide Schwalbe mountain bike size (27.5 x 2.4 inches) Super Moto-X tyres, gives an incredibly comfortable, plush feeling ride.
Nuvinci hub gear shifting technology is used on this model. This clever technology delivers continuously variable gear changing; just twist the grip shifter (whilst not pedalling) and seamlessly move up and down the gear range with no steps. See the video for a more detailed explanation.
11 speed derailleur and Rohloff hub gear options are also available.
There are two frame sizes 49cm and 58cm but with plenty of vertical adjustment on the saddle and a small amount of fore and aft adjustment on the handlebars due to their raised profile.
All this means you should be able to achieve a very comfortable seating position. My test model was 48cm and at 5'8" I was able to comfortably fit on – it would certainly take a smaller rider quite easily (R&M say down to 5'5").
The Ride
So how well does the Homage live up to its original design brief of being the do-it-all bike? I took it out on local trails, including a fairly tough ride involving Pennine bridleways waterlogged from a full winter's rain and snow – more natural mountain bike territory you might think. The ride was luxurious and comfortable.
The tracks I rode down were, in the main, old packhorse ways, and so even though there was mud on top, the firm base meant the slick tyres were able to get some grip.
Running them around 30psi (the minimum rating) meant they could grip on many softer surfaces and, even on very muddy sections, there was usually stone underneath for them to bite into once they had cut through the mud.
The full suspension (adjusted for the correct amount of 'sag' for my body weight with a shock pump before the ride) gave a comfortable even plush feeling ride so I felt I was 'luxury' mountain biking!
Even smaller rock steps were no problem to power up or drop off. Of course it won't handle in the same quick and nimble way that a lighter e-MTB might, but, if are not a 'sports' rider cum adrenalin junkie, many of the R&M e-bikes are great for off-road riding.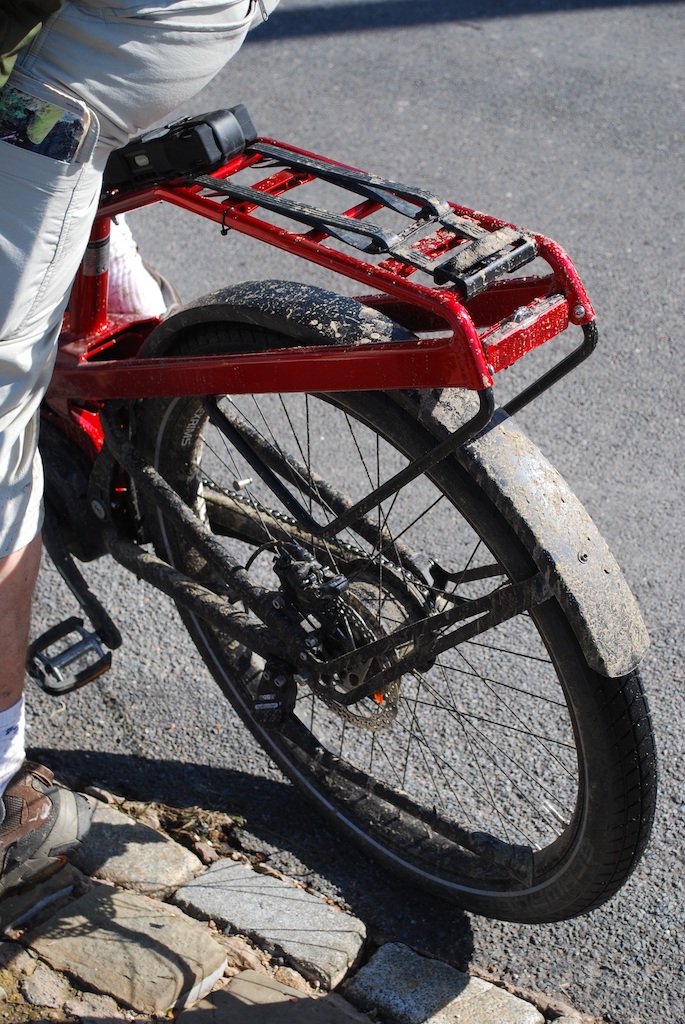 The Homage packs a capacious rear rack, mudguards, very powerful LED lighting, fenders, kickstand and frame mounted lock which very few e-MTBs do, making super practical for day to day use as well as being very trail-capable.
Changing gear with the Nuvinci system is a cinch and all you have remember to do is stop pedalling before you twist the grip to the desired position. It offers a wide 380% gear range for steep hill climbing and speeding downhill.
A combination of the comfortable riding position, wide tyres, full suspension and strong, weighty frame design mean it feels incredibly stable on fast descents.
The level of power is easily controllable using two large, easy-to-find buttons adjacent to your left handlebar grip, so it was easy to toggle to power to get up just about any slope on the ride with as much or as little exercise as I wanted.
Range is perhaps the only disappointing aspect of this kind of bike, but hardly surprising as these are built for super strength and reliability, not lightness or efficiency.
I estimated a range of around 20-25 miles over off-road Pennine terrain around Hebden Bridge, carrying my 67kg frame, (actually, if you know how tortuous some of the gradients are in this mountain biking mecca of an area, perhaps 20-25 miles actually seems reasonable on such a solidly constructed machine…).
On a second range test over similar terrain but with a bit more tarmac mixed in it managed 32.5 miles and the range estimator on the display proved pretty accurate once I was a few miles into the route and it had chance to adjust itself to the terrain.
Of course it's always possible to buy an extra battery (or two even, if you have very deep pockets) to extend your range as much as required. This was a little less than the figure given by Bosch's own Range Calculator, which still proved accurate within a few miles, despite the fact you can't factor in the weight of the bike itself or the fact it has a less efficient Nuvinci hub.
The Homage would make a great touring e-bike; it would take plenty of load, is comfortable for long hours in the saddle and tackles just about any surface bar real hardcore mountain biking tacks.
Naturally, the slicks are also perfectly capable on tarmac. Add to that fact the comfortable riding position, super-powerful LED lighting (powered from the main battery), high quality mudguards, ABUS Bordo folding lock and kickstand and you really do have a fine do-it-all e-bike.
If you want to e-bike primarily off-road there's always the option of changing the slicks to mtb tyres – there is a wide choice available at this 27.5" size.
Other R&M Variants and Models
It's also worth noting that, in off-road terms, R&M e-bikes with a GT in the name like this are rated for 'light' off-road use only, though as I say I found it pretty capable on rocky and muddy packhorse trails.
The GT actually stands for Gran Turismo. Models rated GX will have very slightly narrower tyres but with an off-road tread, whilst models with 'Mountain' in the title have wider tyres and a knobblies, as you might expect.
Those rated GH are super strong, with a gross weight capacity of 160kg. So there is a huge range to suit just about any kind of riding.
Frame: Full suspension aluminium frame.
Front Suspension: Suntour Aion air suspension fork upgradeable to Foxfloat 34 Performance, both 100mm travel
Rear Suspension: X-Fusion 02 upgradeable to Fox Float DPS Performance Remote, both 105mm travel
Motor: Bosch Performance Line CX
Display: Intuiva (upgradeable to Nyon)
Battery: Bosch PowerPack 500. 36V 13.4ah 500Wh. Recharge time around 2 hours for a 50% charge and 4.5 hours for a full charge
Tires: 27.5'' Schwalbe Super Moto-X 62-584 Reflex
Brakes: Shimano Deore Hydraulic Disc Brakes
Shifting: Nuvinci N380SE continuously variable hub gear
Lighting: Supernova E3 E-Bike / Busch & Müller Toplight Mini
Weight: Total weight = 64.8 pounds (29.4kg). Battery weight = 5.7 pounds (2.6kg). Weight of bike w/o battery = 59.1 pounds (26.8kg)
Price: $6,289 USD or £4499 with spec as featured
Dealers: Full list of US dealers here and UK dealers here
More information on the Riese & Müller Homage.
-Richard
Review Note: Each company pays a fee for a testing & review on Electric Bike Report because of the considerable amount of time that it takes to provide an in-depth review of each eBike. A lot of time is spent on the full range test with distance & elevation profile, the wide variety of detailed pictures, in-depth video, and the write up with the specifications, ride characteristics, pros, cons, and overall thoughts. The testing & reviews on Electric Bike Report are focused on providing you with a detailed "virtual" look at each eBike to help you determine if it is the eBike for you or not.
P.S. Don't forget to join the Electric Bike Report community for updates from the electric bike world, plus ebike riding and maintenance tips!
SaveSave
Reader Interactions