Riese & Müller Delite Mountain Rohloff Ride Report [VIDEO]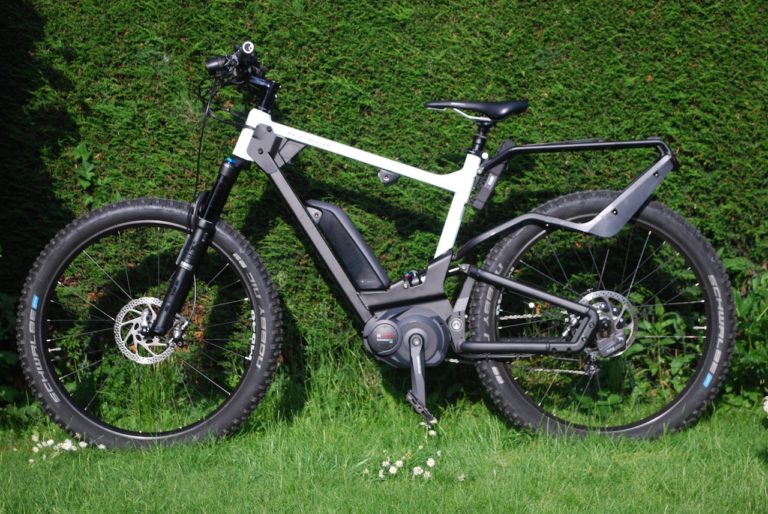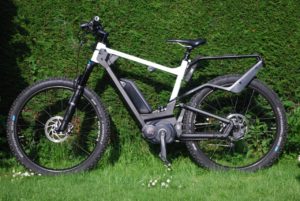 Is this the most capable off-road e-bike out there?
We have already tried four high quality offerings from Riese & Müller; the New Charger, the Nevo, the Homage GT Nuvinci and the Packster 40 Nuvinci.
Whilst these bikes were all taken off-road to a greater or lesser degree they were not full-on mountain bikes.
By contrast Riese & Müller's Delite Mountain Rohloff is not only a full-suspension e-mtb but it packs many features that other e-mtbs don't, including a 1,000Wh dual battery system, Rohloff's incredibly tough 14 hub gear system (with electronic shifting to boot), powerful LED lights and the option of a chunky rear pannier rack.
It's totally unique and certainly on paper looks like a candidate for the title of Most Capable Off-road Bike in Serial Production Today.
Does it live up to this label?
What to Expect from the Delite Mountain Rohloff
Here is a video overview to give you a closer look at the Delite Mountain Rohloff:
We have written quite a lot before about one of the most powerful mid-drive's out there – the top of the line crank motor, Bosch's Performance Line CX.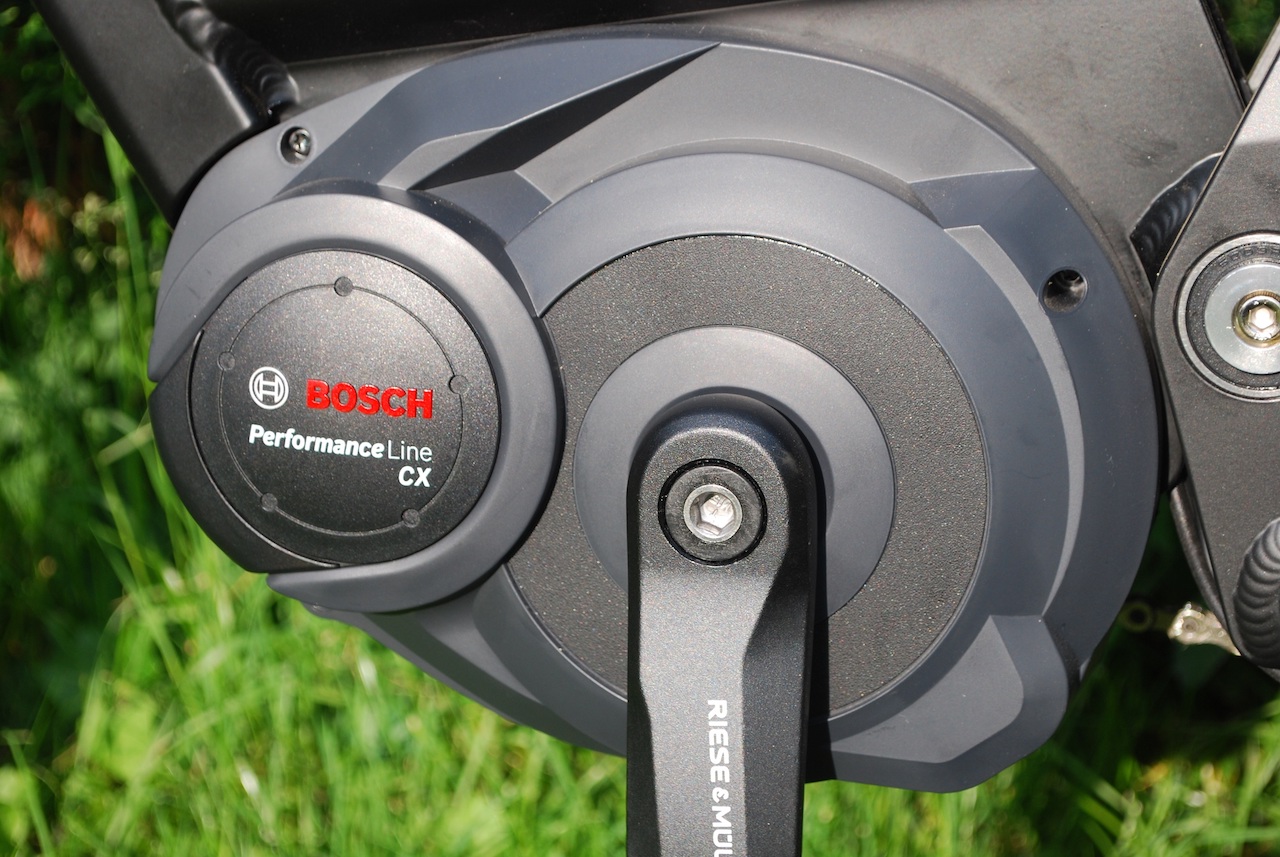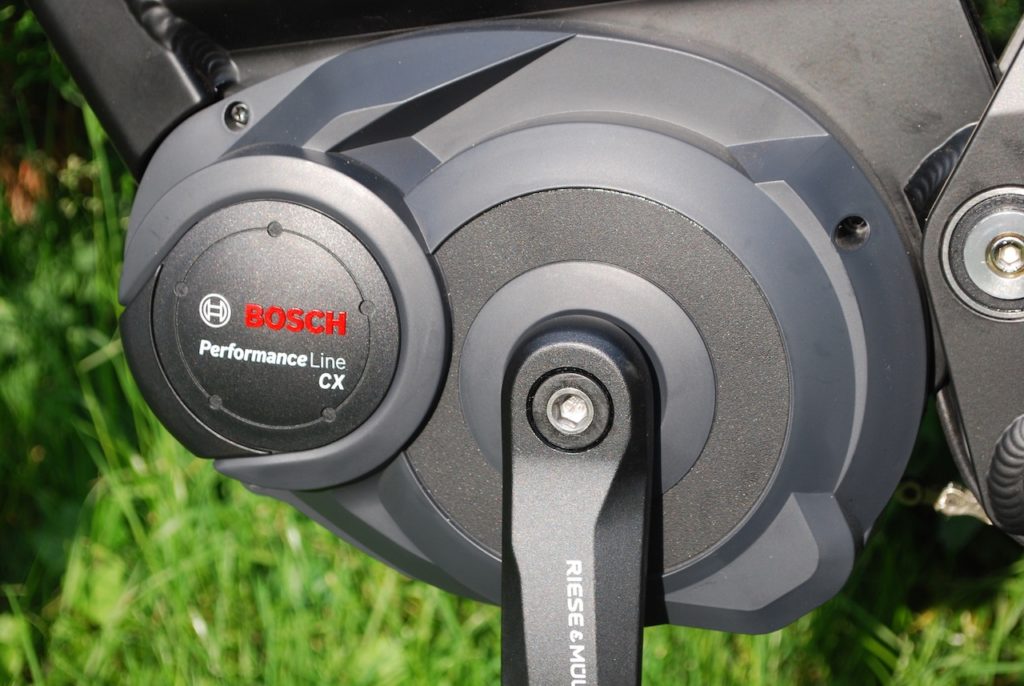 Essentially it delivers 300% extra power on top of you own pedal effort in its top 'Turbo' power level and claims 75 Nm (Newton metres) of torque.
Our test bike was the 250W / 15.5mph (Euro spec) model but there is also a 350W / 20mph (US spec) and a 45kmh speed pedelec version option available on some other Delite models (though not the Delite Mountain Rohloff).
Riese & Müller specialise in distinctive, even funky frames. The Delite is no exception; based on a popular and longstanding non-e-bike frame design, it bears all the hallmarks of R&M's hugely solid construction and excellent full suspension performance.
Allied to the impressive frame build R&M have spec'ed the Delite Mountain Rohloff with 'plus' width mtb Nobby Nics, the 2.8 inch width and large volume meaning they can be run at low pressure for plenty of grip) and the longest travel suspension of their range (Fox Float front suspension with a very reasonable 120mm of travel and Fox shock suspension with 100mm of travel).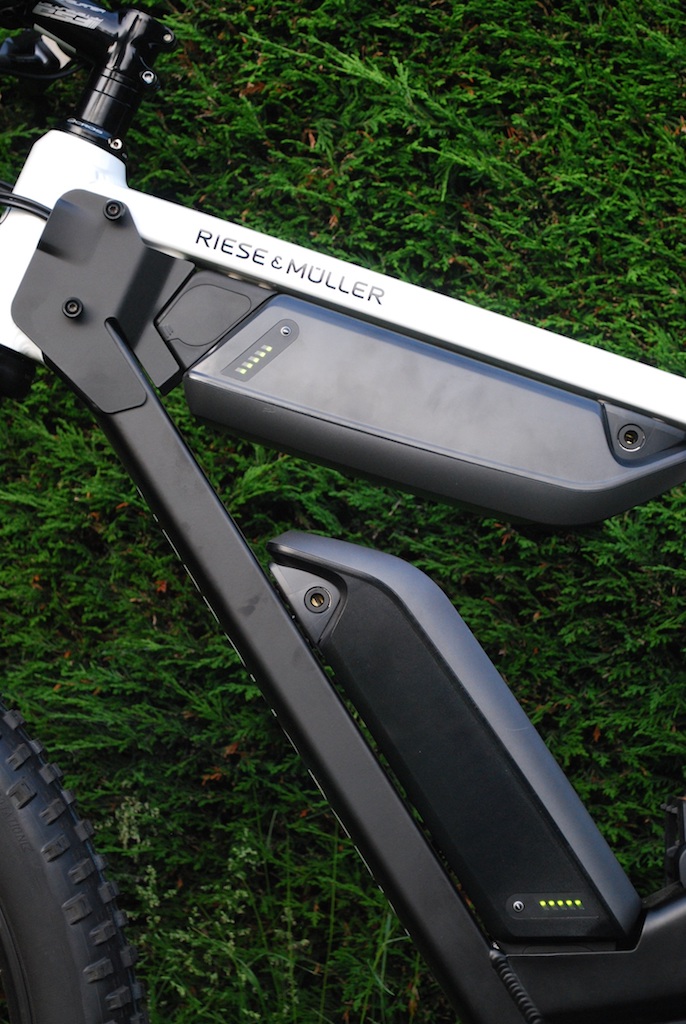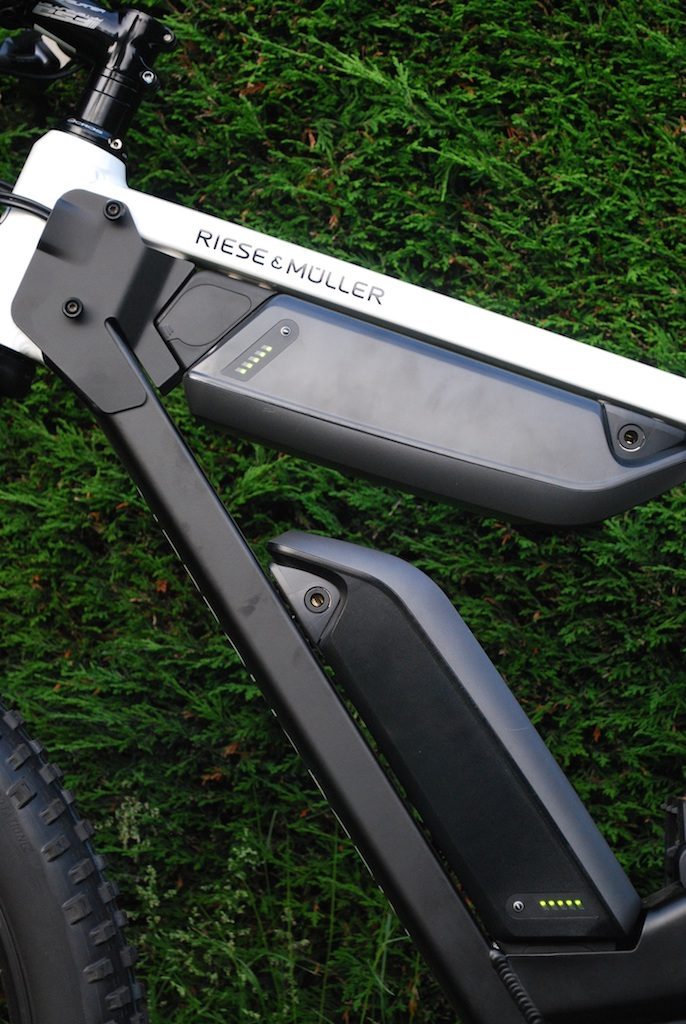 My test bike was set up for long distance off-road riding, with DualBattery technology; power is drawn alternately from the two 500Wh frame-mounted batteries, the clever electronics meaning both batteries get a relatively easy life (which wouldn't be the case if the batteries were emptied by the bike in succession).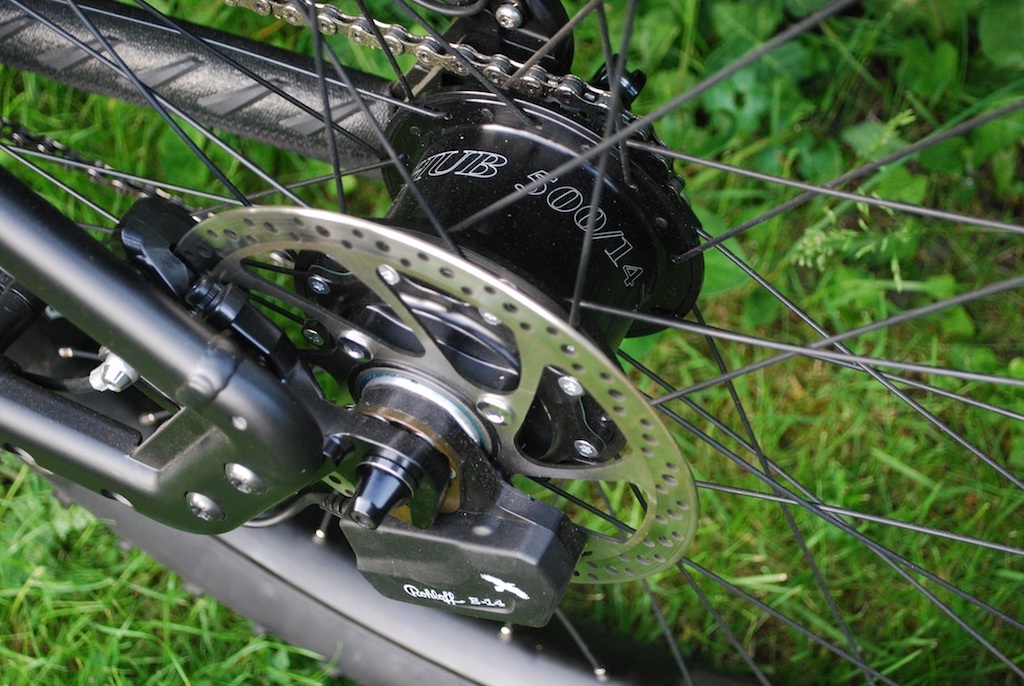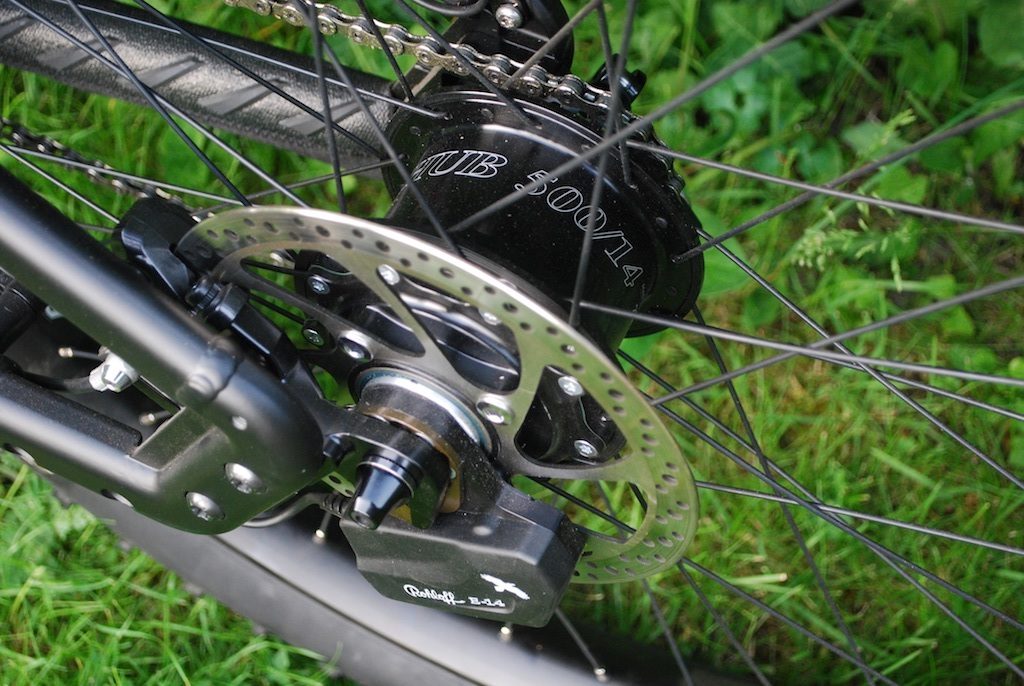 The Rohloff E-14 Speedhub has been designed especially to work with the Bosch motor system and claims the 'fastest electronic shift available to date at 180 ms'.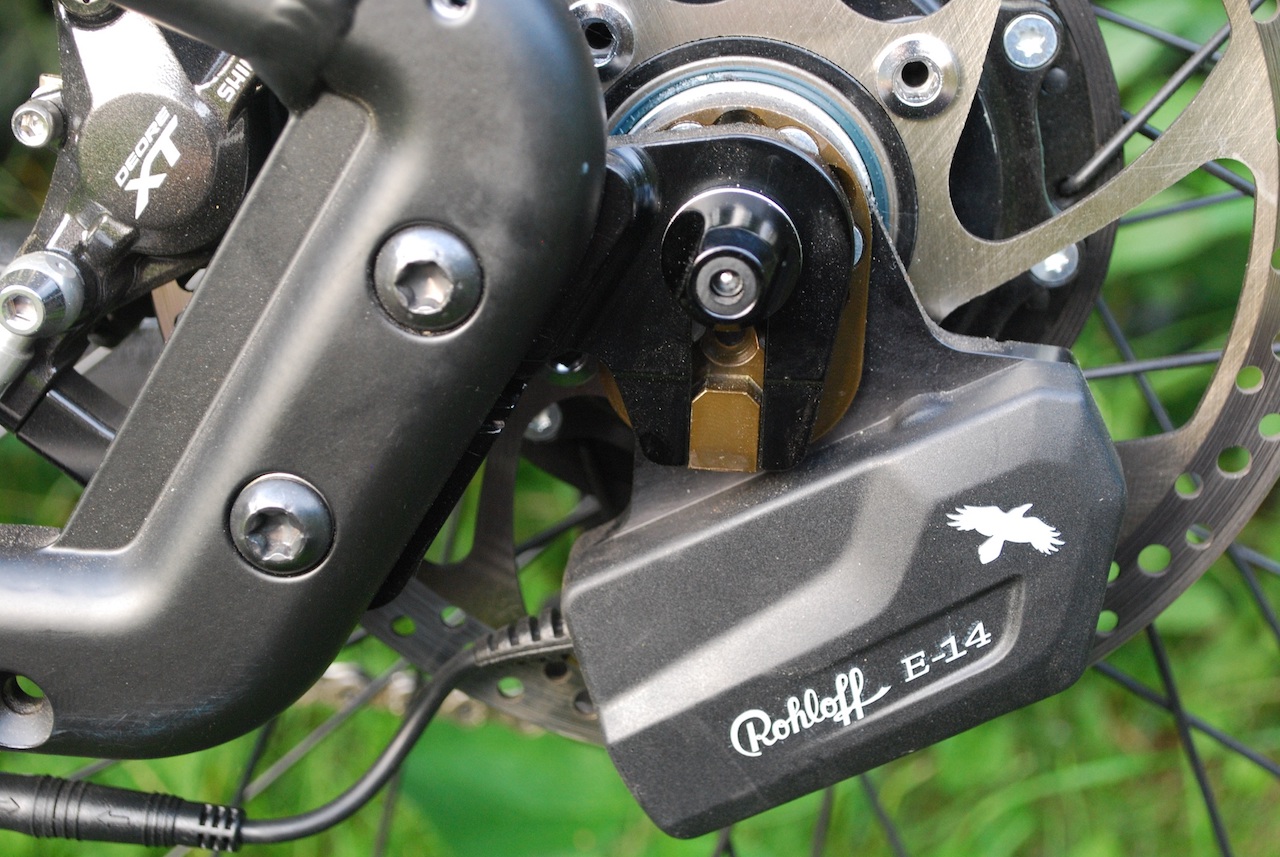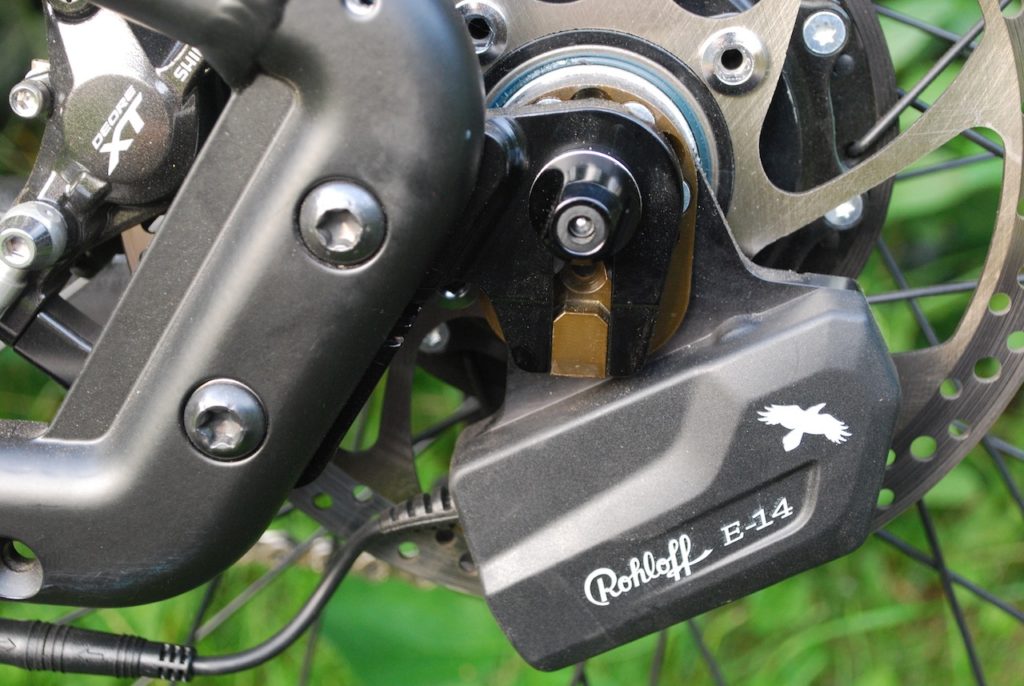 Robust and with a wide gear range of well over 500%, again it fits the bill for those looking for a bike that will cover mile after mile of tough off-road riding without complaint and will deliver shift after shift.
Both Intuiva and Nyon displays (I had the latter) sync with the Rohloff E-14 to show current gear selection and the push-button gear change control on the handlebars lets you change one gear at a time or leapfrog three gears at a time by keeping the button pressed down (the number of gears leapfroggable can be altered).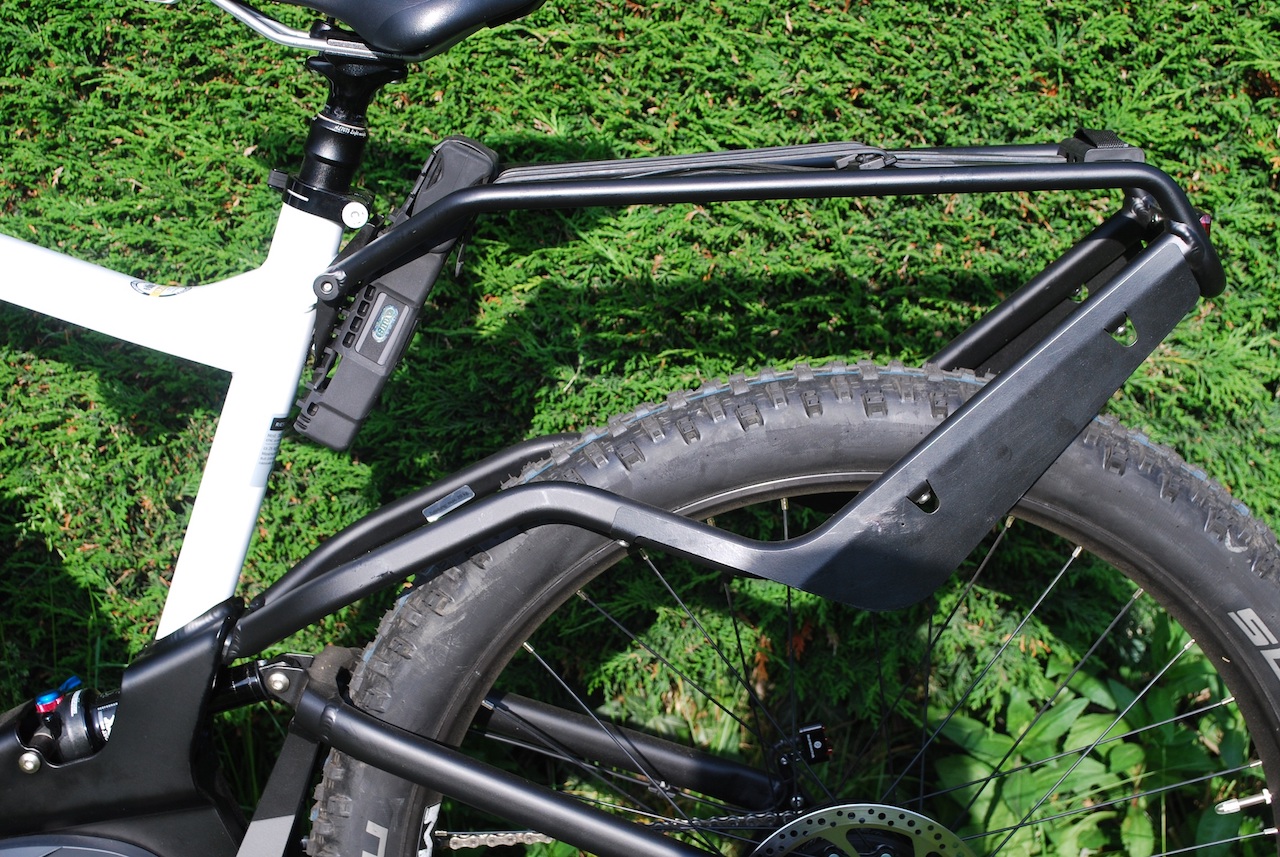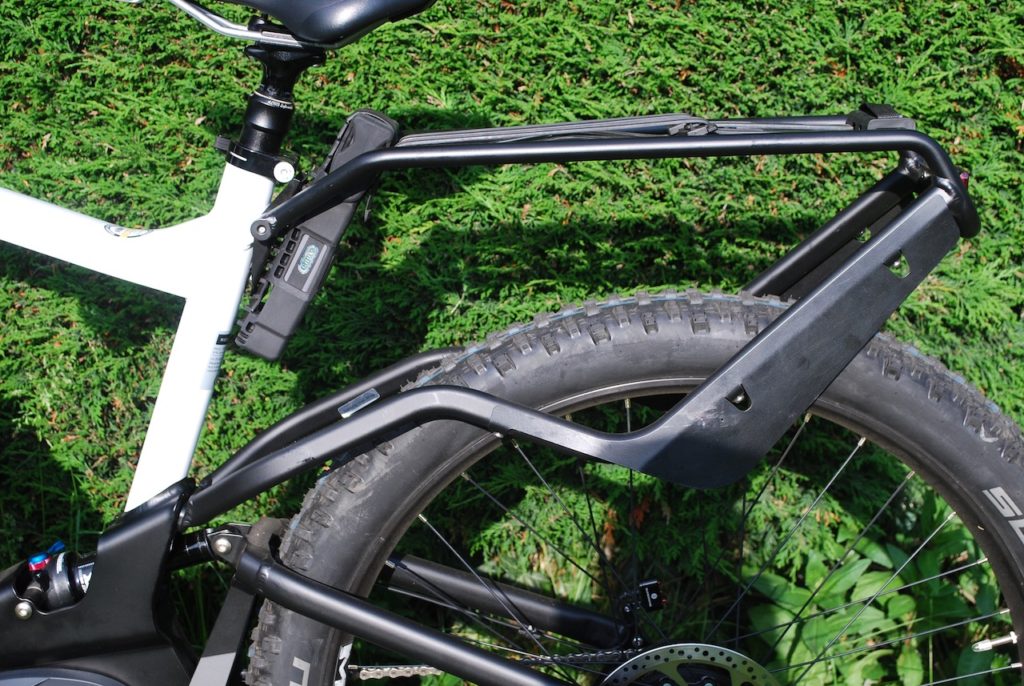 Add to this powerful LED lighting, the optional rack that my bike came with and dual bottle mounts either side of the frame head tube and you have a bike that just begs to be ridden over mountain ranges and wants to get off the beaten track to explore.
The Ride
I tested the bike around the Tame and Chew valleys on the western edge of the North Pennines; ideal to put it through a tough test, as here the upland mass of the central spine of the hills breaks up into many smaller and much more steeply sided valleys covered by a network of off-road tracks and minor roads.
Plenty of rocky tracks got smoothly rolled over and the Fox suspension units and plus sized knobblies did their job supremely well.
As a light rider I felt I could run the tyres quite safely at the minimum recommended pressure of 17psi to get maximum traction which was the critical factor in being able to climb the dustiest and loosest of the steepest of the climbs I encountered.
With bags of power to spare from the Bosch Performance Line CX motor I found myself using Eco and Tour settings most of the time and venturing into Emtb mode for only the steepest of climbs (Emtb mode varies assistance between 120% and 300% depending on your riding style); Turbo was reserved for if I really needed to get up a very steep hill in a real hurry, which I didn't as I was enjoying the ride too much.
However, had I needed to get home in a hurry Turbo mode would have kept me going at max assisted speed up the steepest of hills.
Around 30 miles later I had enjoyed a full day roaming the quiet hills and tackling steep climb after steep climb whilst getting away from the narrow valley bottoms where main road and rail links attract the bulk of the population.
I'd only used between a quarter and a half the 1000Wh battery capacity, suggesting certainly that, with my body weight and riding style and careful riding, I could manage at least one night away from an electric supply, for example wild camping.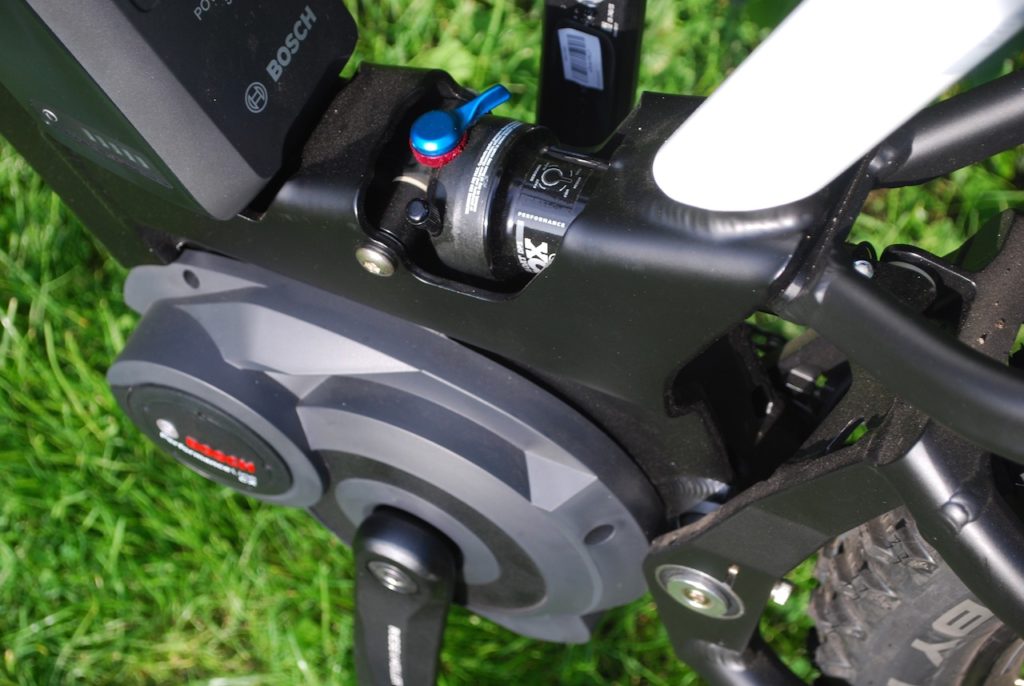 Switching between the ancient tracks and tiny roads that criss-cross the valley sides I found myself using the lockout controls on the front forks and rear suspension quite instinctively, though care is needed to use the lockout control on the rear shock in particular, as it is placed quite low down and underneath you.
The Nyon display was fun to play around with and I could see the navigation screen in particular being useful should I have routes already downloaded onto the software.
However, as I knew the area fairly well I found myself using the 'Ride' screen which actually gives the info basics most people want on a ride, including trip distance and the critical range estimate based on the remaining battery capacity.
This info is also available on the more basic Intuvia display. Other features on the Nyon include a fitness screen and a realtime height profile plus smartphone connectivity.
No doubt the combination of Rohloff hub gears and a chain drive – as opposed to the Nuvinci and belt drive combo I have tried on other Riese and Müller models – helped significantly extend the comparative range of the batteries as it's an inherently more efficient combo.
Probably the low bottom gear of the Rohloff also helped, allied with a small 15 tooth front chainring, to produce both high torque and more efficient hill climbing up the steepest of off-road gradients.
Overall I was impressed with the Rohloff hub gearing itself and with the e-shifting component of it, which proved reliable and smooth.
It is still necessary to back off chain tension a bit whilst shifting, which if done under heavy load can still produce a 'grunch' noise, but the 'hub snyc with motor power and pedal stroke' feature undoubtedly helps make for smooth changes.
In gears which aren't direct drive you can still feel some noise and resistance from the gear pinions in the hub but many Rohloff aficionados say this beds in with age and the noise and resistance become less noticeable.
In any case the availability of motor power and a plentiful supply of battery power makes all this much less of an issue.
It's a hub I'd expect to be using for several thousand miles without issue and to get me through the daily grind of riding in all weather and the conditions on just about any off-road tour too. But if it's not for you there is an 11 speed derailleur option.
In summary the Delite Mountain Rohloff is a great example of a bike that bears all the best Riese & Müller hallmarks; great quality and build strength allied with carefully thought out detail to make a bike that riders will love riding as it lets them concentrate on the ride itself by making it as comfortable and easy or as testing as you want.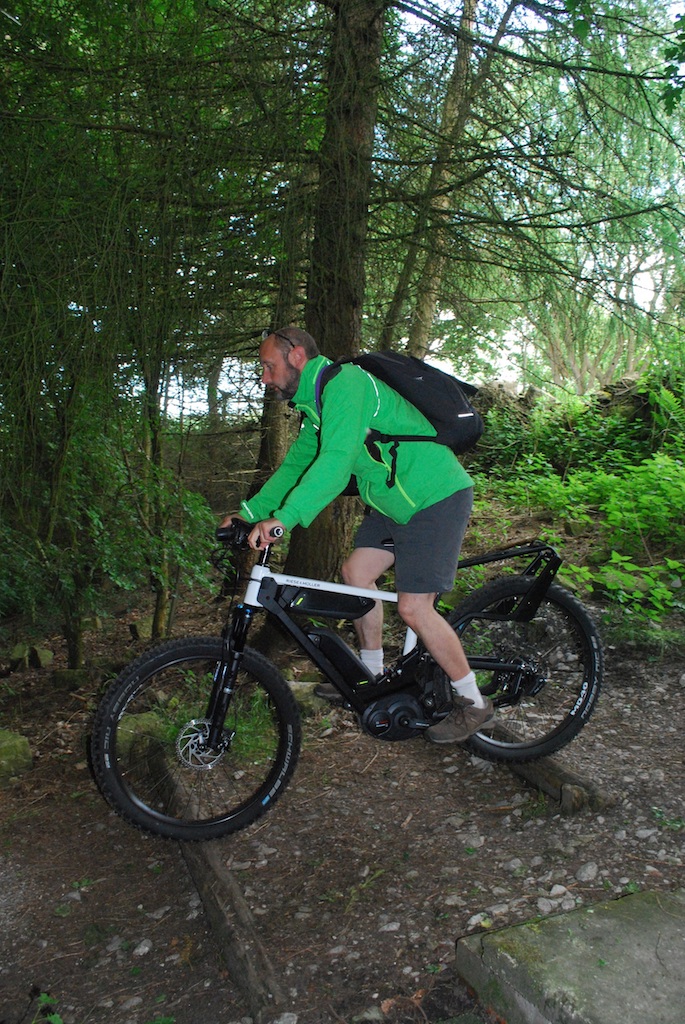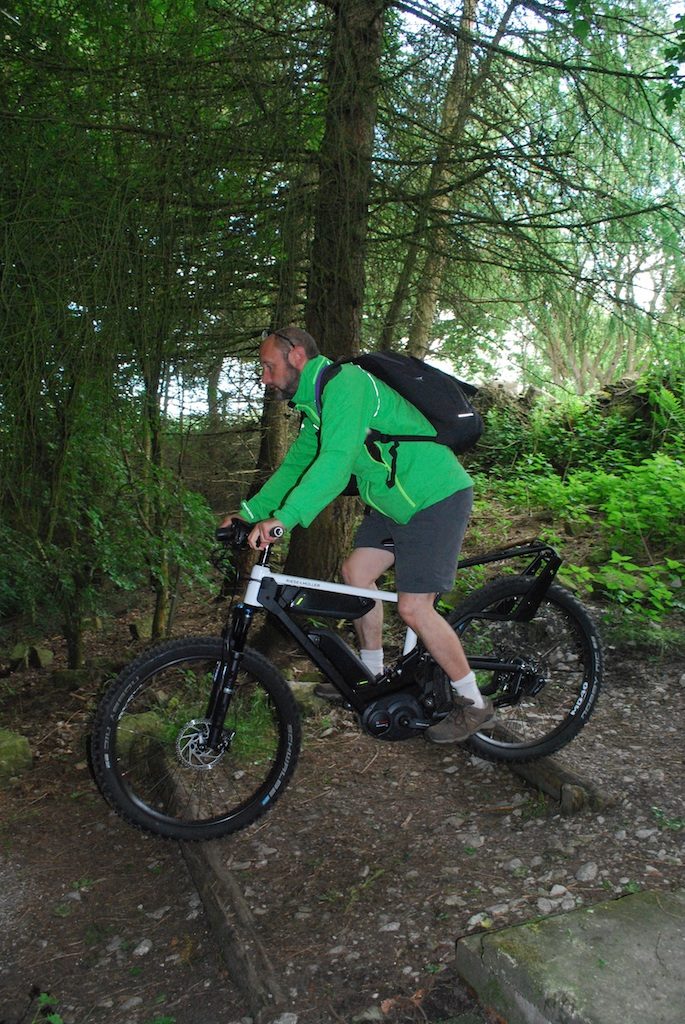 For example, you will see e-mtbs with more suspension travel than the 120 / 100mm front rear combo on the Delite Mountain Rohloff.
But are the jumps and huge drop offs seen in many e-mtbs video marketinging typical of what most riders will want to do on an e-mtb?
Similarly LED lighting and the option of such a sturdy rack are highly unusual and really help put the Delite Mountain Rohloff on top of the podium in the 'touring e-mtb' category.
As you can see below this definitely one of the pricier e-bikes out there but few others come close to its all round capabilities.
The inclusion of the latest gear technology from Rohloff would be a real boon for my kind of riding as I tend towards hub gears for the long tours that I do, where I wouldn't want the hassle of damaging a derailleur on the trail, miles from civilisation.
The Mountain Delite Rohloff was pure joy to ride through the toughest of terrain, and I got just the workout I wanted into the bargain.
Other R&M Variants and Models
We've recapped the R&M acronym system before but it's worth doing again;
GT – rated for relatively 'light' off-road use only (GT actually stands for Gran Turismo). Having said that we've tested these bikes over some pretty exacting terrain and come out smiling.
GX – slightly narrower tyres than GT but with an off-road tread. If you want a similar model to the Delite Mountain Rohloff but don't need the widest of knobblies and extra travel suspension check out the Delite GX Rohloff. If you want the choice of another derailleur-equipped Mountain option check out the Supercharger Mountain.
'Mountain' titled bikes have wider knobbly tyres, as you might expect and more suspension travel. GH is a super strong rating, with a gross weight capacity of 160kg.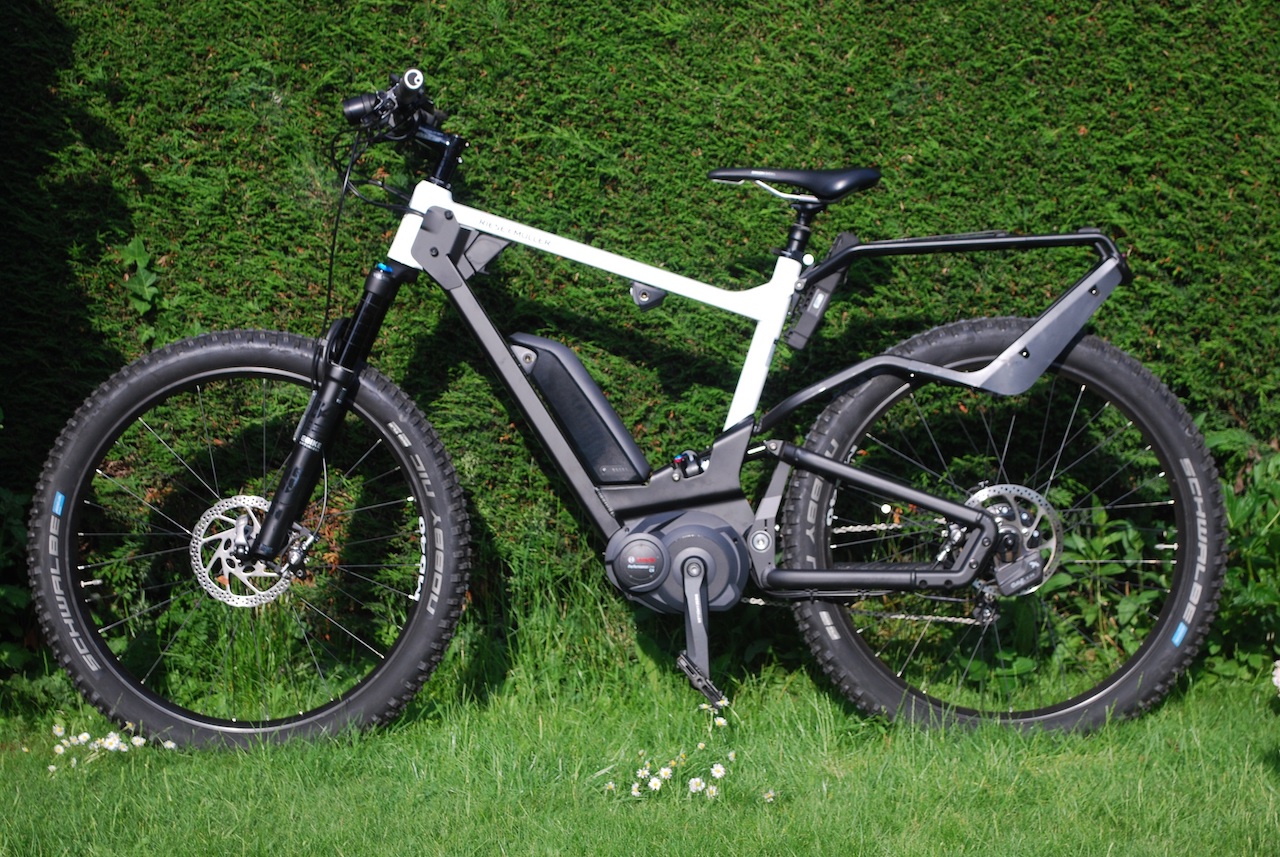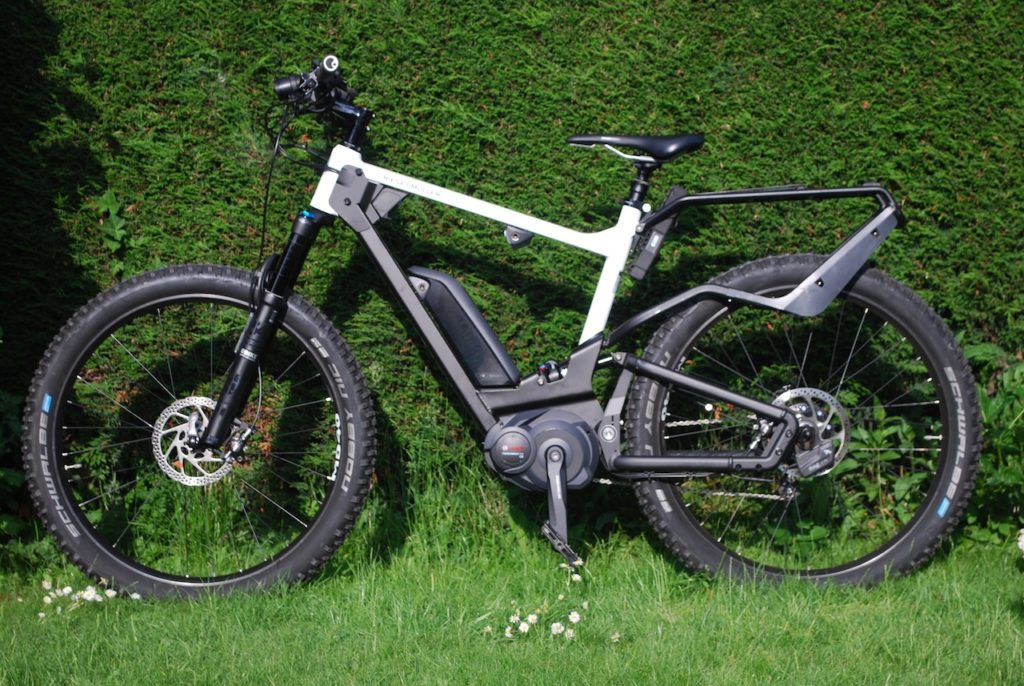 Riese & Müller Delite Mountain Rohloff Specifications
Frame: Aluminium frame with rear suspension Fox Float DPS Performance shock
Fork: Foxfloat 34 Performance Boost, Air, 120mm
Motor: Bosch Performance Line CX
Display: Intuiva (upgradeable to Nyon)
Battery: 500Wh with 1000Wh dual battery option. Recharge in ~2 hours for a 50% charge and 4.5 hours for a full charge for each battery
Shifting: Rohloff E-14 hub gears with electronic shifting
Brakes: Shimano Deore XT Hydraulic Disc Brakes
Tires: 27.5'' Schwalbe Nobby Nic
Weight: Total bike with dual battery 67.7 pounds or 30.7 kg. Bike w/o battery 56 pounds or 25.4 kg
Frame sizes: 49cm, 54cm, 56cm
Lighting: Busch & Müller Lumotec IQ-X E / Supernova E3 taillight
Price: Derailleur option (Delite Mountain): $6,879 or £4949. Delite Mountain Rohloff:$8,399 or £6119
Optional Extras:
Dual Battery $823 or £630
Abus Bordo Lock $118 or £90
Rear Carrier $236 or £180
Nyon Display £270 (not available in the US)
Full list of UK dealers here
Full list of US dealers here
Manufacturer: r-m.de/en-gb/
Stay tuned for more e-bike news and reviews and keep on riding.
-Richard
Review Note: Each company pays a fee for a review on Electric Bike Report because of the considerable amount of time that it takes to provide an in-depth review of each eBike. A lot of time is spent on the full range test with distance & elevation profile, the wide variety of detailed pictures, in-depth video, and the write up with the specifications, ride characteristics, pros, cons, and overall thoughts. The reviews on Electric Bike Report are focused on providing you with a detailed "virtual" look at each eBike to help you determine if it is the eBike for you.
P.S. Don't forget to join the Electric Bike Report community for updates from the electric bike world, plus ebike riding and maintenance tips!
SaveSave
SaveSave
SaveSave
SaveSave
SaveSave
SaveSave
SaveSave
Reader Interactions