Shopping & Commuting with an Electric Cargo Bike: The Riese & Müller Packster 40 NuVinci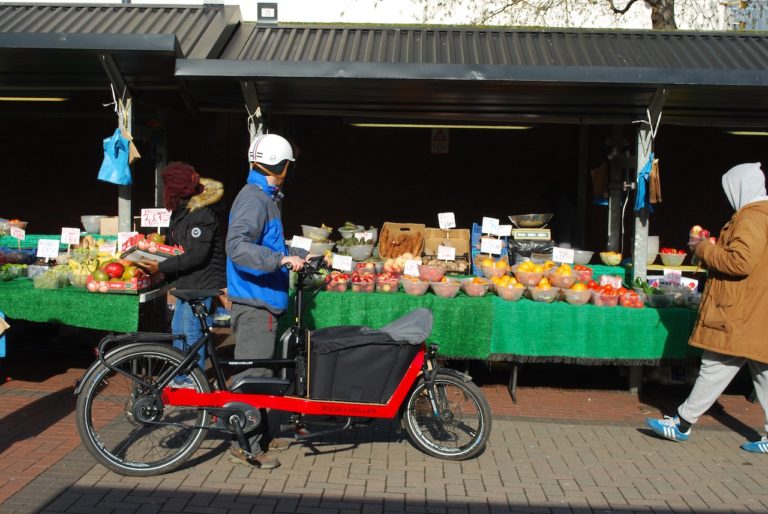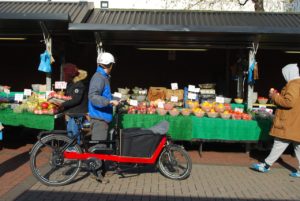 Living in a rural area means a big shop at the nearest large town, several very hilly miles away, is a job taylor-made for an e-cargo bike.
Enter Riese & Müller's Packster 40 Nuvinci (from $6,219) which looked to fit the task perfectly. So when I was offered a trial I couldn't wait to see how it handled shopping trips into town and city.
The first thing I notice about the bike is nothing to do with the riding – it lifts over a large step and a threshold into a building with only one (strong-ish) person grasping it by the middle of the frame.
At around 77 pounds (35kg) with the batteries removed (88 pounds (40 kg) with 2 batteries included) of course it's no lightweight, but it does show how much more practical this compact, well-balanced design is than heavier e-cargo bikes.
The first thing I notice when riding the bike is how much like a regular e-bike it is to ride, the extra length and weight don't seem to make much real difference.
A combination of geometry and extra weight mean it's usually a good idea to get bigger cargo bikes up to a decent riding speed pretty quickly, but the Packster felt pretty stable even at lower speeds (with a lot of weight in handling can be a bit different in some circumstances, but we come to that later).
Into Town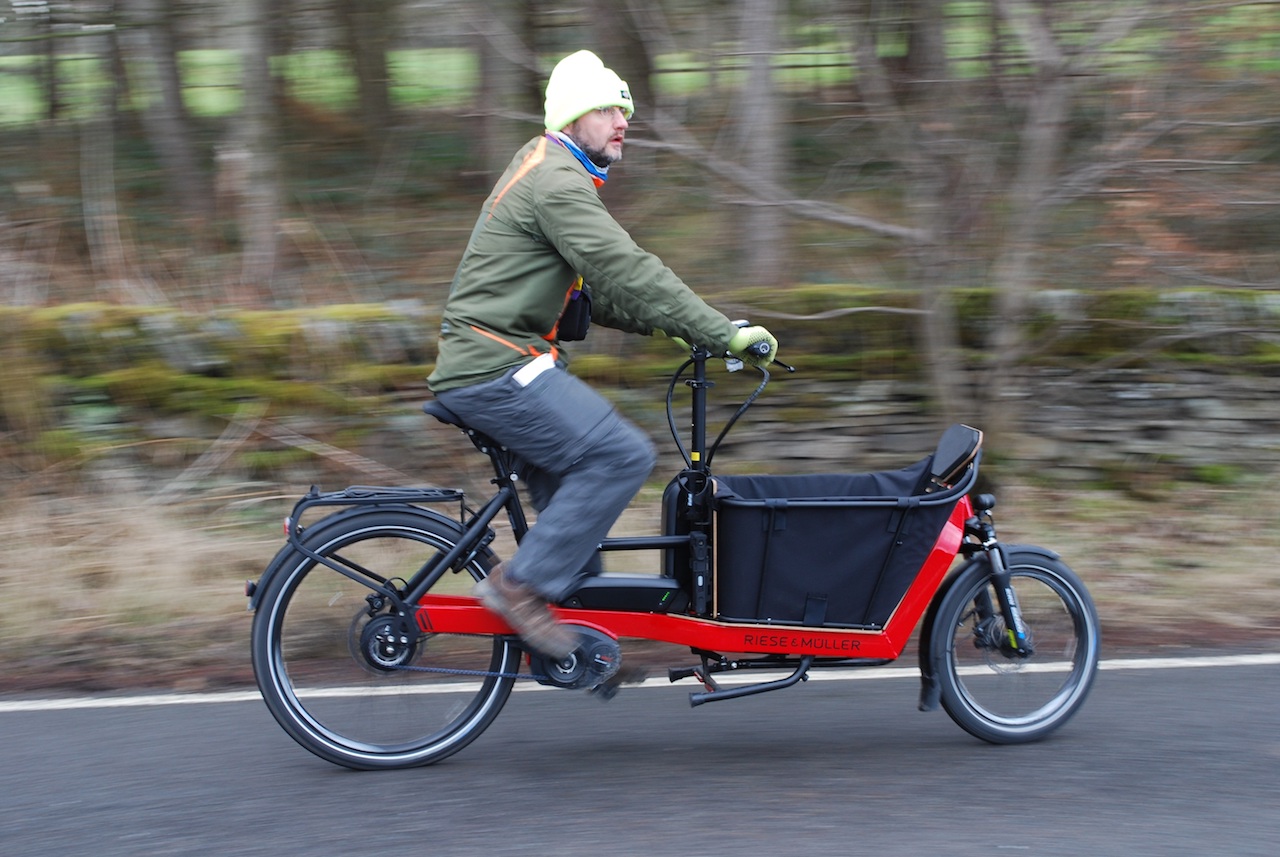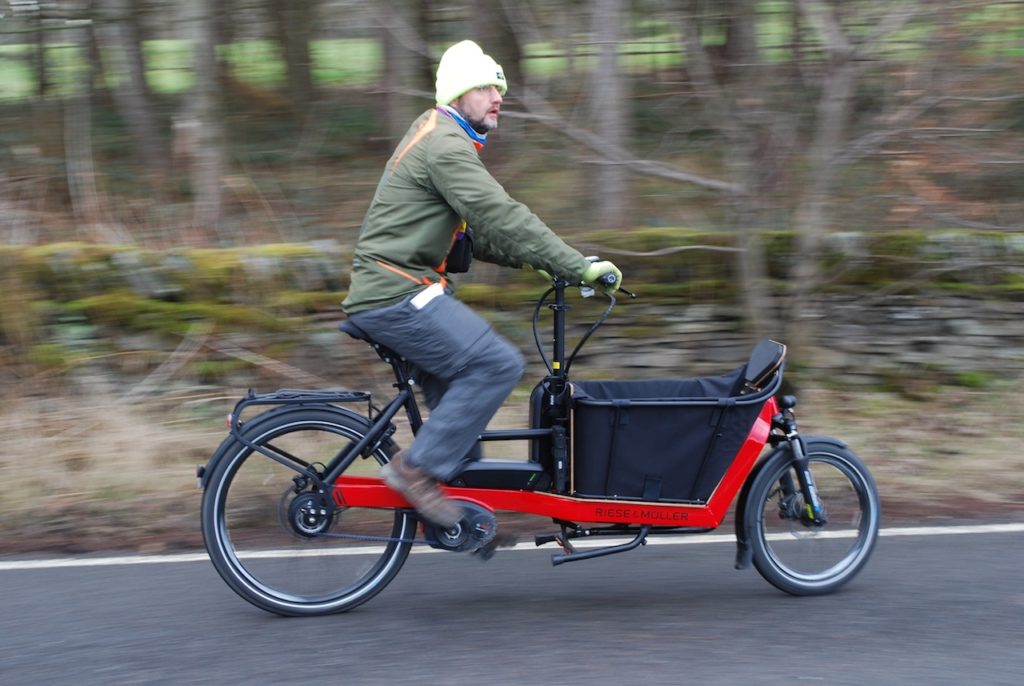 The first trip into Huddersfield is a very hilly eight miles (the 'back way' on minor roads, to test the bike out on the steepest hills I can find). Not surprisingly steep hills get eaten up by the Bosch Performance CX motor without any load and, having previously tried the Gates Carbon Belt Drive allied with the stepless Nuvinci hub gear, I already know it represents the state of the art for a low maintenance, easy to use drivetrain.
I load up at the Chinese food supermarket and the bike box and very solid centre-mounted kickstand both come into their own as I load up a sack of rice and several bags of food, until I have around 55 pounds (25kg) on board.
No doubt a conventional e-bike would take this weight in panniers but it would be tricker to load and less stable to push around and to ride with the weight being higher up and towards the rear of the bike.
It's no hassle to wander around town and park whilst I go into other shops; the Abus Shield frame lock means it's easy to disable the bike from being ridden if you are nipping into shops or taking a coffee break and can keep an eye on it, whilst the Abus Bordo folding lock means it can be securely locked for longer stops and the cargo box canvas cover keeps prying eyes off your load. Both locks come with the bike and are part of a complete package including high power LED lights, rear pannier rack and mudguards.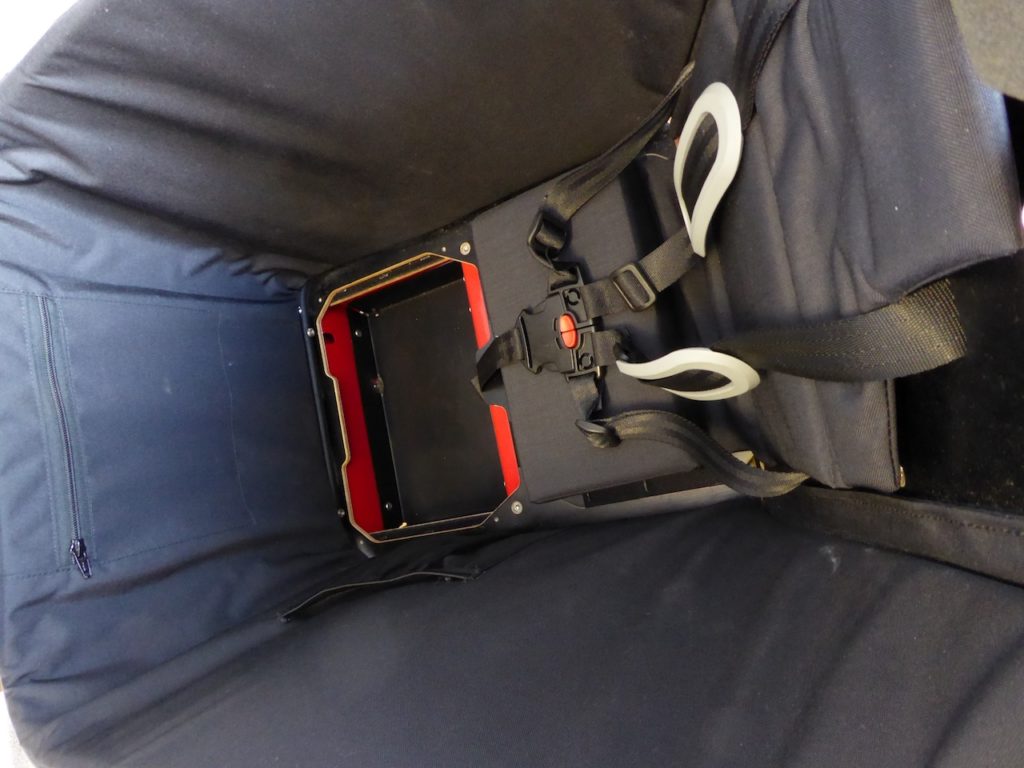 There is even a secret cubby hole at the bottom of the box to hide small valuables away in when the bike's fold out child seat is not in use (when it is in use it acts as the footwell for the small passenger).
Impressively, the bike shoots back up those same steep hills with the same nippiness, even with 25kg on board. Descending up to 20mph also feels very secure, with the hyraulic braking and front fork suspension adding reassuring handling and stopping abilities.
The only time I really notice the extra weight is whilst trying to execute a three point turn at the top of a very steep hill; it's more a case of being aware you need to keep your weight at the top of the gradient much more so than with a lighter bike, so you prevent the load tipping you to the inside of your turn.
In short it's being aware how to handle such a bike rather than any inherent difficulty in with its performance.
Into the City
The next trip from Wakefield to Leeds presented more of a potential challenge.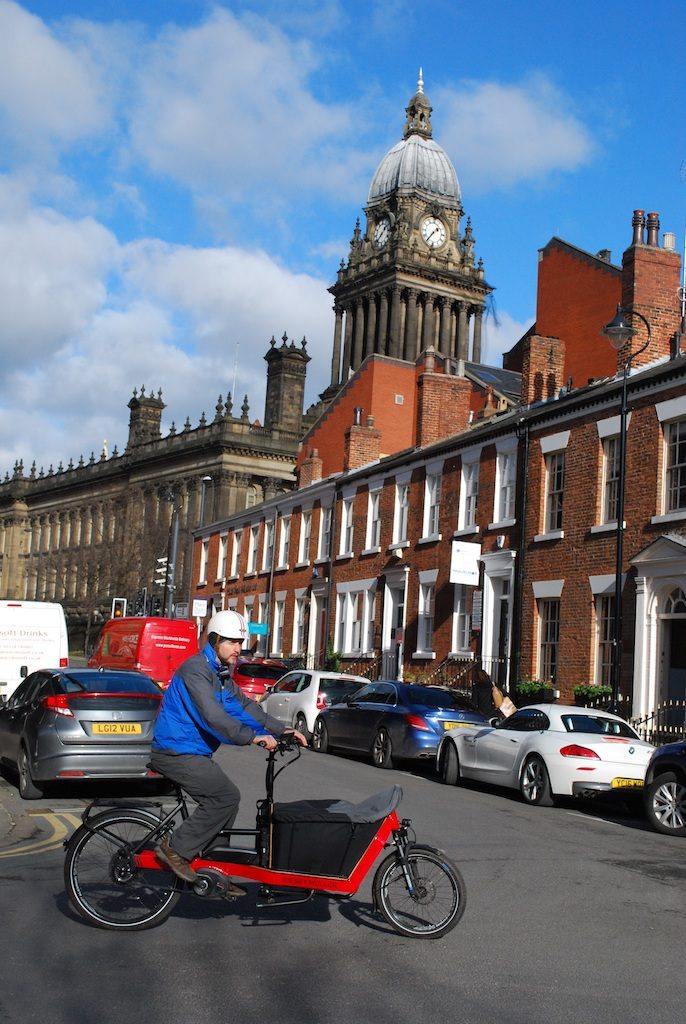 Unlike the Huddersfield journey which used steep but quiet roads, the Leeds trip would be more typical of the conditions you are likely to encounter in any urban sprawl across the UK; unsurfaced bike paths that attempt to thread their way through industrial landscapes dominated by trunk roads and urban motorways and finally having to compete with the heavy motor traffic density that dominates most major UK cities.
The saving grace here proved to be the fact that Leeds City Council has made genuine attempts to provide signed commuter routes into the centre from its outskirts, and after reaching the suburb of Middleton on averagely busy and not always pleasant roads I divert onto a signed commuter route.
This heads across the magnificent 200 acres of Middleton Park before picking up an earth track alongside the old Middleton railway (now run as a steam railway by volunteers).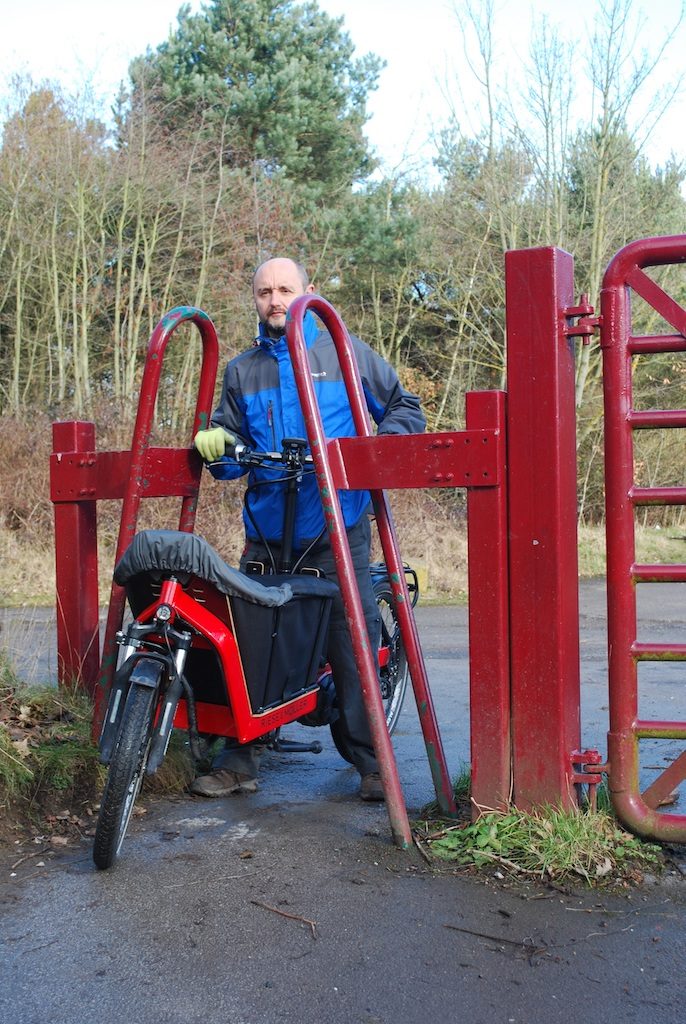 Despite some rather mushy, muddy sections after recent winter rain and snow and some access barriers to prevent unauthorised motorbike use, the Packster sails through it all just as a normal bike would, no doubt it's compact dimensions helping and the motor meaning its easy to get going again after the inevitable stop-start experience that is typical of many UK urban cycle routes.
I'm not so sure this would have been quite as easy with an e-bike and trailer combo as there was the odd narrower access spot or a tight turning spot that a trailer may have struggled a bit with.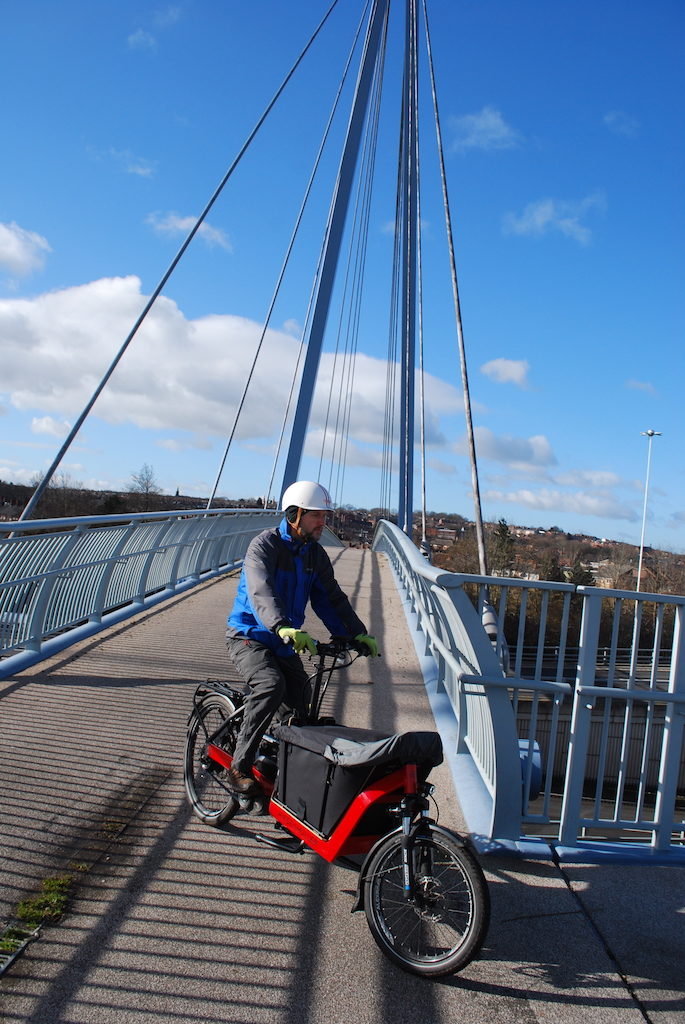 The highlight comes with the photoshoot at the Hunslet Moor foot and cycle bridge. It's just this kind of infrastructure where bikes like the Packster come into their own, allowing you to easily move big loads or children about safely and in some style.
It's a fairly recent construction and lets you soar above the speeding traffic on the urban motorway below using the very wide and easily negotiated ramp access.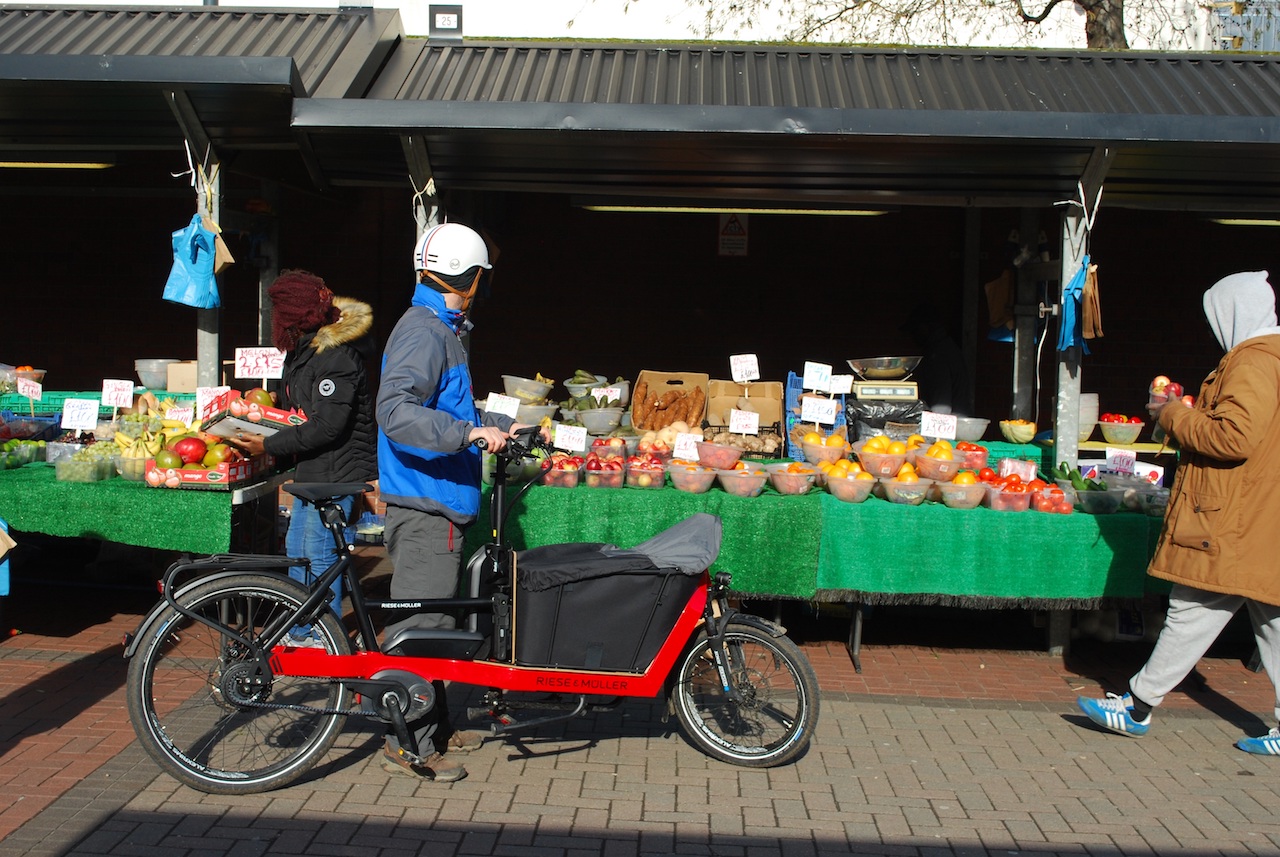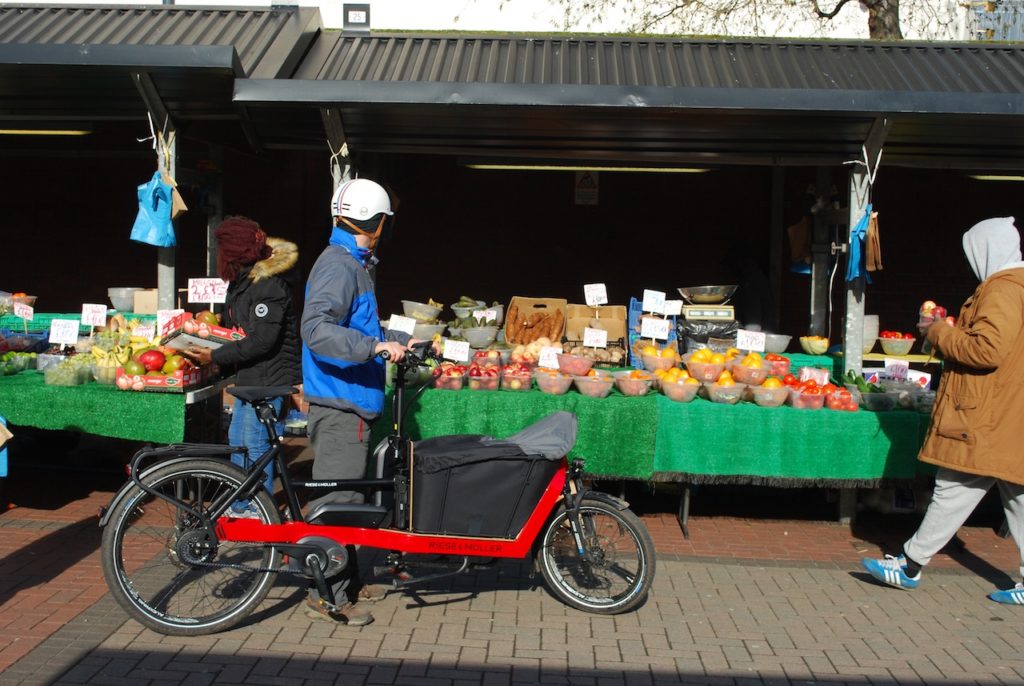 Again the Packster proves just so convenient for shopping at Leeds outdoor market as it allows you to easily load copious groceries and to keep a check what you have bought – no burrowing about in the bottom of panniers to get at anything you might need to hand either.
The Future of Transport
The Packster is the kind of bike that makes a car-free lifestyle not just possible but more attractive than other forms of transport – not being trapped inside a steel box or struggling with heavy shopping to bus or rail stations.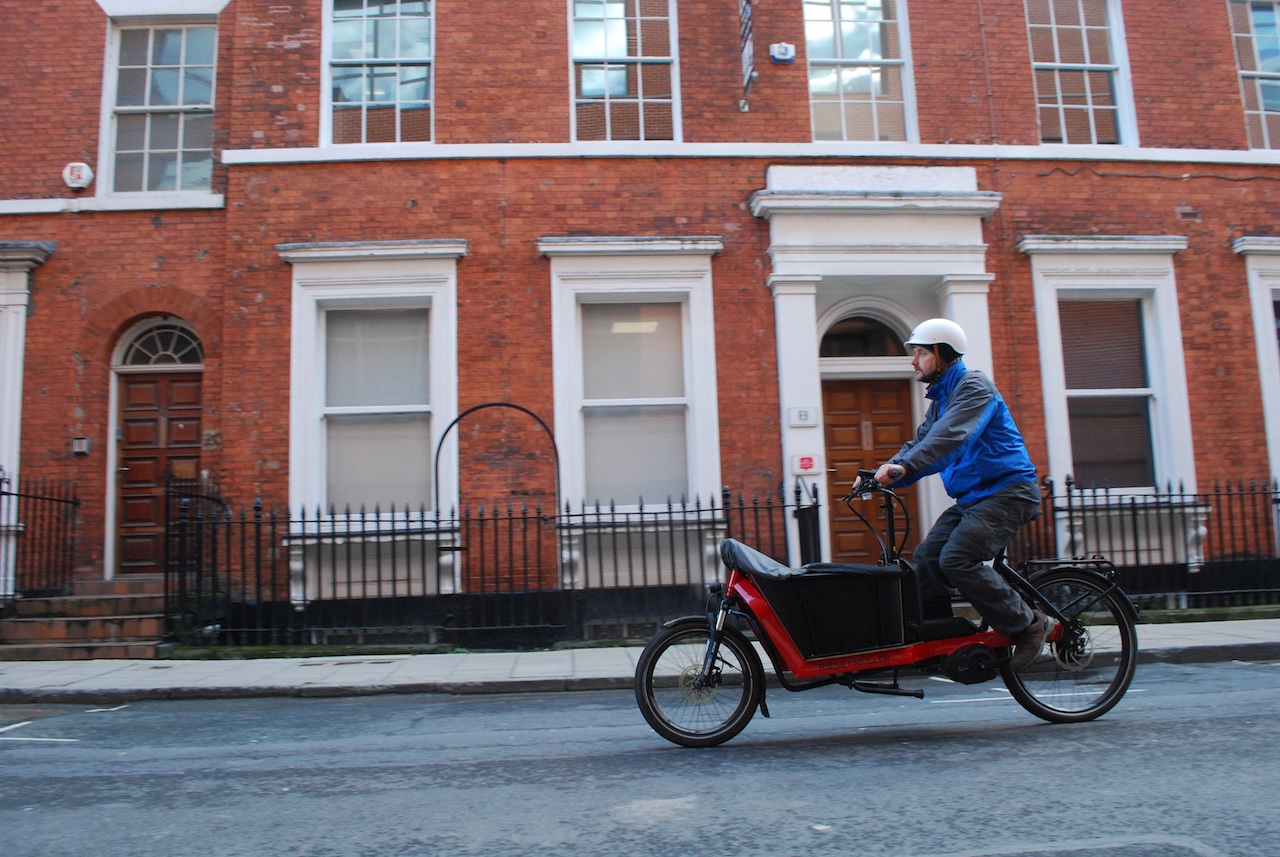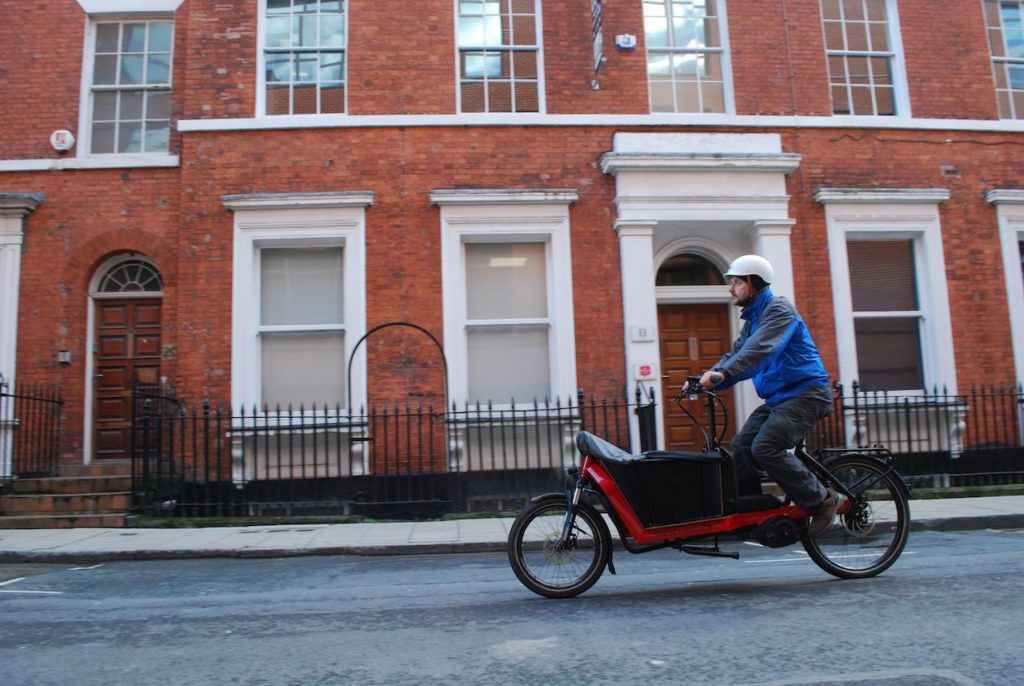 Apart from shopping errands the bike could easily be pressed into service for other uses – my test bike came with a very neat fold-out seat and seatbelt for a small child but there are surely many small businesses out there for whom it would be both valuable as a transport and PR tool and I can even see it making a handy touring and leisure bike.
Your dog might love being breezed around in the open air for a change or just imagine the amount of camping gear you can fit in.
The clever dual battery system would be particularly appealing for long tours and would help extend battery life in any event, as it draws power from both batteries evenly over time. This means you are less likely to discharge a battery completely, which can only be good for its longevity.
There are also derailleur gear Packster options which would help extend the range and an s-pedelec option that would make a great inter-city commuter for workers who need to carry loads of gear to work on a regular basis (see EBR's news reporting on how these are now more easily registrable and usable in the UK).
And it got great style marks too, so it will no doubt tick the all important must-look-cool box! When e-bikes were a much rarer sight and when their design looked much less sophisticated I was quite often greeted with puzzlement or even mirth whilst riding them; the current generation of bikes like the Packster only seem to gather curious admirers about them.
Perhaps the most intriguing comment came as we were taking pics in Leeds business and professional area. 'Is it PR for City Connect?' asked a suited gent.
City Connect promotes cycle travel in the West Yorkshire area and it's flagship project is a 14 mile segregated cycle superhighway between Leeds and Bradford.
It's pretty impressive for an area with very little track record in promoting proper, continental European style infrastructure and apparently it's pretty popular too.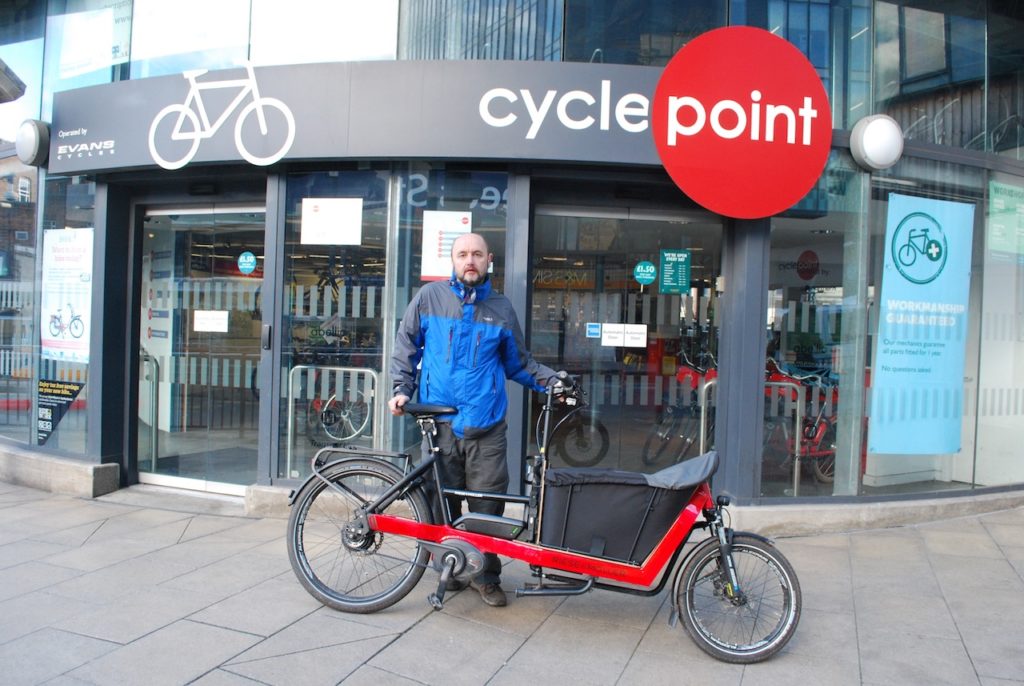 This comes on top of a fine secure cycle storage facility right outside the main train station, ideal if you want to leave your expensive e-bike in total safety for a few hours – it's two-story and has access ramps so even e-cargo bikes are no problem.
It's nice to think that the bike was linked to such a forward looking project and that the image of electric cargo bikes was being associated with what can only be a better transport future if such investment continues. The future is electric!
Here is more information on the Riese & Muller Packster 40.
Stay tuned for more e-bike news and reviews and keep on riding.
-Richard
P.S. Don't forget to join the Electric Bike Report community for updates from the electric bike world, plus ebike riding and maintenance tips.
Reader Interactions