Accessory Roundup: Cane Creek Thudbuster, Lightrider Lights, & Blackburn Grid 13 Multitool [VIDEO]
Richard Peace takes a look at three products that can enhance your electric bike riding:
The Cane Creek Thudbuster suspension seatpost to take the edge off of rough roads.
The innovative Lightrider light that illuminates you and the road ahead.
And the handy Blackburn Grid 13 compact multi tool.
Cane Creek Thudbuster Long Travel Suspension Seatpost
In the past I have found attempts to integrate suspension into the seatpost somewhat crude, the usual method being some kind of in-line coil spring that acts something like a mini-pogo stick rather than soaking up humps and bumps.
Enter Cane Creek's Thudbuster, which I wanted to try out on a 16"-wheeled Dahon electric conversion, as the small wheels and short wheel base mean I could literally be thrown out of my seat and up into the air going over larger humps.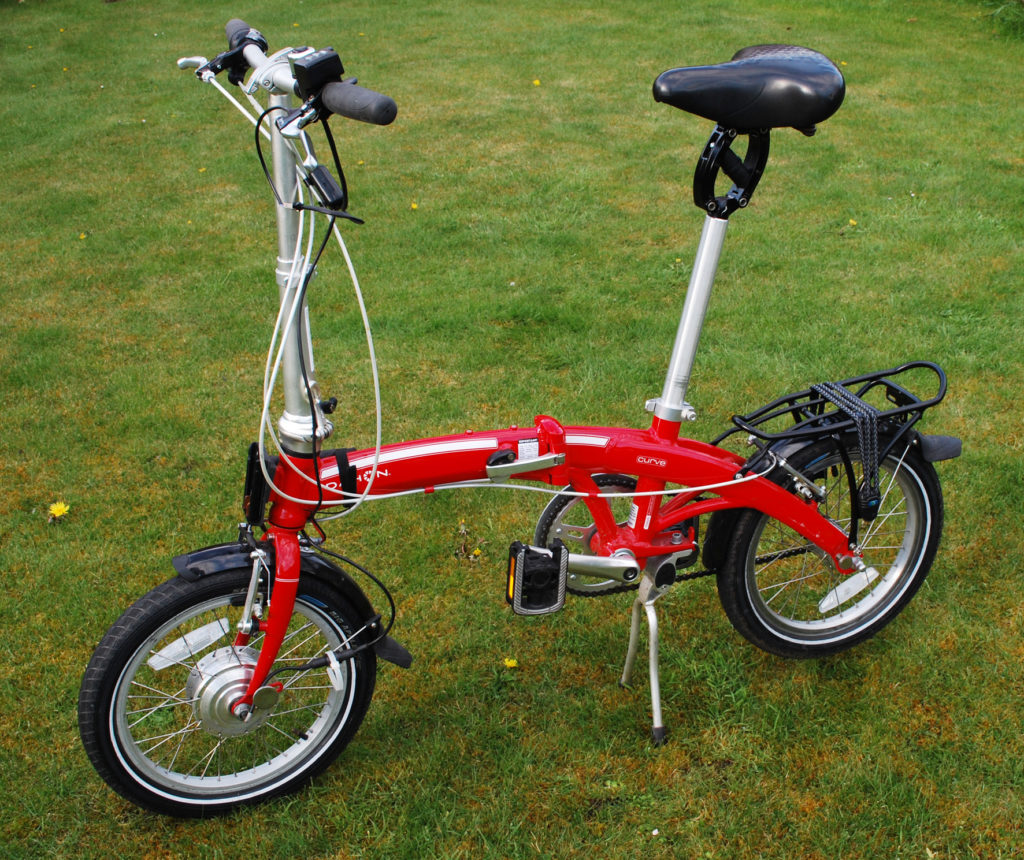 Fitted with my favourite large sprung saddle and Schwalbe Big Apple tyres the bike is a revelation. The Thudbuster Long Travel gives you some three inches of downwards and backwards travel and its plenty to soak most of the punishment dished out on the UK's often very poor roads. I even ventured onto better quality dirt tracks and paths without any problems.
Of course it only works for the rear wheel, but it really does work, allowing the rider to better keep their weight on the saddle and hence on the pedals whilst riding over humps and bumps. As the rear wheel is forced up over a bump the Thudbuster acts against this and the alloy linkages and elastomer compress against the rider's weight.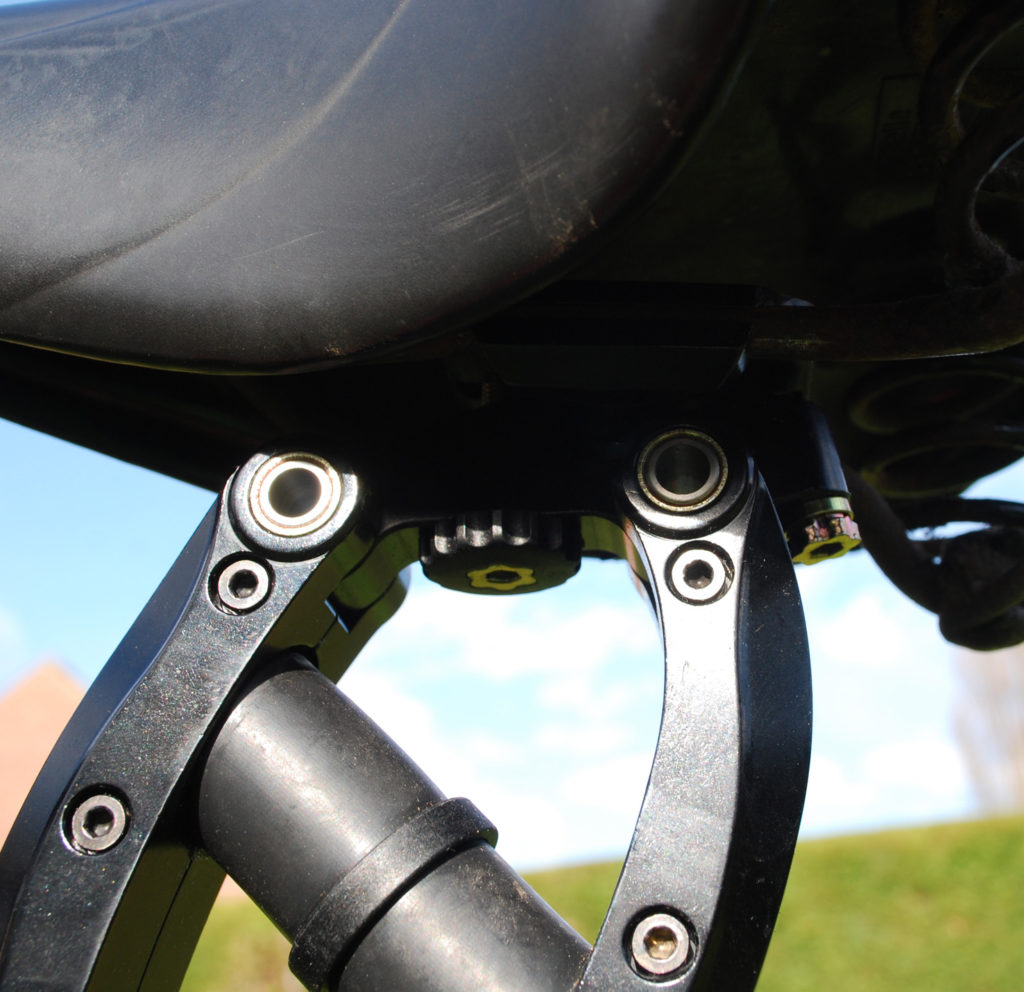 Get the softness of the changeable elastomer just right for your body weight and position yourself correctly over the Thudbuster unit and you will be riding over potholes and small drop-offs in no time.
The preload is also adjustable so if you find the unit too springy or too hard you can adjust to some degree on the fly, before thinking whether you need to change the elastomer.
Whilst, of course, its not the equivalent of a high-end full suspension setup it's a very welcome addition that will iron out most road conditions and some trail ones too.
The short travel version is aimed more at roadies who want something lighter and who will always be riding on hard surfaces.
Pros: Great way of adding adjustable suspension where needed.
Cons: Quite pricey.
From $169 or £110
Lightrider Lights
This is a novel concept; a front LED featuring both front facing and rear facing LEDs, the rear facing light illuminating the rider as an extra safety feature. Rather than producing ever more powerful front LEDs that may end up scattering light where it can blind oncomers, Lightrider have focused your white light where it is needed.
Facing forward are two LEDs, one to flash and the other road beam focused by a small lens onto the road surface in front of you. There are three modes toggled through using the large, easily accessible button on top of the light; all three beams on with road beam constant, all three beams on with road beam flashing, flashing front beam and rear facing LED only.
The battery management system has a useful 'smart' warning feature, knocking off the main beam when battery capacity is below 20%, leaving you with front and rear flashing lights as a 'get-me-home.'
Charging of the two AA 2400mAh is via USB (non USB option available) so you get the best of both worlds; convenient charging and replaceable batteries.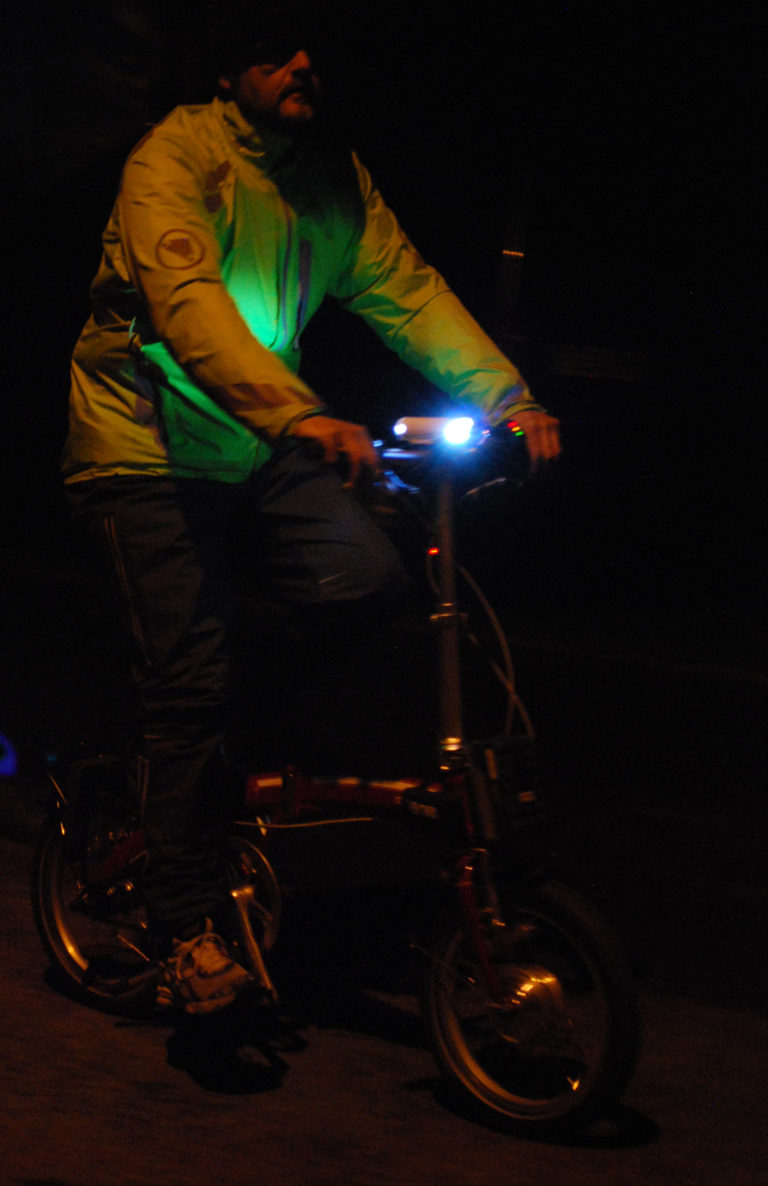 Visibility of the cyclist was very, very impressive and the rear facing LED worked exactly as described, meaning you are not relying solely at pointing your light directly at someone else to be seen. As a glasses wearer I occasionally got a bit of glare from the backward LED, but altering the angle solved this. The 110 lumen front beam will also give you just enough light to ride on unlit paths, though I supplemented it with a second LED for a luxurious spread of light.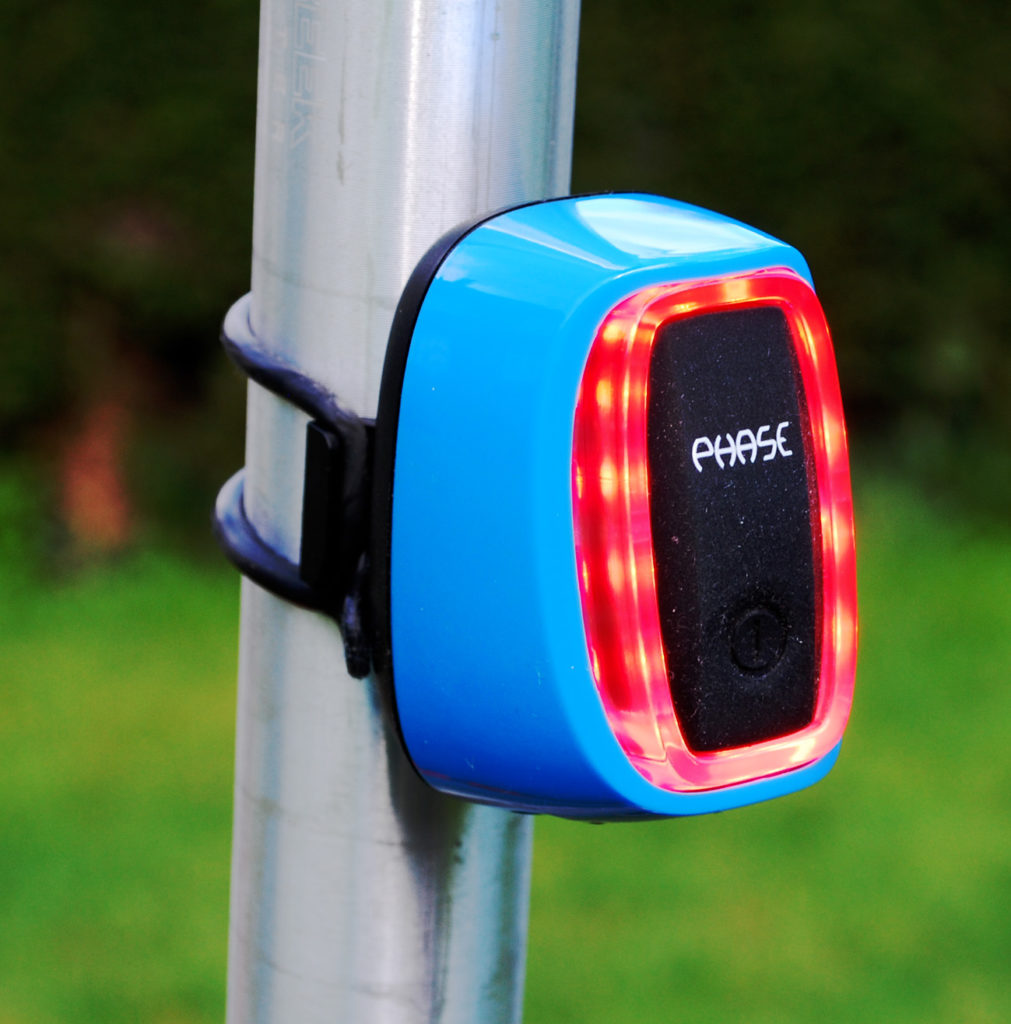 Also tested was Lightrider's rear Phase light. This has a motion sensor so that it switches itself off when left still for 5 minutes but will reactivate itself when you ride off again. Easily mounted with a rubber O-ring, it has seven different phases and side visibility is good too. Handy USB recharging.
Pros: Great idea that will enhance rider visibility. 'Smart' features are both smart and useful.
Cons: The front light needs to be angled quite precisely to stop any glare in the riders eyes.
$58 or £39.99 USB chargeable front light  $29 or £19.99 PHASE rear light
Blackburn Grid 13 Multitool
It's testament to the ever more tools required for modern bike maintenance that Blackburn's latest 13 tool model is introduced as 'The most useful selection of tools to interface with modern bicycle components'.
That's certainly a fair claim; hex keys at 1.5,2,2.5,3,4,5,6 and 8mm are complemented by T25 and T30 Torx heads, flat head screwdriver, disc pad spreader, presta valve remover and a bonus bottle opener.
A quick bolt-tightening check of my range of bikes left the multi-tool undefeated, fitting everything from the tiny allen key grubber bolts on a top end Dahon to the T25 Torx head required to tighten up an electric mountain bike's disc brake rotors.
The tool looks well made and is compact and easy to use.
Pros: Good spread of commonly used tools for a decent price.
Cons: Philips head tool could be included.
$19.99 or £19.99
Thanks to Richard Peace for this report.
P.S. Don't forget to join the Electric Bike Report community for updates from the electric bike world, plus ebike riding and maintenance tips!
Reader Interactions