Your Guide to Electric Bike Locks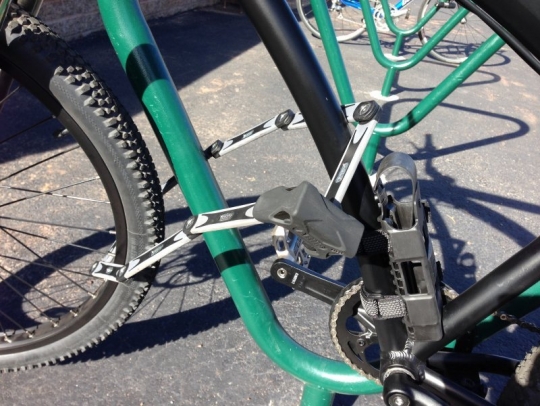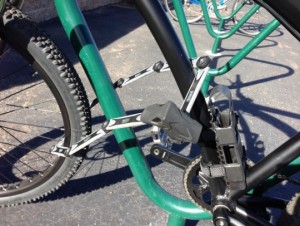 So you have spent a lot of money on your electric bike but what about protecting it?  Some members of the Electric Bike Report community recently asked me about locks for electric bikes so I put together this guide to locks and tips on how to keep your e-bike safe.
Getting a bike stolen is no fun but if you practice the right techniques you can rest a little easier and feel confident that your bike is safe.
Here are some locks that I recommend:
Strong Locks Profile: Your city or town is a place with lots of bicycle theft (New York City, San Francisco, etc.) and you don't mind carrying a heavy lock.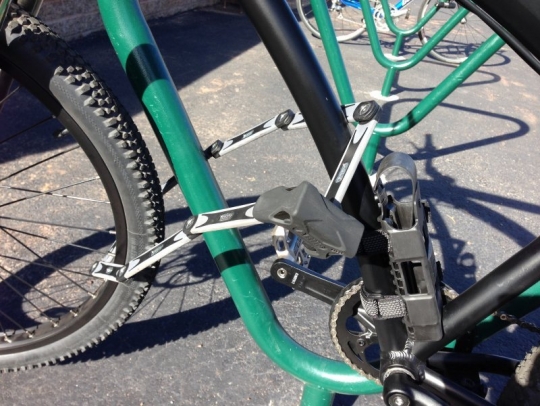 I have been using the ABUS folding locks for a while and they do a good job of providing a tough lock that is relatively small.  Check out my review of the ABUS Granit Bordo X Plus Lock and ABUS Bordo Big Lock.
I also recommend the combination of the U-lock with a cable or chain because this can make locking your e-bike to anything (bike parking, sign post, tree, etc.) easy and secure.  If you just get a U-lock it maybe harder to find something to lock your bike to because the U-lock has a relatively small inner dimension.
I like the name of this one: Kryptonite New York Fahgettaboutit.  This is a heavy duty chain with small U-lock that I think would make a thief Fahgettaboutit!  Seriously, this lock will make any thief walk right by your e-bike and go after an easier target.  NOTE: this is a very heavy lock!
Abus Granit Steel-O-Flex Armor Key Bicycle Lock: This lock is pretty compact and flexible but built tough.  It may not look as touch as the Fahgettaboutit but it is easier to carry around (much lighter!).
Medium Duty Locks Profile:  Your city or town has some bike theft issues but you probably don't need the toughest lock.
Kryptonite Evo Mini-7 with 4-Foot Flex Lock.  This is a relatively light weight and small U-lock and cable combo that will work well to keep your e-bike safe and secure.  It also seems to be a good value for the combo.
OnGuard Rottweiler 5023 Bicycle Armored Bicycle Cable Lock.  Here is an all in one cable lock that can hold its own in a rough neighborhood.
Just the Basic Lock Profile:  Your city or town has very little bike theft and you just need a lock to make it hard for a thief to ride off with your e-bike.
OnGuard Akita 5041 Bicycle Combination Cable Lock.  I like simple cable combination locks for light security.  They are lightweight and easy to use.
Locks for your wheels and seat post:  You may be able to lock your frame to something but you may not be able to lock both wheels.  Wheels with quick release axles make it really easy for a thief to grab your wheel.  Delta makes an axle system that can help with that.
Please note that most electric bikes have one wheel with axle nuts (secure) because of the motor, so you may only need the quick release axle replacement for one wheel.
Seat posts generally have a quick release for easy adjustment and theft!  I recommend having the quick release replaced with a screw.  Your local bike shop can help you with this and it is a quick and inexpensive way to save your seat and seat post.
Of course if a thief is serious they will have the tools to take whatever they want off of your bike 🙁
That's it for locks for your electric bike.  Check out this article on tips on how to keep your e-bike safe and secure.
Do you have any comments or questions about these locks?  Do you own one of these locks; if so what do you think of them?  Please leave your comments or questions below.
Thanks!
-Pete
P.S. Don't forget to join the Electric Bike Report community for updates from the electric bike world, plus ebike riding and maintenance tips.
Reader Interactions