E-Bike News: Olympics, Trek eMTBs, Domino's Delivery, Cargo Kit, & More! [VIDEO]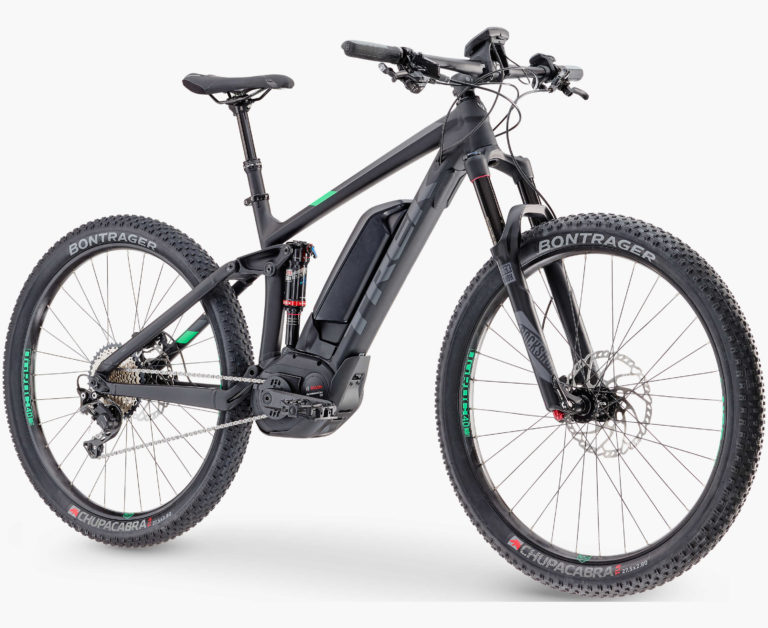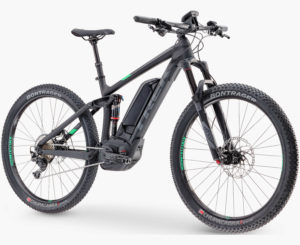 Electric bikes are in the 2016 Rio Olympics!
Okay, they are not being used directly in a competitive sport, but one is being used in the track cycling keirin event to set the pace for the competitive track cyclists.
The pace cycle (usually a gas powered moped or motorcycle) sets a pace for the racing cyclists and gradually increases from 25 to 50 km/h for 5 1/2 laps when they pull to the side and let the racing track cyclists duke it out for the remaining 2 1/2 laps.
It can be a very exciting style of bike racing with high speed crashes on the steep embankments of the track!
Here is a video of the eBike on the track. This particular eBike looks like it does not have pedals:
Slate had some fun with this and named the rider of the eBike one of the "Best jobs at the Olympics".
And speaking of bikes and the Olympics, the Wall Street Journal put together this great video on how Dutch volunteers are using bikes to get around the Rio Olympics and avoid traffic jams.
New Trek Electric Mountain Bikes
Trek has rolled out their new Powerfly electric mountain bikes in the North American market. Their line up features the Bosch Performance CX mid drive system on these 4 new eMTB's: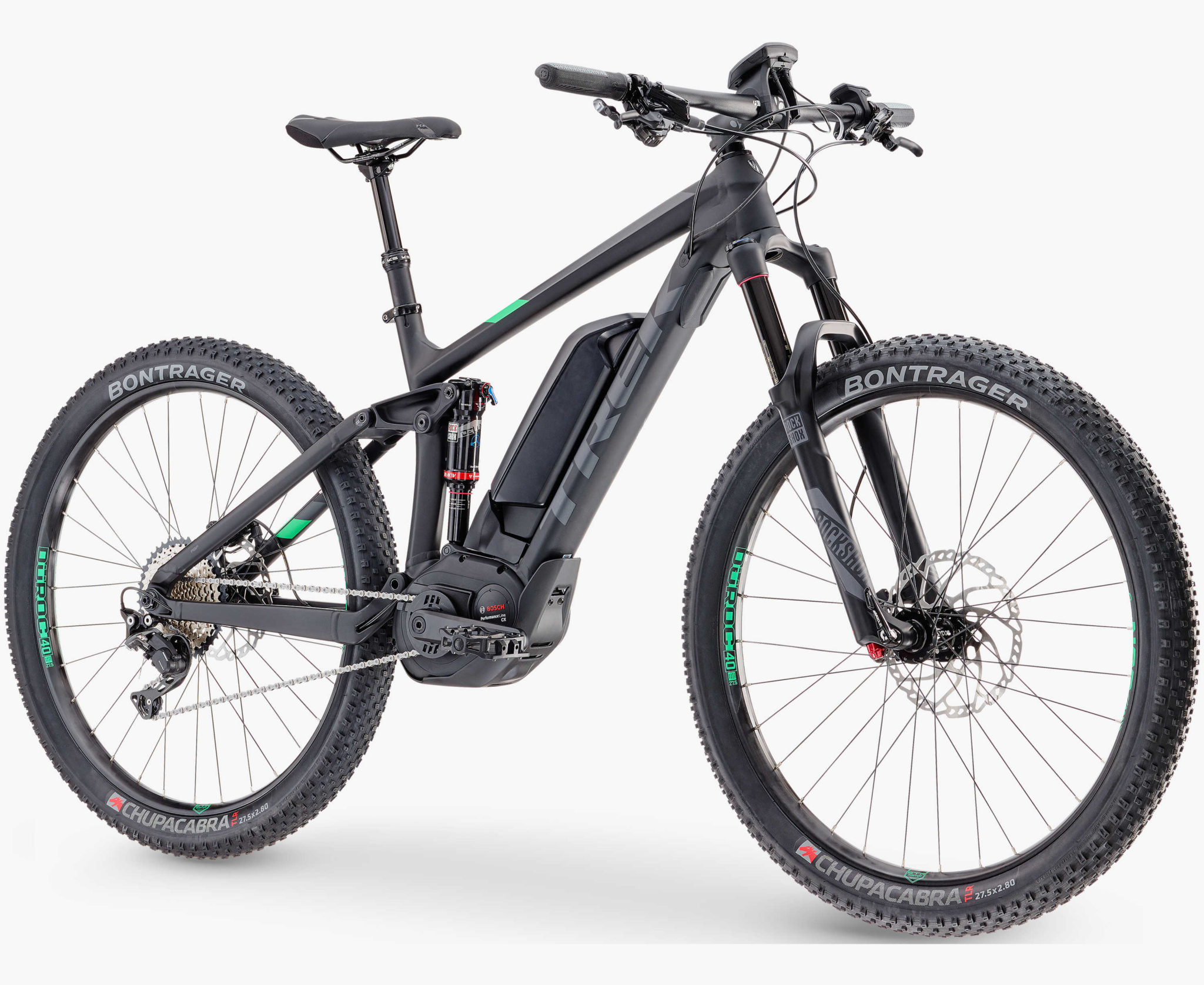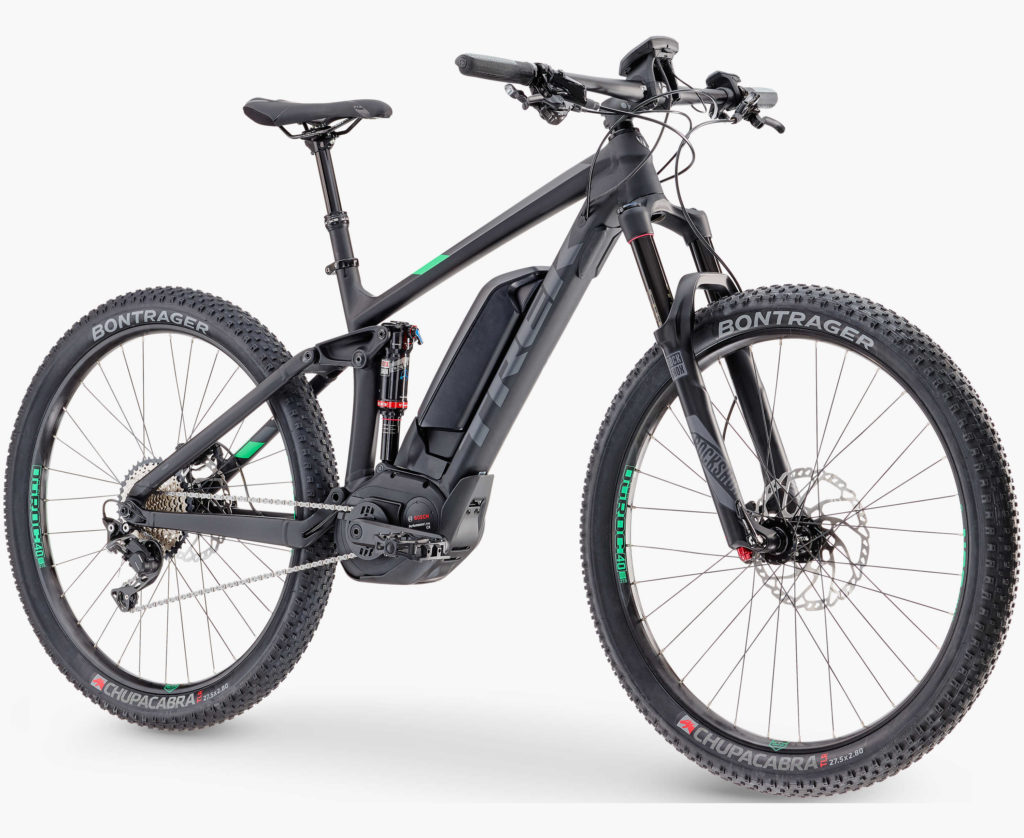 The Powerfly 8 FS Plus is a full suspension eMTB with 27.5 Plus size wheels with a spec of Bosch, RockShox, and Shimano components. Priced at $4,999.99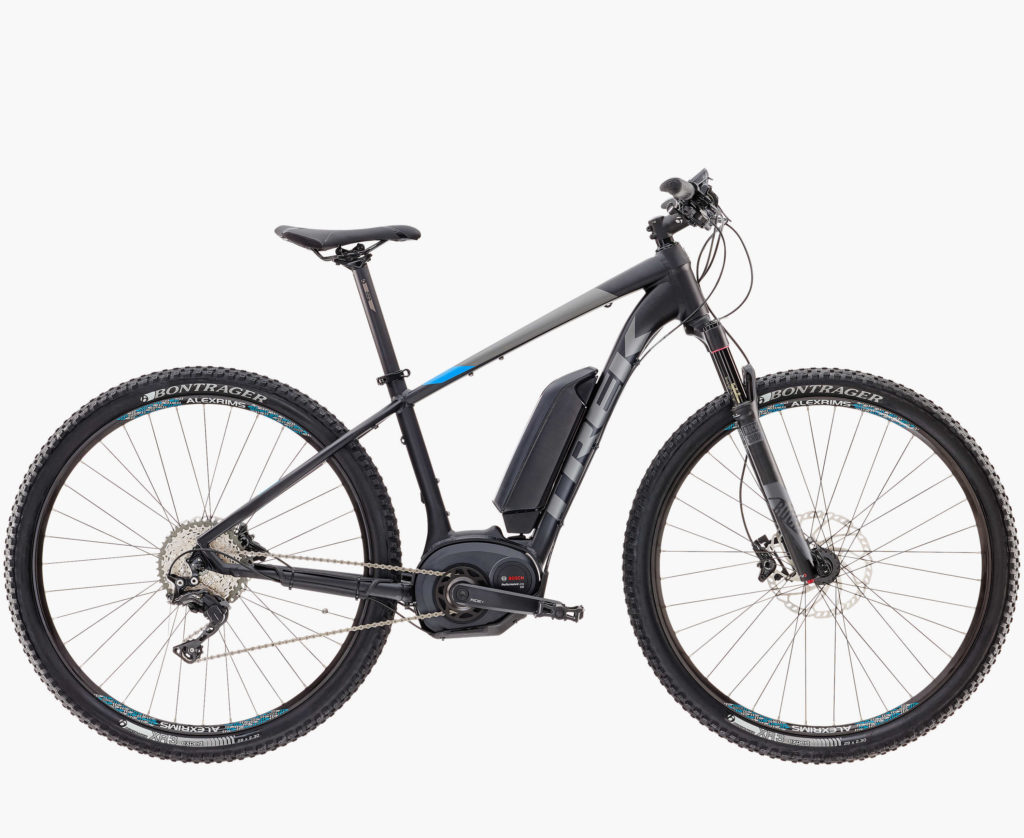 The Powerfly 7 is a 29er hardtail with a spec of Bosch, RockShox, and Shimano components for $3,999.99.
This is the Powerfly 5 Women's with women-specific frame, saddle, bars, and grips. Spec'ed with Bosch, RockShox, and Shimano components and 27.5″ wheels for $2,999.99.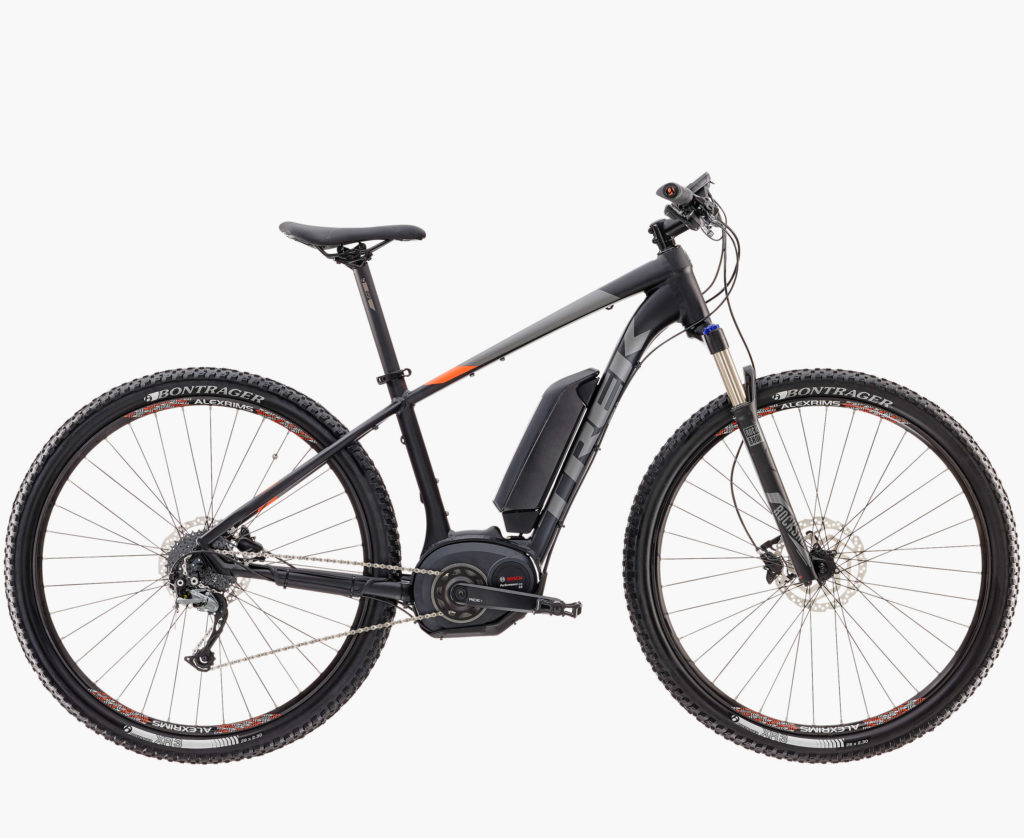 This is the Powerfly 5 29er. Spec'ed with Bosch, RockShox, and Shimano components for $2,999.99.
Here is more info on the new Trek Powerfly eMTB line up.
Bosch Optimistic
Bosch sees a bright future in the electric bike industry. They believe that in the future 30% to 40% of all bicycles sold will be electric bikes! Learn more about what this industry powerhouse thinks about the future of the industry.
"The E-Bike Boom"
Speaking of industry optimism, Tern Bicycles put together this interesting set of infographics about the current and future E-Bike Boom.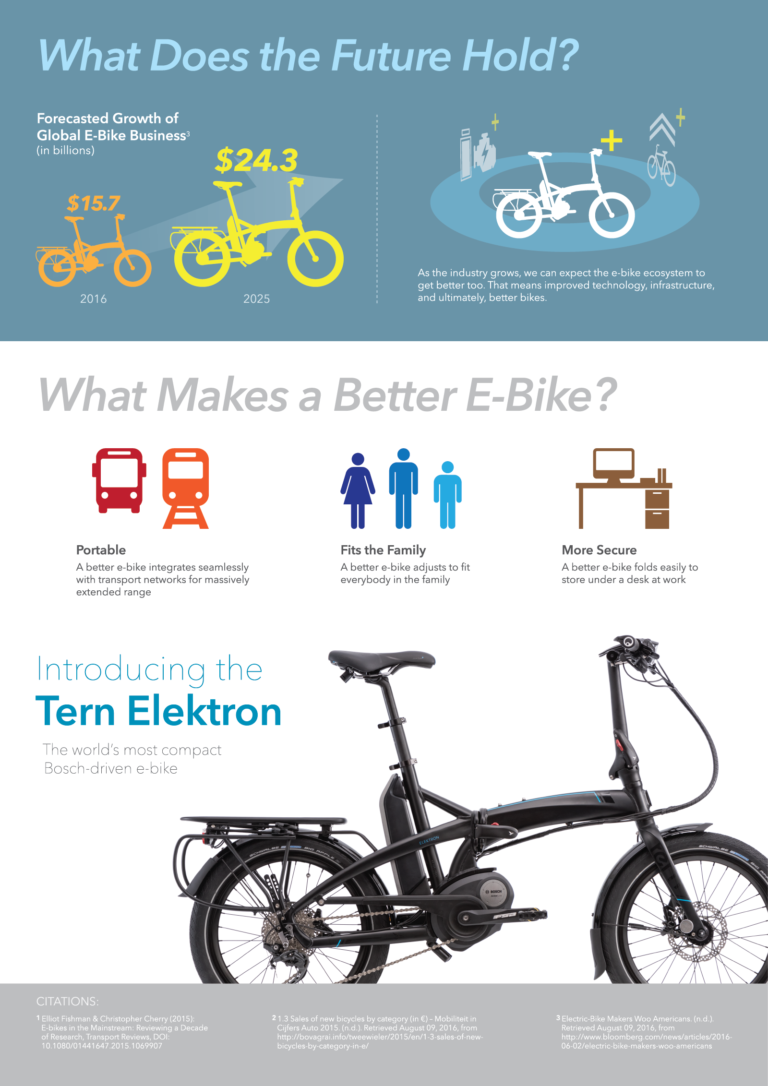 Checkout the new Tern Elektron folding eBike with the Bosch Active line mid drive system.
Baltimore Bike & eBike Share
Baltimore is rolling out a new bike share program that includes electric bikes.
Birmingham, Alabama has also set up an eBike share program that uses the Bewegen eBike share system.
Pizza Delivery by eBike
Domino's Pizza in New Zealand will soon be delivering by eBike! "Domino's will use electric bikes for all pizza deliveries from Auckland stores in Ponsonby and Kingsland later this year, before rolling the bikes out through the rest of the country. The pizza franchise, which made a record profit of A$92 million (NZ$98m) for the year to June 30, already has e-bikes in more than 600 Australian stores."
Front Loader Cargo Kit
Want to carry more cargo? Checkout this cargo bike kit from LIFT that creates a front loader cargo bike using your existing eBike.
Track Your eBike
Having your bike stolen really sucks, but with the variety of lock options and new technology there are opportunities to prevent bike theft in the first place or track your stolen bike for recovery. Not long ago a Stromer ST2 and 50 other stolen bikes were recovered because of the ST2's built in tracking features! Now there are retrofit tracking solutions like Boomerang GPS bike security.
Checkout this video for all of it's features like a motion sensor alarm, gps tracking, ride analytics (distance, elevation, number of rides, calories burned, carbon offset and gas money saved.)
That's it for now. Stay tuned for more e-bike news.
P.S. Don't forget to join the Electric Bike Report community for updates from the electric bike world, plus ebike riding and maintenance tips!
Reader Interactions