eBike News: Carving eTrike, eCruisers, eRoad Bike, eBike Share, & More! [VIDEOS]
carQon Carving Electric Cargo Trike
Electric cargo bikes and trikes are great car alternatives. UPS is even using them for deliveries!
The carQon is an electric trike that can carve into corners similar to a 2 wheel eCargo bike.
In addition the carQon has suspension, a Brose mid drive motor, a belt drive, and more.
Here is a video of thenew carQon carving eTrike in action!
Stay tuned for more on this innovative cargo eTrike.
Diavelo Virtuale Electric Road Bike
Electric road bikes are a growing niche in the electric bike scene. Here's a quick preview of the Diavelo Virtuale.
Stay tuned for more about this eRoad machine. Here is a link to the Diavelo website.
Juiced Bikes Ocean Current
Here's a look at the new Juiced Bikes Ocean Current beach cruiser style eBikes on the assembly line!
https://youtu.be/6okFFXt7sMA
More info at Juiced Bikes.
Retro Ruffian Due in March
German company Ruff has revealed details of the retro motorbike inspired e-bike the Ruffian.
It's a Bosch-powered pedelec, using the most powerful CX motor variant and comes with a 500Wh battery with a claimed upper range limit of 90km.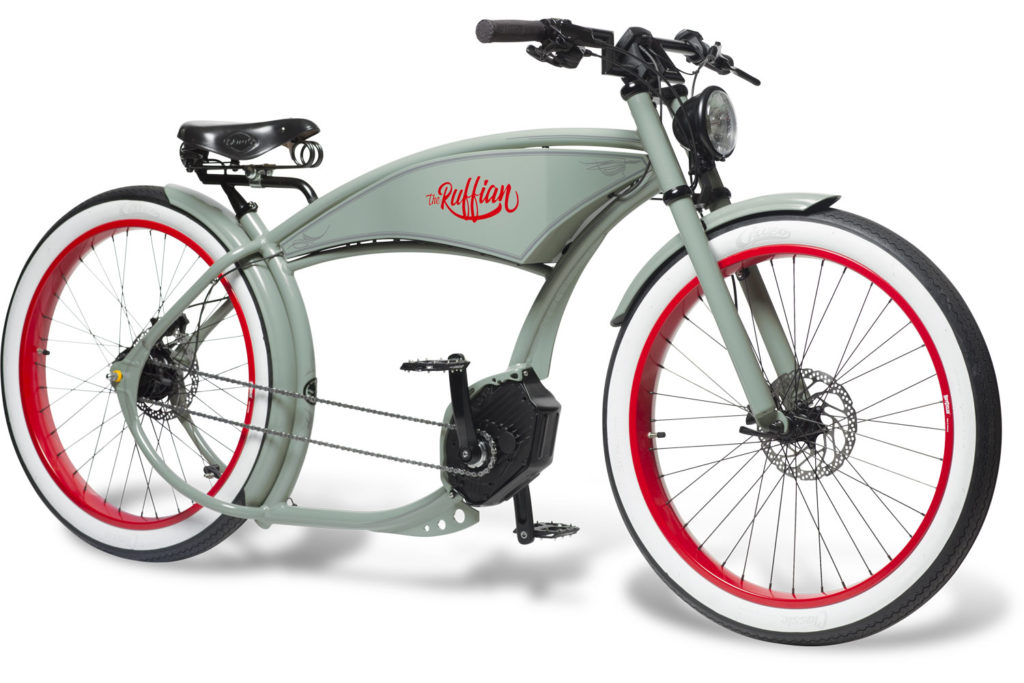 It will available in March in Europe priced at €5499.
Pedego's New Interceptor Model Revealed
US e-bike manufacturer Pedego has announced details of a new premium model, the Platinum Interceptor. It is now available in Pedego stores, priced from $3,795.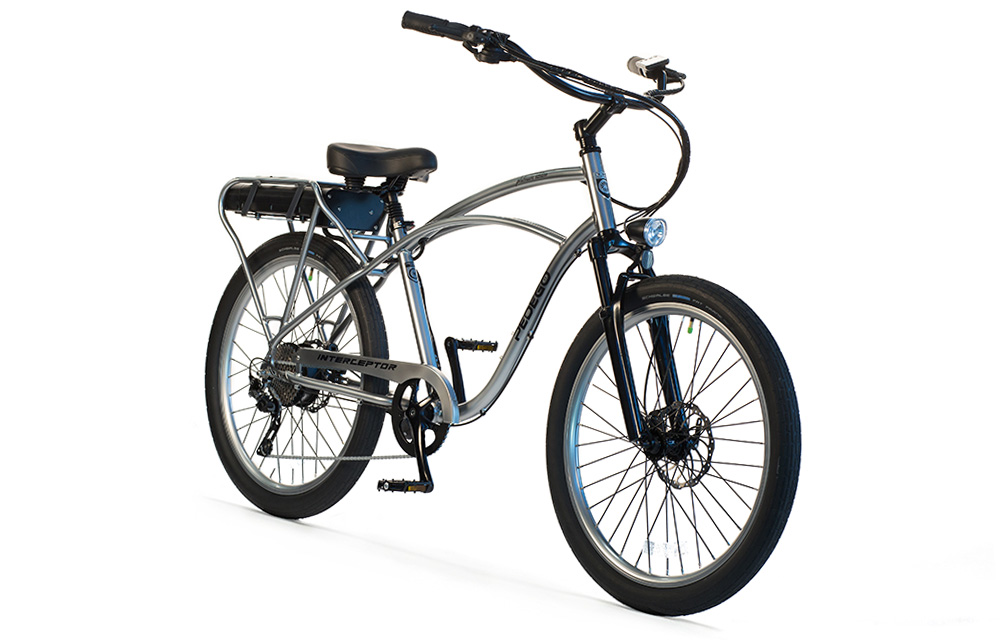 It features a 500W hub motor, 10-speed drive train, Magura hydraulic disc brakes, RST Zeus front suspension and a 480Wh hour battery (the 720Wh battery option costs $4,095). It can be switched between pedelec and throttle only modes and comes with a 2 year warranty.
New Lightweight 'Fabric' Lock Coming?
One of the downsides of carrying a really secure lock with you to secure your much-prized e-bike is that the most secure often come with a significant weight penalty. Germans Alexandra Baum, Suse Brand and Katja Käseberg have other plans in the shape of their Tex-lock, made of high-tech material (as in fabric material).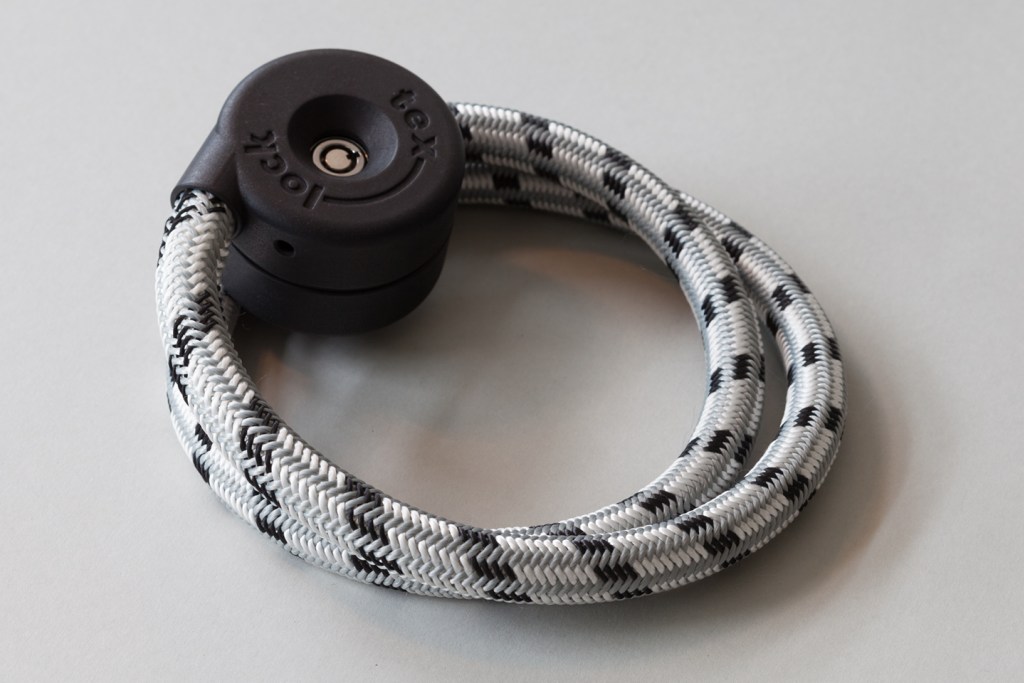 In place of heavy chain links the Tex-lock will use a multi-ply cord type construction with steel eyelets at both ends to be joined by a padlock or similar locking mechanism.
Their material-based solution is said to come from the automotive and aerospace industries and they aim to launch a Kickstarter appeal on 5th February to finance manufacture. The lock will also be on display at the ISPO trade fair in Munich 5th-8th February.
Design Innovation Awards E-bike Winners Announced
The Design innovation awards are handed out every year with the brief of highlighting the forthcoming season's most promising and innovative designs. Their eMTB category is particularly keenly-contested and a couple of 2017 award winners caught our eye.
Haibike's SDURO Nduro + eConnect was singled out as a good example of what a smart eMTB might offer (including making an auto emergency call if you have a crash or locating a stolen bike).
Riese & Müller's Delite Mountain looks ideal for e-MTB touring, coming with Bosch's dual battery 1,000Wh system and, unusually for a full-sus eMTB, the ability to add a rear rack. Here is a video with that bike in the mix:
Get Inspired
eBiking in San Diego, California
Here are some of the highlights from December Nights Electric Bike Ride in San Diego California; looks like a lot of fun!
https://youtu.be/P9X6OQ6hvUk
Famous Quotes
Enjoy these inspiring quotes about bicycles and then go for ride!
"Electric Bike Encounter"
Pro cyclist Steve Tilford has an "Electric Bike Encounter" and it is a good story……
Infrastructure
Cambridge's Successful Cycle Lanes
Road CC has just reported that the introduction of two major protected cycle lanes in cycle hotspot Cambridge, UK have lead to a major increase in cycling along the roads they run along; in one case the number of cyclists has doubled since 2013. After CCTV monitoring the 'floating' bus stops were also deemed a particular success for both cyclists and pedestrians using the buses.
E-bike Hire
E-bike Hire Scheme for Shanghai
This interesting report from China details a new e-bike hire scheme in Shanghai. The Xiangqi Chuxing scheme has e-bikes for public hire at certain metro stops around the city and after a slow start in early 2016 has been expanded significantly of late.
Now for the clever bit; scanning an available bike's QR code lets you know battery capacity and range and lets you choose a different bike if you wish.
It's controlled by an app which you need to purchase and then make a one-time deposit of RMB299 (about US$45) and give a Chinese phone number and passport number (so clearly its aimed at locals – expats without Chinese text reading skills may also find the on-screen pinyin text difficult to understand..).
10 minutes riding only costs a matter of cents and the overall impression given by the article is very favourable.
E-bike Sharing Cash for California's Communities?
Bicycle Industry and Retailer News reports there may be potential funds up for grabs to fund e-bike sharing programs in poorer Californian communities – as part of a launch of a Car-Sharing pilot program.
E-bike Biz
BMZ Announce 4 Year Battery Guarantee for 2017
BMZ are Europe's largest manufacturer of e-bike batteries and have just announced that their batteries used on 2017 model year bikes will carry a four year guarantee (currently the industry standard is 2 years, but 3 year and 1 year periods are also on offer on current bikes, depending on bike price and battery cell manufacturer).
Pendix Gets new European Partners
EBR featured Pendix retro-fit kit back in December and it looks like the very neat looking kit is catching on, with new agents announced to sell the kits in Denmark, France, Norway and the UK.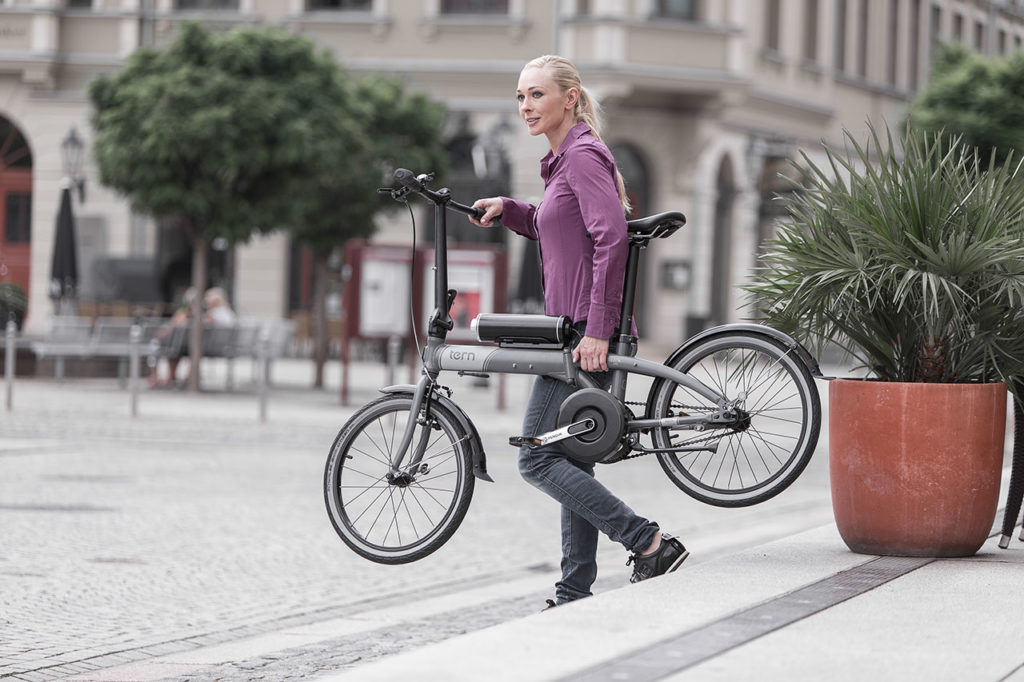 Well-known Danish distributor Christiana bikes (know for their distinctive family cargo bikes) say they will also be fitting the kits to their own bikes.
Possible Cash Grants for UK E-bike Schemes?
UK bike businesses can now apply to the Department for Transport's Innovation Challenge Fund for grants of up to £90,000. Valid projects will include "innovative technological solutions to increase the levels of cycling." The brief sounds like it could include firms with innovative ideas for e-bike use.
Stay tuned for more e-bike news and thanks for reading!
-Richard
P.S. Don't forget to join the Electric Bike Report community for updates from the electric bike world, plus ebike riding and maintenance tips!
Reader Interactions